Funky Kong
From the Super Mario Wiki, the Mario encyclopedia
Jump to navigation
Jump to search
Funky Kong is a recurring Kong in the Donkey Kong franchise. He first appears in Donkey Kong Country. While portrayed as an easygoing surfer, Funky is a very skilled mechanic, creating many vehicles and other inventions from limited materials, namely barrels. In most of his appearances, Funky operates a transportation service for the Kongs using one or more of his vehicles.
After Rare's departure from Nintendo, Funky Kong has occasionally appeared in spin-off Super Mario franchise titles as a playable character.
History
[
edit
]
Donkey Kong Country series

[

edit

]
Donkey Kong Country

[

edit

]
In Donkey Kong Country, Funky is the owner of Funky's Flights, a rental service where he allows Donkey Kong and Diddy Kong to use his Funky Barrel to travel between worlds that they have either accessed or completed.
In both the Game Boy Color and Game Boy Advance remakes, Funky hosts the Funky's Fishing mini-game, where the Kongs' objective is to catch as many fish within the time limit. In the Game Boy Color version, Funky's Fishing is only playable from the main menu. Funky does not appear in the mini-game itself, and is only suggested as its host.
In the Game Boy Advance version, Funky hosts the mini-game along with his flight service during the main game. Donkey Kong and Diddy are no longer required to visit Funky to use his Funky Barrel, as the player can select the "CALL FUNKY" option from the Start menu. In each world, Funky provides a different objective for each Funky's Fishing challenge, such as in Kremkroc Industries, Inc., where Donkey Kong and Diddy must fish out ten bottles. In the same version, Funky is shown during the ending cutscene with the other Kongs.
Donkey Kong Country 2: Diddy's Kong Quest

[

edit

]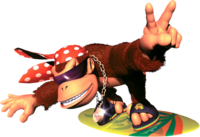 Funky Kong returns in Donkey Kong Country 2: Diddy's Kong Quest. He hosts another flight service, Funky's Flights II, in every world except the Lost World. Funky allows Diddy and Dixie to use the Biplane Barrel if they pay two Banana Coins, although every trip after the first one are free. In the original Super Nintendo version, Funky is shown to surf in midair with his hoverboard.
In the Game Boy Advance version, Funky hosts a bonus game, Funky's Flights, in each world of the game. The Biplane Barrel is replaced with the Gyrocopter, which Funky allows Diddy and Dixie to freely use from the world map after they complete the Aerial Loop challenge. Funky hosts a different challenge in each world, and if Diddy and Dixie complete a challenge, Funky rewards a DK Coin to them. In the same version, Funky also appears with the Gyrocopter in the ending, and he rescues Diddy, Dixie, Donkey Kong, and Cranky from The Flying Krock before it crashes onto the ground. In the 102% ending, Funky drops a bomb onto Kaptain K. Rool from the Gyrocopter to stop him from escaping.
Donkey Kong Country 3: Dixie Kong's Double Trouble!

[

edit

]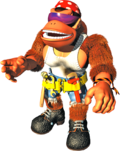 In Donkey Kong Country 3: Dixie Kong's Double Trouble!, Funky has a larger role than in the previous two games. He operates Funky's Rentals from the Northern Kremisphere, where he allows Dixie and Kiddy to rent various watercraft to travel across the waters of the Northern Kremisphere. At first, the Motor Boat is the only vehicle that Funky has available. As the Kongs obtain certain items along the way, Funky can use them to construct a few more vehicles, each one more powerful than the previous.
At the start of the game, Dixie must visit Funky, who gives Kiddy to her, and use the Motor Boat. As Dixie and Kiddy progress through the game, they can gain various items and give them to Funky, who will use them to create new, more powerful vehicles for them to use and reach new locations. After completing Kremwood Forest, the Kongs obtain the patch, which they can take to Funky for him to create the Hover Craft. After completing Cotton Top Cove and Mekanos, the Kongs can return the skis to Funky for him to create the Turbo Ski.
Throughout the game, the Brothers Bear reference a "secret project" that Funky is working on; if Dixie and Kiddy ask Funky about the project, he acknowledges it but requires the Kongs to obtain every DK Coin to let them use it. If the Kongs bring every DK Coin to Funky, he allows them to use the Gyrocopter.
In the Game Boy Advance remake, Funky hosts a series of four minigames. If the Kongs complete all of them, Funky rewards them with a Banana Bird.
Donkey Kong 64

[

edit

]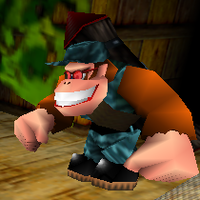 In Donkey Kong 64, Funky operates a weapons store, Funky's Store, in every level except Hideout Helm. He first sells a shooter to each respective Kong when they first visit. In later levels, Funky also sells two ammo belt upgrades, a sniper scope, and the ability to pick up homing ammo. Each time the Kongs are low on ammo, right before a Kong leaves the store, Funky refills their ammo supply entirely.
After defeating King Krusha K. Rool at the boxing arena, Candy walks in and distracts him. Meanwhile, Funky walks in and fires a boot at K. Rool, knocking him up through the ceiling of the arena. During the end credits, Funky mimics the sounds of some weapons such as aerial bombs and machine guns on a cliff, then does some acrobatics.
Donkey Kong Country: Tropical Freeze

[

edit

]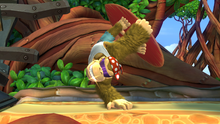 After six years of not appearing in games, Funky Kong returns in Donkey Kong Country: Tropical Freeze and its Nintendo Switch port as the owner of the item shop, named Funky's Fly 'n' Buy. In this way, he replaces Cranky Kong's role as the owner of a shop in the previous installment due to the elderly Kong being a playable character. Funky Kong sells various items to the Kongs in exchange for Banana Coins, including DK Barrels, balloons, Banana Juice, Squawks the Parrot, Heart Boosts, and Crash Guards. He also sells collectible toys from the Capsule Toy Machine. The shop operates on every island in the game except Secret Seclusion.
The game's Nintendo Switch port marks the first time Funky Kong is a playable character in the main series, as he is playable via the new "Funky Mode", which is catered towards beginner players. When selected in "Funky Mode", Funky Kong replaces Donkey Kong as the main playable character. His abilities, aided by his surfboard, are a combination of Diddy, Dixie, and Cranky, and they include double jumping, hovering, treading on Spiked Floors, and surfing on water in a similar fashion to water skipping. He can perform perpetual Roll Attacks and Corkscrews as well. In addition, he wears a yellow pair of goggles with a snorkel whenever he plunges underwater, enabling him to breathe without having to collect Air Bubbles. Lastly, Funky's surfboard enables him to safely jump on enemies that the other Kongs (except Cranky) cannot safely jump on, such as the Snaggles. He can also perform a Ground Pound like Donkey Kong, even on spikes. He can also execute the new Pluck move slightly faster than even Donkey Kong can, though unlike the latter, he cannot carry the other Kongs on his back, even in multiplayer.
While playing as Funky Kong, his shop, Funky's Fly 'n' Buy, is run by a parrot named Tawks, whose speech purposely mimics Funky. If Funky shops at his store, Tawks gives him an employee discount.
Donkey Kong Country: Rumble in the Jungle

[

edit

]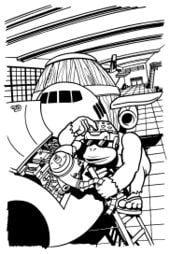 In the 1995 novel Donkey Kong Country: Rumble in the Jungle, Funky Kong owns a custom-built plane made from a Barrel, which he uses to transport clients around Donkey Kong Island. He promises Diddy Kong an exciting ride as a passenger while he performs tricks in the air. During their flight, they notice smoke coming from the long abandoned Big Ape City, which Funky prefers not to investigate because he doesn't enjoy looking for trouble. After Diddy's flight, Funky gets attacked by a swarm of flying pigs near Big Ape City, causing his plane to crash. Donkey Kong, Cranky Kong, and Diddy cross the jungle on foot, to where he has been held captive by the Kremlings within Big Ape City. The Kremlings believe that Funky Kong is a spy, and they intend to use a painful "truth machine" on him, as ordered by King K. Rool.
After breaking out of his cell, Funky involves himself in defeating a group of Kremlings, although he is normally "too laid back" to fight. He later inspects his plane in the cargo room, and finds that he is able to easily repair most of the damage, although he requires a new water pump for the engine. He draws a map of the factory so that the other Kongs can find a replacement, due to having seen most of the factory while the Kremlings were deciding where to take him. After Funky successfully repairs the engine, all of the Kongs board the plane and Funky flies out from the factory through a hole in the wall. The plane is attacked by the flying pigs a second time, however Funky has the idea to pour the plane's entire banana milkshake supply onto the pigs so that they are no longer able to fly. Funky then maneuvers his plane over King K. Rool's zeppelin, which allows Donkey Kong and Diddy to plant it with TNT Barrels. After destroying the Factory, Funky Kong flies the others back to their tree house in the jungle.
Donkey Kong Land 2

[

edit

]
In Donkey Kong Land 2, Funky has the same role as in Donkey Kong Country 2: Diddy's Kong Quest. If Diddy or Dixie pay Funky two Banana Coins, he allows them to use the Biplane Barrel to travel between worlds from the world map.
Donkey Kong Country television series

[

edit

]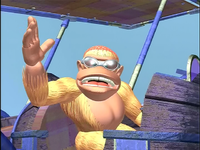 In the Donkey Kong Country television series, Funky Kong appears as a major character, with his character being relatively the same as in the games - the adventure-loving owner of Funky's Flights and one of Donkey Kong's best friends. A running gag throughout the show involves him being incompetent at maneuvering his plane.
In addition to enjoying surfing and dancing, Funky is portrayed as exceptionally spiritual in the show, known to talk about subjects such as karma quite often. On the show, Funky is portrayed with golden fur instead of brown, more goggle-like glasses, and a Jamaican accent, provided by voice actor Damon D'Oliveira. Likewise, his appearances on the show are often accompanied by reggae or ska background music.
Bumm-Badabumm im Urwald

[

edit

]
In the Donkey Kong comic "Bumm-Badabumm im Urwald", Funky (being called "Funky-Kong", with a hyphen in his name) despite not actually appearing in the story, does play a crucial role in it. In the comic, Funky is the one who alerts Donkey, Diddy and Dixie Kong, through drumming, that the Kremling Krew has plundered all the bananas on Donkey Kong Island.
Club Nintendo

[

edit

]
In the German edition Club Nintendo, Funky Kong appears in a somewhat minor role in the comic "Donkey Kong in: Banana Day 24", where he appears at the celebration the Kong Family has at its end. In Club Nintendo's comic book length adaptation of Donkey Kong Country 2: Diddy's Kong Quest, Funky makes a brief appearance in the scene where Cranky explains Banana Coins and Kremkoins to Diddy and Dixie.
DK series

[

edit

]
DK: King of Swing

[

edit

]
In DK: King of Swing, Funky makes a minor appearance in both the opening and ending cutscenes of Adventure mode. Funky is a playable character in the Jungle Jam mode marking his first playable debut, where his attack is strong but his jump is weak.
DK: Jungle Climber

[

edit

]
In DK: Jungle Climber, Funky, along with the bulk of the Kong Family, goes on vacation to Sun Sun Island. When Donkey, Diddy, and Cranky meet the banana alien Xananab and decide to help in his quest to reclaim his Crystal Bananas from King K. Rool, Funky aids the four by flying them to the different islands as they track down the Kremlings. If Donkey Kong collects a certain amount of oil barrels, he can give them to Funky Kong to power his airplane, which can fly them to a smaller version of the island they're on. Funky Kong is also playable in the game's VS. Mode.
Donkey Kong Barrel Blast

[

edit

]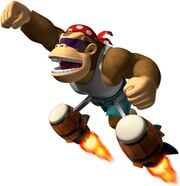 Funky Kong is an unlockable playable character in Donkey Kong Barrel Blast. The player can unlock him by completing the Diamond Cup as a Kong character. Funky's stats are shared with Kludge, having very low boost and agility but maximum speed.
Mario Kart series

[

edit

]
Mario Kart Wii

[

edit

]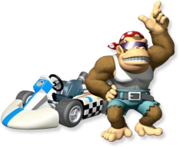 In Mario Kart Wii, Funky Kong makes his first appearance in the Super Mario franchise. He is an unlockable large-sized character, unlocked by unlocking four Expert Staff Ghost Data on Time Trial mode, by winning 25 WFC Ghost Races, or by playing 2,250 races. Funky Kong is the Staff Ghost for GCN DK Mountain. While he does not have his own race course, he does have his own battle arena: Funky Stadium.
Although Funky Kong features a good speed bonus, it is not as good as that of Baby Luigi and Baby Daisy. However, being a large-sized racer, Funky can use the Jetsetter and Spear, which are the fastest kart and bike in the game, respectively.
Some of Funky Kong's voice clips from Donkey Kong Barrel Blast are reused for his voice in this game.
Mario Kart Tour

[

edit

]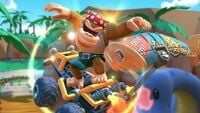 Funky Kong returns in Mario Kart Tour as a High-End driver, being made available on May 20, 2020. He was part of the first week's spotlight of the Jungle Tour, alongside the Bolt Buggy and the Banana Wingtip. Funky also returned as part of the 2nd week spotlight of the 2020 Los Angeles Tour. Starting with the 2021 Cat Tour, he is now a regular High-End driver, and starting with the Bowser vs. DK Tour, he has his own self-named cup. Funky Kong's special item is the Banana Barrels, which is shared with Diddy Kong and the Light Green Mii Racing Suit.
Mario Kart 8 Deluxe

[

edit

]
This section is referring to a subject in an upcoming or recently released DLC wave. When the DLC wave is released, or more information about this subject is found, this section may need major rewriting. This notice should be removed after a month has passed since the DLC wave was first released.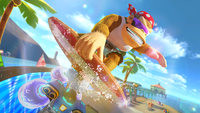 Funky Kong appears as one of four new racers in the sixth and final wave of the Booster Course Pass for Mario Kart 8 Deluxe, alongside Diddy Kong, Pauline, and Peachette. His model is reused from Mario Kart Tour.[1]
Mario Super Sluggers

[

edit

]
Funky Kong is an unlockable playable team player in Mario Super Sluggers, where he has good batting and decent fielding skills, while lacking in pitching and running skills. He is the only Kong in the game who bats with his right hand, while fielding with his left hand. He has good chemistry with all the Kongs and bad chemistry with all the Kremlings. He is unlocked after he joins the player in Challenge Mode.
The Super Mario Bros. Movie

[

edit

]

Funky Kong appears in The Super Mario Bros. Movie, where he is shown driving just behind Donkey Kong, alongside Mario, Princess Peach, Toad, and the Kong army on Rainbow Road. A picture of Funky Kong riding a surfboard can also be seen in the hut where Cranky Kong describes the plan to drive to Rainbow Road.
Other appearances and references
[
edit
]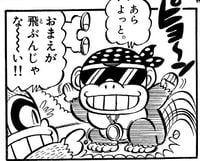 Although Funky Kong does not appear in Donkey Kong Country Returns, he is referenced by Cranky Kong, who wishes that someone with a plane (such as Funky) could get them to the top of the island.
Funky Kong's face appears in Picross NP Vol. 8 as one of the images that must be cleared. After solving the puzzle, he shows his eyes to the player.
A trophy of Funky Kong is obtainable in Super Smash Bros. Brawl, Super Smash Bros. for Nintendo 3DS, and Super Smash Bros. for Wii U. He also appears in Super Smash Bros. Ultimate as a master spirit. He runs a shop called Funky Kong's Shack, where he sells snacks, skill spheres, support items, and spirits that are themed around transportation.
Funky Kong also appears in issue 14 of Super Mario-Kun. He allows Mario, Yoshi, Donkey Kong, and Diddy Kong to ride the Funky Barrel.
Additionally, some merchandise based on Funky Kong has been released, most of it based off his appearance in Donkey Kong Country or the television series; this includes objects such as statuettes, plush dolls, mini figures, and keychains.
General information
[
edit
]
Physical appearance
[
edit
]
Funky Kong has the same general build as fellow Kongs such as Donkey and Kiddy Kong, being both large and muscular. Funky's fur is generally light brown in color, though the shade of it varies in his appearances and artwork, being either light or dark. In all of his appearances, Funky wears a pair of sunglasses which conceal what his true eyes look like; however, in Donkey Kong Country, Funky could be seen lifting his sunglasses and revealing a pair of eyes just like Donkey Kong's, and in Donkey Kong 64, his sunglasses were transparent and tinted red, so his eyes were still visible. Funky's sunglasses were originally black in color in Donkey Kong Country, but virtually all subsequent appearances depict as being purple tinted.
In Donkey Kong Country, Donkey Kong Country 2: Diddy's Kong Quest, and Donkey Kong Land 2, Funky Kong's attire is essentially the same, with him wearing a red bandanna with white polka-dots, medals around his neck ("bling"), a purple swimsuit, and sandals.
Donkey Kong Country 3: Dixie Kong's Double Trouble! radically alters Funky's appearance, having him discard his medals and replace them with tools slung from a tool belt; Funky also wears a white muscle shirt, blue shorts and black boots in this game. Additionally he has an upright posture and is taller than his last appearance.
Donkey Kong 64 has Funky radically change his attire once again, with him wearing a navy blue camouflage print attire and army hat, black combat boots and red teashades. He is noticeably more muscular then DK, though not as burly as Chunky Kong.
More recently, Funky's appearance has remained consistent, being identical to his attire from Donkey Kong Country 3: Dixie Kong's Double Trouble!, with his tool belt being replaced by a regular one and no boots.
While Funky's bandanna has always been red with white polka dots in official artwork, in-game sprites depicted it as purple in the first two Donkey Kong Country games and solid red in the third. DK: King of Swing introduced Funky's modern design, and it is the first game where Funky has a polka-dot bandanna.
Personality
[
edit
]
Funky Kong is a laid-back primate like Donkey Kong. According to his guide bio from Mario Kart Wii and as he himself states in the story from the manual of Donkey Kong Country 2: Diddy's Kong Quest, Funky Kong abhors adventuring, preferring to aid his friends through other means, such as through his shops and flight services. Funky is portrayed as bold and energetic, and often uses casual phrases in his speech (e.g. "This. Stuff. Is. Awesome. I have no idea what it is, dude, but it tastes radical!"). Also, despite his dislike for adventuring, it seems that he is willing to adventure to help his friends, as he is a playable character in the Nintendo Switch version of Donkey Kong Country: Tropical Freeze. Funky's hobbies include such things as surfing and tinkering with and building various machinery such as vehicles and weapons.
Profiles and statistics
[
edit
]
German Donkey Kong 64 website

[

edit

]
"The coolest ape in the world has once again changed his occupation. Some time ago he discovered his predilection for weapons technology. He has succeeded in transforming harmless tropical fruit and colorful feathers into effective projectiles. Switches that are located outside the range of the Kongs or that cannot be activated even using all of one's body strength no longer pose a problem due to the use of these special weapons. The integrated target functions and the add-on target-searching-ammunition make the weapons an indispensable aid in the search for the golden bananas. Funky also offers, as a further service, refilling of the ammunition supply. The weapons and their extensions, however, cannot be had for nothing. But Funky always has especially low prices for his friends."
Instruction Booklet: "The sunglasses wearing, coolest of the Kongs. Preferring attack-based contests to races, he's the dark horse of the Jungle Jam."
Jump: 2
Attack: 4

Unlock method: Win the Diamond Cup with a Kong.
Boost: 1/5
Speed: 5/5
Agility: 1/5
Rival: Kludge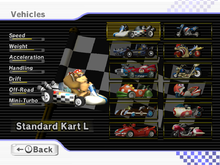 Size: Large
Actual Bonuses
Guide Bio: "This funky monkey doesn't like adventuring, so he's split his time between surfing, drumming, and learning some of the craziest kart shortcuts around!"
"Whoa, long time no see! Welcome to Funky's Fly 'n' Buy. Don't tell me you forgot your pal Funky Kong? I'm here to help ya on another epic adventure!" (introducing himself when first entering his shop)
"Pitfalls got ya down? Way down? This balloon will really lift your spirits!" (Selecting a Green Balloon)
"Feeling the need for some jet-powered action? Diddy's got the skills!" (Selecting a Diddy Kong Barrel)
"Wanna get the jump on those frozen flipper-heads? Dixie's your dudette! (Selecting a Dixie Kong Barrel)
"Need a little extra spring in your step? Cranky's no spring chicken, but he sure is spry! (Selecting a Cranky Kong Barrel)
"Radical! I was about to say, if I had a coin for every time I saw you fall out there, I'd be surfin' instead of sellin'!" (Buying a Red Balloon)
"Groovy, gotcha down for an appointment with the bodacious bird! What, didja think you owned him now? Nah!" (Purchasing Squawks)
"With this, you'll totally show those annoying Snowmads what it means to be on like Donkey Kong!" (Buying Banana Juice)
"Three's totally better than two, right? Yeah, that's totally right." (Buying a Heart Boost)
"Whoa, slow down there, dude! You're totally overloaded!" (Trying to buy a Red Balloon when at maximum capacity)
"Whoa, dude, you've got all the toys there are! Hey, wanna do some trading later?" (Trying to buy a figurine when the player has the whole collection)
"Remember to work with your buddies, Kong. A little extra help might be what ya need to find some cool hidden stuff!" (Leaving the shop)
"Those Snowmads are a gnarly bunch! I hear they're enjoyin' your island. Go get 'em, DK!" (Leaving the shop)
"Show those pesky penguins the radical righteousness of us supreme simians!" (Leaving the shop)
"Just surfing the wind currents, dudes. Nothing to get uptight about. Stay mellow, stay cool."
"That used to be the biggest city on Donkey Kong Island. It's called Big Ape City."
"I don't go looking for trouble, and most of the time it doesn't come looking for me."
Portrayals
[
edit
]
List of appearances by date
[
edit
]
Gallery
[
edit
]
Names in other languages
[
edit
]
Language
Name
Meaning
Japanese
ファンキーコング
Fankī Kongu
Funky Kong
Chinese (Simplified)
酷喜刚
Kùxǐ Gāng
From 酷 (Cool) and 森喜(刚/剛) (Donkey Kong)
Chinese (Traditional)
酷喜剛
Kùxǐ Gāng
From 酷 (Cool) and 森喜(刚/剛) (Donkey Kong)
French
Funky Kong
Funky[2]
-
German
Funky Kong
-
Italian
Funky Kong
-
Korean
펑키 콩
Peongki Kong
Funky Kong
Portuguese
Funky Kong
-
Russian
Фанки Конг
Fanki Kong
Transliteration of the English name, Funky Kong
Spanish
Funky Kong
-
"Funky Kong" was one of the proposed names for Donkey Kong that was rejected during the eponymous game's development.
In Issue #262 of Nintendo Power's "The Score," a page listing the results of online polls, Funky Kong was voted the most wanted Kong who is not present in Donkey Kong Country Returns.
Funky Kong's Mario Super Sluggers baseball card listed his Rookie Year as 1999, even though his first appearance was in Donkey Kong Country, which was released in 1994.
In Donkey Kong Country: Tropical Freeze, when the player visits Funky's shop and they highlight the Crash Guard option, Funky will say: "Vehicle troubles? It's dangerous to go alone- take one of these!" This is a reference to the first The Legend of Zelda game in which Link acquires his first weapon by entering a cave and speaking to an elderly man, who offers a wooden sword speaking similar words.
References
[
edit
]
Links to related articles
Mario Kart Tour
Drivers
Normal
Baby Mario • Baby Peach • Baby Daisy • Baby Rosalina • Baby Luigi • Koopa Troopa • Shy Guy • Dry Bones • Iggy • Larry • Lemmy • Ludwig • Morton • Roy • Wendy
Super
Mario • Peach • Yoshi • Daisy • Toad • Toadette • Rosalina • Luigi • Toad (Pit Crew) • Red Yoshi • Blue Yoshi • Pink Yoshi • Yellow Toad (Pit Crew) • Light-blue Toad (Pit Crew) • Red Toad (Pit Crew) • Orange Yoshi • Green Toad (Pit Crew) • Pink Toad (Pit Crew) • Light-blue Yoshi • Yellow Yoshi • Purple Toad (Pit Crew) • Bowser • Donkey Kong • Diddy Kong • Lakitu • Bowser Jr. • Wario • Waluigi • King Boo • Black Shy Guy • Red Koopa (Freerunning) • Birdo • Pink Shy Guy • Birdo (Light Blue) • Hammer Bro • Boomerang Bro • Ice Bro • Fire Bro • Birdo (Yellow) • Monty Mole • Green Shy Guy • Blue Koopa (Freerunning) • Birdo (Blue) • Purple Koopa (Freerunning) • Light-blue Shy Guy • Blue Shy Guy • Birdo (Orange) • White Shy Guy • Koopa (Freerunning) • Orange Shy Guy • Birdo (Red) • Yellow Shy Guy • Birdo (Green)
High-End
Metal Mario • Peachette • Pauline • Mario (Musician) • Peach (Kimono) • Mario (Hakama) • Rosalina (Halloween) • Peach (Vacation) • Mario (Santa) • Pink Gold Peach • Daisy (Holiday Cheer) • Yoshi (Reindeer) • Pauline (Party Time) • Mario (Happi) • Toad (Party Time) • Peach (Wintertime) • Penguin Luigi • Ice Mario • Baby Peach (Cherub) • Rosalina (Aurora) • Mario (Classic) • Luigi (Classic) • Baby Rosalina (Detective) • Yoshi (Egg Hunt) • Black Yoshi • Builder Mario • Builder Toad • Daisy (Fairy) • Mario (Chef) • Peach (Wedding) • Rosalina (Swimwear) • Mario (Swimwear) • Captain Toad • Toadette (Explorer) • Daisy (Yukata) • Mario (SNES) • Mario (Sunshine) • Mario (Halloween) • Peach (Halloween) • Peach (Explorer) • Builder Luigi • Fire Rosalina • Luigi (Lederhosen) • Cat Peach • Cat Toad • Pauline (Rose) • Penguin Toad • Mario (Racing) • White Yoshi • Baby Mario (Koala) • Builder Toadette • Mario (Tuxedo) • Luigi (Painter) • Daisy (Swimwear) • Mario (Baseball) • Peach (Happi) • Penguin Mario • Yoshi (Kangaroo) • Tanooki Mario • Tanooki Rosalina • Mario (Satellaview) • Penguin Toadette • Cat Rosalina • Luigi (Vacation) • Mario (Golf) • Luigi (Golf) • Mario (Aviator) • Mario (Samurai) • Peach (Yukata) • Yoshi (Gold Egg) • Rosalina (Volendam) • Daisy (Farmer) • Dr. Mario • Dr. Luigi • Dr. Peach • Cat Mario • Cat Luigi • Rosalina (Chef) • Daisy (Thai Dress) • Daisy (Sailor) • Toadette (Sailor) • White Tanooki Mario • Luigi (Knight) • Mario (King) • Luigi (Chef) • Kitsune Luigi • Toad (Astronaut) • Toadette (Astronaut) • Poochy • Toad (Tourist) • Luigi (Gold Knight) • Pauline (Cowgirl) • Mario (Black Suit) • Gold Mario • Dry Bowser • King Boo (Luigi's Mansion) • Shy Guy (Pastry Chef) • Waluigi (Bus Driver) • Gold Koopa (Freerunning) • Wario (Hiker) • Dry Bones (Gold) • Funky Kong • Dixie Kong • Dry Bowser (Gold) • Wario (Cowboy) • Nabbit • Bowser Jr. (Pirate) • King Bob-omb • Donkey Kong Jr. (SNES) • Shy Guy (Gold) • King Boo (Gold) • Bowser (Santa) • Lakitu (Party Time) • Birdo (Black) • Shy Guy (Ninja) • King Bob-omb (Gold) • Kamek • Waluigi (Vampire) • Meowser • Chargin' Chuck • Pink Shy Guy (Ninja) • Birdo (White) • Dr. Bowser • Petey Piranha • Chargin' Chuck (Gold) • Petey Piranha (Gold) • Larry (Wintertime) • Light-blue Shy Guy (Explorer) • Yellow Shy Guy (Explorer) • Donkey Kong (Gladiator) • Wiggler • Wiggler (Gold) • Mii Racing Suits
Vehicle parts
Karts
Normal
Pipe Frame • Birthday Girl • Mushmellow • Koopa Dasher • Biddybuggy • Blue Biddybuggy • Cheep Charger • Pink Mushmellow • Birthday Girl Rosalina • Green Kiddie Kart • Red Kiddie Kart • Bullet Blaster • Bull's-Eye Banzai • Landship • Pipe Buggy • Warship • Green Cheep Charger
Super
Mach 8 • Daytripper • Turbo Yoshi • Soda Jet • Super Blooper • Gold Blooper • Royale • Cloud 9 • Poltergust 4000 • Streamliner • White Royale • Zucchini • Red Streamliner • Red Turbo Yoshi • Blue Seven • Super 1 • Dasher II • Tea Coupe • Yellow Turbo Birdo • Egg 1 • Birthday Girl Daisy • Red Standard 8 • Green Standard 8 • Cucumber • Blue Royale • Blue Turbo Yoshi • Orange Turbo Yoshi • Pink Turbo Yoshi • Light-blue Turbo Yoshi • Yellow Turbo Yoshi • Flame Flyer • Barrel Train • DK Jumbo • Chrome DK Jumbo • Koopa Clown • Dark Clown • Para-Wing • Turbo Birdo • Light-blue Turbo Birdo • Bolt Buggy • Rambi Rider • Blue Turbo Birdo • Orange Turbo Birdo • Red Turbo Birdo • Green Turbo Birdo
High-End
B Dasher • Black B Dasher • Yellow Taxi • Quickshaw • Kabuki Dasher • Circuit Special • Black Circuit • Bumble V • Queen Bee • Trickster • Ghost Ride • Macharon • Carrot Kart • Cheermellow • Wild Wing • Radish Rider • Wildfire Flyer • Ribbon Rider • Double-Decker • Swift Jack • Red B Dasher • Jingle Bells • Platinum Taxi • Glam Bruiser • Gilded Prancer • Ice-blue Poltergust • P-Wing • Apple Kart • Comet Tail • Bright Bunny • Dozer Dasher • Clanky Kart • Wild Black • Karp Kart • Prancer • Rose Queen • Green Apple Kart • Choco Macharon • Gold Egg • Sweet Daytripper • Red Taxi • Pink Wing • Happy Ride • Blue Soda • Clackety Kart • Gold Clanky Kart • Festival Girl • Black Kabuki Dasher • 8-Bit Pipe Frame • Gold Pipe Frame • Surf Sailer • Star-Spangled Flyer • Green Circuit • Sports Coupe • Pumpkin Kart • Dark Trickster • Sunset Cloud • Steel Driver • Holiday King • Gold Snow Skimmer • Dreamy Egg • Fast Frank • Iron Cucumber • Cat Cruiser • Wild Pink • Rose Taxi • B Dasher Mk. 2 • Decal Streamliner • Orange Streamliner • White Turbo Yoshi • Sakura Quickshaw • Jet Cruiser • Inferno Flyer • Rambi Runner • Pink Dozer • Grand Badwagon • Paintster • Lime Tea Coupe • Sunny Surf Sailer • Pinch Hitter • Cleanup Hitter • Ice Dozer • Green Double-Decker • Black Cat Cruiser • Red B Dasher Mk. 2 • Pink B Dasher Mk. 2 • Classic B Dasher Mk. 2 • Sky-Blue B Dasher Mk. 2 • Metal B Dasher Mk. 2 • Cream B Dasher Mk. 2 • Green B Dasher Mk. 2 • Tanooki Kart • Gold Pumpkin Kart • Lunar Cruiser • Sleigh Rider • White Snow Skimmer • Frosty Bells • Frost Wing • Gray Cat Cruiser • Sports Coupe 2022 • Roaring Racer • Jukebox Buggy • Sneeker • Green Lightning • Cupid's Arrow • Wild Slugger • Prop Kart • Magma Broom • Star Broom • Yellow 8-Bit Pipe Frame • Warrior Wagon • Armored Rider • Black Turbo Yoshi • Gold Bunny • Flower Kart • Dragonfly • Firefly • Daikon Rocket • Capsule Kart • Blue-Green Capsule Kart • White Bruiser • Coconut 1 • Pink Capsule Kart • Cream Cat Cruiser • Green Cat Cruiser • Goo-Goo Buggy • Goo-Goo Pink • Gold Kiddie Kart • Sweet Ride • White Fast Frank • Tuk-Tuk Kart • Tropical Truck • Gold Zucchini • Lightning Streamliner • Flowery Badwagon • Coral Jet Cruiser • Watermelon Kart • Ice-Cream Minibus • Chocolate Banana Minibus • Strawberry Soft Swerve • Shielded Speedster • Gold Standard • Gold Double-Decker • Black Carriage • Green Speeder • Flaming Speeder • Gold Sweet Ride • Streetle • Blue Speeder • Swift Talon • Gold Eagle • Blazing Eagle • Camo Tanooki Kart • Gold Rambi Rider • Moo Moo Offroader • Pink Speeder • Pink Sneeker • Gold Jingle Bell • Holiday Speeder • Wild Gold • Rainbow Taxi • Blooper Shuttle • Gold Lunar Cruiser • Gold Quickshaw • Pineapple 1 • Hot Pot Hot Rod • Rainbow Streetle • Gold Capsule Kart • Gold 8-Bit Pipe Frame • Taiko Drum Dasher • Sakura Sports Coupe • Bright Girl • Huffin Puffin Egg • Jumbo Jetter • Gold Paintster • Silver Flower Kart • Bronze Cucumber • Cream Classic • Red Comet • Pink Comet • Green Comet • Gold Comet • Mach 8-R • Gold Cupid's Arrow • Silver Cupid's Arrow • Silver Warrior Wagon • Gold Warrior Wagon • Black Shielded Speedster • Gold Shielded Speedster • Yeehaw Wagon • Desert Rose Wagon • Yellow Sub Scooter • Blue Sub Scooter • Gold Driver • Dolphin Drifter • Purple Rattle Buggy • Goo-Goo Gold • Gold Wild Slugger • Spicy Zucchini • Chocolate Mint Soft Swerve • Gold Soft Swerve • Monarch Kart • Gold Monarch Kart • Black B Dasher Mk. 2 • Gold B Dasher • Badwagon • Blue Badwagon • Gold Train • Bruiser • Snow Skimmer • Offroader • Banana Master • Poison Apple Kart • Cheep Snorkel • Gold Cheep Snorkel • Gold Cheep Charger • Dark Buggy • Koopa King • Brown Offroader • Cact-X • Pirate Sushi Racer • Silver Bullet Blaster • Head Honcho • DK Maximum • Sushi Racer • Gilded King • Crawly Kart • Black Dozer • Party-Wing • Penguin Slider • Black Penguin Slider • Cact-Ice • Black Turbo Birdo • Purple Bunny • Jade Hop Rod • Crimson Hop Rod • Dark Hop Rod • Kamek's Zoom Broom • Silver King • Vampire Flyer • Red Crawly Kart • Yellow Offroader • Cact-R • Cheership • Candy Clown • Tiger Bruiser • Combo Cruiser • Sakura Hop Rod • White Turbo Birdo • Green-Yellow Capsule Kart • Piranha Pipes • Red Offroader • Goo-Goo Black • Cact-B • Gold Bullet Blaster • Red Vampire Flyer • Gold Trickster • Gold Bruiser • Black Sneeker • Purple Dozer • Blue Crawly Kart • Rainbow Pipe Buggy • Gold Hop Rod • Black Jingle Bell • Gold Sushi Racer • Dry Bones Dasher • Waluigi Racer Mk. 2 • Chain Chomp Chariot • Fish Bone Ferry • Gold Fish Bone Ferry • Wiggler Egg • Boo Pipes • Gold Pipes • Wild Wiggler
Gliders
Normal
Super Glider • Parachute • Parafoil • Paper Glider • Droplet Glider • BBIA Parafoil • Minion Paper Glider • Piston Glider • Piranha Plant Parafoil
Super
Peach Parasol • Flower Glider • Oilpaper Umbrella • Lightning Oilpaper • Pink Flower Glider • 8-Bit Jumping Mario • ? Block • Plaid Ribbon • Eggshell Glider • 8-Bit Jumping Luigi • Mushroom Glider • Bob-omb Parafoil • Shell Parachute • Wario Wing • Waluigi Wing • BaNaNa Parafoil • Blue Flower Glider
High-End
Gold Glider • Fare Flier • Purple Oilpaper Umbrella • Full Flight • Strawberry Crêpe • Le Tricolore • Starchute • Royal Parachute • Glitter Glider • Soaring Jack • Gift Glider • New Year's 2020 • New Year's Kite • Fireworks Parachute • Crimson Crane • Blizzard Parasol • Blizzard Balloons • Sweetheart Glider • Heart Balloons • Luma Parafoil • Rainbow Starchute • Bright Glider • Safety Glider • Daisy Glider • Pink Gold Paper Glider • Butterfly Sunset • Chocolate Donut • Gold Crane • Chocolate Banana Crêpe • Strawberry Donut • Silver Bells • Silver-and-Gold Hearts • Manta Glider • Treasure Map • Butterfly Wings • Great Sail • Festival Wings • 8-Bit Star • Super Mario Kart Glider • Star-Spangled Glider • Spider Glider • Sunset Balloons • Silver Starchute • Jolly Bells • Butterfly Prism • Planet Glider • New Year's 2021 • Gold New Year's Kite • Toe-Bean Balloons • Calico Parafoil • Black Great Sail • Silver Manta Glider • Rose Parasol • Snow Crystals • 8-Bit Fire Flower • Surf Master • Starry Great Sail • Black Toe-Bean Balloons • 8-Bit Bullet Bill • Glinting Glider • Flying Easel • Sunny Surf Master • Polka-Dot Manta Glider • Home-Field Glider • Gold Home-Field Glider • Springtime Crane • Yukata Ribbon • Silver Surf Master • Ship's Wheel • Tanooki Parafoil • Gold Tanooki Parafoil • Magic Parasol • 8-Bit Super Mushroom • Meteor Balloons • Pink Gold Meteors • Galaxy Glider • Candlelight Flight • Gold Penguin Wingtip • Aurora Balloons • New Year's 2022 • Black Cat Parafoil • Cat Parafoil • Gold Toe-Bean Balloons • Glittering Parasol • Luigi Parafoil • Sky-High Flyer • Record Setter • Mario's Mustache • Luigi's Mustache • Origami Glider • Sakura Origami Glider • Gold Eggshell Glider • Green Sprout • Magniflying Glass • Flybrary Book • Pink Magniflying Glass • Cream Toe-Bean Balloons • Green Cat Parafoil • Candlelight Flight Cake • Pretzel Glider • Tulip Corsage • Red and Gold Umbrella • 8-Bit 1-Up Mushroom • Tropical Balloons • Fire Manta Glider • Mint & Berry Balloons • Vanilla & Chocolate Balloons • Icy Mario's Mustache • Flying Flappers • Silver Luigi's Mustache • Mario's Hat Balloon • Luigi's Hat Balloon • Gold Cloud Balloons • White Waves Origami Glider • Chocolate Pretzel • Para-Panini • Silver Candlelight Flight • Autumn Leaves • Calico Toe-Bean Balloons • Wonderful Garnet • Festive Holly • Yellow Hard Hat Balloon • Fuzzy Kite • Gold Hard Hat Balloon • New Year's 2023 • Gold Meteors • Rainbow Fare Flier • Stealth Glider • Gold Umbrella • Wonderful Diamond • Gold Candlelight Flight • 8-Bit Super Glider • Gold 8-Bit Glider • 8-Bit Block Glider • 8-Bit Goomba • Bright Ribbon • Yoshi's Cookies • Smiley Flower Glider • Golden Glider • Gold Tulips • Gold Manta Glider • Red Checkered Glider • Pink Checkered Glider • Green Checkered Glider • Gold Checkered Glider • Gold Origami Glider • Gold Bells • Glittering Glider • Red Emblem • Green Emblem • Mario Bros. Parafoil • Mosaic Starchute • Jellychute • Wavy Great Sail • Dolphin Great Sail • Pink Bubble Balloon • Mario Golf Cap • Luigi Golf Cap • Gold Mario Golf Cap • Melon & Banana Balloons • Spooky Sprinkle Balloons • Gold Chocolate Balloons • Royal Flush • Rainbow Bells • Gold Mario's Hat Balloon • Swooper • Bullet Bill Parachute • Cloud Glider • Rainy Balloons • Wicked Wings • Gold Swooper • Banana Wingtip • Tropical Glider • Dragon Wings • Blooper Wingtip • Nabbit Oilpaper Umbrella • Cheep Cheep Masks • Dry Bowser Umbrella • Penguin Wingtip • Bright Balloons • Ninja Scroll • Dream Glider • Vampire Wings • Golden Wings • Wario's Mustache • Waluigi's Mustache • Wonderful Wings • Wicked Topaz • Piranha Plant Balloons • Secret Scroll • Lava Rocks • Black Starchute • Boo Masks • Nabbit Parachute • Gold Boo Masks • Roy Oilpaper • Rainbow Flappy Wings • Gold Flappy Wings • Wiggler Parachute • Gold Piranha Plant Balloons • Baby Mario Hanafuda • Yoshi's Egg Hanafuda • Peach Hanafuda • Barrel Hanafuda • Blooper Hanafuda • Cape Mario Hanafuda • Bullet Bill Hanafuda • Boo Hanafuda • Piranha Plant Hanafuda • Goomba Hanafuda • Jumping Mario Hanafuda • Bowser Hanafuda
Tires
Blue Standard • Cyber Slick • Gold Tires • Metal • Monster • Mushroom • Off-Road • Red Monster • Retro Off-Road • Roller • Slick • Slim • Sponge • Standard • Wood
Courses
New courses
City courses
New York Minute (R, T, R/T, 2, 2R, 2T, 2R/T, 3, 3R, 3T, 3R/T, 4, 4R, 4T, 4R/T) (tour appearances) • Tokyo Blur (R, T, R/T, 2, 2R, 2T, 2R/T, 3, 3R, 3T, 3R/T, 4, 4R, 4T, 4R/T) (tour appearances) • Paris Promenade (R, T, R/T, 2, 2R, 2T, 2R/T, 3, 3R, 3T, 3R/T) (tour appearances) • London Loop (R, T, R/T, 2, 2R, 2T, 2R/T, 3, 3R, 3T, 3R/T) (tour appearances) • Vancouver Velocity (R, T, R/T, 2, 2R, 2T, 2R/T, 3, 3R, 3T, 3R/T) (tour appearances) • Los Angeles Laps (R, T, R/T, 2, 2R, 2T, 2R/T, 3, 3R, 3T, 3R/T) (tour appearances) • Berlin Byways (R, T, R/T, 2, 2R, 2T, 2R/T, 3, 3R, 3T, 3R/T) (tour appearances) • Sydney Sprint (R, T, R/T, 2, 2R, 2T, 2R/T, 3, 3R, 3T, 3R/T) (tour appearances) • Singapore Speedway (R, T, R/T, 2, 2R, 2T, 2R/T, 3, 3R, 3T, 3R/T) (tour appearances) • Amsterdam Drift (R, T, R/T, 2, 2R, 2T, 2R/T, 3, 3R, 3T, 3R/T) (tour appearances) • Bangkok Rush (R, T, R/T, 2, 2R, 2T, 2R/T, 3, 3R, 3T, 3R/T) (tour appearances) • Athens Dash (R, T, R/T, 2, 2R, 2T, 2R/T, 3, 3R, 3T, 3R/T) (tour appearances) • Rome Avanti (R, T, R/T, 2, 2R, 2T, 2R/T, 3, 3R, 3T, 3R/T) (tour appearances) • Madrid Drive (R, T, R/T, 2, 2R, 2T, 2R/T, 3, 3R, 3T, 3R/T) (tour appearances)
Other
Merry Mountain (R, T, R/T) (tour appearances) • Ninja Hideaway (R, T, R/T) (tour appearances) • Sky-High Sundae (R, T, R/T) (tour appearances) • Piranha Plant Cove (R, T, R/T, 2, 2R, 2T, 2R/T, 3, 3R, 3T, 3R/T) (tour appearances) • Yoshi's Island (R, T, R/T) (tour appearances) • Piranha Plant Pipeline (R, T, R/T) (tour appearances) • Squeaky Clean Sprint (R, T, R/T) (tour appearances)
Remix courses
RMX Mario Circuit 1 (R, T, R/T) (tour appearances) • RMX Choco Island 1 (R, T, R/T) (tour appearances) • RMX Rainbow Road 1 (R, T, R/T) (tour appearances) • RMX Rainbow Road 2 (R, T, R/T) (tour appearances) • RMX Choco Island 2 (R, T, R/T) (tour appearances) • RMX Vanilla Lake 1 (R, T, R/T) (tour appearances) • RMX Ghost Valley 1 (R, T, R/T) (tour appearances) • RMX Bowser's Castle 1 (R, T, R/T) (tour appearances) • RMX Donut Plains 1 (R, T, R/T) (tour appearances) • RMX Vanilla Lake 2 (R, T, R/T) (tour appearances)
Classic courses
SNES courses
Mario Circuit 1 (R, T, R/T) (tour appearances) • Donut Plains 1 (R, T, R/T) (tour appearances) • Ghost Valley 1 (R, T, R/T) (tour appearances) • Mario Circuit 2 (R, T, R/T) (tour appearances) • Choco Island 1 (R, T, R/T) (tour appearances) • Ghost Valley 2 (R, T, R/T) (tour appearances) • Donut Plains 2 (R, T, R/T) (tour appearances) • Mario Circuit 3 (R, T, R/T) (tour appearances) • Choco Island 2 (R, T, R/T) (tour appearances) • Vanilla Lake 1 (R, T, R/T) (tour appearances) • Bowser Castle 3 (R, T, R/T) (tour appearances) • Donut Plains 3 (R, T, R/T) (tour appearances) • Koopa Troopa Beach 2 (R, T, R/T) (tour appearances) • Vanilla Lake 2 (R, T, R/T) • (tour appearances) • Rainbow Road (R, T, R/T) (tour appearances)
N64 courses
Luigi Raceway (R, T, R/T) (tour appearances) • Koopa Troopa Beach (R, T, R/T) (tour appearances) • Kalimari Desert (R, T, R/T, 2, 2R, 2T, 2R/T) (tour appearances) • Frappe Snowland (R, T, R/T) (tour appearances) • Choco Mountain (R, T, R/T) (tour appearances) • Mario Raceway (R, T, R/T) (tour appearances) • Royal Raceway (R, T, R/T) (tour appearances) • Yoshi Valley (R, T, R/T) (tour appearances)
GBA courses
Peach Circuit (R, T, R/T) (tour appearances) • Riverside Park (R, T, R/T) (tour appearances) • Bowser's Castle 1 (R, T, R/T) (tour appearances) • Boo Lake (R, T, R/T) (tour appearances) • Bowser's Castle 2 (R, T, R/T) (tour appearances) • Luigi Circuit (R, T, R/T) (tour appearances) • Sky Garden (R, T, R/T) (tour appearances) • Cheep-Cheep Island (R, T, R/T) (tour appearances) • Sunset Wilds (R, T, R/T) (tour appearances) • Snow Land (R, T, R/T) (tour appearances) • Yoshi Desert (R, T, R/T) (tour appearances) • Bowser's Castle 3 (R, T, R/T) (tour appearances) • Lakeside Park (R, T, R/T) (tour appearances) • Bowser's Castle 4 (R) (tour appearances)
GCN courses
Baby Park (R, T, R/T) (tour appearances) • Mushroom Bridge (R, T, R/T) (tour appearances) • Daisy Cruiser (R, T, R/T) (tour appearances) • Waluigi Stadium (R, T, R/T) (tour appearances) • Yoshi Circuit (R, T, R/T) (tour appearances) • DK Mountain (R, T, R/T) (tour appearances) • Dino Dino Jungle (R, T, R/T) (tour appearances)
DS courses
Luigi's Mansion (R, T, R/T) (tour appearances) • Waluigi Pinball (R, T, R/T) (tour appearances) • Shroom Ridge (R, T, R/T) (tour appearances) • DK Pass (R, T, R/T) (tour appearances) • Mario Circuit (R, T, R/T) (tour appearances) • Airship Fortress (R, T, R/T) (tour appearances) • Peach Gardens (R, T, R/T) (tour appearances)
Wii courses
Mushroom Gorge (R, T, R/T) (tour appearances) • Coconut Mall (R, T, R/T) (tour appearances) • DK Summit (R, T, R/T) (tour appearances) • Daisy Circuit (R, T, R/T) (tour appearances) • Koopa Cape (R, T, R/T) (tour appearances) • Maple Treeway (R, T, R/T) (tour appearances) • Dry Dry Ruins (R, T, R/T) (tour appearances) • Moonview Highway (R, T, R/T) (tour appearances) • Rainbow Road (R, T, R/T) (tour appearances)
3DS courses
Toad Circuit (R, T, R/T) (tour appearances) • Daisy Hills (R, T, R/T) (tour appearances) • Cheep Cheep Lagoon (R, T, R/T) (tour appearances) • Shy Guy Bazaar (R, T, R/T) (tour appearances) • Mario Circuit (R, T, R/T) (tour appearances) • Rock Rock Mountain (R, T) (tour appearances) • Piranha Plant Slide (R, T, R/T) (tour appearances) • Wario Shipyard (R, T, R/T) (tour appearances) • Neo Bowser City (R, T, R/T) (tour appearances) • Rosalina's Ice World (R, T, R/T) (tour appearances) • Bowser's Castle (R, T, R/T) (tour appearances) • Rainbow Road (R, T, R/T) (tour appearances)
Battle courses
New courses
New York Minute B (tour appearances) • Paris Promenade B (tour appearances)
Classic courses
GBA Battle Course 1 (tour appearances) • GCN Cookie Land (tour appearances) • DS Twilight House (tour appearances)
Other
Bonus challenges
Ready, Set, Rocket Start • Ring Race • Do Jump Boosts • Big Reverse Race • Goomba Takedown • Glider Challenge • Steer Clear of Obstacles • Vs. Mega • Smash Small Dry Bones • Break Item Boxes • Time Trial • Combo Attack • Take them out quick! • Snap a Photo • Precision Gliding • Big Reverse Race vs. 100
Cups
Baby Daisy Cup • Baby Luigi Cup • Baby Mario Cup • Baby Peach Cup • Baby Rosalina Cup • Birdo Cup • Boomerang Bro Cup • Bowser Cup • Bowser Jr. Cup • Cat Peach Cup • Chargin' Chuck Cup • Daisy Cup • Diddy Kong Cup • Dixie Kong Cup • Donkey Kong Cup • Dry Bones Cup • Dry Bowser Cup • Fire Bro Cup • Fire Rosalina Cup • Funky Kong Cup • Gold Mario Cup • Hammer Bro Cup • Ice Bro Cup • Ice Mario Cup • Iggy Cup • Kamek Cup • King Bob-omb Cup • King Boo Cup • Koopa Troopa Cup • Lakitu Cup • Larry Cup • Lemmy Cup • Ludwig Cup • Luigi Cup • Mario Cup • Metal Mario Cup • Mii Cup • Monty Mole Cup • Morton Cup • Nabbit Cup • Pauline Cup • Peach Cup • Peachette Cup • Pink Gold Peach Cup • Poochy Cup • Rosalina Cup • Roy Cup • Shy Guy Cup • Tanooki Mario Cup • Toad Cup • Toadette Cup • Waluigi Cup • Wario Cup • Wendy Cup • Yoshi Cup
Tours
2019
New York Tour • Tokyo Tour • Halloween Tour • Paris Tour • Winter Tour • London Tour • Holiday Tour
2020
New Year's Tour • Ice Tour • Valentine's Tour • Vancouver Tour • Mario Bros. Tour • Baby Rosalina Tour • Hammer Bro Tour • Yoshi Tour • Trick Tour • Flower Tour • Jungle Tour • Cooking Tour • Peach Tour • Marine Tour • Exploration Tour • Wild West Tour • Pirate Tour • Summer Festival Tour • Super Mario Kart Tour • Los Angeles Tour • 1st Anniversary Tour • Halloween Tour • Sunset Tour • Mario vs. Luigi Tour • Winter Tour • Rosalina Tour • New Year's 2021 Tour
2021
Berlin Tour • Cat Tour • Peach vs. Daisy Tour • Snow Tour • Mario Tour • Yoshi Tour • Ninja Tour • Sydney Tour (April–May) • Bowser vs. DK Tour • Trick Tour • Wedding Tour • Paris Tour • Summer Tour • Los Angeles Tour • Mario vs. Peach Tour • Frost Tour • Kamek Tour • Sydney Tour (September) • 2nd Anniversary Tour • Autumn Tour • Halloween Tour • Toad vs. Toadette Tour • Space Tour • Holiday Tour • Penguin Tour • New Year's 2022 Tour
2022
Singapore Tour • Wario vs. Waluigi Tour • Los Angeles Tour • Sky Tour • Mii Tour • Samurai Tour • Yoshi Tour • Amsterdam Tour • Doctor Tour • Peach vs. Bowser Tour (May) • Cat Tour • Metropolitan Tour • Bangkok Tour • Piranha Plant Tour • Ocean Tour • Sundae Tour • Bowser Tour • Mario vs. Luigi Tour • Anniversary Tour • Battle Tour • Halloween Tour • Autumn Tour • Animal Tour • Peach vs. Bowser Tour (November–December) • Holiday Tour • New Year's Tour
2023
Space Tour • Winter Tour • Exploration Tour • Doctor Tour • Mario Tour • Ninja Tour • Yoshi Tour • Spring Tour • Bowser Tour • Mii Tour • Princess Tour • Mario vs. Luigi Tour • Night Tour • Pipe Tour • Sunshine Tour • Vacation Tour • Summer Tour • Sundae Tour • Anniversary Tour
Items
Regular items
Banana • Green Shell • Red Shell • Spiny Shell • Bob-omb • Mushroom • Mega Mushroom • Bullet Bill • Blooper • Lightning • Super Horn • Coin • Star • Feather*
Special items
Triple Bananas • Giant Banana • Triple Green Shells • Bowser's Shell • Double Bob-ombs • Triple Mushrooms • Fire Flower • Boomerang Flower • Ice Flower • Heart • Yoshi's Egg • Birdo's Egg • Bubble • Banana Barrels • Mushroom Cannon • Bob-omb Cannon • Lucky Seven • Dash Ring • Coin Box • Hammer • Giga Bob-omb • Super Bell • Super Leaf • Capsule
Inventory items
Coin • Coin Rush ticket • Event token* • Grand Star • Item ticket • Level-boost ticket • Point-boost ticket • Points-cap ticket* • Ruby • Star ticket • Team token* • Quick ticket
Course elements
Interactable
Banzai Bill • Barrel • Barrel Bomb • Bath Bomb • Barrel Cannon • Big egg • Blimp • Bob-omb Car • Bone Piranha Plant • Burner • Cannon • Car • Ceiling Needle • Chain Chomp • Cheep Cheep • Clampy • Crate • Dash Panel • Dash panel ramp truck • Exploring Shy Guy • Falling Pillar • Festive tree • Fire Piranha Plant • Flipper • Floaty • Flying Shy Guy • Fuzzy • Glide Ramp • Goal Ring • Goat • Goomba • Goomba Tower • Half-pipe • Hot-air balloon • Inky Piranha Plant • Jack-o'-lantern • Jar • Jellybeam • Jump Boost field • Kadomatsu • Kanaami Road • Lava Bubble • Lava Geyser • Leaf pile • Maw-Ray • Mecha Cheep • Metal ball • Mud • Mushroom Platform • Mushroom Trampoline • Noshi • Oil slick • Penguin • Pipe • Piranha Plant • Pokey • Puddle • Ramp • Rocky Wrench • Rolling rock • Shoe • Sidestepper • Skating Shy Guy • Snow block • Snowball • Snowboarding Shy Guy • Snowperson • Soccer Ball • Spider Web • Spring egg • Star Ring • Star Thwomp • Stilt Guy • Swoop • Table • Thwomp • Traffic cone • Train • Truck • Walking Tree • Water Geyser • Wiggler • Wiggler Wagon • Whomp • Winged Cloud • Wooden cutout
Non-interactable
Big Cheep Cheep • Boo • Boo Buddies • Bulber • Goonie • Huffin Puffin • Incoming Chomp • Nep-Enut • Note Block • Painting • Petal Guy • Shy Guy Tent • Star Bit • Vase
Techniques
Drift • Hop • Jump Boost • Mini-Turbo • Rocket Start • Slipstream
Favored and favorite courses
New • Remix • Super Mario Kart (SNES) • Mario Kart 64 (N64) • Mario Kart: Super Circuit (GBA) • Mario Kart: Double Dash!! (GCN) • Mario Kart DS (DS) • Mario Kart Wii (Wii) • Mario Kart 7 (3DS) • Battle
Notable areas, landmarks, and sightings
City courses
Amsterdam • Athens (Hadrian's Arch · Parthenon) • Bangkok • Berlin (Berlin Wall · Brandenburg Gate · Charlottenburg Palace) • London (Big Ben · Tower Bridge · Tower of London) • Madrid (Prado Museum · Ventas Bullring) • New York (Empire State Building · Statue of Liberty · Rockefeller Center) • Paris (Arc de Triomphe · Cathedral of Notre Dame · Eiffel Tower · Louvre) • Rome (Colosseum · Spanish Steps · Trevi Fountain) • Sydney • Tokyo • Vancouver
Other
Boo Woods • Bowser's Castle • Daisy Cruiser • Hammer Bros. Sphinx • Luigi's Mansion • Peach's Castle
Miscellaneous
Action names in other languages • Badges • Challenge cards • Coin Rush • Driver names in other languages • Emblem • Experience Point • Finish line • Frenzy • Gallery (Artwork · Badges · Course icons · Screenshots · Sprites and models) • "I Love Mario Kart Tour" • In-game statistics • Item probability distributions • Media • Pipe • Pre-release and unused content • Race points system • Special pipe • Special skill • Sponsors • Trick animations • Underwater driving • Update history
* In version 2.1.0 or later
Mario Kart 8 / Mario Kart 8 Deluxe
Drivers
Featherweight
Baby Mario • Baby Luigi • Baby Peach • Baby Daisy • Baby Rosalina • Lemmy • Dry Bones
Light
Toad • Koopa Troopa • Shy Guy (Light-blue* · Black* · Green* · Yellow* · White* · Blue* · Pink* · Orange*) • Lakitu • Toadette • Larry • Wendy • Cat Peach* • Villager (Female)* • Isabelle* • Bowser Jr. • Inkling Girl
Medium
Princess Peach • Princess Daisy • Yoshi (Light-blue* · Black* · Red* · Yellow* · White* · Blue* · Pink* · Orange*) • Mario • Luigi • Iggy • Ludwig • Tanooki Mario* • Villager (Male)* • Inkling Boy • Birdo ‡ (Orange ‡ · Yellow ‡ · Blue ‡ · Light-blue ‡ · Green ‡ · Red ‡ · Black ‡ · White ‡) • Kamek ‡ • Diddy Kong ‡ • Peachette ‡
Cruiser
Rosalina • Metal Mario (Gold ) • Pink Gold Peach • Donkey Kong • Waluigi • Roy • Link* • King Boo
Heavy
Bowser • Wario • Morton • Dry Bowser* • Petey Piranha ‡ • Wiggler ‡ • Funky Kong ‡ • Pauline ‡
Any
Mii
Vehicle parts
Bodies
Karts
Standard Kart • Pipe Frame • Mach 8 • Steel Driver • Cat Cruiser • Circuit Special • Tri-Speeder • Badwagon • Prancer • Biddybuggy • Landship • Sneeker • Sports Coupe • Gold Standard • GLA* • W 25 Silver Arrow* • 300 SL Roadster* • Blue Falcon* • Tanooki Kart* • B Dasher* • Streetle* • P-Wing* • Koopa Clown
Standard bikes
Standard Bike • The Duke • Flame Rider • Varmint • Mr. Scooty • City Tripper* • Master Cycle Zero †
Sport bikes
Comet • Sport Bike • Jet Bike • Yoshi Bike • Master Cycle*
ATVs
Standard ATV • Wild Wiggler • Teddy Buggy • Bone Rattler* • Inkstriker • Splat Buggy
Tires
Standard • Monster • Roller • Slim • Slick • Metal • Button • Off-Road • Sponge • Wood • Cushion • Blue Standard • Hot Monster • Azure Roller • Crimson Slim • Cyber Slick • Retro Off-Road • Gold Tires • GLA Tires* • Triforce Tires* • Leaf Tires* • Ancient Tires †
Gliders
Super Glider • Cloud Glider • Wario Wing • Waddle Wing • Peach Parasol • Parachute • Parafoil • Flower Glider • Bowser Kite • Plane Glider • MKTV Parafoil • Gold Glider • Hylian Kite* • Paper Glider* • Paraglider †
Courses
New courses
Mushroom Cup
Mario Kart Stadium • Water Park • Sweet Sweet Canyon • Thwomp Ruins
Flower Cup
Mario Circuit • Toad Harbor • Twisted Mansion • Shy Guy Falls
Star Cup
Sunshine Airport • Dolphin Shoals • Electrodrome • Mount Wario
Special Cup
Cloudtop Cruise • Bone-Dry Dunes • Bowser's Castle • Rainbow Road
Classic courses
Shell Cup
Wii Moo Moo Meadows • GBA Mario Circuit • DS Cheep Cheep Beach • N64 Toad's Turnpike
Banana Cup
GCN Dry Dry Desert • SNES Donut Plains 3 • N64 Royal Raceway • 3DS DK Jungle
Leaf Cup
DS Wario Stadium • GCN Sherbet Land • 3DS Music Park • N64 Yoshi Valley
Lightning Cup
DS Tick-Tock Clock • 3DS Piranha Plant Slide • Wii Grumble Volcano • N64 Rainbow Road
DLC courses*
Egg Cup
GCN Yoshi Circuit • Excitebike Arena • Dragon Driftway • Mute City
Triforce Cup
Wii Wario's Gold Mine • SNES Rainbow Road • Ice Ice Outpost • Hyrule Circuit
Crossing Cup
GCN Baby Park • GBA Cheese Land • Wild Woods • Animal Crossing
Bell Cup
3DS Neo Bowser City • GBA Ribbon Road • Super Bell Subway • Big Blue
Booster courses‡
Golden Dash Cup
Tour Paris Promenade • 3DS Toad Circuit • N64 Choco Mountain • Wii Coconut Mall
Lucky Cat Cup
Tour Tokyo Blur • DS Shroom Ridge • GBA Sky Garden • Ninja Hideaway
Turnip Cup
Tour New York Minute • SNES Mario Circuit 3 • N64 Kalimari Desert • DS Waluigi Pinball
Propeller Cup
Tour Sydney Sprint • GBA Snow Land • Wii Mushroom Gorge • Sky-High Sundae
Rock Cup
Tour London Loop • GBA Boo Lake • 3DS Rock Rock Mountain • Wii Maple Treeway
Moon Cup
Tour Berlin Byways • DS Peach Gardens • Merry Mountain • 3DS Rainbow Road
Fruit Cup
Tour Amsterdam Drift • GBA Riverside Park • Wii DK Summit • Yoshi's Island
Boomerang Cup
Tour Bangkok Rush • DS Mario Circuit • GCN Waluigi Stadium • Tour Singapore Speedway
Feather Cup
Tour Athens Dash • GCN Daisy Cruiser • Wii Moonview Highway • Squeaky Clean Sprint
Cherry Cup
Tour Los Angeles Laps • GBA Sunset Wilds • Wii Koopa Cape • Tour Vancouver Velocity
Wave 6
Wii Daisy Circuit
Battle courses
Wii U
Wii Moo Moo Meadows • GCN Dry Dry Desert • SNES Donut Plains 3 • N64 Toad's Turnpike • Mario Circuit • GCN Sherbet Land • N64 Yoshi Valley • Toad Harbor
Switch
3DS Wuhu Town • GCN Luigi's Mansion • SNES Battle Course 1 • Urchin Underpass • Dragon Palace • Battle Stadium • Sweet Sweet Kingdom • Lunar Colony
Other
Items
Banana • Blooper • Boo • Boomerang Flower • Bullet Bill • Coin • Crazy Eight • Feather • Fire Flower • Golden Mushroom • Green Shell • Lightning • Mushroom • Piranha Plant • Red Shell • Spiny Shell • Super Horn • Triple Bananas • Triple Green Shells • Triple Mushrooms • Triple Red Shells
Course objects
Antigravity Panel • Arrow field ‡ • Barrel • Bath Bomb ‡ • Bell* • Board • Bob-omb Car ‡ • Boulder • Bowser Statue • Bus • Bumper ‡ • Cannon • Car • Cash • Ceiling Needle ‡ • Coin • Crate • Current • Dash Panel • Dash panel ramp truck • Drain Pipe • Falling Pillar • Fire Bar • Fire Chain • Flipper ‡ • Glide Ramp • Goal Ring ‡ • Hot-air balloon • Half-pipe ‡ • Item Box • Lava Geyser • Leaf pile* • Master Sword* • Mecha Piranha Plant ‡ • Metal ball ‡ • Millstone • Mine Cart* • Mushroom Platform ‡ • Mushroom Trampoline ‡ • Oil slick • Pit* • Ring • Rupee* • Snowboy* • Snowman • Spin Boost Pillar • Spinner • Submarine • Table ‡ • Tire • Traffic cone • Train* • Truck • Volcanic debris • Water Geyser ‡ • Winged Cloud ‡
Enemies and species
Big Wiggler ‡ • Bone Piranha Plant • Boo • Bouncing Note • Bowser Monument • Chain Chomp • Cheep Cheep • Clampy ‡ • Deku Baba* • Dolphin • Dry Bones • Exploring Shy Guy ‡ • Fire Piranha Plant ‡ • Fire Snake • Fish Bone • Freezie • Frogoon • Goomba • Goomba Tower • Goonie ‡ • Hammer Knight • Huffin Puffin ‡ • Incoming Chomp ‡ • Innertube Goomba ‡ • Jellybeam • Keese* • Little bird • Manta • Mecha Cheep • Mechakoopa • Mini Toad* • Monty Mole • Moo Moo • Mr. Resetti* • Nep-Enut ‡ • Noki • Penguin ‡ • Petal Guy ‡ • Pianta • Piranha Plant • Pokey • Ptooie ‡ • Raving Piranha Plant • Screaming Pillar • Sidestepper • Skating Shy Guy • Snowboarding Shy Guy ‡ • Stilt Guy ‡ • Super Thwomp* • Swoop • Thwomp • Tiki Goon • Toad • Unagi • Whomp ‡ • Yoshi
Techniques
Anti-gravity • Drift • Hop • Mini-Turbo • Rocket Start • Slipstream • Spin Boost • Spin Turn • Jump Boost • U-turn • Underwater driving
Notable areas, landmarks, and sightings
Amsterdam ‡ • Athens (Hadrian's Arch · Parthenon) ‡ • Bangkok ‡ • Berlin (Berlin Wall · Brandenburg Gate · Charlottenburg Palace) ‡ • Bowser's Castle • DK's Tree House • Hammer Bros. Sphinx • London (Big Ben · Tower Bridge · Tower of London) ‡ • Luigi's Mansion • New York (Empire State Building · Statue of Liberty · Rockefeller Center) ‡ • Paris (Arc de Triomphe · Cathedral of Notre Dame · Eiffel Tower · Louvre) ‡ • Peach's Castle • Sydney ‡ • Tokyo ‡ • Vancouver ‡
Official Mario Kart 8 Deluxe tournaments
North America
NOA 150cc Tournament and NOA Battlethon • Mario Kart North American Open • Mario Kart 8 Deluxe Holiday Fun Run • Mario Kart 8 Deluxe Championship Cup 2022 • Mario Kart 8 Deluxe North American Qualifier 2022 • Mario Kart 8 Deluxe North American Qualifier 2023 • Mario Kart 8 Deluxe Championship Cup 2023 • Mario Kart 8 Deluxe Championship 2023 Qualifier • Mario Kart 8 Deluxe Championship 2023
Australia and New Zealand
Mario Kart 8 Deluxe Super Saturdays • Mario Kart AU/NZ My Nintendo Cup • Mario Kart 8 Deluxe: AU/NZ Grand Prix
China
Mario Kart 8 Deluxe Summit Invitational Tournament • Mario Kart 8 Deluxe Online Tournaments (2021 Tencent series) • Mario Kart 8 Deluxe National Battle Team Open Tournament • Mario Kart 8 Deluxe Open Team Championship
Europe
Mario Kart 8 Deluxe Seasonal Circuit
Hong Kong
Nintendo HK 2021 Cup
Japan
Mario Kart 8 Deluxe Online Challenge • Mario Kart 8 Deluxe Online Challenge Final Stage
Spain
#TorneoMK8D
UK and Ireland
Nintendo UK VS Cup • Nintendo VS UK Cup
Miscellaneous
Andrew Trego • Animal Crossing × Mario Kart 8* • "Blue Shell Blues" • Cheese* • Daisy Cruiser* • DK's Tree House • Emblem • Finish line • From the Pit • Ghost • Gravity • Heart ‡ • Highlight Reel • Hyrule Castle* • In-game statistics (Deluxe) • Item probability distributions • Lakitu • The Legend of Zelda × Mario Kart 8* • Mario Kart 8 Deluxe – Booster Course Pass ‡ • Mario Kart Band • Mario Kart TV • Mercedes-Benz × Mario Kart 8* • Miiverse • Poochy ‡ • Pre-release and unused content • Soundtrack • Sponsors • Staff (Deluxe) • Stamp (list) • Update history
Related

Play Nintendo

activities:


Take a spin in one of these beauties!

•

Racing through this poll

•

One cup, four tracks…

•

Leaf it to me

•

Gaming gardens trivia quiz

•

Mario Kart 8 Deluxe Memory Match-Up

- Indicates exclusivity to Mario Kart 8                 * - Indicates downloadable content in Mario Kart 8 - Indicates exclusivity to Mario Kart 8 Deluxe                 † - Indicates content available in version 1.6.0 and later of Mario Kart 8 Deluxe                 ‡ - Indicates content available in the Mario Kart 8 Deluxe – Booster Course Pass