Donkey Konga 2
From the Super Mario Wiki, the Mario encyclopedia
Jump to navigation
Jump to search
It has been requested that at least one audio and/or video file related to this article be uploaded.
Please upload all related music, sound effects, voice clips, or any videos for this article. See the help page for information on how to get started.
Donkey Konga 2

Cover art
For alternate box art, see the game's gallery.
Developer
Namco
Publisher
Nintendo
Platform(s)
Nintendo GameCube
Release date
July 1, 2004
May 9, 2005
June 3, 2005

Genre
Rhythm
Rating(s)
Mode(s)
Single player, multiplayer
Media

Nintendo GameCube:

Optical disc

Input

Nintendo GameCube:

Nintendo GameCube Controller

DK Bongos
Donkey Konga 2 is a Donkey Kong video game for the Nintendo GameCube. It is the sequel to Donkey Konga and the second title of the Donkey Konga series. It also has a sequel that was released only in Japan, Donkey Konga 3 JP. Donkey Konga 2 was released in Japan in 2004 and in 2005 overseas.
Like the other Donkey Konga titles, Donkey Konga 2 utilizes the DK Bongos peripheral, but it retains its compatibility with the GameCube Controller.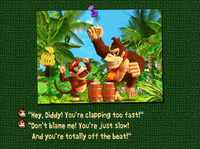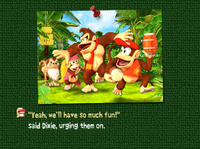 Donkey Kong and Diddy Kong were practicing the bongos; its energy was draining from the Kongs shouting and arguing with one another over their performance. Cranky and Dixie show up and hear them arguing. The Kongs blame each other to Cranky, but Dixie looks at Diddy's bongos and tells him and DK that she was listening to them and claims their bongo playing is "way off". Dixie is about to play the bongos, and DK and Diddy doubt her capability of playing them. To their surprise, Dixie was very good at playing the bongos. After drumming, Dixie told DK and Diddy to work on their drumming skills, specifically citing their timing and accuracy.
Cranky told DK and Diddy that they can only improve by competing against other people. He mentions of the whole world with music, and that the Kongs should tour off the island to practice on their bongos. Diddy expressed his love for the idea while Donkey Kong was unaware of the entire situation. He asked what the big deal was and if they would have a tour guide. DK and Diddy fantasize and excitedly shout in unison of all the Bananas they would be able to eat. Dixie decides to join the Kongs, and says that they cannot leave the island without her bongo skills. Diddy gets annoyed at her statement and professes to be good at playing bongos. The opening ends with the three Kongs leaving the island, and Cranky asks himself if they are prepared for a world tour, hoping they would "break a leg".
Gameplay
[
edit
]
Donkey Konga 2 has largely similar gameplay to that of Donkey Konga's. It retains its Taiko no Tatsujin-based gameplay style. The player must hit the notes in conjunction with the song playing. A few unique modes appear in this game, including "Concert", "Freestyle Zone", and "Music Lab".
Aside from the story introduction, Dixie Kong has a role as a professional drummer. Sometimes, after completing a mode, Dixie provides advice to the player, known as "Dixie's Notes". Each bit of advice she provides is catalogued in the "Hall of Records" for the player to review. Dixie is also Donkey Kong's opponent in the Barrel Race mini-game.
Mode
Description
Players

Street Performance
In this mode, the player performs a song while hitting the corresponding musical notes to collect coins. Aside from some minor HUD differences, Street Performance has some differences from the predecessor. The coins are now stored in a DK emblem chest, a counter showing the number of coins, and a weight scale. Banana Fairys sometimes appear in the mode, and momentarily grant the ability for each note to have a value of three coins. Coins are used to purchase extra features in the Shopping Mall or to play mini-games in the Music Lab.
1-2 players

Concert
In this mode, players synchronously perform a song, each with their own notes to hit. There is a Share Mode that allows multiplayer from a single DK Bongo Controller. Concert is also playable in single player, where the player (as Donkey Kong) rather performs with a computer player (as Dixie Kong).
1-4 players

Freestyle Zone
This mode freely allows the player to perform their own beats on the DK Bongos (or GameCube Controller), hence the name "freestyle". They can also press to access a menu allowing them to change the scenery and background music.

Each time a button is pressed, an image displays on screen, usually of an official artwork. A "Hit Count" meter is at the top-right, which counts how many times the player pressed a button. The meter resets after exceeding 1,000 hits. This mode also appears in Donkey Konga 3.

1 player

Shopping Mall
This mode is the successor to DK Town from the first Donkey Konga. Shopping Mall allows the player to purchase unlockables if they have enough coins. There are two categories: "Jungle Jams" and "Bongos-A-Go-Go". The former option sells each song individually to be played on Gorilla (expert) difficulty level. The latter option sells different sound sets, which create different sound effects than the default bongos, and can be changed in each mode.
1 player

Hall of Records
The player can review their achievements, which includes "Hit Parade", "Dixie's Notes", and "Badge Collection". The first option shows the highest score (in percentage) of notes that the player hit. The second option shows the advice already received from Dixie. Lastly, the third option shows a collection of badges earned by the player.
1 player

Battle
In this mode, players perform a song to compete for the highest score.
2-4 players

Challenge
In Challenge mode, the player performs a number of songs in a row. There are three options: the "6-Song Set", "12-Song Set" and the unlockable "Full Set".
1-2 players

Music Lab
This mode replaces the "Ape Arcade" section from Donkey Konga. In it, players can play one of two mini-games: Barrel Race or Rhythm Keeper. Unlike Donkey Konga, the player is required to pay coins for each play. It costs 50 coins to play either mini-game in single player, or 100 coins to play it in Vs. (multiplayer).
1-4 players

Electric Hut (Options)
This is the options menu, which allows the player to change settings for their controller (either DK Bongos or GameCube), switch between Stereo and Mono, and a Volume Balance for adjusting the volume between sound effects and music.
1 player
Shopping Mall unlockables
[
edit
]
Bongos-A-Go-Go
[
edit
]
Despite having the same function, each sound set is at a different price. Every sound set has three sound effects based on its title, and they each correspond with clapping and the left and right bongos.
| Item | Cost |
| --- | --- |
| Alarms Set | 2,900 coins |
| Birds Set | 4,800 coins |
| Boing Set | 3,200 coins |
| Party Set | 2,600 coins |
| Drums Set | 2,000 coins |
| Fight Set | 5,800 coins |
| Gigglebox Set | 4,500 coins |
| Gong Set | 9,600 coins |
| Horns Set | 7,700 coins |
| Kittycat Set | 8,000 coins |
| Office Set | 6,400 coins |
| Safari Set | 6,800 coins |
| Ding Set | 3,900 coins |
| Sea Mammals Set | 5,200 coins |
| Symphony Set | 8,000 coins |
| Synth Set | 9,600 coins |
Jungle Jams
[
edit
]
Each song has a purchasable Gorilla Arrangement, which is peforming the song on expert difficulty. Like with Bongos-A-Go-Go, each item is individually priced even though the general purpose is the same.
| Item | Cost |
| --- | --- |
| U Don't Have to Call | 2,000 coins |
| Rock the Boat | 3,200 coins |
| Predictable | 1,500 coins |
| The Anthem | 777 coins |
| Drive | 1,600 coins |
| Wish You Were Here | 750 coins |
| Trouble | 1,800 coins |
| Road Trip | 2,500 coins |
| Sidewalks | 1,100 coins |
| Losing My Religion | 2,000 coins |
| Shiny Happy People | 1,000 coins |
| All Star | 1,234 coins |
| Contact | 2,222 coins |
| Donkey Konga 2 Theme | 2,800 coins |
| Trepak | 3,000 coins |
| Habanera | 1,875 coins |
| Minute Waltz | 1,949 coins |
| La Bamba | 808 coins |
| Boombastic | 480 coins |
| No More Drama | 1,600 coins |
| Come Clean | 980 coins |
| Born Too Slow | 2,200 coins |
| I Don't Want To Know | 1,500 coins |
| Unpretty | 580 coins |
| Hit 'Em Up Style (Oops!) | 555 coins |
| It's Been a While | 2,800 coins |
| Send the Pain Below | 980 coins |
| High Roller | 5,800 coins |
| Pieces | 9,800 coins |
| Headstrong | 3,200 coins |
| Why Don't We Fall In Love | 760 coins |
| Full Moon | 850 coins |
List of songs
[
edit
]
There are a little over 30 songs featured in the game. Like its predecessor, Donkey Konga 2 features a different set of songs per regional version.
Japanese
[
edit
]
North American
[
edit
]
European/Australian
[
edit
]
Regional differences
[
edit
]
Like its predecessor, Donkey Konga 2 features regional differences aside from a different set of music. Aside from the language difference, the European and Japanese feature fewer differences than to the North American version.
The Japanese release has the same health & safety warning as in Donkey Konga. Only regular health & safety warnings are in the North American and European versions.
The title screen is different from the North American version to the European and Japanese versions. The Japanese version has a subtitle, so the main title was made smaller to accommodate room for the subtitle. Despite the logo difference, every regional version has the same Nintendo GameCube menu banner.
The background texture of Freestyle Zone's options menu and Dixie's Notes show the Donkey Konga 2 logo. As a result, each regional version shows their own logo. The Japanese logo is brighter than the European logo, which is even darker than the North American logo.
The song selection menu of the European and Japanese versions are sorted by genre. The North American version does not do this, and each of its banners are in either shade of green. However, the song list in the North American manual utilizes this categorization.[1]
In the Freestyle Zone, the number of hits is mentioned twice in the European version: the "Hit Count" (above) and the word "hit(s)" (on the right side).
Hiroumi Endo
Hiroshi Igarashi
Hiroyuki Onoda
Yoshihiro Kurohata
Kenichiro Kubo
Shigenori Kanai
References to other games
[
edit
]
Gallery
[
edit
]
For this subject's image gallery, see Gallery:Donkey Konga 2.
Reception
[
edit
]
Donkey Konga 2 received mixed to positive reviews from gaming outlets. Critics generally praised the responsive and intuitive mechanics and the multiplayer modes, but criticized the odd western track lists, the poor quality of many of the cover songs and the general lack of addition to the formula.
Reviews
Release
Reviewer, Publication
Score
Comment
Nintendo GameCube
Tom Bramwell, Eurogamer
5/10
Donkey Konga 2 is an entertaining game...But it's not as good as lots of other rhythm-action and musical games that I've played. Here, the composition doesn't really need your input and as such you're drumming for points and exhibitionism, and while the former can make for a compelling game the absence of the latter is extremely significant. Elsewhere in the genre, the composition really needs you, points set you apart, and exhibitionism is the addiction that keeps you coming back. By comparison, Donkey Konga 2's a bit too... (ah hell, why not?) humdrum.
Nintendo GameCube
Juan Castro, IGN
8/10
In the end, the musical selections in Donkey Konga 2 will either seem like a good or terrible idea, depending on the person playing. As for this reviewer, the decision to toss videogame themes and classic oldies songs for a bunch of forgettable rock/pop and hip-hop tunes marks a bad move on the part of Nintendo. Yes, it's cool that Nintendo has tried to appeal to a mass audience, but it can't forget its fanbase either. It's all about compromise. Nintendo fans won't mind the inclusion of trendy tunes, so long as their music remains untouched. It would have nice to see other classic Nintendo tunes, in addition to the handful of numbers in the previous Konga game, not their systematic elimination. Still, the game remains a great multiplayer title. It's fun, simple and hopelessly addictive when playing with friends. So long as your friends don't hate hip-hop or Good, friggin', Charlotte.
Nintendo GameCube
Eduardo Vasconcellos, Gamespy
3.5/5
While the multiplayer features are really quite a bit of fun, that's about all the game is good for. The single-player modes are really lacking, which is really astounding since the multiplayer is so much fun. If you're going to be playing in single-player mode a lot, save yourself some drab gameplay, and for a little bit extra, buy yourself a starter three-piece drum set instead. You'll be free to play to your entire library of music and you'll be learning a new skill.
Aggregators
Compiler
Platform / Score
Metacritic
69
GameRankings
71.38%
Names in other languages
[
edit
]
Language
Name
Meaning
Japanese
ドンキーコンガ

2

ヒットソングパレード
Donkī Konga Tsū Hitto Songu Parēdo
Donkey Konga 2: Hit Song Parade
References
[
edit
]
External links
[
edit
]
Donkey Kong games
Platformers
Donkey Kong
Donkey Kong (1981, arcade) • Donkey Kong Jr. (1982, arcade) • Donkey Kong 3 (1983, arcade) • Donkey Kong Jr. Math (1983, NES) • Donkey Kong 3: Dai Gyakushū (1984, computer) • Donkey Kong (1994, GB) • Mario vs. Donkey Kong (2004, GBA)
Donkey Kong Country
Donkey Kong Country (1994, SNES) • Donkey Kong Country 2: Diddy's Kong Quest (1995, SNES) • Donkey Kong Country 3: Dixie Kong's Double Trouble! (1996, SNES) • Donkey Kong Country Returns (2010, Wii) • Donkey Kong Country: Tropical Freeze (2014, Wii U)
Donkey Kong Land
Donkey Kong Land (1995, GB) • Donkey Kong Land 2 (1996, GB) • Donkey Kong Land III (1997, GB)
Mario vs. Donkey Kong
Mario vs. Donkey Kong (2004, GBA) • Mario vs. Donkey Kong 2: March of the Minis (2006, DS) • Mario vs. Donkey Kong: Minis March Again! (2009, DSiWare) • Mario vs. Donkey Kong: Mini-Land Mayhem! (2010, DS) • Mario and Donkey Kong: Minis on the Move (2013, 3DS) • Mario vs. Donkey Kong: Tipping Stars (2015, 3DS/Wii U) • Mini Mario & Friends: amiibo Challenge (2016, 3DS/Wii U) • Mario vs. Donkey Kong (2024, Nintendo Switch)
DK
DK: King of Swing (2005, GBA) • DK: Jungle Climber (2007, DS) (Banana Bonanza [Unknown, Adobe Flash] • Rolling Panic [Unknown, Adobe Flash] • Banana Grab [Unknown, Adobe Flash])
Miscellaneous
Donkey Kong 64 (1999, N64) • Donkey Kong Jungle Beat (2004, GCN)
Donkey Konga
Donkey Konga (2003, GC) • Donkey Konga 2 (2004, GC) • Donkey Konga 3 JP (2005, GC)
Racing games
Diddy Kong Racing (1997, N64) • Donkey Kong Barrel Blast (2007, Wii)
Other
Donkey Kong Circus (1984, G&W) • Donkey Kong Hockey (1984, G&W) • Donkey Kong (1996, arcade) • Donkey Konk (1999, Adobe Shockwave) • Donkey Kong 64 Lore Quiz (1999, Adobe Shockwave) • Kremling Krushin (2000, Adobe Flash) • Donkey Kong Country Barrel Maze (2003, Adobe Shockwave) • Mini-Mario Factory Game! (2004, Adobe Flash) • Hurling for Distance (2005, Adobe Flash) • Barrel-Blastapalooza (2005, Adobe Flash) • Donkey Kong: Jungle Fever (2005, arcade) • Mario vs. DK 2: Cannon Kaos (2006, Adobe Flash) • Donkey Kong: Banana Kingdom (2006, arcade) • Timber's Balloon Pop (2007, Adobe Flash) • Play Nintendo activities (2014–present)
Reissues
Crazy Kong (1981, arcade) • Donkey Kong (1982, G&W) • Donkey Kong Jr. (1982, G&W) • Donkey Kong II (1983, G&W) • Donkey Kong Jr. + Jr. Sansū Lesson (1983, NES) • Donkey Kong 3 (1984, G&W) • Donkey Kong Classics (1988, NES) • Donkey Kong (1994, NGW) • Donkey Kong Country Competition Cartridge (1994, SNES) • Donkey Kong Country (2000, GBC) • Donkey Kong Country (2003, GBA) • Classic NES Series: Donkey Kong (2004, GBA) • Donkey Kong Country 2 (2004, GBA) • Donkey Kong Country 3 (2005, GBA) • Diddy Kong Racing DS (2007, DS) • New Play Control! Donkey Kong Jungle Beat (Wii, 2008) • Donkey Kong Original Edition (2010, VC) • Donkey Kong Country Returns 3D (2013, 3DS) • Donkey Kong Country: Tropical Freeze (2018, Switch)
Crossovers
Super Smash Bros. series
Super Smash Bros. (1999, N64) • Super Smash Bros. Melee (2001, GCN) • Super Smash Bros. Brawl (2008, Wii) • Super Smash Bros. for Nintendo 3DS (2014, 3DS) • Super Smash Bros. for Wii U (2014, Wii U) • Super Smash Bros. Ultimate (2018, Switch)
NES Remix series
Main
NES Remix (2013, Wii U)
Reissues
NES Remix Pack (2014, Wii U) • Ultimate NES Remix (2014, 3DS)
Tech demos
Unnamed Donkey Kong Country proof-of-concept (Unknown, VB) • puzzle (Unknown, N64) • spritemonkeyEX (Unknown, N64) • Mario vs. Donkey Kong Wii U demo (2014, Wii U)
Pitches / canceled games
Donkey Kong no Ongaku Asobi (FC) • Donkey Kong parking attendant arcade game (arcade) • Donkey Kong IV (arcade) • Return of Donkey Kong (NES) • Super Donkey (SNES) • CD-i Donkey Kong game (CD-i) • Donkey Kong vs. Super Wario (SNES) • Donkey Kong and the Golden Bananas (SNES) • Ultra Donkey Kong (N64DD) • Donkey Kong Coconut Crackers (GBA) • Diddy Kong Pilot (2001/2003) (GBA) • Donkey Kong Racing (GCN) • Donkey Kong Plus (GCN/GBA) • Diddy Kong Racing Adventure (GCN) • Donkey Kong Country 4 (DS) • DK Bongo Blast (GCN)