Donkey Kong Coconut Crackers
From the Super Mario Wiki, the Mario encyclopedia
Jump to navigation
Jump to search
Donkey Kong Coconut Crackers, also called Donkey Kong Puzzle Paint[1] at one point in development, was a canceled puzzle game for the Game Boy Advance and a Donkey Kong spinoff title. The game was developed by Rare Ltd., was shown off at E3 2001, and was originally planned for a November 2001 release date.[2] It was likely postponed ahead of time due to the forthcoming acquisition from Microsoft in 2002.[3] Eventually, the game was canceled along with Donkey Kong Racing in August 2002,[4] one month before Microsoft's acquisition of Rare.
The game went through many different iterations, with and without Donkey Kong attached to it, including the following working titles: Splonge, Nutcracker, Animal Cracker, and Sunflower.[5] After the game was canceled, the Donkey Kong elements from the game were removed, and Rare considered reworking it into a Banjo-series spin-off titled Banjo's Jiggy Juggle, or a Sabreman title.[6] The game was eventually converted into It's Mr. Pants, and released in late 2004.
Some of the planned modes included various challenges around Donkey Kong Island, challenges from Cranky Kong, and a multiplayer mode.[2]
Gallery
[
edit
]
Donkey Kong Coconut Crackers logo, shared by Rare software engineer Paul Machacek on Twitter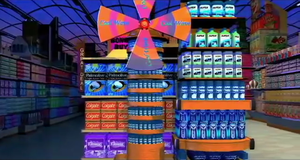 References
[
edit
]
External links
[
edit
]