Donkey Konga
From the Super Mario Wiki, the Mario encyclopedia
Jump to navigation
Jump to search
Donkey Konga

For alternate box art, see the game's gallery.
Developer
Namco
Publisher
Nintendo
Platform(s)
Nintendo GameCube
Release date
December 12, 2003
September 27, 2004
October 15, 2004
October 28, 2004[1]

Genre
Rhythm
Rating(s)

| | |
| --- | --- |
| ESRB: | - Everyone |
| PEGI: | - Three years and older |
| CERO: | - All ages |
| ACB: | - General |
| USK: | - All ages |

Mode(s)
Single player, multiplayer
Media

Nintendo GameCube:

Optical disc

Input

Nintendo GameCube:

DK Bongos
Donkey Konga is a Donkey Kong video game for the Nintendo GameCube. It was developed by Namco and published by Nintendo in 2003 in Japan and 2004 overseas. It is the first installment of the Donkey Konga series, and it is notable for being the first game to be compatible with the DK Bongos.
Donkey Konga eventually received two sequels: Donkey Konga 2 and the Japan-exclusive Donkey Konga 3 JP.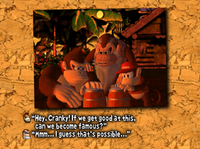 Donkey Kong and Diddy Kong are strolling across a beach and suddenly find a mysterious pair of barrels. DK attempts to open it but is stopped by Diddy, who believes it is a trap from King K. Rool.
Following Diddy's advice, the duo take the barrels to Cranky Kong. Cranky chuckles and explains that they are bongos. DK decides to call them the "DK Bongos", and he plays on them. Diddy comments that DK is bad at the bongos, and he tries the bongos. DK, in turn, laughs and claims that Diddy plays the bongos poorly. He claps, which cause the bongos to glow. Cranky explains that the instrument glows and makes noises from detecting clapping.
In response, Donkey Kong and Diddy perform and clap with the bongos more. After they make a lot of loud noise, DK becomes discouraged and admits that he and Diddy are not good at playing the bongos. Cranky explains that nobody starts out as a professional, and their performance gradually improves from practicing. DK initially mentions his dislike of practicing, but suddenly realizes that he might achieve fame if he becomes good at the bongos, which Cranky believes to be a possibility. DK and Diddy then daydream about becoming rich and owning lots of bananas, causing Cranky to sigh and remind them to practice; the pair head out to get some training in as the scene ends.
Gameplay
[
edit
]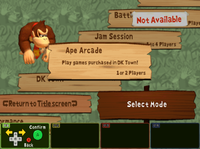 The main gameplay is largely identical to the Taiko no Tatsujin games, which were also designed by the same developers. The player has the option to utilize the DK Bongos or a standard GameCube controller. During gameplay, the player controls Donkey Kong, whose goal is to hit scrolling notes, known as beats. They must hit it with accurate timing when it moves under a cursor on the far left. There are four types of beats (red, light blue, yellow, and purple), and are each associated with a different button. A word appears on screen for every passing note, and the displayed word is based on the accuracy of the player hitting the beat. A combo is displayed if the player hits two or more consecutive beats, but it vanishes if the player misses a beat.
Variant
Button

Left drum beat
Bongos: Left pad
Controller: or

Right drum beat
Bongos: Right pad
Controller: , , , ,

Clap
Bongos: Clap
Controller: , ,

Both drum beats
Bongos: Both pads
Controller: Simultaneously hitting a button representing each a yellow and red note
All four gameplay modes (except Challenge) have three levels of difficulty modes, from lowest to highest: Monkey, Chimp, and Gorilla. The second player plays as Diddy Kong in multiplayer modes. Every song has a varying number of beats, which is indicated from the number of barrels next to their titles on the selection menu.
Mode
Description
Players

Street Performance
Based on the concept of street performance, Donkey Kong can perform songs and earn Coins, which he can use to purchase unlockables at DK Town. During gameplay, Donkey Kong earns two coins for every beat that he hits with perfect timing, or one coin for regularly-timed beats. A coin counter appears next to Ellie at the bottom-left with a self-explanatory purpose of keeping count of the number of collected coins.

Additionally, a bar appears at the top-right corner that tracks how many notes the player hit. A "CLEAR" label appears in the center, and it divides the bar into two color-coded segments, red and yellow, which respectively represent poor and good performance. The bar gradually fills up for every note hit by the player, but it contrarily decreases for every missed note. The results are calculated after the song ends; Donkey Kong wins if the bar fills past the Clear label and keeps the Coins that he obtained on the way. If Donkey Kong loses at a challenge, he does not keep the coins.

1 player

Challenge
A mode where the player performs an endless number of songs to see how many they can clear. The song number is displayed on a counter in front of two Steel Kegs.
1-2 players

Battle
A multiplayer mode where Donkey Kong and Diddy competitively perform a song with a goal for the highest score.
2 players

Jam Session
In this mode, DK and Diddy can practice their performance on songs. A displayed scoreboard counts by accuracy (Great, OK, and Bad) along with the number of missed beats.
1-4 players

Ape Arcade
DK and Diddy can play the mini-games here if they purchased them from DK Town.
1-2 players

DK Town
DK Town is the only mode to solely take place on the main menu. Here, the player has the ability to purchase unlockables, including songs with on Gorilla difficulty level, mini-games, and sound sets. They can also view Street Performance, Challenge, and mini-game high scores in the Hall of Records. The former two options have individual charts per difficulty level. Lastly, the player can access the Electric Hut to change a few settings: Stereo/Mono, Volume Balance, and DK Bongo and Controller. The second option, Default, resets each setting to their default value.
1 player
DK Town unlockables
[
edit
]
Jungle Jams
[
edit
]
The player can purchase individual songs to perform on Gorilla (expert) difficulty.
| Item | Cost |
| --- | --- |
| Diddy's Ditties | 365 coins |
| Bingo | 25 coins |
| Campfire Medley | 580 coins |
| Pokémon Theme | 250 coins |
| Kirby:Right Back at Ya! | 848 coins |
| We Will Rock You | 69 coins |
| Like Wow | 1,898 coins |
| Wild Thing | 580 coins |
| I Think I Love You | 99 coins |
| Louie Louie | 1,990 coins |
| The Loco-Motion | 2,060 coins |
| Shining Star | 1,005 coins |
| All the Small Things | 1,313 coins |
| Rock This Town | 644 coins |
| You Can't Hurry Love | 3,399 coins |
| Right Here, Right Now | 1,200 coins |
| Dancing in the Street | 1,745 coins |
| Rock Lobster | 980 coins |
| Stupid Cupid | 1,599 coins |
| The Impression That I Get | 1,399 coins |
| What I Like About You | 590 coins |
| Whip It | 707 coins |
| Busy Child | 800 coins |
| Para Los Rumberos | 380 coins |
| Sing, Sing, Sing (With a Swing) | 12 coins |
| Oye Como Va | 2,250 coins |
| On the Road Again | 1,600 coins |
| Hungarian Dance No.5 in G Minor | 1,848 coins |
| Turkish March | 331 coins |
| DK Rap | 6,800 coins |
| The Legend of Zelda Theme | 4,900 coins |
| Mario Bros. Theme | 4,900 coins |
| Donkey Konga Theme | 100 coins |
Bongo Sets
[
edit
]
The player can purchase alternate sounds for the bongos to make during gameplay.
| Item | Cost |
| --- | --- |
| Electric Drum Set | 25,000 coins |
| Konga Crew Set | 64 coins |
| Toy Set | 14,900 coins |
| Quiz Set | 912 coins |
| Mario Set | 4,599 coins |
| Dogs Set | 11 coins |
| Kirby Set | 2,599 coins |
| Latin Percussion Set | 1,900 coins |
| Zelda Set | 4,599 coins |
| Big Band Set | 88 coins |
| Laser Space Set | 77 coins |
| Car Set | 66 coins |
| Country Set | 49 coins |
| Barnyard Set | 1,050 coins |
| Classical Orchestra Set | 2,220 coins |
| Cold Set | 460 coins |
| Whip It Set | 707 coins |
| Jungle Set | 333 coins |
Monkey Shines
[
edit
]
The player can purchase three mini-games to play in the ape arcade, two of which have a 2-player competitive (Vs.) mode.
Item
Cost
In-game description

100M Vine Climb
4,800 coins
Single player: "Climb vines and collect fruit to set records!"
Multiplayer (Vs.): "Climb vines and collect fruit to be the king of the Jungle!

Banana Juggle
5,800 coins
Single player: "Juggle bananas and set records!"
Multiplayer (Vs.): "Compete at juggling! Only one ape can win!"

Bash K.Rool
5,800 coins
"Slam King K.Rool back into the ground. Go for high scores!"
List of songs
[
edit
]
Donkey Konga features around thirty songs, most of which differ between regional release. Every region has songs that originate from other Nintendo titles along with traditional music, including kids' medleys, pop and classical. Almost every traditional song was made into a shortened cover for the North American release.
North America
[
edit
]
Regional differences
[
edit
]
Aside from a different set of songs, Donkey Konga's North American logo is different from the European and Japanese logo. This change is reflected both in-game and on each region's box cover. The Japanese logo has a subtitle, which western versions do not have.
Every title screen depicts a scene of the beach, but the North American one displays a different scene from the European and Japanese versions. The latter two depict a straight view of the beach, which is partially obscured by the game's logo. The North American title screen shows Donkey Kong and Diddy Kong partying at the shore, complete with a pair of bongos and a boombox in the scene.
The logo on the GameCube menu banner is also different between regions.
The Japanese version has a start-up warning advising players to be weary of vibrations, the sound, and the time of day they play. This warning is absent from the North American and European releases. A health and safety warning is featured in every regional release of Donkey Konga 2, but this exact warning was also featured in the Japanese version of the sequel.
Browser game
[
edit
]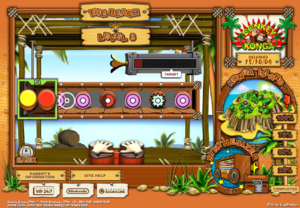 An interactive microsite to promote Donkey Konga was developed by Lightmaker and published by Nintendo in 2004. The microsite allows the player to explore Konga Island to find information about Donkey Konga, and contains four levels of an Adobe Flash version of the game, where the player must control the DK Bongos with the arrow keys and space bar. Konga Island features four areas:
Beach: The starting area, where each of the levels of the Donkey Konga training session are played.
Waterfall: Unlocked after completing level 1. It features an "About Donkey Konga" section, as well as a minigame where Donkey Kong must throw coconuts at barrels to release 6 music notes. Collecting them reveals the opening theme from Donkey Kong.
Jungle: Unlocked after completing level 2. It allows the player to view 20 screenshots of Donkey Konga, as well as play a minigame where Donkey Kong must collect 16 falling notes to create a wildlife melody.
Konga Island Outdoor Cinema: Unlocked after completing level 3. It allows the player to view a commercial for Donkey Konga.
Completing the first three levels unlocks the fourth and final level, which unlocks a downloadable Donkey Konga wallpaper and screensaver upon completion.
Reception
[
edit
]
Reviews
Release
Reviewer, Publication
Score
Comment
Nintendo GameCube
Tom Bramwell, Eurogamer
6/10
In the end, Donkey Konga is just too short-lived, even in multiplayer, to be worth the sort of outlay it represents. Nintendo has been surprisingly generous in its pricing here - most people will sell you the game and a set of bongos for £30 as far as we can see, and extra sets run to just £20 - but with the songs already shortened (and covered by a fairly decent bunch of impersonators, rather than licensed, curiously) Donkey Konga just doesn't have the legs. We appreciate the simplicity of the idea, but in the absence of the hidden depths we normally expect from this sort of game - or the ritual humiliation we now demand - it ultimately wears thin far too quickly. And for that reason we can't see it becoming the eBay legend that Samba was, although we've little doubt that you'll be able to find it on there all too quickly.
Nintendo GameCube
Juan Castro, IGN
8.5/10
Donkey Konga packs hours of fun. It's a good single-player experience and a great multiplayer one. If you can round up four buddies and four bongo controllers, you're set for the evening. All that's missing in a room with this game (and four bongos) is booze and a bowl of Tostitos. A somewhat limited song selection is the only thing keeping the multiplayer aspect from being the greatest thing EVAR, so to speak. The graphics, while bland and lacking several layers of polish, get the job done without causing too much of an eye-sore. The mini-games offer a little fun, but your best still sits in Kongo's primary game modes.
Aggregators
Compiler
Platform / Score
Metacritic
76
GameRankings
77.67%
In a 2022 interview, Nintendo of America executive Reggie Fils-Aimé confessed to hating Donkey Konga, stating he had "pushed back" against the Japanese office regarding the game, finding it unfun to play and that it might hurt the Donkey Kong brand.[2]
Hiroyuki Onoda was the director of this game and would later reprise his role for its sequels. Koji Kondo and Toru Minegishi are credited as sound support. Along with Masanori Sato, prominent Super Mario franchise illustrator Yoichi Kotabe served as graphic support.
Gallery
[
edit
]
References to other media
[
edit
]
Names in other languages
[
edit
]
Language
Name
Meaning
Japanese
ドンキーコンガ
Donkī Konga
Donkey Konga
References
[
edit
]
External links
[
edit
]
Donkey Kong games
Platformers
Donkey Kong
Donkey Kong (1981, arcade) • Donkey Kong Jr. (1982, arcade) • Donkey Kong 3 (1983, arcade) • Donkey Kong Jr. Math (1983, NES) • Donkey Kong 3: Dai Gyakushū (1984, computer) • Donkey Kong (1994, GB) • Mario vs. Donkey Kong (2004, GBA)
Donkey Kong Country
Donkey Kong Country (1994, SNES) • Donkey Kong Country 2: Diddy's Kong Quest (1995, SNES) • Donkey Kong Country 3: Dixie Kong's Double Trouble! (1996, SNES) • Donkey Kong Country Returns (2010, Wii) • Donkey Kong Country: Tropical Freeze (2014, Wii U)
Donkey Kong Land
Donkey Kong Land (1995, GB) • Donkey Kong Land 2 (1996, GB) • Donkey Kong Land III (1997, GB)
Mario vs. Donkey Kong
Mario vs. Donkey Kong (2004, GBA) • Mario vs. Donkey Kong 2: March of the Minis (2006, DS) • Mario vs. Donkey Kong: Minis March Again! (2009, DSiWare) • Mario vs. Donkey Kong: Mini-Land Mayhem! (2010, DS) • Mario and Donkey Kong: Minis on the Move (2013, 3DS) • Mario vs. Donkey Kong: Tipping Stars (2015, 3DS/Wii U) • Mini Mario & Friends: amiibo Challenge (2016, 3DS/Wii U) • Mario vs. Donkey Kong (2024, Nintendo Switch)
DK
DK: King of Swing (2005, GBA) • DK: Jungle Climber (2007, DS) (Banana Bonanza [Unknown, Adobe Flash] • Rolling Panic [Unknown, Adobe Flash] • Banana Grab [Unknown, Adobe Flash])
Miscellaneous
Donkey Kong 64 (1999, N64) • Donkey Kong Jungle Beat (2004, GCN)
Donkey Konga
Donkey Konga (2003, GC) • Donkey Konga 2 (2004, GC) • Donkey Konga 3 JP (2005, GC)
Racing games
Diddy Kong Racing (1997, N64) • Donkey Kong Barrel Blast (2007, Wii)
Other
Donkey Kong Circus (1984, G&W) • Donkey Kong Hockey (1984, G&W) • Donkey Kong (1996, arcade) • Donkey Konk (1999, Adobe Shockwave) • Donkey Kong 64 Lore Quiz (1999, Adobe Shockwave) • Kremling Krushin (2000, Adobe Flash) • Donkey Kong Country Barrel Maze (2003, Adobe Shockwave) • Mini-Mario Factory Game! (2004, Adobe Flash) • Hurling for Distance (2005, Adobe Flash) • Barrel-Blastapalooza (2005, Adobe Flash) • Donkey Kong: Jungle Fever (2005, arcade) • Mario vs. DK 2: Cannon Kaos (2006, Adobe Flash) • Donkey Kong: Banana Kingdom (2006, arcade) • Timber's Balloon Pop (2007, Adobe Flash) • Play Nintendo activities (2014–present)
Reissues
Crazy Kong (1981, arcade) • Donkey Kong (1982, G&W) • Donkey Kong Jr. (1982, G&W) • Donkey Kong II (1983, G&W) • Donkey Kong Jr. + Jr. Sansū Lesson (1983, NES) • Donkey Kong 3 (1984, G&W) • Donkey Kong Classics (1988, NES) • Donkey Kong (1994, NGW) • Donkey Kong Country Competition Cartridge (1994, SNES) • Donkey Kong Country (2000, GBC) • Donkey Kong Country (2003, GBA) • Classic NES Series: Donkey Kong (2004, GBA) • Donkey Kong Country 2 (2004, GBA) • Donkey Kong Country 3 (2005, GBA) • Diddy Kong Racing DS (2007, DS) • New Play Control! Donkey Kong Jungle Beat (Wii, 2008) • Donkey Kong Original Edition (2010, VC) • Donkey Kong Country Returns 3D (2013, 3DS) • Donkey Kong Country: Tropical Freeze (2018, Switch)
Crossovers
Super Smash Bros. series
Super Smash Bros. (1999, N64) • Super Smash Bros. Melee (2001, GCN) • Super Smash Bros. Brawl (2008, Wii) • Super Smash Bros. for Nintendo 3DS (2014, 3DS) • Super Smash Bros. for Wii U (2014, Wii U) • Super Smash Bros. Ultimate (2018, Switch)
NES Remix series
Main
NES Remix (2013, Wii U)
Reissues
NES Remix Pack (2014, Wii U) • Ultimate NES Remix (2014, 3DS)
Tech demos
Unnamed Donkey Kong Country proof-of-concept (Unknown, VB) • puzzle (Unknown, N64) • spritemonkeyEX (Unknown, N64) • Mario vs. Donkey Kong Wii U demo (2014, Wii U)
Pitches / canceled games
Donkey Kong no Ongaku Asobi (FC) • Donkey Kong parking attendant arcade game (arcade) • Donkey Kong IV (arcade) • Return of Donkey Kong (NES) • Super Donkey (SNES) • CD-i Donkey Kong game (CD-i) • Donkey Kong vs. Super Wario (SNES) • Donkey Kong and the Golden Bananas (SNES) • Ultra Donkey Kong (N64DD) • Donkey Kong Coconut Crackers (GBA) • Diddy Kong Pilot (2001/2003) (GBA) • Donkey Kong Racing (GCN) • Donkey Kong Plus (GCN/GBA) • Diddy Kong Racing Adventure (GCN) • Donkey Kong Country 4 (DS) • DK Bongo Blast (GCN)