Reggie Fils-Aimé
From the Super Mario Wiki, the Mario encyclopedia
Jump to navigation
Jump to search
Reggie Fils-Aimé
Full name
Reginald Fils-Aimé
Born
March 25, 1961
Super Mario–related role(s)
President & Chief Operating Officer (COO) of Nintendo of America (2006-2019)
"My name is Reggie, I'm about kickin' ass, I'm about takin' names, and we're about makin' games."
—

Reggie Fils-Aimé
Reginald "Reggie" Fils-Aimé is the former president and Chief Operating Officer of Nintendo's North American branch. He was therefore responsible for all Nintendo-related activities in the United States, Canada, and Latin America, though he is widely known in other branches as well for his E3 performances. His career at Nintendo began in 2003 as Executive Vice President of Sales and Marketing, a position he held until 2006, when he was promoted to president, replacing Tatsumi Kimishima, who had held the position since 2002.[1]
Graduating Cornell University with a degree in Applied Economics in 1983, Reggie's management experience is not limited to his time at Nintendo. Since his graduation from Cornell, he has worked for Proctor & Gamble, Guinness World Records, Panda Management Company, Derby Cycle Corporation, Pizza Hut, and most recently, VH1. Notable accomplishments of his at these establishments include the launching of the Bigfoot Pizza (Pizza Hut) and raising over thirty-five million dollars in disaster relief following the 2001 World Trade Center attacks (VH1).[2]
Reggie gained notoriety among the gaming community at the 2004 Electronic Entertainment Expo (E3), where he introduced himself with the above quote. Many fans now know him as the "Regginator" (which eventually became his Mii's nickname), and he is attributed with sparking a new era for Nintendo, one of improved public relations, which fans and the press dubbed the "Reggielution".[3] He made regular appearances at subsequent E3s, being one of the three main sources of information for upcoming hardware and software (occasionally providing information on Nintendo's sales accomplishments and goals), the other two sources being Shigeru Miyamoto and Satoru Iwata. His most notable presentations introduced gamers to the Nintendo DS (E3 2004), the Game Boy Micro (E3 2005), specifications of the Nintendo 3DS (E3 2010), and the Wii U GamePad (E3 2011). He also discussed and displayed trailers for a variety of games, including Super Mario Galaxy, Super Smash Bros. Brawl, and Luigi's Mansion: Dark Moon, and he even personally demonstrated games, most notably Wii Fit and Wii Sports Resort (E3 2007 and E3 2008, respectively).
On February 21st, 2019, Reggie announced that he would be retiring from his position as President of Nintendo of America, with Doug Bowser replacing him as president as of April 15, 2019.[4]
Clio Award
AICP award for Advertising Excellence
Silver Edison from the American Marketing Institute
2 Gold EFFIEs from the New York American Marketing Association
Named one of the "Marketing 100" by Advertising Age in 1998
"One of our competitors is a manufacturer in Japan who wants to capture every one of your entertainment dollars transporting all your content between all of your electronic devices on their memory sticks. We are not that company, and there is another company out there who doesn't care what you do as long as you do it on their operating system. We are not that company either." (criticizing Sony and Microsoft at E3 2004)
"That's Sony's issue, not my problem." (referring to how the PlayStation Portable had not reached Europe when promised, but the Nintendo DS had - E3 2005)
"Nintendo's way is to challenge conventional thinking. Not just for the sake of doing things differently, but to do things better." (E3 2006)
"My body is ready." (before demonstrating Wii Fit alongside Miyamoto at E3 2007)
"I feel just like a purple Pikmin." (E3 2012)
Gallery
[
edit
]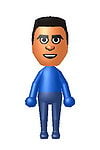 Shortly after the North American launch of the Nintendo 3DS, a QR code was made available on the Internet, which, when scanned, provides the 3DS user with Reggie's Mii.[5] The Mii has since been updated, slightly shorter in stature with more prominent lips and brown as his favorite color instead of blue. His Mii was in the trailer for Mii Fighters in Super Smash Bros. for Nintendo 3DS / Wii U.
The first game he played on a console was Super Mario World.[6]
Reggie considers Blooper as the worst item of the Mario Kart series.[7]
References
[
edit
]
External links
[
edit
]