Gunpei Yokoi
From the Super Mario Wiki, the Mario encyclopedia
Jump to navigation
Jump to search
Gunpei Yokoi

Gunpei Yokoi holding a Game Boy Pocket
Born
September 10, 1941
Died
October 4, 1997 (aged 56)
Super Mario–related role(s)
Game developer, game designer, hardware developer
Gunpei Yokoi (in Japanese: 横井 軍平 Yokoi Gunpei; September 10, 1941—October 4, 1997), sometimes transliterated Gumpei Yokoi, was a Japanese video game designer. His repertoire at Nintendo includes a plethora of now-iconic devices, including the Game Boy, the Game & Watch, and the R.O.B. accessory for the Famicom. Aside from hardware, Yokoi also produced Metroid, Fire Emblem, Ice Climber, and the Super Mario Land titles of the Super Mario series, though he is most well-known for being a mentor to Super Mario franchise creator Shigeru Miyamoto. Yokoi also acted as the manager of Nintendo Research & Development 1 from its creation up to his departure from the company.
History
[
edit
]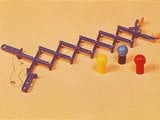 Born on September 10, 1941, Yokoi was raised in Kyoto, Japan and received an electronics degree from Doshisha University. He began his employment at Nintendo (then a toy company) as a janitor in 1965, though his fortune improved five years later. While looking around Nintendo headquarters, Hiroshi Yamauchi, president of Nintendo at the time, noticed an extending arm toy that Yokoi had made in his spare time called the Ultra Hand. Interested in the product, he told Yokoi to mass-produce it and sell it. The Ultra Hand was a huge commercial success, and Yokoi was upgraded to product developer. He continued his toy production, becoming one of the most well-known figures at Nintendo. He then proceeded to use his experience to tutor Miyamoto on the many skills he had learned.
In the 1980s, hoping to capitalize on the rising popularity of electronics as a form of entertainment, Yamauchi came up with a concept for a handheld gaming device. The project was assigned to Yokoi, who spent extensive time developing the device. Yokoi was inspired by a man he saw playing with a calculator on a train. The device that resulted was the Game & Watch. It became a best-seller, and the games sold more than 40 million copies worldwide. Yokoi eventually became the head of the first-party company R&D1, which was responsible for the game Mario Bros. He would go on to develop the Game Boy and its successors up to the Game Boy Advance.
However, Yokoi's career was not entirely successful. The Virtual Boy received poor reception and was discontinued a year after its release. Following the completion of the Game Boy Pocket, Yokoi left Nintendo to form Koto Laboratory,[1] where he remained until his death in 1997. Two hundred and fifty miles northeast of Tokyo, Yokoi was struck by two automobiles while checking his car for damage following a minor fender bender. Word of his death was broadcast worldwide soon after. This event did not dampen his legacy, and in 2003, Yokoi posthumously received the Lifetime Achievement Award at the Game Developers Choice Awards as an acknowledgement and celebration of his influence in the video game industry.
The Ultra Hand is seen in Mario Power Tennis for the Nintendo GameCube and Wii as Wario's Defensive Power Shot, known as the Ultra-Hand Return. The Ultra Hand also appears in the microgames Ultra Hand in WarioWare, Inc.: Mega Microgame$! and Clawing for More in WarioWare: Touched! and WarioWare Gold. It also appears in Mario Kart 8 and Mario Kart 8 Deluxe, in GBA Mario Circuit as the support for the anti-gravity section, under the alias of "Ultra Arm".
Gallery
[
edit
]
During the credits of Wario Land: Super Mario Land 3 for the Game Boy, his name is spelled as "Gumpei Yokoi", which reflects the pronunciation of his name, as well as being how it was spelled on his business card.
References
[
edit
]