John Leguizamo
From the Super Mario Wiki, the Mario encyclopedia
Jump to navigation
Jump to search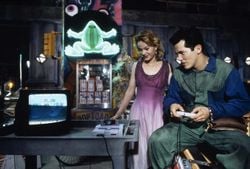 John Alberto Leguizamo Peláez (born July 22, 1960) is a Colombian-born American actor, comedian, producer, and writer. He rose to fame for portraying Luigi in the live-action 1993 Super Mario Bros. film, alongside Bob Hoskins, who played Mario. His other notable roles include Benny Blanco in Carlito's Way, Sid the Sloth in the Ice Age franchise, the narrator of The Brothers García, and Bruno Madrigal in Encanto.
In his official 2006 autobiography, Leguizamo revealed that, much like various fellow actors who participated in the film, he largely hated working on the movie. According to Bob Hoskins, his and Leguizamo's frustration during filming led to them frequently drinking alcohol on set and playing various scenes while drunk; Hoskins broke his finger during filming when Leguizamo's drunk driving led to Hoskins slamming his finger on the sliding door of the Mario Brothers Plumbing van.[1]
Despite Leguizamo's negative experiences with the film, his feelings for it have been more positively nostalgic in recent years. In 2013, to commemorate the 20th anniversary of the Super Mario Bros. film, Leguizamo released a video discussing the film and its legacy. He said that while the movie had its mistakes, he enjoyed working with Bob Hoskins and the other actors, and considered the film and its crew to be pioneers in the video game movie genre. He also revealed that in retrospect, he is proud of Super Mario Bros., and is glad that some people still appreciate and enjoy the movie even twenty years after its release. Upon Bob Hoskins' passing in 2014, Leguizamo made a post on Twitter to commemorate him, using an image from the film.[2]
In an Instagram post on September 27, 2021, Leguizamo affirmed his support for the then-untitled Super Mario film co-produced by Illumination following the casting announcement, albeit lamenting the lack of racial diversity in the cast.[3] Following the film's release, Leguizamo stated that he would not watch the film, reaffirming his previous comments about the cast's lack of diversity,[4] but later opened up about the possibility of playing a role in a sequel if it becomes more inclusive.[5]
References
[
edit
]