Francis Drake
From the Super Mario Wiki, the Mario encyclopedia
Jump to navigation
Jump to search
"So, you've heard of me, then? Until I can determine where your loyalties lie, I cannot and will not speak to you, sir."
Sir Francis Drake (c. 1540 – 28 January 1596) was an English explorer, sea captain, privateer, slave trader, naval officer, and politician who fought against the Spanish during the first Anglo-Spanish War. For his expeditions and efforts, he was given knighthood by Queen Elizabeth I. He is also notable for circumnavigating the world and further exploring the Strait of Magellan that Ferdinand Magellan had previously explored. In Mario's Time Machine, he meets Mario after Mario travels back in time to return Queen Elizabeth's Crown after it was stolen by Bowser.
History
[
edit
]
Mario's Time Machine

[

edit

]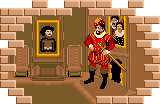 In Mario's Time Machine, Francis Drake was at the queen's royal palace in London during 1595, where he was waiting to meet the queen. Mario, who is also wandering around the palace, recognizes Francis on sight, but Francis refuses to talk to him unless he can prove that he is loyal to the queen. After Mario talks to one of the queen's handmaidens and receives a Bosun's Pipe from her, Francis recognizes him as a friend. Mario asks him if he can see the queen, and Francis tells him that he has been waiting for the queen himself. Mario remarks that she seems busy, leading Francis to talk about the queen having to deal with the recent Anglo-Spanish War. Francis also talks about a battle in which he and other English soldiers handedly routed the Spanish Armada, letting less than half of them retreat (Mario confusedly wonders if an armada is an armadillo). Mario, while enjoying the story, still wants to see Queen Elizabeth, so Francis gives him a Pearl Necklace and tells him to give it to the handmaiden, who is able to guarantee an audience with her. Mario thanks Francis, and Francis wishes him luck.
After Francis dies, his will decrees that his Globe is given to a man living in Stratford-upon-Avon, who in 1601 gives it to Mario, who then delivers it to Richard Burbage.