Juan Sebastian Del Cano
From the Super Mario Wiki, the Mario encyclopedia
Jump to navigation
Jump to search
"Ah, no, I am Juan Sebastian Del Cano, first mate of the "Victoria," which is following close behind [the captain]. I fear I will be the captain one day, though."
Juan Sebastián Elcano, sometimes misspelled Del Cano, was a Castilian navigator, ship-owner, and explorer of Basque origin who was a crewman aboard Ferdinand Magellan's fleet as he circumnavigated the world for the first time. After Magellan died (and the other leaders eventually became indisposed), Juan took helm of the remaining ship, Victoria, and navigated it back to Spain. In Mario's Time Machine, Mario meets Juan after traveling back in time to return Ferdinand's Astrolabe.
History
[
edit
]
Mario's Time Machine

[

edit

]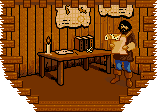 During the events of Mario's Time Machine, Juan Sebastian Del Cano was on board Ferdinand's flagship, Trinidad, in the year 1591 while suffering from scurvy. If Mario attempts to talk to him, Juan only complains about the disease. Mario must take the last fresh food from the ship's cook, an Onion, and bring it to Juan so as to lessen the effects of the scurvy. Once Juan has eaten the onion, he thanks Mario and introduces himself, clarifying that he is not a captain after Mario mistakes him for one. He is also worried about eventually becoming captain, as the ships have already been plagued with problems. He says that he joined the expedition to gain money through trading spices, but Ferdinand eventually showed him that exploring the unknown is much more rewarding than simply money. He then remarks that he has lost track of his Telescope which he needs to set the course; his telescope can be obtained from the ship's boatswain. Once Mario gives him his telescope, he gladly accepts it and begins searching the horizon for a way home. Mario then shows him the Astrolabe in his possession, and Juan tells him to immediately return it to Ferdinand or else everyone is doomed.