Ted Woolsey
From the Super Mario Wiki, the Mario encyclopedia
Jump to navigation
Jump to search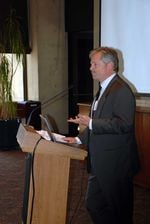 Ted Woolsey is an American video game translator and producer notable for his role in localizing Squaresoft's output in the early 90's for the North American market, including Super Mario RPG: Legend of the Seven Stars. During his tenure as a translator, Woolsey was both praised and criticized for altering character names and cultural references to be more familiar to western audiences, and rewriting lines and scenes wholesale rather than doing a straight translation of the Japanese script.
Ted Woolsey worked at Squaresoft from 1991 to 1996, after which the division he worked at was dissolved and moved to Los Angeles. Super Mario RPG was his last work at Squaresoft.[1] Ted Woolsey subsequently founded video game developer Big Rain, and worked as the Senior Director of First Party Publishing for Xbox Live Arcade several years before taking the role of General Manager for video game developer Undead Labs.[2]
When translating Super Mario RPG, Woolsey wanted to name Punchinello "James Bomb", though the idea was "nixed".[1] One reference to James Bond (Punchinello introducing himself as "The name's Nello...PUNCHINELLO!") remains in the final game.
References
[
edit
]