John Grusd
From the Super Mario Wiki, the Mario encyclopedia
Jump to navigation
Jump to search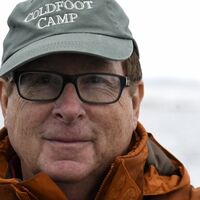 "Animation is a really cool world of creativity, excitement and wonderful people in a crazy environment of impossible workloads, truly frightening schedules, unrealistic budgets and irrational changes. Getting a production done on time and on budget is itself an art form. (Wasn't it Walt Disney who said that his greatest accomplishment was preventing 100 artists from killing each other?)

I've been lucky enough to be involved with traditional flat cel 2D, various projects in CG and most recently 3D. I have been an Animation Director, Producer, Art Director, Storyboard Supervisor, Production Artist, Production Designer and Post Production Supervisor… and I enjoyed doing all of it."
—

John Grusd
John Grusd is a photographer and retired animation professional who worked on many series produced by DiC Entertainment in the late 80's to early 90's, including DiC's Super Mario animated series.
History
[
edit
]
Grusd, a native of California, graduated with a degree in industrial engineering[1] and worked on doing special effects for TV shows[1]. He was hired by the production company Filmation to work on its live-action shows and was eventually transfered to the animation department of the company, where he worked at various positions for 15 years. Following Filmation's closure in 1989, Grusd went freelance and primarily worked on shows produced by DIC Entertainment during the early 90's.
Grusd was producer on The Super Mario Bros. Super Show! and the director and producer of The Adventures of Super Mario Bros. 3, and Super Mario World; he also worked on the The Legend of Zelda cartoon and the third season of Captain N: The Game Master. He was familiar with the Super Mario video games before working on the show[1]. As the English localization was not done when the shows were produced, John Grusd had to play through the Super Mario and Zelda games in Japanese[1]. Beside his work on DiC's Nintendo adaptations, he was also director/producer on Stunt Dawgs and the 1990 and 1991 seasons of DIC's series of G.I. Joe: A Real American Hero. Grusd's last work at DIC was as director on early versions of the pilot episode of Sonic the Hedgehog.
After directing several direct-to-video productions for SD Entertainment throughout the 2000's, John Grusd decided to retire from the animation business to focus on photography.
Overall, what was your favourite gig in the animation business?
-That's something I really can't answer. I worked on so many series and features with so many talented people that for me, there is no way to pick a favorite. All were at once the same and different. I supposed what sticks with me the most are the people. I never got tired of watching artists in the trenches, producers, directors, writers etc do their work. Even with comprehensive experience in the artform, I always thought it was like seeing magic being done right in front of my eyes. Amazing.
References
[
edit
]
External links
[
edit
]