Yoichi Kotabe
From the Super Mario Wiki, the Mario encyclopedia
Jump to navigation
Jump to search
Yoichi Kotabe
Born
September 15, 1936
Super Mario–related role(s)
Illustrator for various 2D character artworks, animator
"When I first saw all the movements Mario was performing in Super Mario Bros., I thought that video games were now doing what the original animation industry was forgetting."
—

Yoichi Kotabe

,

Iwata Asks
Yoichi Kotabe (小田部 羊一 Kotabe Yōichi) is a Japanese animation artist and former employee of Nintendo. Kotabe was the primary artist on the Super Mario franchise, drawing much of the 2D promotional artwork for the games and refining many of Shigeru Miyamoto's early sketches into the character's definitive designs. He also worked as an art supervisor on various Pokémon games.
Prior to joining Nintendo, Yochi Kotabe worked in the animation industry, primarily for Toei Animation where he was animator on productions such as Hols: Prince of the Sun, Panda! Go, Panda! and Heidi, Girl of the Alps. He left Nintendo in 2007 after 21 years, and is currently active as a freelancer.
Life and work
[
edit
]
Career at Nintendo
[
edit
]
"I only intended to be at Nintendo one or two years, though. That became 21 years!"

—

Yoichi Kotabe

,

Iwata Asks
In the late 1970s, Yoichi Kotabe left Zuiyo Eizo and started working freelance, as he began to feel like "water that's beginning to stagnate" after working on animation on the same place for a long time. In 1985, he met Hiroshi Ikeda, the then-manager of Nintendo EAD and a former colleague at Toei Animation, in a coffee shop. Ikeda asked Kotabe if he would like to join Nintendo and give advice about animation, as video games were going to require an increasing amount of know-how in animation. Kotabe knew very little about video games, but he believed Ikeda and agreed. Kotabe intended to be at Nintendo for only one or two years.[1]

At Nintendo, Kotabe was introduced to Shigeru Miyamoto and other developers. When they showed him the game Super Mario Bros., Kotabe saw the movements Mario was performing in the game, and he thought that video games were now doing what the original animation industry was forgetting. However, for a while after Kotabe joined Nintendo, he didn't work on animation at all and instead sat around doodling whatever came to his mind, as he said in an interview.[1] According to Miyamoto, the first animation Kotabe drew for Nintendo was of Luigi spinning around in circles, but it couldn't be used in a game as it had too many frames at the time. The first video game work Miyamoto requested from Kotabe was to draw the magic carpet in motion found in Yume Kōjō: Doki Doki Panic. Miyamoto wanted it to move like a real rug, and so he asked Kotabe "Please, draw me a rug!" However, Kotabe's smoothly moving animation had too many frames, so their number had to be reduced while still keeping a smooth movement.[2]
Miyamoto also asked Kotabe to do many illustrations for Mario. As Mario was pixel art, the only reference was the package illustration for Super Mario Bros. Kotabe learned that Miyamoto was its artist, so he asked him many questions on how to draw Mario. With the instructions of Miyamoto, Kotabe created the image of Mario that became the new base for the visual development of Nintendo's mascot. Kotabe also redefined the look of other characters in the series. For example, Princess Peach completely changed, now being notably taller and wearing a different dress. Miyamoto told everything he wanted to Kotabe, like how he wanted her eyes to be a little cat-like, and how she should look stubborn, but charming. Bowser changed a lot as well. In Miyamoto's artwork, Bowser loosely resembled an ox as a homage to the ox king seen in the Journey to the West anime adaption that was renamed Alakazam the Great in the United States. Through their discussions, the developers began to see similar lines between Bowser and the Koopa Troopas and partly based Bowser's appearance on them. Bowser's new design eventually came together.[2] The following gallery shows a comparison between the designs of the three mentioned characters by Miyamoto and Kotabe:
Among other people who worked with Kotabe at Nintendo was game designer Yoshiaki Koizumi, a graduate from the Osaka University of Arts. Kotabe was the first person Koizumi worked together with after entering Nintendo. Koizumi was supposed to keep working as a character illustrator for a while, and Miyamoto told Kotabe to develop Koizumi's skills.[2]
Besides his skills in visual art, Kotabe also made use of other knowledge he acquired in the animation industry at Nintendo. For example, at Toei Animation, he was taught to look at "the real thing" and take it all inside oneself. Therefore, during the development of Super Mario Kart, Kotabe forced through a budget to inspect real go-karts. During their trip, the developers drove go-karts and observed their structure.[2]
After 21 years at Nintendo, Kotabe left the company in 2007.[2][3] The last Super Mario franchise game in which his name appears in the credits was WarioWare: Smooth Moves. In total, more than 40 Super Mario games list Kotabe in the credits.[4]
After Nintendo
[
edit
]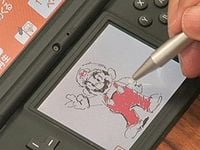 Yoichi Kotabe is currently active as a freelancer. He holds the post of a lecturer at Toei Animation Institute.[3] In 2008, a book titled Yoichi Kotabe: Legendary Animator - His Animated Drawings was released in Japanese, with a few contents also being in English.[5] It also includes information on Nintendo-related works of him.[6] In the same year an "Iwata Asks" interview was held with Yoichi Kotabe, Shigeru Miyamoto and Yoshiaki Koizumi. It focused on Yoichi Kotabe himself as well as the application Flipnote Studio for the Nintendo DSi. Kotabe created four animations with Flipnote Studio, including one of Mario, which were all made available at the Flipnote Hatena website.[7]
Kotabe is given a "With Thanks" credit in The Super Mario Bros. Movie. According to Shigeru Miyamoto, Kotabe created pre-existing sketches years prior that served as the basis for Mario and Luigi's family.[8]
References
[
edit
]
External links
[
edit
]