Lou Albano
From the Super Mario Wiki, the Mario encyclopedia
Jump to navigation
Jump to search
Louis Vincent Albano (July 29, 1933 – October 14, 2009), often referred by his ring name, "Captain" Lou Albano, was an Italian-American professional wrestler, manager and actor who portrayed Mario in both the live action and cartoon segments of the The Super Mario Bros. Super Show! He worked alongside Danny Wells, who portrayed Luigi. In addition to playing Mario, he also played various guest characters such as Marianne, Mario Joe, Mama Mario, and himself. In 2009, he died of a heart attack at the age of 76.
Biography
[
edit
]
It has been requested that this section be rewritten. Reason: Part of the writing is kind of awkward, especially when using terms like "so" and "babyface". Might look into this. EleCyon (talk) 23:30, May 5, 2023 (EDT)
Albano was born in Rome, Italy in 1933. His family emigrated to the United States shortly after his birth. As a teenager, Lou played football in high school and joined the US Army after graduating. When his military career was over, he took a job as a nightclub bouncer and was then introduced to professional wrestling. He started working in a tag team called the Sicilians. People started throwing rocks and snowballs at him and he thought, "This is ridiculous, I'm gonna get myself killed." Another problem was that Albano was facing harassment from Mafia members who demanded the Sicilians be dissolved on account of that gig being too much like actual Mafioso. So he became a good guy or (as they call in wrestling) a babyface, he ended up breaking his back twice. So he decided to stop wrestling and work as a manager and he managed The Headshrinkers, Andre the Giant and he even appeared as the father figure in Cyndi Lauper's music video, Girls Just Wanna Have Fun.
The role of Mario was arguably his best-known role outside of wrestling. Albano was a guest on a 1989 episode of Regis and Kathie Lee, whereupon he announced his new role. Albano also hired a barber to come on set and shave off his trademark goatee in order to give him a more Mario-like appearance.
Albano passed away in 2009, twenty years after his Mario debut, after having been under a long period of hospice care.
History
[
edit
]
The Super Mario Bros. Super Show!

[

edit

]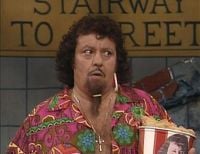 Albano appears as himself in the live-action segment "Captain Lou Is Missing". In the segment, Cyndi Lauper announces that Albano has gone missing when she had planned to go on a picnic lunch with him, and instead found rubber bands for his beard and a note that read "Dear Cyndi, I'm sorry that I'm not here but I've gone for good".
Cyndi forms a search party with Mario and Luigi at Mario Brothers Plumbing along with several volunteers and search teams stationed around the world, which ultimately fails not long afterward. When Mario later goes out to pick some pizza, Albano shows up and meets Luigi. When Cyndi asks him why he said he left, Albano sees his note and explains that part of it had been cut off; the note should've read "Dear Cyndi, I'm sorry that I'm not here, but I've gone for good fried chicken. Back in an hour.". Albano then explains that he had gotten tired of waiting for Cyndi to arrive at his house afterward, so he went out, saw fliers about his disappearance, and followed them all the way to Mario Brothers Plumbing.
Cyndi introduces Albano to Luigi, who is thrilled to meet him, although Luigi says he would be happier if Mario had been there to meet him as well. When Albano and Cyndi leave, Luigi figures that Mario is going to be very disappointed for not getting to meet him, as he claims Mario is Albano's biggest fan.
The Adventures of Super Mario Bros. 3

[

edit

]
Although Albano never makes an appearance in the Super Mario franchise beyond The Super Mario Bros. Super Show!, he, along with several other famous people of Italian descent, do receive a mention from the Gondolier during The Adventures of Super Mario Bros. 3 episode "The Venice Menace".
According to The Super Mario Bros. Super Show!'s producer John Grusd, Lou Albano had offered to legally change his name to "Mario" during the production of the show.[1]
References
[
edit
]