Perry Martin
From the Super Mario Wiki, the Mario encyclopedia
Jump to navigation
Jump to search
"I plead guilty to adding all of the Italian food jokes, an idea I contributed and relied on heavily. Probably too heavily."

—

Perry Martin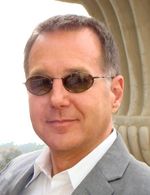 Perry Martin is a DVD producer and former screenwriter who wrote episodes for all three of DiC Entertainment's Super Mario animated series.
History
[
edit
]
After being fired from his job as a script analyst for movie producer Sandy Howard, Perry Martin did a variety of odd jobs and heard TV animation offered relatively easy opportunities[1]. After submiting scripts to various companies, Martin was called back by DIC employee Bruce Shelly for a script he submitted for the show C.O.P.S and was offered to write a sequel to that script. A few months after production on C.O.P.S wrapped up, Perry Martin was called by Bruce Shelly to offer to work on the The Super Mario Bros. Super Show!, for which he wrote multiple episodes and did uncredited rewrites[1], and also wrote episodes for The Adventures of Super Mario Bros. 3 and Super Mario World.
Reflecting back on his work on the Super Mario Bros. cartoons, Perry Martin had a mixed impression: While he liked the job and enjoyed working with DiC's staff, Perry Martin cringed at the finished cartoons and found he may have lacked connection to the shows he worked on, concluding, "But I look back on those days fondly. And it's really nice to know that there are people out there who remember some of the shows I did, like the Super Mario Bros., and have affection for them. That's the best reward any writer can get."[1]
Writing credits
[
edit
]
The Super Mario Bros. Super Show!

[

edit

]
The Adventures of Super Mario Bros. 3

[

edit

]
Super Mario World

[

edit

]
This may surprise you, but I learned right away that it was best not to look at the final product — and I rarely did. I came to that realization with the first cartoon I wrote, "The Case of the Baby Badguy." I thought the animation was so bad that it just ruined everything I'd tried to do with that script. It wasn't the fault of the art department guys at DIC. They did a good job with their designs and storyboards, but then it all got shipped overseas, which was where the animation was done — very quickly, cheaply and poorly. [...]
Anyway, when the first episode of Super Mario came in, Reed asked me if I wanted to watch it with him. We popped it into a VCR, hit "play," and almost threw up. So looking at the final shows could be very demoralizing, and I avoided it. As far as I was concerned, my work was on a page. It was my responsibility to make that work as good as I possibly could. What happened to it afterwards was out of my hands.
Phil was a nice guy, very easy-going. Writing cartoons seemed to come naturally to him. He really seemed to enjoy what he was doing. Despite the constant pressure of writing against deadlines, I don't remember ever seeing him stressed out. I also remember that Phil collected antique wristwatches. Every day, he showed-up wearing a different watch, all of them amazing.
I'm proud of the work that I did on the series, given what it was, but I can't say that I think highly of the final product. That's not unusual for a screenwriter. Nothing ever measures up to the show you see in your head when you're writing it.
Many years ago, before I ever worked in TV, I met Doug Wildley, creator of Jonny Quest, my all-time favorite cartoon. When I told Doug how much I loved it, he frowned and said, "Christ, I wish I felt that way!" To him, that show was one painful compromise and disappointment after another. At the time, I couldn't understand why he wasn't prouder of it, but I do today. It's the same with me and the Super Mario Bros. I'm really glad there are fans who like it, but I can't watch the thing without cringing.
References
[
edit
]