Justin Berti
From the Super Mario Wiki, the Mario encyclopedia
Jump to navigation
Jump to search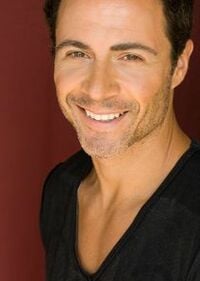 Justin Berti is an American actor who served as the commentator in the English version of Mario Kart Arcade GP 2.
Biography
[
edit
]
Berti lived in Japan for 12 years, where he took up a multitude of entertainment professions such as acting, modelling and dancing. He has likened this experience to "living the life of a rockstar". Berti describes himself as an energetic and animated person, traits that he claims are suitable for Japanese entertainment which, according to him, prioritizes "over-exaggerated" performances.[1]
After performing notable jobs as a voice actor and announcer for Major League Baseball at various Japanese stadiums, Berti was contacted by an agent to audition at Namco Bandai for the role of announcer in Mario Kart Arcade GP 2. There, he was requested to narrate a number of lines that would be mixed in-game to provide live commentary ("Luigi", "is now in second place" etc.), but was otherwise given little direction.[1]
Berti's favorite Mario Kart characters are Donkey Kong and Wario, the latter of whom he likes for his catchphrase, "I'm-a gonna win". When playing Mario Kart games competitively, Berti prefers characters with good acceleration, citing Pac-Man in the Mario Kart Arcade GP games as an example despite Pac-Man being more of a balanced driver in Mario Kart Arcade GP 2.[1]
References
[
edit
]