Hideki Konno
From the Super Mario Wiki, the Mario encyclopedia
Jump to navigation
Jump to search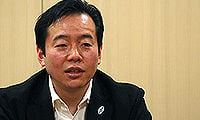 Hideki Konno (紺野 秀樹 Konno Hideki, born 1965) is a video game designer employed at Nintendo EAD since April of 1986. He is currently the Manager and Producer of Software Development Group No.1 of EAD Software Development Department of Entertainment Analysis & Development Division, since 2003.
History and work
[
edit
]
At the age of sixteen, Hideki Konno became interested in personal computers, messing around with Japanese PCs and the Apple II. He became intrigued with video games after playing around with some of Apple II's titles. After purchasing the Famicom, he decided that he wanted to create video games and after graduted from Electronic Data Processing Department of Japan Electronics College, Konno immediately applied and was hired for a job at Nintendo, which he recall as a true blessing.[1] Konno was immediately drafted into Hiroshi Ikeda and Shigeru Miyamoto's Research & Development 4 Department, in a very hands-on role with designing characters and backgrounds for a variety of video games. Konno worked on a big internal project at Nintendo titled Yume Kōjō: Doki Doki Panic. The game was successful in Japan, but the company executives made a decision to re-design the eccentric title into a "Mario" game for the North American audience. This decision introduced Hideki Konno to the Super Mario franchise, and also established him as one of Shigeru Miyamoto's top apprentice. In 1996, Konno made his solo directorial debut on Mario Kart 64.[2]
Konno went on to direct several titles such as Luigi's Mansion. He has mostly been involved in directing and produced game titles in the Mario Kart series. Konno later on became the hardware director for the Nintendo DS's successor, the Nintendo 3DS. In 2015, he became the group manager of the Smart Device Production Group at Nintendo EPD.
Konno is also the Staff Ghost of Rainbow Road in Mario Kart Wii and DS Luigi's Mansion in Mario Kart 7.
Credits
[
edit
]
Gallery
[
edit
]
References
[
edit
]