Luigi's Mansion: Dark Moon
From the Super Mario Wiki, the Mario encyclopedia
Jump to navigation
Jump to search
Luigi's Mansion: Dark Moon

North American box art
For alternate box art, see the game's gallery.
Developer
Next Level Games
Nintendo SPD Group No.3
Publisher
Nintendo
Platform(s)
Nintendo 3DS
Release date
Original Release
March 20, 2013[1]
March 24, 2013
March 28, 2013[2]
March 28, 2013[3]
July 18, 2013
July 26, 2013
July 26, 2013
Nintendo Selects
March 17, 2016
March 17, 2016 (Japanese version)
March 17, 2016 (Japanese version)
August 26, 2016
May 11, 2017
October 13, 2017
July 19, 2018[4]

Genre
Action-adventure
Rating(s)

| | |
| --- | --- |
| ESRB: | - Everyone |
| PEGI: | - Seven years and older |
| CERO: | - All ages |
| ACB: | - General |
| USK: | - Six years and older |
| DEJUS: | - General audience |
| RARS: | - Six years and older |
| GRAC: | - All ages |
| GSRR: | - Six years and older |
| FPB: | - Parental guidance |

Mode(s)
Single-player, local multiplayer, online multiplayer
Media

Nintendo 3DS:

Game Card

Digital download

Input

Nintendo 3DS:

Gamepad
Luigi's Mansion: Dark Moon, known as Luigi's Mansion 2 in European languages, is a Nintendo 3DS game released in 2013 as a sequel to the 2001 Nintendo GameCube launch title Luigi's Mansion. This is the third game to feature Luigi as the main character with Mario playing a supporting role, the first two being Mario is Missing! and Luigi's Mansion. An arcade version of the game was released in 2015. Another sequel, titled Luigi's Mansion 3, was released worldwide on October 31, 2019 for the Nintendo Switch.
The game's plot revolves around Luigi defeating King Boo once again while collecting shards of the Dark Moon to restore peace to the ghosts of Evershade Valley. Unlike its predecessor, much of the gameplay revolves around completing missions in different haunted locations, as opposed to the entirety of the game's exploration taking place in a single mansion. However, capturing ghosts and collecting treasure remain major mechanics in the game.
Luigi's Mansion: Dark Moon was the first game to be released as part of the "Year of Luigi," honoring 30 years since Luigi's debut.
Story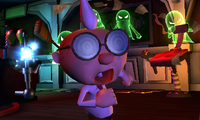 Professor E. Gadd has been researching ghosts in Evershade Valley, with some assistance from his friendly Greenies. When King Boo appears and shatters the Dark Moon, breaking it into six pieces and scattering them to each mansion of the valley, the once friendly ghosts become aggressive, forcing E. Gadd to retreat into his Bunker.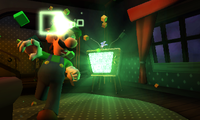 Luigi, who is sleeping at home with his television on, wakes up when it suddenly displays static. When he touches the screen, E. Gadd suddenly appears and scares Luigi. He informs Luigi about the situation and asks for his assistance. E. Gadd uses his Pixelator to teleport Luigi through the screen, much to Luigi's objection, into E. Gadd's Bunker in Evershade Valley to search for the scattered pieces of the Dark Moon and solve this problem. Luigi must explore the Gloomy Manor not far from the Bunker, the Haunted Towers found in a forest, the Old Clockworks found within a nearby desert, the Secret Mine found in the snowy mountains, and finally the Treacherous Mansion found above a ravine with the ocean around it.
After Luigi gets four Dark Moon pieces and rescues two Toads in the Treacherous Mansion, the two Toads give E. Gadd a security image as the other Toads did when he rescued them. Once E. Gadd fixes it for a clearer view, it is revealed that Mario is once again kidnapped and trapped in a painting. It also revealed that it was King Boo who captured Mario. Because of this, Luigi heads to rescue him in the Train Exhibit in the Treacherous Mansion. It turns out the image was forged to lead Luigi into a trap, and he is ambushed by Big Boo. Afterwards, Luigi and E. Gadd ponder where King Boo and the actual painting are. Suddenly, the Parascope picks up strange readings at the Treacherous Mansion's terrace. Once Luigi reaches the Terrace, King Boo appears and opens up the paranormal portal and releases all of the undead. He then escapes inside with Mario's painting. E. Gadd tells Luigi to capture all the ghosts before their very dimension collapses. Luigi succeeds at this and promptly enters the paranormal portal, where he reaches the final area of his journey, King Boo's Illusion.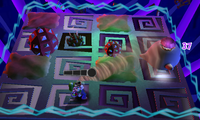 After Luigi obtains the last Dark Moon piece from the Tough Possessor within the illusion, E. Gadd attempts to pixelate him back to the Bunker, but King Boo interferes, sending him back to King Boo's Illusion. There, Luigi sees Mario's painting, but King Boo appears and reveals that he broke the Dark Moon in order to put all the ghosts under his control. King Boo also explains that he believes he is the rightful ruler of the Mushroom Kingdom, and wishes to conquer it with his new army. He plans to put Luigi and his friends in paintings as well and proceeds to battle him.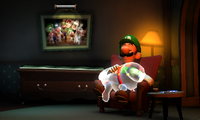 Luigi succeeds in capturing King Boo, claims the jewel from his crown, and returns to his dimension with Mario's painting. Luigi then meets up with E. Gadd at the Treacherous Mansion's Terrace. Mario is freed by Luigi's Dark-Light Device, and the Toad Assistants appear with the Dark Moon pieces. Luigi and the Toads then rebuild the Dark Moon, and the ghosts in Evershade Valley return to being friendly again. E. Gadd releases them from the Vault, and they start playing with Mario and company. Even the Polterpup who constantly disrupted Luigi throughout the mansions has become amiable, and he walks up to Luigi and whimpers. Luigi says, "Come here, doggie," resulting in the pup befriending Luigi. E. Gadd smiles as Mario gives Luigi a pat on the back, proud of his brother for overcoming his fears. Then, a Greenie comes in and takes a photo of Luigi and his allies. Luigi returns home and hangs the picture on his wall. He then goes to sleep on his couch, and his newly adopted Polterpup comes and naps with him.
It is revealed afterwards, during the credits, that E. Gadd went back to his research on the ghosts of Evershade Valley with Luigi joining him for some time before returning home with the Polterpup. It is shown that Luigi spends a large amount of time with the ghosts now that the Dark Moon is back.
Gameplay
In this game, the Dark Moon has shattered and Luigi needs to find the Dark Moon pieces. There are five mansions in the main game (with a separate sixth mansion being exclusive to multiplayer mode), which house multiple missions in them and share a puzzle-oriented theme. This game also introduces the Poltergust 5000, an upgrade to the 3000 model. Shining light via flashlight is no longer sufficient to stun the ghosts in the game; players now need to activate the Strobulb to stun ghosts. Luigi is also now able to jump while capturing a ghost to dodge incoming projectiles. The flashlight has another feature called the Dark-Light Device, which shines a rainbow colored light to find things such as the path of Boos or invisible objects. Luigi is also given the Dual Scream, which is an original Nintendo DS. It acts the same way as the Game Boy Horror and displays a map on the 3DS's bottom screen. Cash and gems help with the mission score, as well as with upgrades to the Poltergust 5000. There is also an "extra life" system. The Gold Bones found in certain objects serve as extra lives; this causes the Polterpup to take the bone and revive Luigi just by licking his face when Luigi loses all of his HP. Luigi can still yell using the D-pad, as well as hum with the music if standing still for a while. The various Toads that are trapped in paintings each have a different fear which requires more problem solving. There is a Boo in each mission that when captured works towards additional missions.
ScareScraper
Main article: ScareScraper
Unlike its predecessor, Luigi's Mansion: Dark Moon includes a multiplayer mode called the ScareScraper (known as Thrill Tower in European and Australian versions), a series of floors where up to four players can play. The ScareScraper can be set to have 5, 10, 25, or infinite rooms. There are also three difficulty settings: normal, hard, and expert (none of which are available on Endless mode due to the progressive difficulty system). The game mode is compatible with both local, download and online multiplayer.
E. Gadd medals
Upon completing Dark Moon Quest, the game's story mode, the player earns an E. Gadd medal on their file above the playtime. If the player earns a 3-star rank on every mission (which requires capturing every Boo to unlock the bonus missions), they are rewarded with another one. Finally, the last E. Gadd medal can be earned by completing the entire Vault: this includes collecting every gem, Boo, Poltergust upgrade, and capturing every normal and boss ghost from Evershade Valley and ScareScraper at least once. Earning all three medals makes the player's file gold and sparkly.
Characters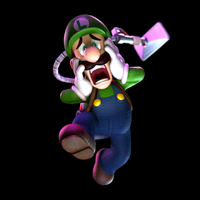 Playable character
Supporting characters
Antagonist
Locations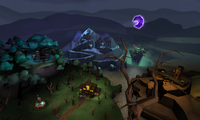 Unlike the first game, where there was only one mansion, Luigi's Mansion: Dark Moon features different themed mansions that Luigi can explore, thanks to E. Gadd's Pixelator teleport system. The game has six mansions in total (one mansion is exclusive to Multiplayer), each with a theme in a similar fashion to the mainstream Mario games, as well as a various number of missions within each mansion.
Mansions
Mansion
Mission
Description

Gloomy Manor
I, Professor E. Gadd, had been observing the ghosts living in this Gloomy Manor, when suddenly the Dark Moon broke into pieces, and the ghosts got all hostile-like!

A-1: Poltergust 5000
If we're to restore the Dark Moon, we'll need to get you properly equipped. I've got just the device for the job, but I left it in the Gloomy Manor! Mind fetching it for me, sonny?

A-2: Gear Up
Now that you're properly equipped, let's find those Dark Moon pieces! Paranormal readings are stronger in the north rooms of the Gloomy Manor, so we should start out search there.

A-3: Quiet Please!
According to the Parascope, the ghostly activity in the north section of the Gloomy Manor is increasing! Now that you've recovered the gears, we should be able to investigate.

A-4: Visual Tricks
Criminy! Someone's been casting illusions in the Gloomy Manor! We'll need my Dark-Light Device to see through this hooey. I'm pretty sure I left it in the Lab.

A-5: Sticky Situation
Clean up those darn spiderwebs! They're blocking our progress AND they ruin the furniture AND they're just plain gross!

Boss: Confront the Source
This paranormal reading is off the charts! I don't know what's down in that Cellar, but it's not happy. Why don't you...uh...investigate?

Bonus: Gradual Infiltration
We have an...interesting situation. The Parascope is picking up mild paranormal signals in the manor. I'm sending you in to investigate.

Haunted Towers
These remarkable towers are built around a colossal tree. The original owners had a liking for gardening and exotic plants, which are growing out of control!

B-1: A Job for a Plumber
The towers' machinery isn't active. I'm guessing the ghosts broke it already. We need to get the Hydro Generator running before we can search for the next Dark Moon piece.

B-2: The Pinwheel Gate
With the water flow restored in the Haunted Towers, we can resume our search for the Dark Moon piece. And now I have a better idea of where it might be!

B-3: Graveyard Shift
It's time to repair that pinwheel lock! Once that's done, you should be able to get inside the Hollow Tree and look for the passageway to the top.

B-4: Pool Party
The Toad you rescued in the Crypt managed to bring back a snap shot from my tridimensional security camera! Let's take a look at it.

B-5: Doggone Key
A very frisky spectral pooch took the special key that we need! Track the dog down and get that key!

Boss: Tree Topping
We've finally got our mitts on that elusive special key! Now we've just got to get to the treetop and grab the Dark Moon piece.

Bonus: Hostile Intrusion
We have a small problem. The Parascope found significant paranormal signs in the towers. Nothing you can't manage!

Old Clockworks
This factory once produced the world's finest clocks and time-measurement devices. Your watch probably comes from here, and you don't even know it!

C-1: A Timely Entrance
Good news, Luigi. I've located the next Dark Moon piece. It's at the top of the Clock Tower. All you've gotta do is mosey on up there and grab it! What could go wrong?

C-2: Underground Expedition
The special compass revealed another path to the underground! Let's hope those ghosts didn't hide the clock hands too well.

C-3: Roundhouse Brawl
That ancient ghost ran off with the clock hands we're looking for. Thankfully, his strong paranormal signal made him easy to find!

C-4: Play Catch
Well, we've recovered the minute hand, but the hour hand is still missing. I've detected some signals in the Clockworks Court, so let's start our search there.

C-5: Piece at Last
There's one last clock part we need to find before we can fix the Clock Tower Gate, and I think I know where it is!

Boss: Showtime
We finally have everything we need to reach the top of the Clock Tower! But first, let's check the security image that the Toad brought with him.

Bonus: Outlandish Interruption
We've got a complication. There are paranormal signals in the Old Clockworks again! It's ghost-hunting time, sonny!

Secret Mine
Some determined geologists started a mining operation in these snowcapped mountains. But when ghosts started moving in, they got scared and abandoned it!

D-1: Cold Case
I can't seem to get a hold of my Toad assistant at the Chalet. He's probably napping in front of the fireplace again. It's hard to find good help these days!

D-2: Hit Rock Bottom
According to the Toad assistant, ghosts—Boos especially—have been very active in the mine. Perhaps the security photo will tell us what they're up to.

D-3: Across the Chasm
Success! The Parascope has located both the Dark Moon piece and the possessor that has it. But you'll have to cross the chasm and reach the other side to find them!

Boss: Chilly Ride
Bingo! I've found the possessor ghost hiding in the Workshop! And if we've learned anything, it's that where there are possessors, there are Dark Moon pieces!

Bonus: Severe Infestation
We have an infestation on our hands! The Parascope is detecting strong paranormal signals throughout the Secret Mine. It's go time, Luigi!

Treacherous Mansion
This massive mansion is filled with exotic exhibits by its late globe-trotting owner. Oh, and it also contains the strongest paranormal signals ever recorded!

E-1: Front-Door Key
The paranormal activity in this mansion is completely off the charts! Stay on your toes, and start looking for the Dark Moon piece.

E-2: Double Trouble
I assigned a Toad assistant to take care of the valuable exhibits in the Treacherous Mansion. Let's find him. He might know a thing or two about the Dark Moon piece.

E-3: A Train to Catch
The Toad curators brought a security-camera image back with them. Maybe it'll give us some clues about the next Dark Moon piece

E-4: Ambush Maneuver
Luigi, King Boo is in the Train Exhibit! Let's strike now, while we have the element of surprise! Get in there, defeat King Boo, and rescue Mario!

E-5: Paranormal Chaos
I'm getting strange paranormal readings on the Terrace. We'd better send you in to inspect the place.

Boss: Stop the Knightmare
The portal on the Terrace is still open, but we've got to hurry. Button up those overalls, my boy! It's time to battle King Boo!

Bonus: Terrifying Invasion
We have an EMERGENCY! The Parascope is detecting whopping paranormal signals in the mansion! Luigi...THE END IS NEAR!
Other
Items and treasures
Enemies
Main article: List of Boos in Luigi's Mansion: Dark Moon
Other
Bosses
Sub-bosses
Main bosses
NA Version

Luigi's Mansion™: Dark Moon is the brand new Luigi's Mansion title on the Nintendo 3DS™ system. This time there are multiple mansions each with unique puzzles and ghosts. Using a vacuum-like machine called the "Poltergust 5000," Luigi™ must explore and hunt ghosts in these mansions to complete specific missions for the great ghost researcher Professor E. Gadd. But shining the flashlight is no longer enough. Luigi must activate the new strobe function at just the right moment to stun the ghosts first, then catch them using the Poltergust 5000. Each mansion is filled with different gimmicks and puzzle elements, and exploring them can be a spooky challenge.

EU Version

Luigi is back on a mission to remove a bunch of stubborn ghosts from some super-spooky mansions in Luigi's Mansion 2 for Nintendo 3DS. Armed with his trusty "Poltergust" ghost-grabbing vacuum cleaner, Mario's brother takes centre stage to capture those pesky phantoms. Sure, Luigi's the nervous type who'd rather be as far from these ghosts as he can get, but a reluctant hero can still save the day! This hair-raising title is the first sequel to the 2002 Nintendo GameCube launch title, Luigi's Mansion, and brings back all the thrills of the original with bags of new fun features too. The stereoscopic 3D visuals bring the murky mansions, ghastly ghosts and spooky surroundings to life, so you can experience all the haunting chills and supernatural fun the game has to offer.
Quotes
Main article: List of Luigi's Mansion: Dark Moon quotes
"What're ya scared of, sonny? It's only just a few harmless ghosts. Well...a few hundred ghosts. And they're not exactly harmless." - Professor E. Gadd
"Thanks Mar- Luigi! Is that you?" - Toad
"Why, if it isn't my old pal Luigi! Or is it Baby Luigi? I can't tell the difference." - King Boo
Glitches
Main article: List of Luigi's Mansion: Dark Moon glitches
Toad through the floor
In Old Clockworks' Mission C-5: Piece at Last, after saving Toad from his Painting, if the player heads to the Maintenance Hub, shoots the Toad across the chasm to the floor above (leading to the Service Elevator room) and makes their way to him, the Toad falls through the metal floor. There is no explanation for this glitch.
Luigi's third arm
If Luigi calls with the
at the same time he does something else, such as opening a door, he puts his arm down instead of using it normally. However, the animation is otherwise unaffected. For example, when Luigi wipes his hands at the end of a level, he only uses one hand, as the other is resting by his side. This glitch is easiest to see when Luigi gets a call from E. Gadd or picks up a gem. The glitch ends after the mission ends or Luigi is controllable again.
Pre-release and unused content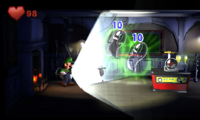 When the game was first revealed at E3 2011, it was tentatively called Luigi's Mansion 2 before the Dark Moon portion was added to the North American and Korean titles as seen in the following year's E3 event. In the E3 2011 reveal trailer, there is a scene in Gloomy Manor's garage of a Greenie scaring Luigi from within the car. This does not occur in the final game. In addition, it shows Luigi's health in the top-left corner of the top screen while in the final game, Luigi's current HP only shows on the top screen temporarily when he is damaged.
Staff
Main article: List of Luigi's Mansion: Dark Moon staff
Executive Producer
Voice
Reception
Critical response
The game has received mostly positive reviews. IGN's Keza MacDonald gave the game a 9.3 out of 10, and GameXplain gave the game 4.5 out of 5 stars. However, Gamespot's Carolyn Petit gave the game a 6.5/10, saying that it has "no shortage of charm, but difficulty spikes and a lack of checkpoints weigh heavily on the experience". The game has received a Metacritic score of 86 out of 100, based on 74 reviews.
Reviews
Release
Reviewer, Publication
Score
Comment
Nintendo 3DS
Keza MacDonald, IGN
9.3/10
"Luigi's Mansion 2 might be a sequel, but it's one that shows Nintendo at its inventive best. It's an essential game in the 3DS' increasingly impressive line-up, and though I sometimes wished that it would leave me alone to explore more at my own pace, it's otherwise difficult to fault a game this detailed, absorbing and masterfully made."
Nintendo 3DS
Oli Welsh, Eurogamer
9/10
"The cherry on top is the presentation, which is stunning by any standards, never mind for a handheld game. The exquisite animation, striking lighting and evocative set design always have their best side to a camera that never puts a foot wrong - and every angle is positioned to make the best of the 3D effect, which turns the meticulously detailed interiors into a living doll's house in your hands. It's gorgeous, as close to a playable cartoon as anything since Zelda: The Wind Waker. That's a big name to drop, but if Luigi's return doesn't quite put him in that class, it puts him in the running among Nintendo's finest. Here's hoping it doesn't go to his lovely, stupid, fallible head."
Nintendo 3DS
Chris Carter, Destructoid
9.5/10
"If Dark Moon was just a single-player experience, it would have been a fleeting, yet enjoyable adventure. But with the addition of an infectious multiplayer element that can't be replicated anywhere else, it makes Luigi's Mansion Dark Moon even better than its predecessor, and one of the clear-cut best games on the 3DS."
Aggregators
Compiler
Platform / Score
Metacritic
86
GameRankings
85.86%
Sales
As of March 31, 2014, Luigi's Mansion: Dark Moon is the 7th best selling game for the Nintendo 3DS, having sold about 3.98 million copies worldwide.
Promotion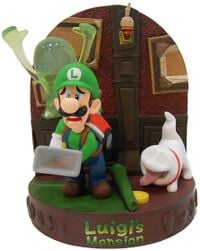 In collaboration with production company Iam8bit, a functioning replica of the Poltergust 5000 was constructed, complete with a functioning light and wheels.[5] It was later featured in a reveal video where a live-action Luigi equips and uses it.[6]
For a limited time, players in Europe could purchase the retail version of the game with a glow-in-the-dark cover, and a Boo stress ball as a pre-order bonus.[7] In North America, the game was bundled with a Blue 3DS in the United States and a Cosmo Black 3DS in Canada. On the Club Nintendo website, a figurine featuring Luigi, Polterpup, and a Greenie was available to redeem. The Play Nintendo website features a skill quiz on Luigi's Mansion: Dark Moon. On February 7, 2013, the official Nintendo 3DS Facebook account posted nine sets of Valentine's Day cards themed after the game.
Gallery
For this subject's image gallery, see Gallery:Luigi's Mansion: Dark Moon.
Media
Luigi's Mansion: Dark Moon - The game's second trailer as seen on Nintendo 3DS Conference 2011.

Play video

File info
1:09
Luigi's Mansion: Dark Moon - The game's third trailer as seen on Nintendo 3DS Conference 2011.

Play video

File info
2:52
Dual Scream - The ringtone of the Dual Scream.

File info
0:15
Gradual Infiltration - The song that plays during Gradual Infiltration.

File info
0:30
Haunted Towers - The song that plays in Haunted Towers.

File info
0:30
Hostile Intrusion - The song that plays during Hostile Intrusion.

File info
0:30
Old Clockworks - The song that plays in Old Clockworks.

File info
0:30
Outlandish Interruption - The song that plays during Outlandish Interruption.

File info
0:30
Secret Mine - The song that plays in Secret Mine.

File info
0:30
Severe Infestation - The song that plays during Severe Infestation.

File info
0:30
Treacherous Mansion - The song that plays in Treacherous Mansion.

File info
0:30
Terrifying Invasion - The song that plays during Terrifying Invasion.

File info
0:30
References to other games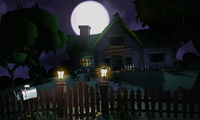 Mario Bros.: In Luigi's house, there is a trophy over the fireplace which has a plunger and a wrench on it, referencing Luigi's career as a plumber.
Super Mario Bros.: When Luigi sees Mario's painting in King Boo's Illusion, the Super Mario Bros. Ground theme is briefly played. Also, the Fright Knight's Ghost Container description states he was a knight looking for a princess, but she was always in another castle, referencing what the Mushroom Retainers say after being saved.
Luigi's Mansion: The mansion poster featured in the this game can be seen briefly on the wall during the opening. Luigi's house bears a strong resemblance to the Rank D Mansion during the end of the game. In the first Mansion, Luigi opens the main door and says "...Hello?" in a scared voice. This is a tribute to the first game's opening sequence. The Toads trapped in paintings is very similar to Mario's situation from the game, but Mario himself is again trapped in a portrait. Boos also have names that play on the word "Boo" just like in the first game. Also in the later missions in the Treacherous Mansion, and after finishing the game, Luigi calls out "Mario" when using the + Control Pad instead of calling out "Hello" or "Yoohoo", another reference to Luigi's Mansion. E. Gadd references the Ghost Portrificationizer and King Boo's painting, and in Luigi's Mansion, when he first meets Luigi, he says he "knew [their] paths were destined to cross". When he meets him Luigi's Mansion: Dark Moon, he says "he knew [their] paths would cross again". King Boo also states that his imprisonment in a painting at the end of the first game was his primary motivation for his actions in Dark Moon. Additionally, several Boos in the Japanese version are renamed after Boos from the original Luigi's Mansion, implying that they are the same characters.
Mario Kart DS: By the version of the Poltergust going from the Poltergust 3000 in the original Luigi's Mansion to the Poltergust 5000 in Dark Moon, the Poltergust 4000 kart from this game is acknowledged.
Mario & Luigi: Partners in Time: The Safe Room is shaped like E. Gadd's head on the outside, much like his lab on Thwomp Volcano. The DS time radar's idea is re-used for the Dual Scream.
Mario Strikers Charged: An arrangement of pause menu background music of Mario Strikers Charged is heard in the elevator in Gloomy Manor. Both games were developed by Next Level Games, and share the exact same three composers (Mike Peacock, Darren Radtke, and Chad York).
Mario Kart Wii: Many of King Boo's voice clips were taken from this game.
Super Smash Bros. Brawl: The Scarescraper colors for Luigi are orange, light blue and pink, which resemble three of Luigi's alternate colors.
Donkey Kong Country Returns: The spears used by Strong Greenies in the Treacherous Mansion or ScareScraper have masks on them resembling Kalimba.
References in later games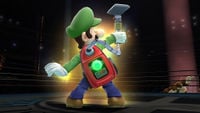 Names in other languages
Language
Name
Meaning
Japanese
ルイージマンション2
Ruīji Manshon 2
Luigi Mansion 2
Chinese (Simplified)
路易吉洋馆2
Lùyìjí Yángguǎn 2
Luigi Mansion 2
Chinese (Traditional)
路易吉洋樓2
Lùyìjí Yánglóu 2
Luigi Mansion 2
Dutch
Luigi's Mansion 2
-
French (NOA)
Luigi's Mansion: Dark Moon
-
French (NOE)
Luigi's Mansion 2
-
German
Luigi's Mansion 2
-
Italian
Luigi's Mansion 2
-
Korean
루이지 맨션 다크 문
Ruiji Maensyeon Dakeu Mun
Luigi Mansion: Dark Moon
Portuguese
Luigi's Mansion 2
-
Russian
Luigi's Mansion 2
-
Spanish (NOA)
Luigi's Mansion: Dark Moon
-
Spanish (NOE)
Luigi's Mansion 2
-
Trivia
This is one of the rare Nintendo games that was not released on Friday in Europe. The game was released on Thursday, March 28, 2013, because Friday, March 29, 2013 was Good Friday. In some European countries, the game was released on March 27, 2013.
The first letters of each mansion, possessor, and bonus mission, in the order of the story, make out the word "ghost." If ScareScraper is also included, it spells "ghosts".

The trick is left intact in the German and Dutch translation. The first letters make out the words "geist" in German and "spook" in Dutch. In Dutch it only works with the first letters of the possessors and bonus missions, however. In the French translation, the first letter of each bonus mission in order read "Luigi".
External links
Official sites
Videos
References
Mario games
Platformers
Super Mario series
Super Mario Bros. (1985, NES) • Super Mario Bros.: The Lost Levels (1986, FDS) • Super Mario Bros. 2 (1988, NES) • Super Mario Bros. 3 (1988, NES) • Super Mario Land (1989, GB) • Super Mario World (1990, SNES) • Super Mario Land 2: 6 Golden Coins (1992, GB) • Super Mario 64 (1996, N64) • Super Mario Sunshine (2002, GCN) • New Super Mario Bros. (2006, DS) • Super Mario Galaxy (2007, Wii) • New Super Mario Bros. Wii (2009, Wii) • Super Mario Galaxy 2 (2010, Wii) • Super Mario 3D Land (2011, 3DS) • New Super Mario Bros. 2 (2012, 3DS) • New Super Mario Bros. U (2012, Wii U) • Super Mario 3D World (2013, Wii U) • Super Mario Maker (2015, Wii U) • Super Mario Run (2016, iOS/iPadOS/Android) • Super Mario Odyssey (2017, Switch) • Super Mario Maker 2 (2019, Switch)
Donkey Kong /
Mario vs. Donkey Kong series
Donkey Kong (1981, arcade) • Donkey Kong (1994, GB) • Mario vs. Donkey Kong (2004, GBA) • Mario vs. Donkey Kong 2: March of the Minis (2006, DS) • Mario vs. Donkey Kong: Minis March Again! (2009, DSiWare) • Mario vs. Donkey Kong: Mini-Land Mayhem! (2010, DS) • Mario and Donkey Kong: Minis on the Move (2013, 3DS) • Mario vs. Donkey Kong: Tipping Stars (2015, 3DS/Wii U) • Mini Mario & Friends: amiibo Challenge (2016, 3DS/Wii U)
Mario Bros. series
Mario Bros. (1983, arcade) • Mario Bros. Special (1984, computer) • Punch Ball Mario Bros. (1984, computer) • Mario Clash (1995, VB)
Wrecking Crew series
VS. Wrecking Crew (1984, VS) • Wrecking Crew (1985, NES) • Wrecking Crew '98 (1998, SFC)
Other
Mario Bros. (1983, G&W) • Mario's Cement Factory (1983, G&W) • Super Mario Bros. Special (1986, computer) • Mario & Wario (1993, SNES) • Hotel Mario (1994, CD-i) • Super Princess Peach (2005, DS) • New Super Luigi U (2013, Wii U) • Captain Toad: Treasure Tracker (2014, Wii U) • Super Mario Bros. 35 (2020, Switch)
Ports and remakes
Crazy Kong (1981, arcade) • Donkey Kong (1982, G&W) • VS. Super Mario Bros. (1986, VS) • Super Mario Bros. (1986, G&W) • All Night Nippon: Super Mario Bros. (1986, FDS) • Kaettekita Mario Bros. (1988, FDS) • Super Mario Bros. (1989, NGW) • Super Mario Bros. 3 (1990, NGW) • Super Mario World (1991, NGW) • Super Mario All-Stars (1993, SNES) • Donkey Kong (1994, NGW) • Super Mario All-Stars + Super Mario World (1994, SNES) • BS Super Mario USA (1996, SNES) • BS Super Mario Collection (1997, SNES) • Super Mario Bros. Deluxe (1999, GBC) • Super Mario Advance (2001, GBA) • Super Mario World: Super Mario Advance 2 (2002, GBA) • Super Mario Advance 4: Super Mario Bros. 3 (2003, GBA) • Famicom Mini Series (2004, GBA) • Classic NES Series (2004-2005, GBA) • Super Mario 64 DS (2004, DS) • Virtual Console (2006-current, Wii/3DS/Wii U) • Super Mario All-Stars Limited Edition (2010, Wii) • Luigi Bros. (2013, Wii U) • Super Mario Maker for Nintendo 3DS (2016, 3DS) • Captain Toad: Treasure Tracker (2018, Switch/3DS) • New Super Mario Bros. U Deluxe (2019, Switch) • Super Mario 3D All-Stars (2020, Switch) • Game & Watch: Super Mario Bros. (2020, G&W) • Super Mario 3D World + Bowser's Fury (2021, Switch)
Tech demos
snd_test (Unknown, SNES) • Super Mario 128 (2000, GCN) • New Super Mario Bros. Mii (2011, Wii U) • Mario vs. Donkey Kong Wii U demo (2014, Wii U)
Canceled games
Super Mario's Wacky Worlds (CD-i) • Mario Takes America (CD-i) • VB Mario Land (VB) • Super Mario 64 2 (N64DD)
Mario Kart series
Main
Super Mario Kart (1992, SNES) • Mario Kart 64 (1996, N64) • Mario Kart: Super Circuit (2001, GBA) • Mario Kart: Double Dash!! (2003, GCN) • Mario Kart DS (2005, DS) • Mario Kart Wii (2008, Wii) • Mario Kart 7 (2011, 3DS) • Mario Kart 8 (2014, Wii U) • Mario Kart Tour (2019, iOS/iPadOS/Android)
Arcade
Mario Kart Arcade GP (2005, arcade) • Mario Kart Arcade GP 2 (2007, arcade) • Mario Kart Arcade GP DX (2013, arcade) • Mario Kart Arcade GP VR (2017, arcade)
Other
Mario Kart Live: Home Circuit (2020, Switch)
Ports
Mario Kart 8 Deluxe (2017, Switch)
Tech demos
Mario Kart for Nintendo GameCube (2001, GCN)
Pitches / canceled games
VB Mario Kart (VB) • Mario Kart XXL (GBA) • Tesla Mario Kart game (Tesla vehicles)
Mario Party series
Main
Mario Party (1998, N64) • Mario Party 2 (1999, N64) • Mario Party 3 (2000, N64) • Mario Party 4 (2002, GCN) • Mario Party 5 (2003, GCN) • Mario Party 6 (2004, GCN) • Mario Party 7 (2005, GCN) • Mario Party 8 (2007, Wii) • Mario Party 9 (2012, Wii) • Mario Party 10 (2015, Wii U) • Super Mario Party (2018, Switch) • Mario Party Superstars (2021, Switch)
Handheld games
Mario Party Advance (2005, GBA) • Mario Party DS (2007, DS) • Mario Party: Island Tour (2013, 3DS) • Mario Party: Star Rush (2016, 3DS) • Mario Party: The Top 100 (2017, 3DS)
Arcade
Super Mario Fushigi no Korokoro Party (2004, arcade) • Super Mario Fushigi no Korokoro Party 2 (2005, arcade) • Mario Party Fushigi no Korokoro Catcher (2009, arcade) • Mario Party Kurukuru Carnival (2012, arcade) • Mario Party Fushigi no Korokoro Catcher 2 (2013, arcade) • Mario Party Challenge World (2016, arcade)
Other
Mario Party-e (2003, GBA)
Sports games
Mario Golf series
Golf (1984, NES) • Family Computer Golf: Japan Course (1987, FDS) • Family Computer Golf: U.S. Course (1987, FDS) • NES Open Tournament Golf (1991, NES) • Mario Golf (1999, N64) • Mario Golf (1999, GBC) • Mobile Golf (2001, GBC) • Mario Golf: Toadstool Tour (2003, GCN) • Mario Golf: Advance Tour (2004, GBA) • Mario Golf: World Tour (2014, 3DS) • Mario Golf: Super Rush (2021, Switch)
Mario Tennis series
Mario's Tennis (1995, VB) • Mario Tennis (2000, N64) • Mario Tennis (2000, GBC) • Mario Power Tennis (2004, GCN) • Mario Tennis: Power Tour (2005, GBA) (Bicep Pump [Unknown, Adobe Flash] • Reflex Rally [Unknown, Adobe Flash]) • Mario Tennis Open (2012, 3DS) • Mario Tennis: Ultra Smash (2015, Wii U) • Mario Tennis Aces (2018, Switch)
Mario Baseball series
Baseball (1989, GB) • Mario Superstar Baseball (2005, GCN) • Mario Super Sluggers (2008, Wii)
Mario Strikers series
Super Mario Strikers (2005, GCN) • Mario Strikers Charged (2007, Wii) • Mario Strikers: Battle League (2022, Switch)
Other
Donkey Kong Hockey (1984, G&W) • Famicom Grand Prix: F1 Race (1987, FDS) • Famicom Grand Prix II: 3D Hot Rally (1988, FDS) • Super Mario Race (1992, GwB) • Mario Hoops 3-on-3 (2006, DS) • Mario Sports Mix (2010, Wii) • Mario Sports Superstars (2017, 3DS)
Ports
New Play Control! Mario Power Tennis (2009, Wii)
Canceled games
Mario American football game (GCN) • Super Mario Spikers (Wii)
Role-playing games
Paper Mario series
Paper Mario (2000, N64) • Paper Mario: The Thousand-Year Door (2004, GCN) • Super Paper Mario (2007, Wii) • Paper Mario: Sticker Star (2012, 3DS) • Paper Mario: Color Splash (2016, Wii U) • Paper Mario: The Origami King (2020, Switch)
Mario & Luigi series
Mario & Luigi: Superstar Saga (2003, GBA) • Mario & Luigi: Partners in Time (2005, DS) • Mario & Luigi: Bowser's Inside Story (2009, DS) • Mario & Luigi: Dream Team (2013, 3DS) • Mario & Luigi: Paper Jam (2015, 3DS)
Other
Super Mario RPG: Legend of the Seven Stars (1996, SNES)
Remakes
Mario & Luigi: Superstar Saga + Bowser's Minions (2017, 3DS) • Mario & Luigi: Bowser's Inside Story + Bowser Jr.'s Journey (2018, 3DS)
Canceled games
Super Mario RPG 2 (N64DD) • Super Paper Mario (GCN)
Dr. Mario series
Main
Dr. Mario (1990, NES) • Dr. Mario 64 (2001, N64) • Dr. Mario Online Rx (2008, WiiWare) • Dr. Mario Express (2008, DSiWare) • Dr. Luigi (2013, Wii U) • Dr. Mario: Miracle Cure (2015, 3DS) • Dr. Mario World (2019, iOS/iPadOS/Android)
Other
VS. Dr. Mario (1990, VS) • Dr. Mario (1993, GwB)
Remakes
Tetris & Dr. Mario (1994, SNES) • Nintendo Puzzle Collection (2003, GCN) • Dr. Mario & Puzzle League (2005, GBA)
Luigi's Mansion series
Main
Luigi's Mansion (2001, GCN) • Luigi's Mansion: Dark Moon (2013, 3DS) • Luigi's Mansion Arcade (2015, arcade) • Luigi's Mansion 3 (2019, Switch)
Remakes
Luigi's Mansion (2018, 3DS)
Tech demos
Luigi's Mansion (2000, GCN)
Educational games
Mario Discovery series
Mario is Missing! (1993, MS-DOS/SNES/NES) • Mario's Time Machine (1993, MS-DOS/SNES/NES) • Mario's Early Years! Fun with Letters (1993, MS-DOS/SNES) • Mario's Early Years! Fun with Numbers (1994, MS-DOS/SNES) • Mario's Early Years! Preschool Fun (1994, MS-DOS/SNES)
Other
Family BASIC (1984, FC) • Mario Teaches Typing (1991, MS-DOS) • Super Mario Bros. & Friends: When I Grow Up (1991, MS-DOS) • Mario Teaches Typing 2 (1996, MS-DOS)
Ports
Mario's Early Years! CD-ROM Collection (1995, MS-DOS)
Canceled games
Mario's Mission Earth (SNES)
Art utilities
Games
I am a teacher: Super Mario Sweater (1986, FDS) • Super Mario Bros. Print World (1991, MS-DOS) • Mario Paint (1992, SNES) • Super Mario Collection Screen Saver (1997, PC) • Mario no Photopi (1998, N64) • Mario Artist: Paint Studio (1999, N64DD) • Mario Artist: Talent Studio (2000, N64DD) • Mario Artist: Communication Kit (2000, N64DD) • Mario Artist: Polygon Studio (2000, N64DD) • Mario Family (2001, GBC)
Pitches / canceled games
Mario Factory ("Game Processor RAM Cassette") • Mario Paint 3D (N64) • Mario Artist: Game Maker / Graphical Message Maker / Sound Maker / Video Jockey Maker (N64DD)
Miscellaneous
Games / other software
Mario's Bombs Away (1983, G&W) • Pinball (1984, NES) • Alleyway (1989, GB) • Mario's Egg Catch (1990, SMBW) • Luigi's Hammer Toss (1990, SMBW) • Princess Toadstool's Castle Run (1990, SMBW) • Mario the Juggler (1991, G&W) • Yoshi's Safari (1993, SNES) • Undake30 Same Game (1995, SFC) • Mario's Game Gallery (1995, MS-DOS) • Mario's Picross (1995, GB) • Mario's Super Picross (1995, SFC) • Donkey Kong (1996, arcade) • Picross 2 (1996, GB) • Mario's FUNdamentals (1998, Windows) • Mario's Memory Madness (1998, Adobe Shockwave) • Crazy Counting (1999, Adobe Shockwave) • Dinky Rinky (1999, Adobe Shockwave) • Goodness Rakes (1999, Adobe Shockwave) • Melon Mayhem (1999, Adobe Shockwave) • Nomiss (1999, Adobe Shockwave) • Picross NP (1999-2000, SFC) • The Lab (2001, Adobe Flash) • Mario Party 4 (2002, Adobe Flash) • Super Mario Fushigi no Janjan Land (2003, arcade) • Mario Pinball Land (2004, GBA) • Yakuman DS (2005, DS) • Mario Trivia (Unknown, Adobe Flash) • Mario Memory (Unknown, Adobe Flash) • Virus Attack! (Unknown, Adobe Flash) • Mini-Mario Factory Game! (2004, Adobe Flash) • Bill Bounce (2004, Adobe Flash) • Mario Party 7 Bon Voyage Quiz (2005, Adobe Flash) • Super Mario Strikers Advergame (2005, Adobe Flash) • Dr. Mario Vitamin Toss (2005, Adobe Flash) • Bowser's Lair Hockey (2005, Adobe Flash) • Heads-Up (2005, Adobe Flash) • Parasol Fall (2005, Adobe Flash) • Dribble Skillz (2006, Adobe Flash) • Superstar Shootout (2006, Adobe Flash) • Mario vs. DK 2: Cannon Kaos (2006, Adobe Flash) • Super Paper Mario Memory Match (2007, Adobe Flash) • Are You Smarter Than Mario? (2008, Adobe Flash) • Mario Calculator (2009, DSiWare) • Mario Clock (2009, DSiWare) • Play Nintendo activities (2014-)
Tech demos
Mario Demo (1994, VB) • morphdemo (Unknown, N64) • Peach's Castle (2002, GCN) • Mario's Face (Unknown, DS) • DSpeak (2005, DS) • Koopa Troopa Forest (Unknown, Wii) • Mario FPS (Unknown, Wii)
Pitches / canceled games
Mario's Castle ("Project Atlantis") • Boss Game Studios' Mario game pitch (Unknown) • Retro Studios' Boo project (DS) • Mario Motors (DS)
Crossovers
Super Smash Bros. series
Super Smash Bros. (1999, N64) • Super Smash Bros. Melee (2001, GCN) • Super Smash Bros. Brawl (2008, Wii) • Super Smash Bros. for Nintendo 3DS (2014, 3DS) • Super Smash Bros. for Wii U (2014, Wii U) • Super Smash Bros. Ultimate (2018, Switch)
Mario & Sonic series
Mario & Sonic at the Olympic Games (2007, Wii) • Mario & Sonic at the Olympic Games (2008, DS) • Mario & Sonic at the Olympic Winter Games (2009, Wii) • Mario & Sonic at the Olympic Winter Games (2009, DS) • Mario & Sonic at the London 2012 Olympic Games (2011, Wii) • Mario & Sonic at the London 2012 Olympic Games (2012, 3DS) • Mario & Sonic at the Sochi 2014 Olympic Winter Games (2013, Wii U) • Mario & Sonic at the Rio 2016 Olympic Games (2016, Wii U) • Mario & Sonic at the Rio 2016 Olympic Games (2016, 3DS) • Mario & Sonic at the Rio 2016 Olympic Games Arcade Edition (2016, arcade) • Mario & Sonic at the Olympic Games Tokyo 2020 (2019, Switch) • Mario & Sonic at the Olympic Games Tokyo 2020 - Arcade Edition (2020, arcade)
Mario + Rabbids series
Mario + Rabbids Kingdom Battle (2017, Switch) • Mario + Rabbids Sparks of Hope (2022, Switch)
Game & Watch Gallery series
Game & Watch Gallery (1997, GB) • Game & Watch Gallery 2 (1997, GB) • Game & Watch Gallery 3 (1999, GBC) • Game & Watch Gallery 4 (2002, GBA)
Itadaki Street series
Itadaki Street DS (2007, DS) • Fortune Street (2011, Wii)
Other
Excitebike: Bun Bun Mario Battle (1997, Satellaview) • NBA Street V3 (2005, GCN) • Dance Dance Revolution: Mario Mix (2005, GCN) • SSX on Tour (2005, GCN) • Tetris DS (2006, DS) • Captain Rainbow (2008, Wii) • Art Style: PiCTOBiTS (2009, DSiWare) • Nintendo Land (2012, Wii U) • Puzzle & Dragons: Super Mario Bros. Edition (2015, 3DS)
Tech demos
Chase Mii (Unknown, Wii U)
Pitches / canceled games
Mario/Rabbids crossover adventure game (Wii) • DDR MARIO 2 (Wii)