Ask Madame Clairvoya
From the Super Mario Wiki, the Mario encyclopedia
Jump to navigation
Jump to search
Ask Madame Clairvoya

The main screen, with instructions
Publisher
Nintendo
Platform(s)
Browser
Release date
2001
Genre
Action
Rating(s)
N/A
Mode(s)
Single player
Media
HTML
Input
Mouse, keyboard
Ask Madame Clairvoya was an activity that was part of the Lab Flash game on the Luigi's Mansion microsite on Nintendo's North American website.[1] The game featured the fortune-teller ghost, Madame Clairvoya in the Fortune-teller's Room.
Gameplay
[
edit
]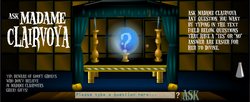 The player has to type in the text field below the questions they want to provide Madame Clairvoya. The instructions recommend to make easy questions to ask her with an easy "Yes" or "No" for an answer. Once the text field is filled with a question, the player has to click on the button "Ask". The crystal orb glows as Madame Clairvoya supposedly speaks through it telling the player the answer they are looking for. Her responses can also vary from answering with a "Yes", "No" or "Maybe".
Sometimes the tone on her answers varies from an obvious tone such as "Everyone knows the answer to that one" to a friendly one such as "Sounds good to me". In some cases, saying she doesn't actually know the answer or even refusing to answer the question. There is also a chance of getting a rare response with Clairvoya in a crazy almost demented tone yelling incoherent lines such as "I am Madame Clairvoya! But I am not Clairvoyant!". However, for the next question after that she has returned to her normal and calm state.
In addition to the instructions, the screen also shows the player a fun tip to be careful with those ghosts who do not believe in Madame Clairvoya's gifts.
Audio samples
[
edit
]
Ask Madame Clairvoya - "Yeess..." - One of Madame Clairvoya's answers

File info
0:01
Ask Madame Clairvoya - "No...well, maybe." - One of Madame Clairvoya's answers

File info
0:02
Ask Madame Clairvoya - "I am not going to answer that question!" - One of Madame Clairvoya's answers

File info
0:02
Ask Madame Clairvoya - "Next question?" - One of Madame Clairvoya's answers

File info
0:01
Ask Madame Clairvoya - "Perhaps." - One of Madame Clairvoya's answers

File info
0:01
Ask Madame Clairvoya - "Come on! Everyone knows the answer to that one!" - One of Madame Clairvoya's answers

File info
0:04
Ask Madame Clairvoya - "Quite likely." - One of Madame Clairvoya's answers

File info
0:00
Ask Madame Clairvoya - "That doesn't stand a ghost of a chance!" - One of Madame Clairvoya's answers

File info
0:02
Ask Madame Clairvoya - "Sounds good to me." - One of Madame Clairvoya's answers

File info
0:01
Ask Madame Clairvoya - "No...never." - One of Madame Clairvoya's answers

File info
0:02
Ask Madame Clairvoya - "As they say in France, oui oui." - One of Madame Clairvoya's answers

File info
0:02
Ask Madame Clairvoya - "I don't know about that." - One of Madame Clairvoya's answers

File info
0:02
Ask Madame Clairvoya - "Absolutely not." - One of Madame Clairvoya's answers

File info
0:01
Ask Madame Clairvoya - "That is a question." - One of Madame Clairvoya's answers

File info
0:01
Ask Madame Clairvoya - "NO! ABSOLUTELY NOT! HEHEHA! I-I MEAN NO! ABSOLUTELY NOT! I AM MADAME CLAIRVOYA! BUT I AM NOT CLAIRVOYANT!!!" - One of Madame Clairvoya's answers

File info
0:07
External link
[
edit
]
References
[
edit
]