Balcony (3F)
From the Super Mario Wiki, the Mario encyclopedia
Jump to navigation
Jump to search
This article is about the Balcony on the third floor of Luigi's Mansion. For other Balconies, see Balcony.
Balcony (3F)
Area
Area Three
Portrait Ghosts
Boolossus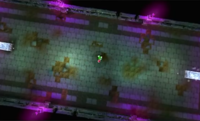 The Balcony (Japanese: バルコニー Balcony) is found in the third area of Luigi's Mansion.
After Luigi sucks up 20 Boos, he can enter the Balcony. On the Balcony, Luigi fights Boolossus. After Luigi defeats Boolossus, a large treasure chest with the blue diamond-shaped Key to Area 4 inside appears.
Description
[
edit
]
The Balcony is a large open area on the third floor of the mansion, on the north end of the property. There are a lot of plants (which Luigi can water for money, the one in the far right corner will give a Red Diamond) and benches around the edges. There are two large winged unicorn statues; one on each side of the Balcony. When the battle starts, they become frozen, allowing Luigi to capture Ice Elemental Ghosts from them. After the battle, they return to normal rock statues. Many lanterns line the outside of the Balcony as well.
Ghosts in The Balcony (3F) during the blackout
[
edit
]