Anteroom
From the Super Mario Wiki, the Mario encyclopedia
Jump to navigation
Jump to search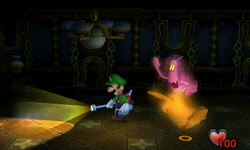 The Anteroom is a location in Luigi's Mansion. It is located in the first area of Luigi's Mansion. It is the third room explored in the game. It is north of the Parlor and east of the Wardrobe Room.
The Anteroom resembles a short hallway, nearly empty aside from two chandeliers and three cabinets, each with a blue vase on top. The first Purple Punchers in the game are encountered and fought here, along with several Gold Ghosts. In the blackout, there is a single Purple Puncher and four Gold Ghosts. In the PAL Hidden Mansion, there are three Purple Punchers and a single Blue Twirler, as well as several Blue Mice. A Speedy Spirit can also be found in the northwest cabinet in the Hidden Mansion when the room is dark.
When Luigi first enters the Anteroom, the doors are blocked with force fields, trapping him inside. He is then attacked by several Gold Ghosts. After sucking them up, a few Purple Punchers appear and start attacking. Once all the ghosts are captured, the force fields disappear and Luigi is able to advance to the Wardrobe Room.
After the Boos are released from their hiding place, a Boo known as Bootha appears in the Anteroom. They can be found in one of the three cabinets.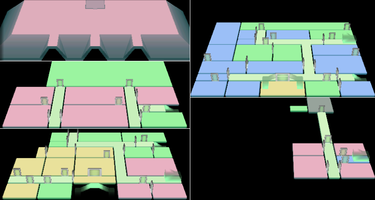 Total: 15 Coins, 15 Bills, and 1 Gold Bar (475,000 G)
The chandelier to the left drops 10 Coins, while the one on the right drops 10 Bills.
The drawer to the left releases a Gold Bar.
The center drawer holds 5 Coins and 5 Bills.
Names in other languages
[
edit
]
Language
Name
Meaning
Japanese
控え室
hikaeshitsu
Waiting Room
French
Antichambre
Antechamber
German
Vorzimmer
Antechamber
Italian
Anticamera
Antechamber
Spanish
La antesala
The Anteroom