Projection Room
From the Super Mario Wiki, the Mario encyclopedia
Jump to navigation
Jump to search
This article is about the room in Luigi's Mansion. For the bonus area in the Metro Kingdom in Super Mario Odyssey, see Metro Kingdom § Bonus areas.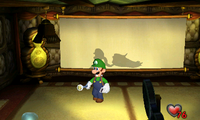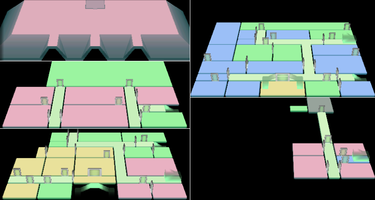 The Projection Room is one of the many rooms in Luigi's Mansion. It is located in Area Three.
When Luigi entered the Projection Room, he taps a projector on the front wall, causing some Purple Grabbing Ghosts to appear on the screen. Luigi sucks up the ghosts, causing the lights to turn on and Mario's Glove to appear.
Description
[
edit
]
The Projection Room has a couple points of interest. First, obviously, there's the projector and the projector screen, flanked by two oddly-shaped speakers resembling violin cases without necks. Secondly, there is a large cabinet on the eastern wall of the room.
If Luigi tries to suck the projection screen with his vacuum, it turns into the picture of a Boo (possibly Boolossus because of the yellow eyes) that says "Get out of here!". This poster appears again in the washroom on the second floor.
Ghosts in The Projection Room during the blackout
[
edit
]
Names in other languages
[
edit
]
Language
Name
Meaning
Japanese
映写室
Eishashitsu
Projection Room
French
Salle de projection
Projection hall
German
Filmraum
Movie room
Italian
Cabina di proiezione
Projection cabin
Spanish
La sala de proyecciones
The Projections Room
Scanning either of the two large speaker-like structures will cause a message to flash on the Game Boy Horror's display featuring a boxed-in question mark and a "What is this?" message, which is only shared with a few other objects from throughout the mansion. Neither of the objects seem to have any importance, nor do they drop anything if interacted with.