Pipe Room
From the Super Mario Wiki, the Mario encyclopedia
Jump to navigation
Jump to search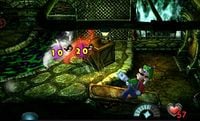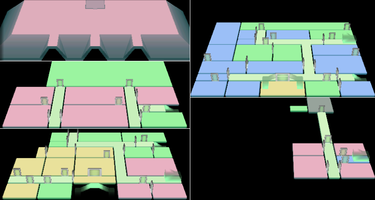 The Pipe Room is a room in Area Four of Luigi's Mansion.
Once Luigi enters the Pipe Room, a set of green Flying Fish and Red and White Grabbing Ghosts attack. After Luigi captures them, he uses an Ice Elemental Ghost to get to a valve that stops the flow of water. This causes the Key to the Cold Storage to appear.
Description
[
edit
]
The Pipe Room contains a crate, a bucket, and a frozen barrel. The river of water is untouchable until Luigi freezes it.
Ghosts in the Pipe Room in the PAL Hidden Mansion
[
edit
]
Treasure
[
edit
]
Currency
Amount
Locations


Gold Bars

1
(100,000 G)

The Gold Bar may be found by examining the bucket in the southeast corner.
Names in other languages
[
edit
]
Language
Name
Meaning
Japanese
配管室
Haikanshitsu
Piping Room
French
Salle du tuyau
German
Heizkeller
Italian
Vano tubi
Spanish
El alcantarillado
The Pipe Room and the first floor Washroom are quite possibly the only necessary rooms in the game which are never required to be lit up (unless of course the player is trying to catch all fifty Boos), as Luigi can completely ignore the Grabbing Ghosts, freely freeze the river of water and turn the waterfall off to obtain the key to the next room.