Bottom of the Well
From the Super Mario Wiki, the Mario encyclopedia
Jump to navigation
Jump to search
This article is about the room in Luigi's Mansion. For the room in Treacherous Mansion in Luigi's Mansion: Dark Moon that bears a similar name, see Bottom of Well.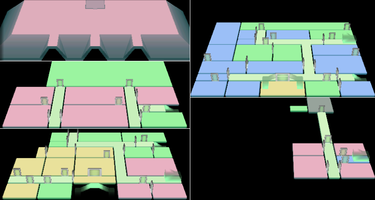 The Bottom of the Well is the smallest location of the mansion in Luigi's Mansion, though it technically is not part of the mansion itself. It is cleared in the third Area.
The Bottom of the Well is a small area reached through a ladder inside the well in the Courtyard. The area is extremely restricted for Luigi as he can only go to the right where the hidden side of a lion statue is. There is only one ghost, the Ceiling Surprise (Purple Bomber in the PAL Hidden Mansion).
History
[
edit
]
In this location, Luigi peers through the mouth of a stone lion into a small room, where he sees Mario trapped in a painting in the Secret Altar guarded by King Boo. After Luigi looks through the lion, a Ceiling Surprise (a Purple Bomber in the PAL Hidden Mansion) attacks. After Luigi captures the ghost, the Key to the Rec Room appears.
Names in other languages
[
edit
]
Language
Name
Meaning
Japanese
井戸の下
Ido no Shita
Bottom of the Well
French
Fond du puits
Bottom of the well
German
Boden des Brunnens
Bottom of the Well
Italian
Fondo del pozzo
Bottom of the well
Spanish
El fondo del pozo
The bottom of the well
The cutscene with Mario can be watched a second time. During the blackout, the cutscene replays, although King Boo is absent, as Boos do not appear in dark areas.
In both the original and the remake versions, if Luigi is outside of the well or stands at the ladder's upper part, the player can slightly hear Mario screaming, "Hey, Luigi! What's the holdup?" This only occurs when Luigi has obtained the key.