Astral Hall
From the Super Mario Wiki, the Mario encyclopedia
Jump to navigation
Jump to search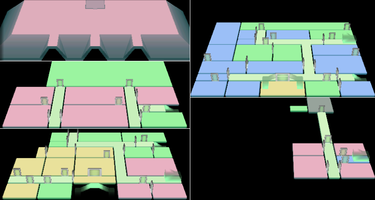 The Astral Hall is a room in the game Luigi's Mansion. It is found in Area Three of Luigi's Mansion.
The room is empty until Luigi lights the candles in the center of the room with his Fire Element. If he tries continuing through the door on the right, he is looped back through the entrance to the room while a chime plays. Once the candles are lit, Luigi can enter the center of the room for an event to occur: the candle flames turn purple and suddenly extinguish while the door leading to the Observatory appears with a seal over it. Luigi is then ambushed by ghosts, who he must defeat to turn on the lights and unseal the door to the Observatory.
Description
[
edit
]
The Astral Hall contains two drawers on either side of the room. In the center are five candelabra. If Luigi leaves the room after clearing it, the candles become lit, but extinguishing them is impossible, even with the Water Element. A large crystal chandelier hangs in the middle of the candles.
Ghosts in the Astral Hall
[
edit
]
Ghosts in the Astral Hall in the PAL Hidden Mansion
[
edit
]
Four Garbage Can Ghosts (40 HP each)
Two White Grabbing Ghosts (10 HP each)
Two Red Grabbing Ghosts (20 HP each)
Three Gold Ghosts (10 HP each)
Two Mr. Bones (30 HP each)
Ghosts in the Astral Hall during the blackout
[
edit
]
Six Ghost Guys (20 HP each)
Names in other languages
[
edit
]
Language
Name
Meaning
Japanese
回想の部屋
Kaisō no heya
Room of Reminiscence
French
Hall astral
Astral Hall
German
Astralsaal
Astral Hall
Italian
Sala astrale
Astral Room
Spanish
La sala astral
The Astral Room