Parlor (Luigi's Mansion)
From the Super Mario Wiki, the Mario encyclopedia
Jump to navigation
Jump to search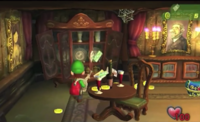 The Parlor (known as the living room in a pre-release version)[1] is the second room Luigi visits in the game Luigi's Mansion. At the beginning of the game, a Gold Ghost drops the key to the Parlor in the main part of the Foyer. When Luigi enters the Parlor, a Gold Ghost attacks him, but Professor E. Gadd comes and rescues him with his Poltergust 3000. E. Gadd teaches Luigi how to use the Poltergust. When Luigi blows out all of the candles in the room with his Poltergust 3000 and makes the Parlor dark, the paintings in the room will come to life and let loose several ghosts. After he defeats them, he gains the key to the Anteroom.
The Parlor is the only room whose key is held by a ghost instead of being found in a chest or item. It reappears in the WarioWare: Get It Together! microgame Luigi's Mansion.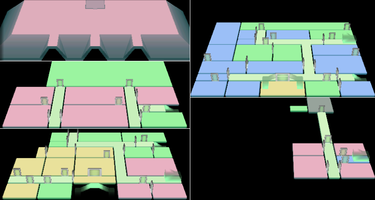 The Parlor is a large room at the second floor. The floor is covered by a huge square rug. At the north side of the room are two libraries containing plates and glasses. In front of the large drawer is a small round table with wine. To the east, a couch with a blanked table can be found next to a small drawer. The walls are covered with different paintings.
The Parlor underwent several changes since its appearances in pre-release material. The earliest Parlor had an analog TV showing three ghosts playing cards and more furniture. Ghosts attacking Luigi and E. Gadd were colored pink and had their own dialogue box. In the same context, Luigi also had a dialogue box when being scared during the cutscene. The floor was more white-shaded, and the present portraits were originally a similar painting depicting a blue ghost with a hat in a purplish background.
Total: 45 Coins, 20 Bills, and 1 Gold Bar (725,000 G)
15 Coins are found lying on the ground near both tables.
Opening the nightstand spawns 10 Coins.
The chandelier above drops a Gold Bar.
The china cabinet behind the table has 10 Coins and 10 Bills.
10 Coins and 10 Bills are found in the shelves beneath the candles.
Names in other languages
[
edit
]
Language
Name
Meaning
Japanese
居間
Ima
Living Room
French
Salon
Lounge
German
Salon
Lounge
Italian
Salone
Lounge
Spanish
El salón
The lounge
References
[
edit
]