Tea Room
From the Super Mario Wiki, the Mario encyclopedia
Jump to navigation
Jump to search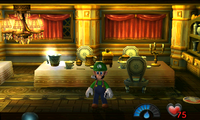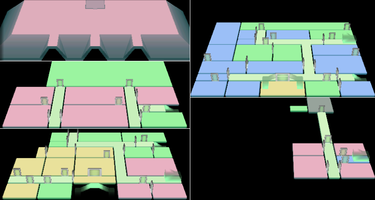 The Tea Room is a room explored in Area 3 in Luigi's Mansion. During the blackout, a Blue Blaze and an Ice Elemental Ghost can be found.
When Luigi enters the Tea Room, haunted dishes from the shelves fly at him. Two White Grabbing Ghosts appear and can hold Luigi in place, making Luigi vulnerable. After Luigi sucks in the two ghosts, a large, white treasure chest with the Ice Element Medal inside appears on the left table. To reach the chest, Luigi can use the two Arrow Switches in the room to get on the table and open the chest.
The Tea Room is a symmetrical room, containing two tables with four chairs (two in the Nintendo 3DS version) each. A small box sits on the eastern table. There are also two cabinets that take up the entire length and height of the east and west walls. A crystal chandelier hangs in the middle of it.
There is a 20% chance a Gold Mouse appears as soon as Luigi enters the room. A cheese housing an additional Gold Mouse can be found behind the left table.
Ghosts in the Tea Room in the PAL Hidden Mansion
[
edit
]
Names in other languages
[
edit
]
Language
Name
Meaning
Japanese
ティールーム
Tī Rūmu
Tea Room
French
Salon de thé
Tearoom
German
Teezimmer
Italian
Sala da tè
Spanish
El salón de té
The Tea Room