Study (Luigi's Mansion)
From the Super Mario Wiki, the Mario encyclopedia
Jump to navigation
Jump to search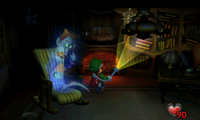 The Study is one of the many rooms found in Luigi's Mansion; it is found in the first area. Neville resides in the Study, sitting in a rocking chair. Defeating Neville gives Luigi the Key to the Master Bedroom.
Description
[
edit
]
The Study is a small room filled with books and bookshelves. A fireplace is lit in the back wall. Luigi can use the Poltergust 3000 on the ship-in-a bottle mounted above the fireplace and the desk in the room. A Speedy Spirit is hidden in the chair behind the desk, and a Gold Mouse is beside the chair. To find the Gold Mouse, Luigi has to use the Game Boy Horror to look behind the desk, then search a piece of cheese.
There are many books that can be found in the Study. These books are found on the bookshelves behind the table. To read them, Luigi must tap on the bookshelves. There are six books in all. Reading them gives the player hints and information on various things, such as Gold Mice, Elemental Ghosts, and how to capture Henry and Orville.
Other appearances
[
edit
]
In Super Smash Bros. Brawl in the Luigi's Mansion stage, the Study appears as one of the rooms.
Ghosts in the Study
[
edit
]
Neville (100 HP)
One Speedy Spirit (10 HP)
One Gold Mouse
Ghosts in The Study during the blackout
[
edit
]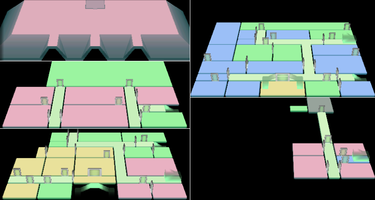 Names in other languages
[
edit
]
Language
Name
Meaning
Japanese
書斎
shosai
Study
French
Étude
Study
German
Arbeitszimmer
Study
Italian
Studio
Study
Spanish
El despacho
The study