Cellar (Luigi's Mansion)
From the Super Mario Wiki, the Mario encyclopedia
Jump to navigation
Jump to search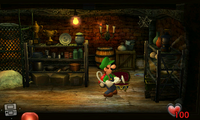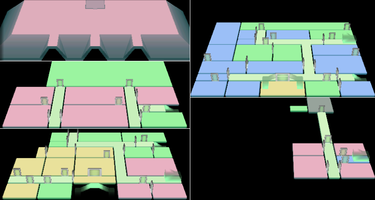 The Cellar is a room found in Area Four of Luigi's Mansion.
Using the Key from the Breaker Room, Luigi enters the Cellar. Once Luigi captures two Purple Punchers, the lights turn on and he receives the Key to the Clockwork Room.
Description
[
edit
]
There are some points of interest in the Cellar, most notably the two shelves. Each shelf has four tiers that can each be inspected for money, and one of the tiers will always have a 50-HP restoring Heart for Luigi. In addition to the shelves, several crates and barrels are placed around the room. About nine piles of dust are in this room, which need to be cleared every time Luigi wishes to traverse from one end of the room to the other, thanks to a large fence blocking off a direct path. There are also two Arrow Switches underneath dust piles that allow Luigi to skip vacuuming.
There is a Speedy Spirit hiding in the crate near the entrance. It is behind the fence, but still easy to see.
Ghosts in the Cellar
[
edit
]
Ghosts in the Cellar in the PAL Hidden Mansion
[
edit
]
Names in other languages
[
edit
]
Language
Name
Meaning
Japanese
地下倉庫
Chika Sōko
Basement Storehouse
French
Cave
Cellar
German
Lagerkeller
Italian
Cantina
Basement
Spanish
La bodega
The Cellar