Courtyard (Luigi's Mansion)
From the Super Mario Wiki, the Mario encyclopedia
Jump to navigation
Jump to search
The Courtyard is an area behind Luigi's Mansion, visited as the first room of Area Three during the events of Luigi's Mansion.
Luigi enters the Courtyard after defeating Bogmire. When he first enters, Flying Fish and (despite there being no ceilings) Ceiling Surprises and Purple Bombers attack him. After Luigi captures them, the lights turn on, although this is optional and only gives Luigi a chest with money. However, the 3DS version's Hidden Mansion makes this mandatory in order to find Mario's Glove. A Toad is nearby in an old cabin. This Toad saves Luigi's progress and tells him to go to the Bottom of the Well. On the way, Luigi inspects a birdhouse, which spits out Mario's Letter. In the 3DS version's hidden mansion, however, Mario's Letter is absent, being moved to the Twin's Room.
The Courtyard has many crooked dead trees spread throughout it. Then (from left to right) there is a statue that looks like Slim Bankshot, a large fountain with plants surrounding it (the plants can be watered for money and hearts), a well, a birdhouse, an old cabin, and another statue. When Luigi approaches the well, one can hear Mario saying "Hey, Luigi! What's the hold-up?" very faintly.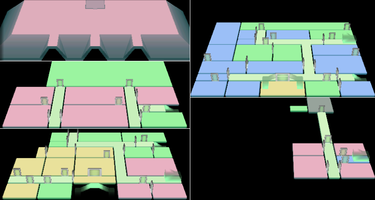 Blackout
[
edit
]
Names in other languages
[
edit
]
Language
Name
Meaning
Japanese
裏庭
Uraniwa
Backyard
French
Cour
Courtyard
German
Garten
Courtyard/Garden
Italian
Cortile
Courtyard
Spanish
El jardín
Garden/Courtyard
Gallery
[
edit
]
Luigi's Mansion (Nintendo 3DS)

[

edit

]