Safari Room
From the Super Mario Wiki, the Mario encyclopedia
Jump to navigation
Jump to search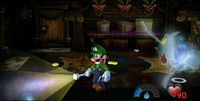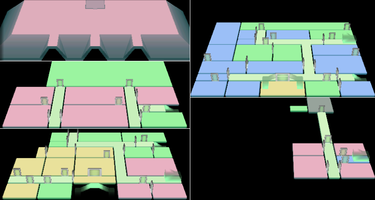 The Safari Room is a room found in Area Three of Luigi's Mansion, that can be accessed using the Key from the Fortune-teller's Room.
After Luigi uses his Poltergust 3000 at each of the mounted deer heads on the north wall, a Blue Blaze appears. After Luigi defeats it, two others appear, along with two Garbage Can Ghosts. After defeating all those ghosts, a chest that has a key inside will appear. This key opens the door to the Area 3 boss: Boolossus.
In the Nintendo 3DS version of the game, the mounted deer heads have glowing red eyes when all three are shaken (glowing blue when only one or two are activated), and the table they are over is more ornate, with purple velvet on top.
Description
[
edit
]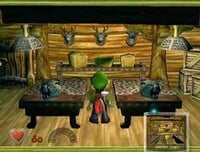 The Safari Room has three animal pelts on the floor (and only two pelts on tables in a pre-release version). It also contains two shelves of boxes under the deer heads, as well as an easy chair on the east wall. Beside the easy chair is a chest that always contains a 50-HP restoring Heart for Luigi. There is a piece of cheese that contains a Gold Mouse wedged between the easy chair and the chest. Using the Game Boy Horror, the player can see a mirror on the south wall that can be used to teleport back to the Foyer.
PAL Hidden Mansion
[
edit
]
Blackout
[
edit
]
Game Boy Horror scans
[
edit
]
Deer heads: "Awww, poor thing..."
Animal pelts: "How could anyone treat an animal that way? I won't stand for it!!"
Names in other languages
[
edit
]
Language
Name
Meaning
Japanese
はく製の部屋
Hakusei no Heya
Taxidermy Room
French
Salle des trophées
Trophy Room
German
Trophäensammlung
Trophy Room
Italian
Sala trofei
Trophy room
Spanish
La sala de los trofeos de caza
The Hunting Trophy Room
A comment in the October 2001 issue of Nintendo Power referring to a "ghost of a hunter" who would "want to add Luigi to his collection" led several people to incorrectly assume that a hunter-themed portrait ghost had once existed in the game before being cut for being too violent. However, due to the magazine being released after the game's Japanese release, this seems to be merely flavor text.