Washroom (2F)
From the Super Mario Wiki, the Mario encyclopedia
Jump to navigation
Jump to search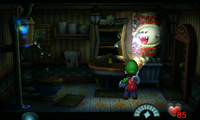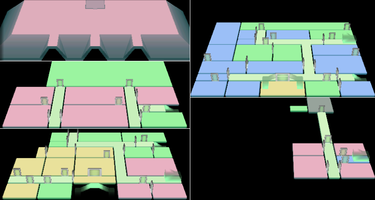 The Washroom (known as Lavatory in a pre-release version)[1] is a place in Area Three of the game Luigi's Mansion and it is located in the mansion of the same name.
In the Washroom, the toilet tank above the toilet is leaking. As Luigi approaches it, a Water Elemental Ghost emerges from it. Luigi uses the Water Elemental Ghost to defeat the Temper Terror that attacks next. This turns the lights on and causes a treasure chest with some extra money inside to appear.
Description
[
edit
]
The Washroom on this floor is very similar to the one on the first floor, the only differences being the absence of Toad, and a "Monsters" poster (replaced with a poster depicting a field in the 3DS version) replacing the medicine cabinet. The sink also often contains a Heart.
Ghosts during the blackout
[
edit
]
Names in other languages
[
edit
]
Language
Name
Meaning
Japanese
トイレ
Toire
Washroom
If Luigi pulls the "Monsters" poster for too long, it snaps back and changes into a Boo poster that says "Get Out of Here!", making Luigi fall on his back and lose five HP. The "Monsters" poster is also found in The Twins' Room, and the Boo poster appears when the projection screen in the Projection Room is vacuumed; discovering both gives the player an achievement in the remake.
References
[
edit
]