Wardrobe Room
From the Super Mario Wiki, the Mario encyclopedia
Jump to navigation
Jump to search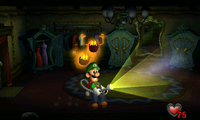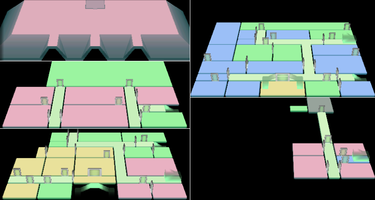 The Wardrobe Room is one of many rooms in Luigi's Mansion; it is in the first area.
After clearing the Anteroom, the Wardrobe Room becomes accessible. Several Gold Ghosts first appear. After they are defeated, one Garbage Can Ghost appears. Another ghost is hiding in the closet; the lights turn back on once Luigi captures it. A Key appears on a nearby shelf once the light is turned on. This key allows Luigi access to the Study.
During the blackout, Uncle Grimmly resides in the Wardrobe Room. Grimmly has taken the key to the Breaker Room and Luigi needs the key to restore the power. Sucking up Grimmly grants Luigi the Breaker Room key, which then enables Luigi to restore electricity to the mansion.
Description
[
edit
]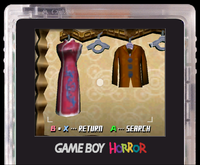 The Wardrobe Room is small and, as its name implies, has three wardrobes in it. It also has a shoe rack, a hat rack, and a mirror. There is also a Speedy Spirit hidden in the rightmost wardrobe.
Ghosts in The Wardrobe Room
[
edit
]
Ghosts in The Wardrobe Room in the PAL Hidden Mansion
[
edit
]
Ghosts in The Wardrobe Room during the blackout
[
edit
]
Uncle Grimmly (100 HP)
One Speedy Spirit (10 HP) (if it was not discovered beforehand)
Total: 35 Coins, 45 Bills, and the Pearls dropped by Uncle Grimmly (2,675,000 G)
The Speedy Spirit in the rightward wardrobe rewards 20 Coins and 30 Bills when captured.
The wardrobe in the center spawns 15 Coins and 15 Bills.
Names in other languages
[
edit
]
Language
Name
Meaning
Japanese
クローゼット
kurōzetto
Closet
French
Garde-robe
Wardrobe
German
Ankleidezimmer
Dressing Room
Italian
Guardaroba
Wardrobe
Spanish
El vestidor
The Dressing Room