Mirror Room
From the Super Mario Wiki, the Mario encyclopedia
Jump to navigation
Jump to search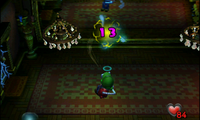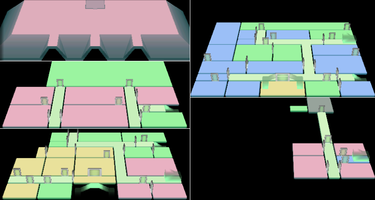 The Mirror Room is one of the many rooms inside Luigi's Mansion. It is cleared in Area Two.
When Luigi enters the Mirror Room, the door seals behind him. As he explores, he sees five blue Grabbing Ghosts in the reflection in the long mirror. After he captures the ghosts, the lights turn on and a red chest appears. The chest contains the Fire Element Medal, which allows Luigi to capture Fire Elemental Ghosts and use them to shoot fire from his Poltergust 3000. Luigi uses this new power to light up two candles in the room, unsealing the door.
The mirror in this room is the only one in the game that does not teleport Luigi to the Foyer if he scans it with the Game Boy Horror.
Description
[
edit
]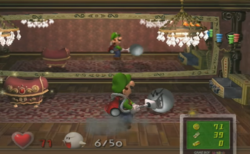 The Mirror Room is a long room with two chandeliers, two candelabras, as well as a torch. A small drawer and a painting on the east wall complete the room. On the north wall is a long mirror.
Ghosts in the Mirror Room during the blackout
[
edit
]
Names in other languages
[
edit
]
Language
Name
Meaning
Japanese
鏡の部屋
Kagami no heya
Mirror Room
French
Salle des miroirs
Mirrors Room
German
Spiegelsaal
Hall of Mirrors
Italian
Salla degli specchi
Mirror Room
Spanish
La sala del espejo
In this room it appears that Luigi is always looking at something near the ceiling, but it is impossible to tell what it is, even by going into first-person mode.