Rolling Panic
From the Super Mario Wiki, the Mario encyclopedia
Jump to navigation
Jump to search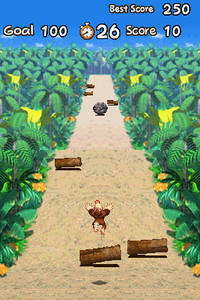 Rolling Panic is a minigame from DK: Jungle Climber. Accessible from the Challenge menu, this minigame is very simple to play. The player must jump over the logs rolling down the hill and avoid the boulders. When the player gets a determined score in a pre-determined time, they win. This minigame, like the other five in this mode, has three "levels" unlockables beating the first to take the second, and go on.
Level one finishes when the player got 100 points, level two with 150 points, level three with 250, and the next level is "infinite": When the player gets hit by a log or boulder, they lose.
Browser game
[
edit
]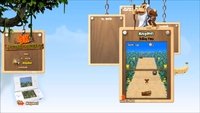 An Adobe Flash version of this minigame was playable on the official DK: Jungle Climber website.[1] The browser version was largely the same as the original minigame, although it did not have a goal score to surpass.
References
[
edit
]
Donkey Kong games
Platformers
Donkey Kong
Donkey Kong (1981, arcade) • Donkey Kong Jr. (1982, arcade) • Donkey Kong 3 (1983, arcade) • Donkey Kong Jr. Math (1983, NES) • Donkey Kong 3: Dai Gyakushū (1984, computer) • Donkey Kong (1994, GB) • Mario vs. Donkey Kong (2004, GBA)
Donkey Kong Country
Donkey Kong Country (1994, SNES) • Donkey Kong Country 2: Diddy's Kong Quest (1995, SNES) • Donkey Kong Country 3: Dixie Kong's Double Trouble! (1996, SNES) • Donkey Kong Country Returns (2010, Wii) • Donkey Kong Country: Tropical Freeze (2014, Wii U)
Donkey Kong Land
Donkey Kong Land (1995, GB) • Donkey Kong Land 2 (1996, GB) • Donkey Kong Land III (1997, GB)
Mario vs. Donkey Kong
Mario vs. Donkey Kong (2004, GBA) • Mario vs. Donkey Kong 2: March of the Minis (2006, DS) • Mario vs. Donkey Kong: Minis March Again! (2009, DSiWare) • Mario vs. Donkey Kong: Mini-Land Mayhem! (2010, DS) • Mario and Donkey Kong: Minis on the Move (2013, 3DS) • Mario vs. Donkey Kong: Tipping Stars (2015, 3DS/Wii U) • Mini Mario & Friends: amiibo Challenge (2016, 3DS/Wii U) • Mario vs. Donkey Kong (2024, Nintendo Switch)
DK
DK: King of Swing (2005, GBA) • DK: Jungle Climber (2007, DS) (Banana Bonanza [Unknown, Adobe Flash] • Rolling Panic [Unknown, Adobe Flash] • Banana Grab [Unknown, Adobe Flash])
Miscellaneous
Donkey Kong 64 (1999, N64) • Donkey Kong Jungle Beat (2004, GCN)
Donkey Konga
Donkey Konga (2003, GC) • Donkey Konga 2 (2004, GC) • Donkey Konga 3 JP (2005, GC)
Racing games
Diddy Kong Racing (1997, N64) • Donkey Kong Barrel Blast (2007, Wii)
Other
Donkey Kong Circus (1984, G&W) • Donkey Kong Hockey (1984, G&W) • Donkey Kong (1996, arcade) • Donkey Konk (1999, Adobe Shockwave) • Donkey Kong 64 Lore Quiz (1999, Adobe Shockwave) • Kremling Krushin (2000, Adobe Flash) • Donkey Kong Country Barrel Maze (2003, Adobe Shockwave) • Mini-Mario Factory Game! (2004, Adobe Flash) • Hurling for Distance (2005, Adobe Flash) • Barrel-Blastapalooza (2005, Adobe Flash) • Donkey Kong: Jungle Fever (2005, arcade) • Mario vs. DK 2: Cannon Kaos (2006, Adobe Flash) • Donkey Kong: Banana Kingdom (2006, arcade) • Timber's Balloon Pop (2007, Adobe Flash) • Play Nintendo activities (2014–present)
Reissues
Crazy Kong (1981, arcade) • Donkey Kong (1982, G&W) • Donkey Kong Jr. (1982, G&W) • Donkey Kong II (1983, G&W) • Donkey Kong Jr. + Jr. Sansū Lesson (1983, NES) • Donkey Kong 3 (1984, G&W) • Donkey Kong Classics (1988, NES) • Donkey Kong (1994, NGW) • Donkey Kong Country Competition Cartridge (1994, SNES) • Donkey Kong Country (2000, GBC) • Donkey Kong Country (2003, GBA) • Classic NES Series: Donkey Kong (2004, GBA) • Donkey Kong Country 2 (2004, GBA) • Donkey Kong Country 3 (2005, GBA) • Diddy Kong Racing DS (2007, DS) • New Play Control! Donkey Kong Jungle Beat (Wii, 2008) • Donkey Kong Original Edition (2010, VC) • Donkey Kong Country Returns 3D (2013, 3DS) • Donkey Kong Country: Tropical Freeze (2018, Switch)
Crossovers
Super Smash Bros. series
Super Smash Bros. (1999, N64) • Super Smash Bros. Melee (2001, GCN) • Super Smash Bros. Brawl (2008, Wii) • Super Smash Bros. for Nintendo 3DS (2014, 3DS) • Super Smash Bros. for Wii U (2014, Wii U) • Super Smash Bros. Ultimate (2018, Switch)
NES Remix series
Main
NES Remix (2013, Wii U)
Reissues
NES Remix Pack (2014, Wii U) • Ultimate NES Remix (2014, 3DS)
Tech demos
Unnamed Donkey Kong Country proof-of-concept (Unknown, VB) • puzzle (Unknown, N64) • spritemonkeyEX (Unknown, N64) • Mario vs. Donkey Kong Wii U demo (2014, Wii U)
Pitches / canceled games
Donkey Kong no Ongaku Asobi (FC) • Donkey Kong parking attendant arcade game (arcade) • Donkey Kong IV (arcade) • Return of Donkey Kong (NES) • Super Donkey (SNES) • CD-i Donkey Kong game (CD-i) • Donkey Kong vs. Super Wario (SNES) • Donkey Kong and the Golden Bananas (SNES) • Ultra Donkey Kong (N64DD) • Donkey Kong Coconut Crackers (GBA) • Diddy Kong Pilot (2001/2003) (GBA) • Donkey Kong Racing (GCN) • Donkey Kong Plus (GCN/GBA) • Diddy Kong Racing Adventure (GCN) • Donkey Kong Country 4 (DS) • DK Bongo Blast (GCN)