Donkey Kong Jr. + Jr. Sansū Lesson
From the Super Mario Wiki, the Mario encyclopedia
Jump to navigation
Jump to search
The title of this article is official, but it comes from a non-English source. If an acceptable English source is found, then the article should be moved to its appropriate title.
Donkey Kong Jr. + Jr. Sansū Lesson is the pack-in game for the Sharp C1 Famicom TV, a combined television and Family Computer unit released in October 1983, only a few months after the original Famicom.[1] It is a compilation of the games Donkey Kong Jr. and a prototype of Donkey Kong Jr. Math; the latter game would not be released until December 1983. Despite being a compilation of the two games, it only contains half of the 1- and 2-Player game modes from Donkey Kong Jr. and the +-×÷ Exercise mode from Donkey Kong Jr. Math.[2] Its cartridgeMedia:DKJr Sansū Lesson cartridge.jpg is the first Famicom cartridge to not use the "pulse" label.
Differences between versions
[
edit
]
Donkey Kong Jr.

[

edit

]
The Jump Board Scene and Mario's Hideout have been removed.
The cutscene for completing the Chain Scene has been removed.
There is only one difficulty setting, equivalent to B mode (expert) from the earlier release.
Donkey Kong Jr. Math

[

edit

]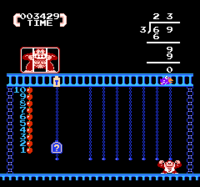 The title in Japanese is different. In this version, the game is called Math Lesson which was the working title during development. When the full game was released in December, the title became Math Play.[3]
The +-×÷ Exercise mode is called the Jr Lesson +-×÷ mode on the main menu screen.
The format of a screen that asks a math question is different.
Donkey Kong is caged for unknown reasons. Even if the game has been completed, Donkey Kong remains caged.
A Nitpicker does not appear on screen whenever a math answer is answered correctly. Instead, apples are dropped from the screen.
When clearing a math problem, the remaining time is used as the score.
Names in other languages
[
edit
]
Language
Name
Meaning
Japanese
ドンキーコングJR.+JR.算数レッスン
Donkī Kongu Junia + Junia Sansū Ressun
Donkey Kong Jr. + Jr. Math Lesson
References
[
edit
]
Donkey Kong games
Platformers
Donkey Kong
Donkey Kong (1981, arcade) • Donkey Kong Jr. (1982, arcade) • Donkey Kong 3 (1983, arcade) • Donkey Kong Jr. Math (1983, NES) • Donkey Kong 3: Dai Gyakushū (1984, computer) • Donkey Kong (1994, GB) • Mario vs. Donkey Kong (2004, GBA)
Donkey Kong Country
Donkey Kong Country (1994, SNES) • Donkey Kong Country 2: Diddy's Kong Quest (1995, SNES) • Donkey Kong Country 3: Dixie Kong's Double Trouble! (1996, SNES) • Donkey Kong Country Returns (2010, Wii) • Donkey Kong Country: Tropical Freeze (2014, Wii U)
Donkey Kong Land
Donkey Kong Land (1995, GB) • Donkey Kong Land 2 (1996, GB) • Donkey Kong Land III (1997, GB)
Mario vs. Donkey Kong
Mario vs. Donkey Kong (2004, GBA) • Mario vs. Donkey Kong 2: March of the Minis (2006, DS) • Mario vs. Donkey Kong: Minis March Again! (2009, DSiWare) • Mario vs. Donkey Kong: Mini-Land Mayhem! (2010, DS) • Mario and Donkey Kong: Minis on the Move (2013, 3DS) • Mario vs. Donkey Kong: Tipping Stars (2015, 3DS/Wii U) • Mini Mario & Friends: amiibo Challenge (2016, 3DS/Wii U) • Mario vs. Donkey Kong (2024, Nintendo Switch)
DK
DK: King of Swing (2005, GBA) • DK: Jungle Climber (2007, DS) (Banana Bonanza [Unknown, Adobe Flash] • Rolling Panic [Unknown, Adobe Flash] • Banana Grab [Unknown, Adobe Flash])
Miscellaneous
Donkey Kong 64 (1999, N64) • Donkey Kong Jungle Beat (2004, GCN)
Donkey Konga
Donkey Konga (2003, GC) • Donkey Konga 2 (2004, GC) • Donkey Konga 3 JP (2005, GC)
Racing games
Diddy Kong Racing (1997, N64) • Donkey Kong Barrel Blast (2007, Wii)
Other
Donkey Kong Circus (1984, G&W) • Donkey Kong Hockey (1984, G&W) • Donkey Kong (1996, arcade) • Donkey Konk (1999, Adobe Shockwave) • Donkey Kong 64 Lore Quiz (1999, Adobe Shockwave) • Kremling Krushin (2000, Adobe Flash) • Donkey Kong Country Barrel Maze (2003, Adobe Shockwave) • Mini-Mario Factory Game! (2004, Adobe Flash) • Hurling for Distance (2005, Adobe Flash) • Barrel-Blastapalooza (2005, Adobe Flash) • Donkey Kong: Jungle Fever (2005, arcade) • Mario vs. DK 2: Cannon Kaos (2006, Adobe Flash) • Donkey Kong: Banana Kingdom (2006, arcade) • Timber's Balloon Pop (2007, Adobe Flash) • Play Nintendo activities (2014–present)
Reissues
Crazy Kong (1981, arcade) • Donkey Kong (1982, G&W) • Donkey Kong Jr. (1982, G&W) • Donkey Kong II (1983, G&W) • Donkey Kong Jr. + Jr. Sansū Lesson (1983, NES) • Donkey Kong 3 (1984, G&W) • Donkey Kong Classics (1988, NES) • Donkey Kong (1994, NGW) • Donkey Kong Country Competition Cartridge (1994, SNES) • Donkey Kong Country (2000, GBC) • Donkey Kong Country (2003, GBA) • Classic NES Series: Donkey Kong (2004, GBA) • Donkey Kong Country 2 (2004, GBA) • Donkey Kong Country 3 (2005, GBA) • Diddy Kong Racing DS (2007, DS) • New Play Control! Donkey Kong Jungle Beat (Wii, 2008) • Donkey Kong Original Edition (2010, VC) • Donkey Kong Country Returns 3D (2013, 3DS) • Donkey Kong Country: Tropical Freeze (2018, Switch)
Crossovers
Super Smash Bros. series
Super Smash Bros. (1999, N64) • Super Smash Bros. Melee (2001, GCN) • Super Smash Bros. Brawl (2008, Wii) • Super Smash Bros. for Nintendo 3DS (2014, 3DS) • Super Smash Bros. for Wii U (2014, Wii U) • Super Smash Bros. Ultimate (2018, Switch)
NES Remix series
Main
NES Remix (2013, Wii U)
Reissues
NES Remix Pack (2014, Wii U) • Ultimate NES Remix (2014, 3DS)
Tech demos
Unnamed Donkey Kong Country proof-of-concept (Unknown, VB) • puzzle (Unknown, N64) • spritemonkeyEX (Unknown, N64) • Mario vs. Donkey Kong Wii U demo (2014, Wii U)
Pitches / canceled games
Donkey Kong no Ongaku Asobi (FC) • Donkey Kong parking attendant arcade game (arcade) • Donkey Kong IV (arcade) • Return of Donkey Kong (NES) • Super Donkey (SNES) • CD-i Donkey Kong game (CD-i) • Donkey Kong vs. Super Wario (SNES) • Donkey Kong and the Golden Bananas (SNES) • Ultra Donkey Kong (N64DD) • Donkey Kong Coconut Crackers (GBA) • Diddy Kong Pilot (2001/2003) (GBA) • Donkey Kong Racing (GCN) • Donkey Kong Plus (GCN/GBA) • Diddy Kong Racing Adventure (GCN) • Donkey Kong Country 4 (DS) • DK Bongo Blast (GCN)