Donkey Kong Country Competition Cartridge
From the Super Mario Wiki, the Mario encyclopedia
Jump to navigation
Jump to search
Donkey Kong Country Competition Cartridge
Developer
Rareware
Publisher
Nintendo
Platform(s)
Super Nintendo Entertainment System
Release date
SNES
November 21, 1994

Genre
Platformer
Rating(s)

| | |
| --- | --- |
| ESRB: | - Kids to Adults |

Mode(s)
1 player
Media

Super NES:

Game Pak

Input

Super NES:

Super NES Controller
The Donkey Kong Country Competition Cartridge is a cut-down competition variant of Donkey Kong Country manufactured for use in the Nintendo PowerFest '94 game competition and later featured in the Blockbuster World Video Game Championships II event. Following the end of the later contest, copies of the competition cartridge were sold in a Nintendo Power subscribers catalogue. Due to its rarity (the back insert states the print run was of 2,500 copies), the game has become a prized collector item.
The actual game consists of a few select levels from Donkey Kong Country with the addition of a point counter and a few minor tweaks to encourage scoring, the goal being to score as many points as possible. The tree house and banana cave at the start of Jungle Hijinxs have been disabled, and all of the animal tokens in the early levels have been replaced with Banana Bunches, making it impossible to reach the bonus round without the usage of a cheating device. The player is also given 50 starting extra lives instead of the five as in the original game. The game has a time limit of five minutes, which is displayed at the center of the screen. After the allotted time, the game freezes.
Levels featured
[
edit
]
Gallery
[
edit
]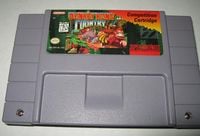 The competition cartridge is very similar in concept and execution to the Star Fox Super Weekend cartridge, another video game competition variant that has become a valuable collector item.
External links
[
edit
]
Donkey Kong games
Platformers
Donkey Kong
Donkey Kong (1981, arcade) • Donkey Kong Jr. (1982, arcade) • Donkey Kong 3 (1983, arcade) • Donkey Kong Jr. Math (1983, NES) • Donkey Kong 3: Dai Gyakushū (1984, computer) • Donkey Kong (1994, GB) • Mario vs. Donkey Kong (2004, GBA)
Donkey Kong Country
Donkey Kong Country (1994, SNES) • Donkey Kong Country 2: Diddy's Kong Quest (1995, SNES) • Donkey Kong Country 3: Dixie Kong's Double Trouble! (1996, SNES) • Donkey Kong Country Returns (2010, Wii) • Donkey Kong Country: Tropical Freeze (2014, Wii U)
Donkey Kong Land
Donkey Kong Land (1995, GB) • Donkey Kong Land 2 (1996, GB) • Donkey Kong Land III (1997, GB)
Mario vs. Donkey Kong
Mario vs. Donkey Kong (2004, GBA) • Mario vs. Donkey Kong 2: March of the Minis (2006, DS) • Mario vs. Donkey Kong: Minis March Again! (2009, DSiWare) • Mario vs. Donkey Kong: Mini-Land Mayhem! (2010, DS) • Mario and Donkey Kong: Minis on the Move (2013, 3DS) • Mario vs. Donkey Kong: Tipping Stars (2015, 3DS/Wii U) • Mini Mario & Friends: amiibo Challenge (2016, 3DS/Wii U) • Mario vs. Donkey Kong (2024, Nintendo Switch)
DK
DK: King of Swing (2005, GBA) • DK: Jungle Climber (2007, DS) (Banana Bonanza [Unknown, Adobe Flash] • Rolling Panic [Unknown, Adobe Flash] • Banana Grab [Unknown, Adobe Flash])
Miscellaneous
Donkey Kong 64 (1999, N64) • Donkey Kong Jungle Beat (2004, GCN)
Donkey Konga
Donkey Konga (2003, GC) • Donkey Konga 2 (2004, GC) • Donkey Konga 3 JP (2005, GC)
Racing games
Diddy Kong Racing (1997, N64) • Donkey Kong Barrel Blast (2007, Wii)
Other
Donkey Kong Circus (1984, G&W) • Donkey Kong Hockey (1984, G&W) • Donkey Kong (1996, arcade) • Donkey Konk (1999, Adobe Shockwave) • Donkey Kong 64 Lore Quiz (1999, Adobe Shockwave) • Kremling Krushin (2000, Adobe Flash) • Donkey Kong Country Barrel Maze (2003, Adobe Shockwave) • Mini-Mario Factory Game! (2004, Adobe Flash) • Hurling for Distance (2005, Adobe Flash) • Barrel-Blastapalooza (2005, Adobe Flash) • Donkey Kong: Jungle Fever (2005, arcade) • Mario vs. DK 2: Cannon Kaos (2006, Adobe Flash) • Donkey Kong: Banana Kingdom (2006, arcade) • Timber's Balloon Pop (2007, Adobe Flash) • Play Nintendo activities (2014–present)
Reissues
Crazy Kong (1981, arcade) • Donkey Kong (1982, G&W) • Donkey Kong Jr. (1982, G&W) • Donkey Kong II (1983, G&W) • Donkey Kong Jr. + Jr. Sansū Lesson (1983, NES) • Donkey Kong 3 (1984, G&W) • Donkey Kong Classics (1988, NES) • Donkey Kong (1994, NGW) • Donkey Kong Country Competition Cartridge (1994, SNES) • Donkey Kong Country (2000, GBC) • Donkey Kong Country (2003, GBA) • Classic NES Series: Donkey Kong (2004, GBA) • Donkey Kong Country 2 (2004, GBA) • Donkey Kong Country 3 (2005, GBA) • Diddy Kong Racing DS (2007, DS) • New Play Control! Donkey Kong Jungle Beat (Wii, 2008) • Donkey Kong Original Edition (2010, VC) • Donkey Kong Country Returns 3D (2013, 3DS) • Donkey Kong Country: Tropical Freeze (2018, Switch)
Crossovers
Super Smash Bros. series
Super Smash Bros. (1999, N64) • Super Smash Bros. Melee (2001, GCN) • Super Smash Bros. Brawl (2008, Wii) • Super Smash Bros. for Nintendo 3DS (2014, 3DS) • Super Smash Bros. for Wii U (2014, Wii U) • Super Smash Bros. Ultimate (2018, Switch)
NES Remix series
Main
NES Remix (2013, Wii U)
Reissues
NES Remix Pack (2014, Wii U) • Ultimate NES Remix (2014, 3DS)
Tech demos
Unnamed Donkey Kong Country proof-of-concept (Unknown, VB) • puzzle (Unknown, N64) • spritemonkeyEX (Unknown, N64) • Mario vs. Donkey Kong Wii U demo (2014, Wii U)
Pitches / canceled games
Donkey Kong no Ongaku Asobi (FC) • Donkey Kong parking attendant arcade game (arcade) • Donkey Kong IV (arcade) • Return of Donkey Kong (NES) • Super Donkey (SNES) • CD-i Donkey Kong game (CD-i) • Donkey Kong vs. Super Wario (SNES) • Donkey Kong and the Golden Bananas (SNES) • Ultra Donkey Kong (N64DD) • Donkey Kong Coconut Crackers (GBA) • Diddy Kong Pilot (2001/2003) (GBA) • Donkey Kong Racing (GCN) • Donkey Kong Plus (GCN/GBA) • Diddy Kong Racing Adventure (GCN) • Donkey Kong Country 4 (DS) • DK Bongo Blast (GCN)