Mario Paint
From the Super Mario Wiki, the Mario encyclopedia
Jump to navigation
Jump to search
Mario Paint

For alternate box art, see the game's gallery.
Developer
Nintendo R&D1
Intelligent Systems[1]
Publisher
Nintendo
Platform(s)
Super Famicom/Super Nintendo Entertainment System
Release date
July 14, 1992
August 1, 1992
December 10, 1992[2]

Genre
Miscellaneous
Rating(s)

| | |
| --- | --- |
| ESRB: | - Kids to Adults |

(Player's Choice version)
Mode(s)
Single player
Media

Super NES:

Game Pak

Input

Super NES:

Super NES Mouse
Mario Paint is a title on the Super Nintendo Entertainment System. It was originally bundled with the Super NES Mouse accessory and was one of the few games to support it. The game received a Player's Choice reissue.
Title screen
[
edit
]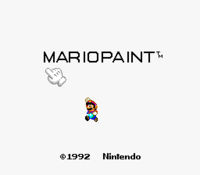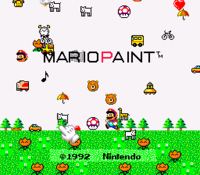 The title screen is notable for being highly interactive - each letter causes a different effect on the game title screen.
M - Shrinks Mario. If clicked again, returns him to normal size. Similar to the effects of getting hit or gaining a Super Mushroom.
A - The letter A will fall down through the screen, and then go back to its place. If Mario is under the A when it falls, he'll be knocked off-screen along with it, and also come back.
R - An eye will appear on the R, and it makes a baby noise, and crawls off and back on screen. It makes the noise again. If the noise is played backwards, it sounds like a voice saying, "Nintendo", and slowing it down makes it sound like the original voice saying it.[3]
I - Causes all black and white colors on screen to invert, including those on Mario. Also causes the title music to become distorted.
O - O grows a fuse and explodes like a bomb. After this, Kazumi Totaka's famous song plays. (Totaka is famous for hiding this song in almost every game he's worked on; it has gone on to be included in Mario games such as Yoshi's Story, Luigi's Mansion, and Yoshi Touch & Go.)
P - Replaces the title setting with a green field with trees, cars, animals, UFOs, shooting stars, and other moving objects, most of which make a sound when clicked. Clicking P again returns the title to normal. The music changes during this sequence, to a slower version of BGM 1 from the main game.
A - Yoshi runs across the screen, along with drum sound effects while he's visible.
I - All text on screen begins shaking, and the music is distorted.
N - Credits appear onscreen. The music continues, but is accompanied by some extra background instruments not normally audible. If the game is started when the programmer is credited while the player is holding down the right mouse button, the following bonus features will be available:

Right-clicking on the canvas in Art Mode or on the music score in Music Mode will remotely activate Undodog.
Right-clicking on the canvas in Stamp Mode will select the color of the pixel under the cursor.
Four more rotation options for stamps will become available: 90° counter-clockwise, 90° clockwise, 90° clockwise flipped horizontally and 90° counter-clockwise flipped horizontally.
Ability to reset the game quickly by pressing +++ on a SNES Controller plugged into the second player port. The player would have to re-enable these features again upon reset.

T - The player can draw using a rainbow texture with a thick crayon. The title music slows down, but keeps playing.
Clicking on Mario will start the main game.
Clicking on a falling Star after clicking on P will cause several objects to rain down the screen. The music will then change to harp music.
Play Modes
[
edit
]
Art mode
[
edit
]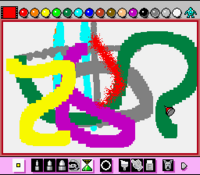 The open canvas is the main part of the game. Here the player can draw with three sizes of pencil tools, paint, and use preexisting sprites (called "Stamps" by the game) of things from basic houses and trees to sprites directly from Super Mario World. The player can cycle through all the different colors and stamps offered by the game by clicking on Mr. Crayon. Additionally, the player can use a straight line tool, and add numbers and letters from a text menu. Erasing images can be done with a traditional erase tool, as well as several amusing screen transitions which wipe the screen clean. There is also an option to completely fill the screen with a certain color, texture, or sprite. To undo an action, the player has to select Undodog's icon.
Stamp mode
[
edit
]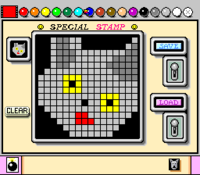 In addition to the default stamps, the game has room to save 15 custom sprites at any given time, which can be made in the Stamp menu. The player is given a grid and can create sprites pixel by pixel using a variety of colors. If a single pixel wide stamp is created it can be used as a pen that is much thinner than the one the game normally allows the player to use.
Music mode
[
edit
]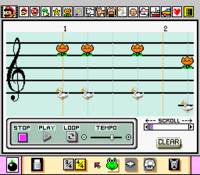 In addition to creating visual works of art, the player can also create their own songs in Music Mode. Using a set of stamp icons to represent different instruments, they can be placed along a music score, creating a melody. Songs can be written in 3/4 or 4/4 time. The game has three default songs, one of which remixes the main Super Mario Bros. theme by Koji Kondo. The songs created here can be used in Animation Mode. Undodog also appears in this mode helping players undo previous actions.
The music mode has become a viral hit and many song compositions can be found on YouTube and other gaming sites. The Music Mode was recreated as a fan-made Windows program called Mario Paint Composer and added several features such as longer song length, more notes per beat, more sounds, and the ability to save. This program lacks the jumping Mario which was shown when a song is played. Also the player using it is apparently able to upload songs to the net, however trying to do so will do nothing.
Instruments
[
edit
]
Animation mode
[
edit
]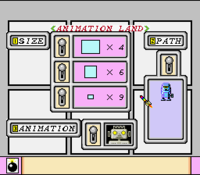 The player can create their own looping animation, frame by frame with a frame limit, and then set them into motion on top of the background they have displayed in their main canvas. Additionally, if they so choose, their animation can be accompanied by their selected song in Music Mode.
Gnat Attack
[
edit
]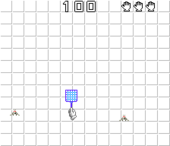 Not an art creation section, but a minigame in which the player must use the Super NES Mouse to swat different fly-like enemies. Completing stages causes Mario characters to walk across the screen.
This game was also a microgame and minigame in WarioWare, Inc.: Mega Microgame$!. It can be accessed by clicking the toolbar arrow on the bottom bar, and then, in the same bar, clicking the coffee cup icon. The game also appears as one of 9-Volt's microgames in WarioWare: D.I.Y., and later as a microgame in Gamer from Game & Wario, under the name "Super Fly Swatter".
Other features
[
edit
]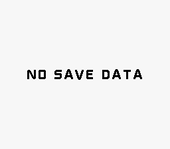 BGM Setting - The player can choose one of three background songs (or no music) to accompany them as they draw and paint. If the music is turned off, a sound of Undo Dog sneezing will occasionally be heard.
Mouse Speed - Choose between Slow, Medium, and Fast.
Save/Load/Coloring Book - The game can save one canvas at any given time, and it can be brought back up using the Load option. These sequences are accompanied by the image of a robot processing data with techno music. Coloring Book has four default black and white saved canvases that can be quickly loaded onto the screen.
Frame - Simply gets rid of the upper and lower menu option icons, and replaces them with a black frame. Clicking the option again goes back to normal mode.
Quick Start - Pressing ++ on a SNES Controller plugged into the second player port will allow the player to instantly start the game.
View Save Data - Pressing ++ on a SNES Controller plugged into the second player port will allow the player to view the most recently saved image, animation and song. If there's nothing saved to the file then it will display "NO SAVE DATA" instead.
Reception
[
edit
]
Mario Paint was rated the 162nd best game made on a Nintendo System in Nintendo Power's Top 200 Games list.
Instead of being delivered in Flash format like the rest of the series, the first episode of Homestar Runner was animated using Mario Paint. A primitive introduction video made with Mario Paint can be found in the museum of the site. A later short in the series, Strong Bad is a Bad Guy, was made using Mario Paint.
Prominent video game developers have cited Mario Paint as an inspiration. Masahito Hatakeyama, one of the designers for WarioWare: D.I.Y., cites Mario Paint's drawing and music creation tools as inspiration for the drawing and music creation tools in D.I.Y., while several staff members of the development team cited it as the game that taught them the joy of developing video games.[4] One of the sound staff from Mario Paint, Hirokazu Tanaka, later went on to work on EarthBound. Some of Mario Paint's sound effects and musical instruments were used in both games.
Mario Paint was re-released in two minor variations on the Satellaview;
Mario Paint BS Ban (マリオペイントBS版) is a version of Mario Paint which had joypad support. For this release of the game, a Mario Paint contest was held, in which contestants of exceptional Mario Paint artistic skill made artwork pieces.[5] This contest was held in November 1997.[6]
Mario Paint Yuushou Naizou Ban (マリオペイント優勝内蔵版) is similar to Mario Paint BS Ban, but it also has a hidden picture - identified as "Dreaming of the Moon" (「月を夢見て」) by Mizota Hiroko (溝田 祐子) from the Mario Paint contest - which can be found by using the "Load" option in "Save/Load/Coloring Book".
Gallery
[
edit
]
References in later games
[
edit
]
Mario Artist: Polygon Studio: The "exercise" cutscene from Mario Paint is recreated in this game, and the two figures within it appear as helpful NPCs, with one of them being referred to as "the Baker". The baby face also occasionally appears in the background of the polygon viewer and makes its signature noise when clicked on.
WarioWare: Touched!: A microgame based on Mario Paint appears in this game. The Turntable souvenir features an arrangement of the art mode background music, which is also used in the microgame. The Wario Paint souvenir is based on the game's art mode.
Wii: In the Photo Channel's doodle mode, a recreation of the rocket ship erase animation is played when "Undo all" is selected.
WarioWare: D.I.Y.: Another microgame based on Mario Paint appears in this game, as well as a record of the main theme. Many elements in the game are also based on Mario Paint, such as when making a microgame.
Super Mario Maker: Many features are used again in this game, such as Gnat Attack, the Undodog, the interactive title screen and others.
Super Smash Bros. for Wii U: An arranged medley of songs from Mario Paint can be played on the Miiverse stage in this game.
Super Mario Odyssey: Multiple Crazy Cap costumes are based off of Mario's appearance in some pieces of Mario Paint artwork.
WarioWare Gold: The baby face, along with its sound, makes several appearances.
Super Mario Maker 2: The pig from Music Mode reappears as part of a sound effect.
WarioWare: Get It Together!: If a crew member has the Baby Face special skin applied, the baby noise from Mario Paint plays while its face appears whenever they talk.
Names in other languages
[
edit
]
Language
Name
Meaning
Japanese
マリオペイント
Mario Peinto
Mario Paint
Chinese (Simplified)
马力欧画画
Mǎlì'ōu Huàhuà
Mario Paint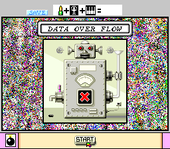 Upon starting the game, a short cartoon will play. This cartoon involves two primitively drawn characters, one of which is doing situps while the other holds his feet. The cartoon is almost entirely white save for the outlines of the characters, and takes place in an iris shot in an otherwise black background. During the cartoon, chanting can be heard, after which the chanters say "Mario Paint!" and an unseen audience yells "Whoa!" as the situp man does a handstand. On other times that the game is running, the audio will instead be cheering, accompanied at the end by a little fanfare.
The game Mario Artist: Paint Studio was a direct sequel to Mario Paint at some point during production, titled Mario Paint 64. The game was later reworked into being the first title of its own series.
If the player manages to fill up both canvases in Art and Animation Modes to cause the resulting work to become too large to compress down to fit into the cartridge's 32kb SRAM, attempting to save the work will cause it to fail and display the error "DATA OVER FLOW" along with a unique animation of smoke emitting from the sides of the robot's head. This can easily be replicated by using the spray tool with every color. [7]
References
[
edit
]
Mario games
Platformers
Super Mario series
Super Mario Bros. (1985, NES) • Super Mario Bros.: The Lost Levels (1986, FDS) • Super Mario Bros. 2 (1988, NES) • Super Mario Bros. 3 (1988, NES) • Super Mario Land (1989, GB) • Super Mario World (1990, SNES) • Super Mario Land 2: 6 Golden Coins (1992, GB) • Super Mario 64 (1996, N64) • Super Mario Sunshine (2002, GCN) • New Super Mario Bros. (2006, DS) • Super Mario Galaxy (2007, Wii) • New Super Mario Bros. Wii (2009, Wii) • Super Mario Galaxy 2 (2010, Wii) • Super Mario 3D Land (2011, 3DS) • New Super Mario Bros. 2 (2012, 3DS) • New Super Mario Bros. U (2012, Wii U) • Super Mario 3D World (2013, Wii U) • Super Mario Maker (2015, Wii U) • Super Mario Run (2016, iOS/iPadOS/Android) • Super Mario Odyssey (2017, Switch) • Super Mario Maker 2 (2019, Switch)
Donkey Kong /
Mario vs. Donkey Kong series
Donkey Kong (1981, arcade) • Donkey Kong (1994, GB) • Mario vs. Donkey Kong (2004, GBA) • Mario vs. Donkey Kong 2: March of the Minis (2006, DS) • Mario vs. Donkey Kong: Minis March Again! (2009, DSiWare) • Mario vs. Donkey Kong: Mini-Land Mayhem! (2010, DS) • Mario and Donkey Kong: Minis on the Move (2013, 3DS) • Mario vs. Donkey Kong: Tipping Stars (2015, 3DS/Wii U) • Mini Mario & Friends: amiibo Challenge (2016, 3DS/Wii U)
Mario Bros. series
Mario Bros. (1983, arcade) • Mario Bros. Special (1984, computer) • Punch Ball Mario Bros. (1984, computer) • Mario Clash (1995, VB)
Wrecking Crew series
VS. Wrecking Crew (1984, VS) • Wrecking Crew (1985, NES) • Wrecking Crew '98 (1998, SFC)
Other
Mario Bros. (1983, G&W) • Mario's Cement Factory (1983, G&W) • Super Mario Bros. Special (1986, computer) • Mario & Wario (1993, SNES) • Hotel Mario (1994, CD-i) • Super Princess Peach (2005, DS) • New Super Luigi U (2013, Wii U) • Captain Toad: Treasure Tracker (2014, Wii U) • Super Mario Bros. 35 (2020, Switch)
Ports and remakes
Crazy Kong (1981, arcade) • Donkey Kong (1982, G&W) • VS. Super Mario Bros. (1986, VS) • Super Mario Bros. (1986, G&W) • All Night Nippon: Super Mario Bros. (1986, FDS) • Kaettekita Mario Bros. (1988, FDS) • Super Mario Bros. (1989, NGW) • Super Mario Bros. 3 (1990, NGW) • Super Mario World (1991, NGW) • Super Mario All-Stars (1993, SNES) • Donkey Kong (1994, NGW) • Super Mario All-Stars + Super Mario World (1994, SNES) • BS Super Mario USA (1996, SNES) • BS Super Mario Collection (1997, SNES) • Super Mario Bros. Deluxe (1999, GBC) • Super Mario Advance (2001, GBA) • Super Mario World: Super Mario Advance 2 (2002, GBA) • Super Mario Advance 4: Super Mario Bros. 3 (2003, GBA) • Famicom Mini Series (2004, GBA) • Classic NES Series (2004-2005, GBA) • Super Mario 64 DS (2004, DS) • Virtual Console (2006-current, Wii/3DS/Wii U) • Super Mario All-Stars Limited Edition (2010, Wii) • Luigi Bros. (2013, Wii U) • Super Mario Maker for Nintendo 3DS (2016, 3DS) • Captain Toad: Treasure Tracker (2018, Switch/3DS) • New Super Mario Bros. U Deluxe (2019, Switch) • Super Mario 3D All-Stars (2020, Switch) • Game & Watch: Super Mario Bros. (2020, G&W) • Super Mario 3D World + Bowser's Fury (2021, Switch)
Tech demos
snd_test (Unknown, SNES) • Super Mario 128 (2000, GCN) • New Super Mario Bros. Mii (2011, Wii U) • Mario vs. Donkey Kong Wii U demo (2014, Wii U)
Canceled games
Super Mario's Wacky Worlds (CD-i) • Mario Takes America (CD-i) • VB Mario Land (VB) • Super Mario 64 2 (N64DD)
Mario Kart series
Main
Super Mario Kart (1992, SNES) • Mario Kart 64 (1996, N64) • Mario Kart: Super Circuit (2001, GBA) • Mario Kart: Double Dash!! (2003, GCN) • Mario Kart DS (2005, DS) • Mario Kart Wii (2008, Wii) • Mario Kart 7 (2011, 3DS) • Mario Kart 8 (2014, Wii U) • Mario Kart Tour (2019, iOS/iPadOS/Android)
Arcade
Mario Kart Arcade GP (2005, arcade) • Mario Kart Arcade GP 2 (2007, arcade) • Mario Kart Arcade GP DX (2013, arcade) • Mario Kart Arcade GP VR (2017, arcade)
Other
Mario Kart Live: Home Circuit (2020, Switch)
Ports
Mario Kart 8 Deluxe (2017, Switch)
Tech demos
Mario Kart for Nintendo GameCube (2001, GCN) • Mario Kart XXL (2004, GBA)
Canceled games
VB Mario Kart (VB)
Mario Party series
Main
Mario Party (1998, N64) • Mario Party 2 (1999, N64) • Mario Party 3 (2000, N64) • Mario Party 4 (2002, GCN) • Mario Party 5 (2003, GCN) • Mario Party 6 (2004, GCN) • Mario Party 7 (2005, GCN) • Mario Party 8 (2007, Wii) • Mario Party 9 (2012, Wii) • Mario Party 10 (2015, Wii U) • Super Mario Party (2018, Switch) • Mario Party Superstars (2021, Switch)
Handheld games
Mario Party Advance (2005, GBA) • Mario Party DS (2007, DS) • Mario Party: Island Tour (2013, 3DS) • Mario Party: Star Rush (2016, 3DS) • Mario Party: The Top 100 (2017, 3DS)
Arcade
Super Mario Fushigi no Korokoro Party (2004, arcade) • Super Mario Fushigi no Korokoro Party 2 (2005, arcade) • Mario Party Fushigi no Korokoro Catcher (2009, arcade) • Mario Party Kurukuru Carnival (2012, arcade) • Mario Party Fushigi no Korokoro Catcher 2 (2013, arcade) • Mario Party Challenge World (2016, arcade)
Other
Mario Party-e (2003, GBA)
Sports games
Mario Golf series
Golf (1984, NES) • Family Computer Golf: Japan Course (1987, FDS) • Family Computer Golf: U.S. Course (1987, FDS) • NES Open Tournament Golf (1991, NES) • Mario Golf (1999, N64) • Mario Golf (1999, GBC) • Mobile Golf (2001, GBC) • Mario Golf: Toadstool Tour (2003, GCN) • Mario Golf: Advance Tour (2004, GBA) • Mario Golf: World Tour (2014, 3DS) • Mario Golf: Super Rush (2021, Switch)
Mario Tennis series
Mario's Tennis (1995, VB) • Mario Tennis (2000, N64) • Mario Tennis (2000, GBC) • Mario Power Tennis (2004, GCN) • Mario Tennis: Power Tour (2005, GBA) • Mario Tennis Open (2012, 3DS) • Mario Tennis: Ultra Smash (2015, Wii U) • Mario Tennis Aces (2018, Switch)
Mario Baseball series
Baseball (1989, GB) • Mario Superstar Baseball (2005, GCN) • Mario Super Sluggers (2008, Wii)
Mario Strikers series
Super Mario Strikers (2005, GCN) • Mario Strikers Charged (2007, Wii) • Mario Strikers: Battle League (2022, Switch)
Other
Donkey Kong Hockey (1984, G&W) • Famicom Grand Prix: F1 Race (1987, FDS) • Famicom Grand Prix II: 3D Hot Rally (1988, FDS) • Super Mario Race (1992, GwB) • Mario Hoops 3-on-3 (2006, DS) • Mario Sports Mix (2010, Wii) • Mario Sports Superstars (2017, 3DS)
Ports
New Play Control! Mario Power Tennis (2009, Wii)
Canceled games
Super Mario Spikers (Wii)
Role-playing games
Paper Mario series
Paper Mario (2000, N64) • Paper Mario: The Thousand-Year Door (2004, GCN) • Super Paper Mario (2007, Wii) • Paper Mario: Sticker Star (2012, 3DS) • Paper Mario: Color Splash (2016, Wii U) • Paper Mario: The Origami King (2020, Switch)
Mario & Luigi series
Mario & Luigi: Superstar Saga (2003, GBA) • Mario & Luigi: Partners in Time (2005, DS) • Mario & Luigi: Bowser's Inside Story (2009, DS) • Mario & Luigi: Dream Team (2013, 3DS) • Mario & Luigi: Paper Jam (2015, 3DS)
Other
Super Mario RPG: Legend of the Seven Stars (1996, SNES)
Remakes
Mario & Luigi: Superstar Saga + Bowser's Minions (2017, 3DS) • Mario & Luigi: Bowser's Inside Story + Bowser Jr.'s Journey (2018, 3DS)
Canceled games
Super Mario RPG 2 (N64DD) • Super Paper Mario (GCN)
Dr. Mario series
Main
Dr. Mario (1990, NES) • Dr. Mario 64 (2001, N64) • Dr. Mario Online Rx (2008, WiiWare) • Dr. Mario Express (2008, DSiWare) • Dr. Luigi (2013, Wii U) • Dr. Mario: Miracle Cure (2015, 3DS) • Dr. Mario World (2019, iOS/iPadOS/Android)
Other
VS. Dr. Mario (1990, VS) • Dr. Mario (1993, GwB)
Remakes
Tetris & Dr. Mario (1994, SNES) • Nintendo Puzzle Collection (2003, GCN) • Dr. Mario & Puzzle League (2005, GBA)
Luigi's Mansion series
Main
Luigi's Mansion (2001, GCN) • Luigi's Mansion: Dark Moon (2013, 3DS) • Luigi's Mansion Arcade (2015, arcade) • Luigi's Mansion 3 (2019, Switch)
Remakes
Luigi's Mansion (2018, 3DS)
Tech demos
Luigi's Mansion (2000, GCN)
Educational games
Mario Discovery series
Mario is Missing! (1993, MS-DOS/SNES/NES) • Mario's Time Machine (1993, MS-DOS/SNES/NES) • Mario's Early Years! Fun with Letters (1993, MS-DOS/SNES) • Mario's Early Years! Fun with Numbers (1994, MS-DOS/SNES) • Mario's Early Years! Preschool Fun (1994, MS-DOS/SNES)
Other
Family BASIC (1984, FC) • Mario Teaches Typing (1991, MS-DOS) • Super Mario Bros. & Friends: When I Grow Up (1991, MS-DOS) • Mario Teaches Typing 2 (1996, MS-DOS)
Ports
Mario's Early Years! CD-ROM Collection (1995, MS-DOS)
Art utilities
Games
I am a teacher: Super Mario Sweater (1986, FDS) • Super Mario Bros. Print World (1991, MS-DOS) • Mario Paint (1992, SNES) • Super Mario Collection Screen Saver (1997, PC) • Mario no Photopi (1998, N64) • Mario Artist: Paint Studio (1999, N64DD) • Mario Artist: Talent Studio (2000, N64DD) • Mario Artist: Communication Kit (2000, N64DD) • Mario Artist: Polygon Studio (2000, N64DD) • Mario Family (2001, GBC)
Canceled games
Mario Artist: Game Maker / Graphical Message Maker / Sound Maker / Video Jockey Maker (N64DD)
Miscellaneous
Games
Mario's Bombs Away (1983, G&W) • Pinball (1984, NES) • Alleyway (1989, GB) • Mario's Egg Catch (1990, SMBW) • Luigi's Hammer Toss (1990, SMBW) • Princess Toadstool's Castle Run (1990, SMBW) • Mario the Juggler (1991, G&W) • Yoshi's Safari (1993, SNES) • Undake30 Same Game (1995, SFC) • Mario's Game Gallery (1995, MS-DOS) • Mario's Picross (1995, GB) • Mario's Super Picross (1995, SFC) • Donkey Kong (slot machine) (1996, arcade) • Picross 2 (1996, GB) • Mario's FUNdamentals (1998, Windows) • Picross NP (1999-2000, SFC) • Super Mario Fushigi no Janjan Land (2003, arcade) • Mario Pinball Land (2004, GBA) • Yakuman DS (2005, DS)
Tech demos
Mario Demo (1994, VB) • morphdemo (Unknown, N64) • Peach's Castle (2002, GCN) • Mario's Face (Unknown, DS) • DSpeak (2005, DS) • Koopa Troopa Forest (Unknown, Wii) • Mario FPS (Unknown, Wii)
Crossovers
Super Smash Bros. series
Super Smash Bros. (1999, N64) • Super Smash Bros. Melee (2001, GCN) • Super Smash Bros. Brawl (2008, Wii) • Super Smash Bros. for Nintendo 3DS (2014, 3DS) • Super Smash Bros. for Wii U (2014, Wii U) • Super Smash Bros. Ultimate (2018, Switch)
Mario & Sonic series
Mario & Sonic at the Olympic Games (2007, Wii) • Mario & Sonic at the Olympic Games (2008, DS) • Mario & Sonic at the Olympic Winter Games (2009, Wii) • Mario & Sonic at the Olympic Winter Games (2009, DS) • Mario & Sonic at the London 2012 Olympic Games (2011, Wii) • Mario & Sonic at the London 2012 Olympic Games (2012, 3DS) • Mario & Sonic at the Sochi 2014 Olympic Winter Games (2013, Wii U) • Mario & Sonic at the Rio 2016 Olympic Games (2016, Wii U) • Mario & Sonic at the Rio 2016 Olympic Games (2016, 3DS) • Mario & Sonic at the Rio 2016 Olympic Games Arcade Edition (2016, arcade) • Mario & Sonic at the Olympic Games Tokyo 2020 (2019, Switch) • Mario & Sonic at the Olympic Games Tokyo 2020 - Arcade Edition (2020, arcade)
Mario + Rabbids series
Mario + Rabbids Kingdom Battle (2017, Switch) • Mario + Rabbids Sparks of Hope (2022, Switch)
Game & Watch Gallery series
Game & Watch Gallery (1997, GB) • Game & Watch Gallery 2 (1997, GB) • Game & Watch Gallery 3 (1999, GBC) • Game & Watch Gallery 4 (2002, GBA)
Itadaki Street series
Itadaki Street DS (2007, DS) • Fortune Street (2011, Wii)
Other
Excitebike: Bun Bun Mario Battle (1997, Satellaview) • NBA Street V3 (2005, GCN) • Dance Dance Revolution: Mario Mix (2005, GCN) • SSX on Tour (2005, GCN) • Nintendo Land (2012, Wii U) • Puzzle & Dragons: Super Mario Bros. Edition (2015, 3DS)
Tech demos
Chase Mii (Unknown, Wii U)