Mario Tennis (series)
From the Super Mario Wiki, the Mario encyclopedia
Jump to navigation
Jump to search
Mario Tennis (マリオテニス Mario Tenisu) is a brand of sports games that features tennis matches incorporating the characters, themes, and locations of the Super Mario franchise. Though preceded by several earlier tennis games featuring the Mario character, the series was created for Nintendo by its partner Camelot Software Planning (which also created the Mario Golf series), and saw its first installment on the Nintendo 64 console in 2000. Since the series made its initial debut, each successive generation has featured a console and a handheld version. The Mario Tennis series' first game was the second project developed by Camelot for a Nintendo system, and saw three sequels in total (with the original game and the first sequel also being ported to their consoles' respective handheld companions).
Gameplay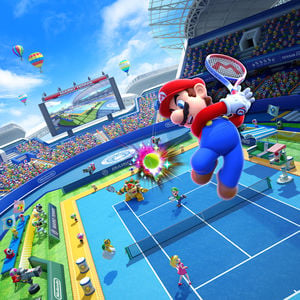 Mario Tennis includes variations of tennis matches consisting of characters, courts, and scenarios based on the Super Mario franchise. The selection of courts varies, ranging from the standard three types of tennis court, to those themed upon Super Mario games, which adopt the aesthetic styles of the games on which they are based and feature thematic elements that influence how the match will be played on that surface (some of which manifest themselves as obstacles that hinder character movements or otherwise interfere with gameplay). In addition to standard tennis, Mario Tennis can feature variants of the sport that adopt different rules and methods of victory.
The control system differs significantly from other tennis video games. Shots are performed by pressing one or both of the controller's two main buttons, which make the ball spin in different ways. Pressing a button twice strikes the tennis shot with more power and spin. Additionally, pressing the two buttons in a different order can result in a different type of shot altogether, such as a lob or drop shot. Both buttons can be pressed at the same time to hit a very powerful smash shot. The longer a button is pressed before contact is made with the ball, the stronger the shot will be. The control system allows players of all levels to become familiar with the mechanics of the game within a very short time, while also encouraging advanced players to take advantage of the variety of shots on offer to come up with different strategies for winning points. In addition to generic tennis moves, later on the series began to feature special "Power Shots," unique moves that incorporate the specific qualities of the characters that use them; Power Tour specifically categorizes them as either "offensive" shots (those that power up the ball and put various side effects on players with whom they make contact) or "defensive" shots (those that negate the secondary effects of offensive shots and reach balls that would normally be out of reach).
Many game modes have appeared throughout the Mario Tennis series. The central mode of play is "Tournament Mode," which comprises a set of events with accumulating difficulty, where players play tennis matches in either doubles or singles, needing to win two games to win a set, and unlock playable characters if they finish successfully. Another major mode of play is "Exhibition Mode," where up to four players can play matches of their own, with players being able to choose opponents for computer control, and the conditions of the match such as the difficulty of opponents, the court used, and the number of games and sets required to win. Later games introduced modes like "Ring Shot," where players can earn points by hitting the ball through rings of varying sizes; "Item Battle," where characters use items based on the Super Mario universe to interfere with each other's game and gain an advantage; and special minigames where the player can meet a tennis-related objective, incorporating themes from past Nintendo games.
Mario Tennis games feature a selection of playable characters from the Super Mario franchise, including Mario, Luigi, Princess Peach, Princess Daisy, Yoshi, Birdo, Wario, Waluigi, Donkey Kong, Bowser, and several others. Characters are categorized into six groups that reflect their playing style: all-around, technical, power, speed, defensive, and tricky. Many of the player-characters in Mario Tennis recur as playable throughout the various series of Super Mario spin-offs; sometimes, games feature characters for whom a tennis game marks their first playable appearances altogether, such as Shy Guy and Wiggler. For Waluigi, the original Mario Tennis was his first appearance, and for Daisy and Birdo, that game marked their re-introductions and (in Daisy's case) permanent establishment into the recurring cast roster of the Super Mario franchise.
The first two handheld Mario Tennis titles feature role-playing game elements, where the player controls a young boy or girl character who has enrolled at the Royal Tennis Academy and must set out to become the top-ranked player there, enter a tournament called "The Island Open" to challenge other tennis champions from elsewhere in the world, and afterward travel to the Mushroom Kingdom to challenge its stars, ending with a match against the game world's greatest tennis player of all, Mario. The first- and second-generation Mario Tennis games have connectivity functions where a player is able to import characters and data from the home console game to its handheld counterpart, and vice versa. The third generation of Mario Tennis removes the RPG elements and the ready-made human characters altogether, with Mario Tennis Open instead allowing players to use their own Mii characters as saved in the Nintendo 3DS Mii Maker, who have variable skills and can equip special gear to improve their skills, and costumes upon completing certain objectives. On a related note, data saved in Mario Tennis Open is not transferable to Ultra Smash, as these two games are not direct counterparts to each other.
Installments
Direct
Title
Cover, original release, and system
Synopsis
Mario Tennis (Nintendo 64)

July 21, 2000
Nintendo 64
Mario Tennis is a Nintendo 64 video game. It features Mario and his friends playing a classic game of tennis, with a few Super Mario twists. This game marked the debut of Waluigi, and also Princess Daisy and Birdo's re-entries into the Super Mario franchise. It is also the first playable appearance of Boo, Paratroopa, and Shy Guy.

The game was rereleased for Wii through Virtual Console in 2010, and for Wii U through Virtual Console in 2015. It is also included in Nintendo 64 - Nintendo Switch Online, released in 2021.

Mario Tennis (Game Boy Color)

November 1, 2000
Game Boy Color
Mario Tennis is a tennis game for the Game Boy Color. The game features Mario and other characters. It also introduced a RPG-like story mode, where the player controlled Alex or Nina on a tennis adventure to beat the best of all players, Mario.

The game was rereleased for Nintendo 3DS through Virtual Console, initially in 2013.

Mario Power Tennis

October 28, 2004
Nintendo GameCube
Mario Power Tennis is a game for the Nintendo GameCube. It is the sequel of Mario Tennis for the Nintendo 64. In this game, Mario and his various friends (and enemies) meet up to play a few rounds of tennis. Like previous Super Mario sports titles, all the playable characters have Power Shots. Additionally, there are courts in the game that have special effects and events during the game. Also, for each court, there are special games to play. The game introduces Diddy Kong, Bowser Jr., Fly Guy, Petey Piranha, and Wiggler as playable characters to the series.
Mario Tennis: Power Tour

September 13, 2005
Game Boy Advance
Mario Tennis: Power Tour is very similar to its GameCube counterpart, except it is for the Game Boy Advance. It brings back the RPG elements of its predecessor. The game is not compatible with Mario Power Tennis like its golf counterpart. The PAL region's name for this game is Mario Power Tennis (same as the GameCube game). The game's story has the player controlling tennis student Clay or Ace as they rise through the ranks of the Royal Tennis Academy.

The game was rereleased for Wii U through Virtual Console in 2014.

Mario Tennis Open

May 20, 2012
Nintendo 3DS
Mario Tennis Open was released for the Nintendo 3DS. It features some elements from Mario Power Tennis from the Nintendo GameCube. This game features gyroscope support and online multiplayer (via Nintendo Network). Miis, Baby Peach, Dry Bowser, Luma, and Metal Mario are playable for the first time in the series, with Miis' statistics being customizable. The game also makes use of QR Codes as a method to unlock certain content.
Mario Tennis: Ultra Smash

November 20, 2015
Wii U
Mario Tennis: Ultra Smash was released for the Wii U. Chance Shots from Mario Tennis Open return, and a new mode called Mega Battle is introduced, where Mega Mushrooms that give players advantages in power and defense are thrown on the court. It is also the first Mario Tennis game to be compatible with amiibo. Rosalina, Toadette, and Sprixie Princess are playable for the first time in the series in this game.
Mario Tennis Aces

June 22, 2018
Nintendo Switch
Mario Tennis Aces is a Mario Tennis game for Nintendo Switch. The game features a story mode (a first in the home console installments) and some new shot types, such as the Zone Shot, which can break rackets. In addition, some characters have redesigned appearances, such as Mario wearing a tennis hat and a tennis outfit instead of his usual cap and overalls by default. The game introduces Spike and Chain Chomp as playable characters to the series, as well as Blooper, Boom Boom, Pauline, Kamek, Dry Bones, and Fire Piranha Plant post-launch. It is the first installment to have alternate costumes for characters. It led to the release of two online demos and a browser trivia quiz on the Play Nintendo website.
Indirect
Title
Cover, original release, and system
Synopsis
Mario's Tennis

July 21, 1995
Virtual Boy
Mario's Tennis is a Virtual Boy game, the first tennis-related Super Mario game. It features Mario and the other playable characters from Super Mario Kart (except Bowser) playing a classic game of tennis. The game was one of the first Virtual Boy games to be released and is one out of the only three Super Mario games to be released on the Virtual Boy.
Mario Sports Superstars

March 10, 2017
Nintendo 3DS
Mario Sports Superstars is a Nintendo 3DS game that was released in March 2017. Tennis, developed by Camelot like the main series, is included as one of the five sports available. Its gameplay is similar to Mario Tennis Open, though with the inclusion of Jump Shots and Ultra Smashes from Mario Tennis: Ultra Smash. In addition, Baby Luigi and Pink Gold Peach, who have not yet been playable in the main Mario Tennis series, are playable in this game.
Port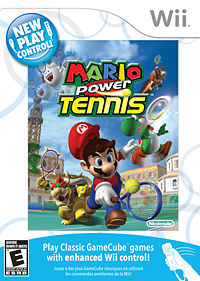 This game is a Wii port of Mario Power Tennis for the Nintendo GameCube. As part of the New Play Control! lineup, the game makes use of the Wii's motion controls. This version includes a tutorial movie to demonstrate how to use the Wii Remote in this game. Players can choose to play with the Wii Remote only, or with the Wii Remote/Nunchuk combination for advanced control of playable character participants.
Playable characters
In the eight installments of the Mario Tennis series, many Super Mario characters have been playable. Human characters unique to the Mario Tennis series, such as Clay, appear in dark cells.
1 - Unlocked with a Transfer Pack.
2 - The character is unlockable.
3 - The character becomes available after scanning a specific QR Code.
4 - Obtainable through online tournament.

Gallery
Names in other languages
Language
Name
Meaning
Chinese (Simplified)
马力欧网球[1]
Mǎlì'ōu Wǎngqiú
Mario Tennis
Chinese (Traditional)
瑪利歐網球[2]
Mǎlì'ōu Wǎngqiú
Mario Tennis
Trivia
References
Super Mario games
Platformers
Super Mario series
Super Mario Bros. (1985, NES) • Super Mario Bros.: The Lost Levels (1986, FDS) • Super Mario Bros. 2 (1988, NES) • Super Mario Bros. 3 (1988, NES) • Super Mario Land (1989, GB) • Super Mario World (1990, SNES) • Super Mario Land 2: 6 Golden Coins (1992, GB) • Super Mario 64 (1996, N64) • Super Mario Sunshine (2002, GCN) • New Super Mario Bros. (2006, DS) • Super Mario Galaxy (2007, Wii) • New Super Mario Bros. Wii (2009, Wii) • Super Mario Galaxy 2 (2010, Wii) • Super Mario 3D Land (2011, 3DS) • New Super Mario Bros. 2 (2012, 3DS) • New Super Mario Bros. U (2012, Wii U) • Super Mario 3D World (2013, Wii U) • Super Mario Maker (2015, Wii U) • Super Mario Run (2016, iOS/iPadOS/Android) • Super Mario Odyssey (2017, Switch) • Super Mario Maker 2 (2019, Switch)
Donkey Kong /
Mario vs. Donkey Kong series
Donkey Kong (1981, arcade) • Donkey Kong (1994, GB) • Mario vs. Donkey Kong (2004, GBA) • Mario vs. Donkey Kong 2: March of the Minis (2006, DS) • Mario vs. Donkey Kong: Minis March Again! (2009, DSiWare) • Mario vs. Donkey Kong: Mini-Land Mayhem! (2010, DS) • Mario and Donkey Kong: Minis on the Move (2013, 3DS) • Mario vs. Donkey Kong: Tipping Stars (2015, 3DS/Wii U) • Mini Mario & Friends: amiibo Challenge (2016, 3DS/Wii U)
Mario Bros. series
Mario Bros. (1983, arcade) • Mario Bros. Special (1984, computer) • Punch Ball Mario Bros. (1984, computer) • Mario Clash (1995, VB)
Wrecking Crew series
VS. Wrecking Crew (1984, VS) • Wrecking Crew (1985, NES) • Wrecking Crew '98 (1998, SFC)
Other
Mario Bros. (1983, G&W) • Mario's Cement Factory (1983, G&W) • Super Mario Bros. Special (1986, computer) • Mario & Wario (1993, SNES) • Hotel Mario (1994, CD-i) • Super Princess Peach (2005, DS) • New Super Luigi U (2013, Wii U) • Captain Toad: Treasure Tracker (2014, Wii U) • Super Mario Bros. 35 (2020, Switch)
Ports and remakes
Crazy Kong (1981, arcade) • Donkey Kong (1982, G&W) • VS. Super Mario Bros. (1986, VS) • Super Mario Bros. (1986, G&W) • All Night Nippon: Super Mario Bros. (1986, FDS) • Kaettekita Mario Bros. (1988, FDS) • Super Mario Bros. (1989, NGW) • Super Mario Bros. 3 (1990, NGW) • Super Mario World (1991, NGW) • Super Mario All-Stars (1993, SNES) • Donkey Kong (1994, NGW) • Super Mario All-Stars + Super Mario World (1994, SNES) • BS Super Mario USA (1996, SNES) • BS Super Mario Collection (1997, SNES) • Super Mario Bros. Deluxe (1999, GBC) • Super Mario Advance (2001, GBA) • Super Mario World: Super Mario Advance 2 (2002, GBA) • Super Mario Advance 4: Super Mario Bros. 3 (2003, GBA) • Famicom Mini Series (2004, GBA) • Classic NES Series (2004-2005, GBA) • Super Mario 64 DS (2004, DS) • Virtual Console (2006-2016, Wii/3DS/Wii U) • Super Mario All-Stars Limited Edition (2010, Wii) • Luigi Bros. (2013, Wii U) • Super Mario Maker for Nintendo 3DS (2016, 3DS) • Captain Toad: Treasure Tracker (2018, Switch/3DS) • New Super Mario Bros. U Deluxe (2019, Switch) • Super Mario 3D All-Stars (2020, Switch) • Game & Watch: Super Mario Bros. (2020, G&W) • Super Mario 3D World + Bowser's Fury (2021, Switch)
Tech demos
snd_test (Unknown, SNES) • Super Mario 128 (2000, GCN) • New Super Mario Bros. Mii (2011, Wii U) • Mario vs. Donkey Kong Wii U demo (2014, Wii U)
Canceled games
Super Mario's Wacky Worlds (CD-i) • Mario Takes America (CD-i) • VB Mario Land (VB) • Super Mario 64 2 (N64DD)
Mario Kart series
Main
Super Mario Kart (1992, SNES) • Mario Kart 64 (1996, N64) • Mario Kart: Super Circuit (2001, GBA) • Mario Kart: Double Dash!! (2003, GCN) • Mario Kart DS (2005, DS) • Mario Kart Wii (2008, Wii) • Mario Kart 7 (2011, 3DS) • Mario Kart 8 (2014, Wii U) • Mario Kart Tour (2019, iOS/iPadOS/Android)
Arcade
Mario Kart Arcade GP (2005, arcade) • Mario Kart Arcade GP 2 (2007, arcade) • Mario Kart Arcade GP DX (2013, arcade) • Mario Kart Arcade GP VR (2017, arcade)
Other
Mario Kart Live: Home Circuit (2020, Switch)
Ports
Mario Kart 8 Deluxe (2017, Switch)
Tech demos
Mario Kart for Nintendo GameCube (2001, GCN)
Pitches / canceled games
VB Mario Kart (VB) • Mario Kart XXL (GBA) • Tesla Mario Kart game (Tesla vehicles)
Mario Party series
Main
Mario Party (1998, N64) • Mario Party 2 (1999, N64) • Mario Party 3 (2000, N64) • Mario Party 4 (2002, GCN) • Mario Party 5 (2003, GCN) • Mario Party 6 (2004, GCN) • Mario Party 7 (2005, GCN) • Mario Party 8 (2007, Wii) • Mario Party 9 (2012, Wii) • Mario Party 10 (2015, Wii U) • Super Mario Party (2018, Switch) • Mario Party Superstars (2021, Switch)
Handheld games
Mario Party Advance (2005, GBA) • Mario Party DS (2007, DS) • Mario Party: Island Tour (2013, 3DS) • Mario Party: Star Rush (2016, 3DS) • Mario Party: The Top 100 (2017, 3DS)
Arcade
Super Mario Fushigi no Korokoro Party (2004, arcade) • Super Mario Fushigi no Korokoro Party 2 (2005, arcade) • Mario Party Fushigi no Korokoro Catcher (2009, arcade) • Mario Party Kurukuru Carnival (2012, arcade) • Mario Party Fushigi no Korokoro Catcher 2 (2013, arcade) • Mario Party Challenge World (2016, arcade)
Other
Mario Party-e (2003, GBA)
Sports games
Mario Golf series
Golf (1984, NES) • Family Computer Golf: Japan Course (1987, FDS) • Family Computer Golf: U.S. Course (1987, FDS) • NES Open Tournament Golf (1991, NES) • Mario Golf (1999, N64) • Mario Golf (1999, GBC) • Mobile Golf (2001, GBC) • Mario Golf: Toadstool Tour (2003, GCN) • Mario Golf: Advance Tour (2004, GBA) • Mario Golf: World Tour (2014, 3DS) • Mario Golf: Super Rush (2021, Switch)
Mario Tennis series
Mario's Tennis (1995, VB) • Mario Tennis (2000, N64) • Mario Tennis (2000, GBC) • Mario Power Tennis (2004, GCN) • Mario Tennis: Power Tour (2005, GBA) (Bicep Pump [Unknown, Adobe Flash] • Reflex Rally [Unknown, Adobe Flash]) • Mario Tennis Open (2012, 3DS) • Mario Tennis: Ultra Smash (2015, Wii U) • Mario Tennis Aces (2018, Switch)
Mario Baseball series
Baseball (1989, GB) • Mario Superstar Baseball (2005, GCN) • Mario Super Sluggers (2008, Wii)
Mario Strikers series
Super Mario Strikers (2005, GCN) • Mario Strikers Charged (2007, Wii) • Mario Strikers: Battle League (2022, Switch)
Other
Donkey Kong Hockey (1984, G&W) • Famicom Grand Prix: F1 Race (1987, FDS) • Famicom Grand Prix II: 3D Hot Rally (1988, FDS) • Super Mario Race (1992, GwB) • Mario Hoops 3-on-3 (2006, DS) • Mario Sports Mix (2010, Wii) • Mario Sports Superstars (2017, 3DS)
Ports
New Play Control! Mario Power Tennis (2009, Wii)
Canceled games
Super Mario American football game (GCN) • Super Mario Spikers (Wii)
Role-playing games
Paper Mario series
Paper Mario (2000, N64) • Paper Mario: The Thousand-Year Door (2004, GCN) • Super Paper Mario (2007, Wii) • Paper Mario: Sticker Star (2012, 3DS) • Paper Mario: Color Splash (2016, Wii U) • Paper Mario: The Origami King (2020, Switch)
Mario & Luigi series
Mario & Luigi: Superstar Saga (2003, GBA) • Mario & Luigi: Partners in Time (2005, DS) • Mario & Luigi: Bowser's Inside Story (2009, DS) • Mario & Luigi: Dream Team (2013, 3DS) • Mario & Luigi: Paper Jam (2015, 3DS)
Other
Super Mario RPG: Legend of the Seven Stars (1996, SNES)
Remakes
Mario & Luigi: Superstar Saga + Bowser's Minions (2017, 3DS) • Mario & Luigi: Bowser's Inside Story + Bowser Jr.'s Journey (2018, 3DS)
Canceled games
Super Mario RPG 2 (N64DD) • Super Paper Mario (GCN)
Dr. Mario series
Main
Dr. Mario (1990, NES/GB) • Dr. Mario 64 (2001, N64) • Dr. Mario Online Rx (2008, WiiWare) • Dr. Mario Express (2008, DSiWare) • Dr. Luigi (2013, Wii U) • Dr. Mario: Miracle Cure (2015, 3DS) • Dr. Mario World (2019, iOS/iPadOS/Android)
Other
VS. Dr. Mario (1990, VS) • Dr. Mario (1993, GwB)
Remakes
Tetris & Dr. Mario (1994, SNES) • Nintendo Puzzle Collection (2003, GCN) • Dr. Mario & Puzzle League (2005, GBA)
Luigi's Mansion series
Main
Luigi's Mansion (2001, GCN) • Luigi's Mansion: Dark Moon (2013, 3DS) • Luigi's Mansion 3 (2019, Switch)
Arcade
Luigi's Mansion Arcade (2015, arcade)
Remakes
Luigi's Mansion (2018, 3DS)
Tech demos
Luigi's Mansion (2000, GCN)
Educational games
Mario Discovery series
Mario is Missing! (1993, MS-DOS/SNES/NES) • Mario's Time Machine (1993, MS-DOS/SNES/NES) • Mario's Early Years! Fun with Letters (1993, MS-DOS/SNES) • Mario's Early Years! Fun with Numbers (1994, MS-DOS/SNES) • Mario's Early Years! Preschool Fun (1994, MS-DOS/SNES)
Other
Family BASIC (1984, FC) • Mario Teaches Typing (1991, MS-DOS) • Super Mario Bros. & Friends: When I Grow Up (1991, MS-DOS) • Mario Teaches Typing 2 (1996, MS-DOS)
Ports
Mario's Early Years! CD-ROM Collection (1995, MS-DOS)
Canceled games
Mario's Mission Earth (SNES)
Art utilities
Games
I am a teacher: Super Mario Sweater (1986, FDS) • Super Mario Bros. Print World (1991, MS-DOS) • Mario Paint (1992, SNES) • Super Mario Collection Screen Saver (1997, PC) • Mario no Photopi (1998, N64) • Mario Artist: Paint Studio (1999, N64DD) • Mario Artist: Talent Studio (2000, N64DD) • Mario Artist: Communication Kit (2000, N64DD) • Mario Artist: Polygon Studio (2000, N64DD) • Mario Family (2001, GBC)
Pitches / canceled games
Mario Factory ("Game Processor RAM Cassette") • Mario Paint 3D (N64) • Mario Artist: Game Maker / Graphical Message Maker / Sound Maker / Video Jockey Maker (N64DD)
Miscellaneous
Games / other software
Mario's Bombs Away (1983, G&W) • Pinball (1984, NES) • Alleyway (1989, GB) • Mario's Egg Catch (1990, SMBW) • Luigi's Hammer Toss (1990, SMBW) • Princess Toadstool's Castle Run (1990, SMBW) • Mario the Juggler (1991, G&W) • Yoshi's Safari (1993, SNES) • Undake30 Same Game (1995, SFC) • Mario's Game Gallery (1995, MS-DOS) • Mario's Picross (1995, GB) • Mario's Super Picross (1995, SFC) • Donkey Kong (1996, arcade) • Picross 2 (1996, GB) • Mario's FUNdamentals (1998, Windows) • Mario's Memory Madness (1998, Adobe Shockwave) • Crazy Counting (1999, Adobe Shockwave) • Dinky Rinky (1999, Adobe Shockwave) • Goodness Rakes (1999, Adobe Shockwave) • Melon Mayhem (1999, Adobe Shockwave) • Nomiss (1999, Adobe Shockwave) • Picross NP (1999-2000, SFC) • The Lab (2001, Adobe Flash) • Mario Party 4 (2002, Adobe Flash) • Super Mario Fushigi no Janjan Land (2003, arcade) • Mario Pinball Land (2004, GBA) • Yakuman DS (2005, DS) • Mario Trivia (Unknown, Adobe Flash) • Mario Memory (Unknown, Adobe Flash) • Virus Attack! (Unknown, Adobe Flash) • Mini-Mario Factory Game! (2004, Adobe Flash) • Bill Bounce (2004, Adobe Flash) • Mario Party 7 Bon Voyage Quiz (2005, Adobe Flash) • Super Mario Strikers Advergame (2005, Adobe Flash) • Dr. Mario Vitamin Toss (2005, Adobe Flash) • Bowser's Lair Hockey (2005, Adobe Flash) • Heads-Up (2005, Adobe Flash) • Parasol Fall (2005, Adobe Flash) • Dribble Skillz (2006, Adobe Flash) • Superstar Shootout (2006, Adobe Flash) • Mario vs. DK 2: Cannon Kaos (2006, Adobe Flash) • Super Paper Mario Memory Match (2007, Adobe Flash) • Are You Smarter Than Mario? (2008, Adobe Flash) • Mario Calculator (2009, DSiWare) • Mario Clock (2009, DSiWare) • Play Nintendo activities (2014-2023)
Tech demos
Mario Demo (1994, VB) • morphdemo (Unknown, N64) • Peach's Castle (2002, GCN) • Mario's Face (Unknown, DS) • DSpeak (2005, DS) • Koopa Troopa Forest (Unknown, Wii) • Mario FPS (Unknown, Wii)
Pitches / canceled games
Mario's Castle ("Project Atlantis") • Boss Game Studios' Super Mario game pitch (Unknown) • Retro Studios' Boo project (DS) • Mario Motors (DS)
Crossovers
Game & Watch Gallery series
Game & Watch Gallery (1997, GB) • Game & Watch Gallery 2 (1997, GB) • Game & Watch Gallery 3 (1999, GBC) • Game & Watch Gallery 4 (2002, GBA)
Super Smash Bros. series
Super Smash Bros. (1999, N64) • Super Smash Bros. Melee (2001, GCN) • Super Smash Bros. Brawl (2008, Wii) • Super Smash Bros. for Nintendo 3DS (2014, 3DS) • Super Smash Bros. for Wii U (2014, Wii U) • Super Smash Bros. Ultimate (2018, Switch)
Itadaki Street series
Itadaki Street DS (2007, DS) • Fortune Street (2011, Wii)
Mario & Sonic series
Mario & Sonic at the Olympic Games (2007, Wii) • Mario & Sonic at the Olympic Games (2008, DS) • Mario & Sonic at the Olympic Winter Games (2009, Wii) • Mario & Sonic at the Olympic Winter Games (2009, DS) • Mario & Sonic at the London 2012 Olympic Games (2011, Wii) • Mario & Sonic at the London 2012 Olympic Games (2012, 3DS) • Mario & Sonic at the Sochi 2014 Olympic Winter Games (2013, Wii U) • Mario & Sonic at the Rio 2016 Olympic Games (2016, Wii U) • Mario & Sonic at the Rio 2016 Olympic Games (2016, 3DS) • Mario & Sonic at the Rio 2016 Olympic Games Arcade Edition (2016, arcade) • Mario & Sonic at the Olympic Games Tokyo 2020 (2019, Switch) • Mario & Sonic at the Olympic Games Tokyo 2020 - Arcade Edition (2020, arcade)
Mario + Rabbids series
Mario + Rabbids Kingdom Battle (2017, Switch) • Mario + Rabbids Sparks of Hope (2022, Switch)
Other
Excitebike: Bun Bun Mario Battle (1997, Satellaview) • NBA Street V3 (2005, GCN) • Dance Dance Revolution: Mario Mix (2005, GCN) • SSX on Tour (2005, GCN) • Tetris DS (2006, DS) • Captain Rainbow (2008, Wii) • Art Style: PiCTOBiTS (2009, DSiWare) • Nintendo Land (2012, Wii U) • Puzzle & Dragons: Super Mario Bros. Edition (2015, 3DS)
Tech demos
Chase Mii (Unknown, Wii U)
Pitches / canceled games
Mario/Rabbids crossover adventure game (Wii) • DDR MARIO 2 (Wii)