Super Mario Bros. Wonder
From the Super Mario Wiki, the Mario encyclopedia
Jump to navigation
Jump to search
This article is about an upcoming game. Editors must cite sources for all contributions to this article. Edits that do not follow this standard may be reverted without notice.
Super Mario Bros. Wonder

Pre-release box art with rating pending
For alternate box art, see the game's gallery.
Developer
Nintendo EPD
Publisher
Nintendo
Platform(s)
Nintendo Switch
Release date
October 20, 2023[1]
October 20, 2023[2]
October 20, 2023[3]
October 20, 2023[4]
October 20, 2023[5]
October 20, 2023[6]

Language(s)
English (United States)
English (United Kingdom)
French (France)
French (Canada)
German
Spanish (Spain)
Spanish (Latin America)
Italian
Dutch
Portuguese (Portugal)
Portuguese (Brazil)
Russian
Japanese
Chinese (Simplified)
Chinese (Traditional)
Korean[7]
Genre
Platformer
Rating(s)

| | |
| --- | --- |
| ESRB: | - Everyone |
| PEGI: | - Three years and older |
| CERO: | - All ages |
| ACB: | - General |

Mode(s)
Single player, multiplayer[5]
Media

Nintendo Switch:

Game Card

Digital download

Input

Nintendo Switch:

Joy-Con
Super Mario Bros. Wonder is an upcoming side-scrolling platform game in the Super Mario series for the Nintendo Switch. It was first announced during the June 2023 Nintendo Direct, and is set to be released worldwide on October 20, 2023.[2] It is the first new full-fledged 2D Super Mario game since New Super Mario Bros. U released almost 11 years prior and also the first game in the franchise to feature the succeeding voice actor(s) for Charles Martinet in the role of Mario and Luigi.[8]
A dedicated Nintendo Direct for the game titled the "Super Mario Bros. Wonder Direct" broadcasted on August 31, 2023 at 7:00 a.m. PT / 10:00 a.m. ET.[9]
Overview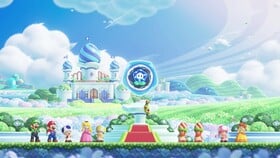 Super Mario Bros. Wonder is a 2.5D-style platformer that supports both single-player and simultaneous multiplayer modes. Its art direction is reminiscent of the New Super Mario Bros. series of games, incorporating changes such as updated character designs and new sets of animations.[2]
Alongside Mario and Luigi, several other characters are also playable, including Princess Peach, Princess Daisy, Yellow Toad, Blue Toad, Toadette, Yoshis of four different colors, and Nabbit.[10] Their moveset features standard abilities, for instance the Wall Jump and the Ground Pound. The Yoshis retain their Flutter Jump, ability to use their tongue, and can also be used as a mount, and they and Nabbit do not take any damage from enemies. The players can receive new abilities by consuming power-ups, both returning and brand new ones, such as an elephant-themed fruit.[2]
The signature feature of the game is the Wonder Flower, a power-up that changes the world around Mario and friends in unique and strange ways, examples including bringing Warp Pipes to life and causing themselves and elements of the stage to stretch upward. Also revolving around the "Wonder" theme are the Wonder Seeds and purple coins, prominent collectibles. Another notable addition are Talking Flowers, non-playable characters that populate the levels and comment on the events and gimmicks nearby.[2]
The game takes place in a location distinct from its predecessors, and foregoes some of their established elements while featuring new level themes, such as autumnal forests and savannas. The hub consists of a contiguous world map, similar to that of New Super Mario Bros. U, where each level is represented by a 3D modeled icon, as in Super Mario 3D World. Also similar to both games, levels have unique names. Each one is also assigned a difficulty rating in-game, a feature only found previously in Super Mario Maker 2's Story Mode.[2]
Plot
The game's plot focuses on Mario and company being invited to the Flower Kingdom, ruled by Prince Florian, when Bowser suddenly appears, along with Kamek and Bowser Jr. Bowser then takes hold of the Wonder Flower, merging himself, his Koopa Clown Car, and Prince Florian's castle to become a flying fortress, wreaking havoc across the land and trapping the Poplins in their homes. Mario and the gang (including Prince Florian, the Yoshis, and Nabbit) must then set off on a journey to defeat Bowser and save the Flower Kingdom.[2]
Characters
Playable characters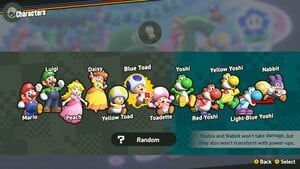 Counting the colored Toads and Yoshis separately, Super Mario Bros. Wonder features a total of 12 playable characters, the most playable characters in a mainline Super Mario game. Among them, Daisy and the Yoshis are playable for the first time in a home console Super Mario game after being previously playable in Super Mario Run. Much like Nabbit in New Super Luigi U, the Yoshis and Nabbit are invincible to enemy attacks, but also cannot obtain power-ups. Additionally, the Yoshis retain their abilities to Flutter Jump, use their tongues, and allow other characters to ride them.
All descriptions are from the Super Mario Bros. Wonder page on the Nintendo website.[7]

Mario

Luigi

Peach

Daisy

Yellow Toad

Blue Toad
Mario is always ready to help a friend, take on a new challenge, or jump on a Koopa's head!
Mario's "little" brother. When these bros team up, there's nothing they can't achieve!
The beloved princess of the Mushroom Kingdom, Peach is always ready to jump into action.
She's got a gown and a crown, but this friendly princess is totally down to earth.
They may be small, but they have big hearts!

Toadette

Yoshi

Red Yoshi

Yellow Yoshi

Light-Blue Yoshi

Nabbit
This pink-and-white member of the Toad species gets really pumped up when she's out to save the day!
Whichever color Yoshi you choose, they can all eat enemies, spit out stuff (enemies, shells, and other items), flutter jump, and help carry other players—even ones in Elephant form!
This sneaky little fellow can turn any extra power-ups he finds into flower coins. Ka-ching!
Supporting characters
| Character | Description |
| --- | --- |
| Prince Florian[10] | A small, light green caterpillar-like creature who rules the Flower Kingdom. Prince Florian helps Mario and co. in their journey by equipping Badges on top of his crown. He holds onto the back of the character picked by Player 1 and is seen when they are idle. |
| Talking Flowers[2][11] | Flowers that talk when approached. |
| Poplins[10] | The inhabitants of the Flower Kingdom. They are seen at the end of levels, hosting Poplin Shops in various worlds and in the overworld. |
| Professor Connect[12] | A robotic character that can be talked to to access online play. |
| Captain Toad[10] | The leader of the Toad Brigade who makes his debut in the 2D Super Mario series. |
Main antagonists
Enemies and obstacles
Returning
| Enemy | Description |
| --- | --- |
| Big Fire Piranhas[10] | Larger Fire Piranha Plants. |
| Big Goombrats[15] | Larger Goombrats that float down using dandelion seeds as parachutes. |
| Big Piranha Plants | Larger Piranha Plants. |
| Big Wigglers[2] | Large variants of Wigglers. They can be seen wearing roller skates. |
| Bone Goombas[10] | Teal-colored Goombas wearing skull-like headgear. |
| Boos[10] | Ghostly enemies that only follow players that are facing away from them, and will stop when looked at. |
| Burners[10] | Rotating jets that emit light-green flames. |
| Buzzy Beetles[10] | Koopas with shells that protect them from fire damage. They can be found walking in lava. |
| Cheep Cheeps[2] | Fish that are found swimming aimlessly. |
| Darkness[2] | Blocks the player(s)' view. |
| Dry Bones[10] | Skeletal Koopas that regenerate themselves shortly after being stomped. |
| Fire Bars[10] | Bars of fireballs that rotate around an axis. |
| Fire Piranha Plants[10] | Piranha Plants that spit Fireballs. This time, they appear in their Super Mario 3D Land color scheme. |
| Giant Spiked Balls[2] | Giant, golden Spike Balls covered in white spikes. |
| Goombas[2] | Common enemies that can be defeated by stomping on them. Some can be seen sleeping. They can grow taller under a Wonder Effect. |
| Goombrats[2] | Goombas that resemble persimmons. They sometimes float down using dandelion seeds as parachutes similar to Parachute Galoombas.[10] |
| Hammer Bros[10] | Helmeted Koopas that throw hammers at the player. |
| Hotheads[10] | Larger versions of Lil Sparkies originally from Super Mario World that travel along the sides of platforms. They light up a small area around themselves. |
| Koopa Paratroopas[2] | Winged Koopa Troopas. Red-shelled ones can be seen flying in the air, whilst green-shelled ones are seen making large hops on the ground. |
| Koopa Troopas[2] | Turtle enemies whose shells can be kicked across the ground to defeat other enemies. Both red and green Koopa Troopas return, while pink-shelled Rolla Koopas are newly introduced. |
| Lakitus[10] | Koopas that travel in clouds and throw Spiny Eggs down onto the ground. |
| Lava[10] | Hazardous molten liquid that causes the player(s) to instantly lose a life if touched. |
| Lava Bubbles[10] | Orange fireball enemies that jump up and down in and out of lava pools. |
| Lil Sparkies[10] | Small spark-like enemies originally from Super Mario World that travel along the sides of platforms. They light up a small area around themselves. |
| Piranha Plants[10] | Carnivorous plants that emerge from Warp Pipes. They now tilt their heads to the player. |
| Poison[10] | Hazardous purple liquid that causes the player(s) to instantly lose a life if touched. |
| Pokeys[10] | Tall cactus-like enemies consisting of many segments. Attacking their head can take out the entire Pokey. |
| Spinies[2] | Koopa enemies with spiked shells. |
| Spiny Eggs[10] | Spiky balls thrown by Lakitus that uncurl into Spinies upon landing. |
| Spikes[10] | Koopa-like enemies that spit large green Spike Balls. |
| Spike Balls[10] | Spike-covered balls that are thrown by various enemies, such as Spikes. Green ones roll on the ground while brown ones break upon impact. |
| Thwomps[10] | Large stone enemies that slam down onto the ground. |
New
| Enemy | Description |
| --- | --- |
| Anglefish[16] | Teal, triangular enemies with white wings and red feet that jump out of water pools to attack the player(s).[10] |
| Bloomps[17] | Bouncy balloon-like fish enemies of varying sizes and colors.[2] |
| Bulrushes | Triceratops/bison-like creatures that try to ram into the player if they get close and will destroy any Hard Blocks in their way and can even jump off the tops of slopes while ramming. They get knocked out for a short time when they hit a wall. They travel in herds during a Wonder Effect.[18] |
| Condarts[10] | Yellow bird enemies with red beaks who launch themselves at the player(s) like darts until they hit a solid surface, which will cause their beaks to get stuck within said surface. |
| Hoppos | Spherical purple hippos that roll along the ground and can be bounced on.[10] |
| Hoppycats | Green spiked snail creatures that leap upwards when the player jumps, similar to the Skipsqueak. Small and giant variants appear.[10] |
| Konks[10] | Metallic, gray and yellow rectangle enemies that slide along ceilings before trying to slam down on the player(s). Cyan-colored variants instead move along the floor and attack upwards to crush the player(s). A giant one appears from above in Jewel-Block Cave during its Wonder Effect and crushes anything in its path.[18] |
| Maw-Maws[10] | Tadpole-like enemies that chase and eat anything and everything in their path, even other enemies. After chasing for a period of time, they become exhausted and stop. |
| Melon Piranha Plants[10] | Variants of Piranha Plants that resemble watermelons and spit seeds that can be jumped on from above without taking damage. |
| Mumsies[10] | Mummy-like enemies with loose wrappings on their backsides that can be pulled to defeat them. |
| Oshidashī[19] | Sledge Bro-like creatures with big gloves that can push objects.[2] |
| Rolla Koopas[10] | Magenta-shelled Koopa Troopas with roller skates that skate along the ground and jump gaps between platforms. |
| Rrrumbas[10] | Small bumblebee-esque creatures with large, breakable boulder-like shells that roll down slopes.[10] |
| Skedaddlers[17] | Chipmunk-like enemies with black shells. They spit seed-like projectiles and run away from the players as they get closer.[20] |
| Trottin' Piranha Plants[14] | Piranha Plants that are able to leave their pipes and walk around, similar to Ptooies, and can even walk along ceilings. |
| Wubbas[10] | Light green blob enemies made out of a slimy goo-like substance. |
| | Black Piranha Plants with long stalks that appeared after Bowser collected the Wonder Flower at the start of the game. They guard locked levels and can be eliminated by collecting enough Wonder Seeds, reverting to normal Piranha Plants.[10] |
| | Long, thin, rocket-like Bullet Bill variants that fly diagonally.[2] |
| | Red Spikes that spit and throw fireballs.[10] |
| | Biddybud-like creatures with flat foreheads of varying heights. When knocked out, they knock out other enemies behind them.[2] Brown and purple variants appear.[10] |
| | Stacks of bamboo creatures acting similar to Goomba Towers.[2] |
| | White Goomba-like creatures with red-rimmed goggles that kick Ice Blocks.[2] |
| | A corn kernel-like enemy that transforms into a high jumping popcorn creature when it comes into contact with fire.[10] |
| | Nudibranch- or sea cucumber-like creatures with long, spiked bodies that emerge from Warp Pipes.[2] Like Piranha Creepers, they must be attacked multiple times, which forces them to retreat, until they are finally defeated.[10] |
| | Purple thunderclouds of varying sizes.[2] |
| | Green snails with magenta shells of varying sizes that climb along surfaces and can be kicked out of their shells like Koopa Troopas.[2] |
| | A swarm of small, spiked, magenta creatures. A green variant also appears.[2] |
| | Teal, door-shaped enemies with large mouths filled with sharp teeth and purple doors attached to one of their sides.[10] |
| | Small, blue, bird-like enemies with black shells that shoot their beaks at the player which extend into a platform upon hitting a solid surface. A variant also appears that shoots bubbles out of their beaks instead during a Wonder Effect.[10] |
| | Winged Chomp-like enemies with golden eyes and teeth that chomp through blocks.[10] |
| | Chomp-like flounder enemies that leap out from the seabed and bite at the player.[10] |
| | Armadillo-like enemies that curl into balls and roll down slopes.[10] |
| | Pitcher plant-like enemies that stand on the ceiling with vines hanging down. They periodically release Spike Balls and can be defeated by pulling on their vines.[10] |
| | Blue bird enemies wearing goggles that dive into water.[10] |
| | Owl enemies that swoop down from nests on the ceiling.[10] |
| | Boxing Wiggler-like enemies that wear spiked helmets and travel along tracks.[10] |
| | A hazardous ooze swamp closely resembling Castle Bowser's colors.[10] |
| | Sentient stone blocks of varying sizes that occasionally emit magma that can be put out with water.[10] |
| | Dry Bones-like enemies that wear a chain leash.[10] |
| | A silhouetted enemy.[10] |
Levels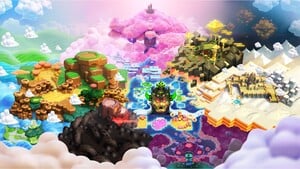 The game is set in the Flower Kingdom, and has six different worlds, as well as a central area to which all of them connect, Petal Isles. Each level contains at least two Wonder Seeds, one of which is obtained by finding the level's Wonder Flower and reaching the end of the Wonder Effect section, and the other obtained by reaching the end of the level and grabbing the Goal Pole. Some levels also have a hidden third Wonder Seed which is obtained by finding a secret exit.[18] Additionally, every level hides three 10-flower coins, which behave similarly to the Star Coins from the New Super Mario Bros. series, the Star Medals from Super Mario 3D Land, and the Green Stars from Super Mario 3D World.[10]
In addition to the main levels, there are also smaller, bonus levels, all of which have one Wonder Seed, obtained by completing the level:
Break Time! levels are short levels with a specific objective in order to obtain the Wonder Seed.[10]
Badge Challenge levels involve using the abilities of a particular badge in order to reach the goal. The player is also rewarded with the badge upon completing the level. Despite their short length, they still hold three 10-flower coins in them.[10]
Wiggler Race levels involve racing a Wiggler wearing roller skates to the goal.[10]
Each location of the Flower Kingdom has a corresponding color for its Wonder Flowers, Wonder Seeds, and interactable tulip-like flowers.[2][17]

Area
Level

Wonder Seeds

Difficulty

Petal Isles
A small archipelago in the center of the Flower Kingdom comprising of many islands of different colors and climates.
Jewel-Block Cave[18]
2
★★★[21]
Maw-Maw Mouthful[17]
2

World 1: Pipe-Rock Plateau
A rocky landscape whose mountainous plateaus resemble that of Warp Pipes, as the name implies.
Welcome to the Flower Kingdom![10]
2
★
Piranha Plants on Parade[10]
3
★
Scram, Skedaddlers![10]
2
★
Bulrush Coming Through![10]
3
★
Here Come the Hoppos[10]
2
★★
Break Time!: Hurry, Hurry[10]
1
—
Wiggler Race: Mountaineering![10]
1
★
Badge Challenge: Wall-Climb Jump I[10]
1
★
Rolla Koopa Derby[10]
2
★★
Swamp Pipe Crawl[10]
2
★★★
Angry Spikes and Sinkin' Pipes[10]
2
★★
Bulrush Express[10]
2
★★★★

World 2: Fluff-Puff Peaks
A bright pink collection of clouds that lie atop a short, icy mountain top.

World 3: Shining Falls
A dark, metallic, golden polygonal landscape comprised of large oblongs and octahedrons.
The Anglefish Trial: Ready, Aim, Fly![10]

A desert world with white sand.
Bloomps of the Desert Skies[17]
2

A forest world with giant mushrooms.
An Uncharted Area: Wubba Ruins[10]
2
★★

A volcanic world.
Where the Rrrumbas Rule[10]
2
★★
Forms
Wonder Effect forms
Spike Ball Mario[2]

Stretchy Mario

[2]

Goomba Mario[10]

Balloon Mario[10]

Hoppycat Mario

[10]

Wubba Mario[14]
Items and objects
New items and objects are indicated by an asterisk (*).
Items
Power-ups
Collectibles
| Item | Description |
| --- | --- |
| 1-Up Mushroom[10] | A green mushroom with white spots. Grants the player(s) an extra life when collected.[10] |
| 10-flower coin*[18] | Larger variants of flower coins that add 10 to the counter. There are three to collect in most of the levels.[18] |
| Coin[10] | Golden coins found all throughout the Flower Kingdom. Grants the player(s) an extra life when 100 coins are collected.[20] |
| Flower coin*[21] | Purple flower-shaped coins that appear all throughout the Flower Kingdom. Smaller flower coins appear during a Wonder Effect and increase the counter by decimal numbers.[10] |
| Wonder Seed*[10] | Seeds that must be obtained to unlock levels in the Flower Kingdom. Collecting one also ends a Wonder Effect.[10] |
Blocks
Transportation objects
| Object | Description |
| --- | --- |
| Warp Pipe[2] | Pipes that transport the player(s) to another area within the level upon entering.[2] |
| | A pushable and occasionally connectable Warp Pipe.*[20] |
| | Propeller flowers that players can grab onto to travel to higher areas.[24] |
Platforms
| Platform | Description |
| --- | --- |
| Bridge[2] | Thin, semisolid platforms made up of smaller sections.[2] |
| Cloud Lift[2] | Platforms resembling clouds.[2] |
| Countdown Platform[10] | Platforms bearing a number that decreases when a player or object touches it. It wobbles and falls once the counter reaches zero.[10] |
| Lift[10] | Moving platforms often found floating or traveling along tracks.[10] |
| | A lift variant that releases Hoppycats.*[10] |
| Mushroom Platform[2] | Large mushrooms of varying colors that serve as platforms.[2] |
| Semisolid Platform[2] | Platforms that have solid surfaces, but can be jumped through from below.[2] |
| | Semisolid savanna tree platforms that rise or lower when ground-pounded.*[18] |
| | Large, angry-eyed, top-flatted, semisolid cloud platform that rains a waterfall that player(s) can swim up.*[2] |
| | Causes the player(s) to slide in the direction its arrows are pointing. Can be hung on from below, or ridden on top of.*[2] |
Other objects
Object
Description

Arrow Sign[10]
Points in a specific direction, guiding the player to certain locations.[10]

Beacon*[18]
Releases coins or other items when dug through in Drill form.[18]

Beanstalk[10]
Climbable plants that can be germinated using water.[10]

Bubble[10]
Players can create their own bubbles after transforming into their Bubble form, which can capture and defeat enemies or be bounced on. Bubbles also appear during at least one Wonder Effect for the player(s) to bounce on.[10]

Checkpoint Flag[2]
Creates a checkpoint for the player(s) to restart the level from if they are defeated. If a player is in Small form, they will transform into Super form upon touching it.[17]

Current[2]
Strong underwater forces that push the player(s) in various directions.[2]

Flower[10]
Short-lived particles that blossom when players water the ground in their Elephant form.[10]

Goal Pole[2]
A flag pole bearing a black flag with a white Bowser symbol that must be grabbed by the player(s) to complete the level. A variant with a blue flower emblem on its flag also appears.[2]

Goal Pole (secret)[17]

Lakitu's Cloud[10]
Can be ridden by the player(s). Obtained by defeating a Lakitu, or from certain pipes.[10]

Standee*[10]
Used to revive ghosts during online play. Standee Surprises can be purchased at Poplin Shops to add to the player(s)' Standee collection.[10]

Track[10]
Carries objects and enemies along a specific path.[10]

Tree[10]
Flora that Goomba Mario can hide behind to avoid detection from Maw-Maws.[15]

Treasure chest[10]
Containers that hold badges.[10]

Water[10]
Large bodies of harmless liquid that the player can swim through.


Breakable pumpkins.*[2]
Interactive tulip-like flowers that release coins. Their colors vary depending on where they are found in the Flower Kingdom.*[2]
Hidden flowers with dashed outlines.*[10]
Pillars that

Spike Ball Mario

can roll into and destroy.*[10]
Pots that can be picked up and thrown.*[10]
Grapple*[10]

Balloon*[10]
Balloons that produce the item held in the item storage or an item for another player in online play.[10]
Numbered bubbles that must be hit the indicated number of times, which causes it to pop and release many coins and items.[25]
Badges
A new element in this game are badges. Obtained either by completing a Badge Challenge or buying them with flower coins in a Poplin Shop, the player can equip their character with a badge before starting a level or after losing a life. There are a total of 24 badges, including nine Action Badges, which add new abilities to the characters, nine Boost Badges, which assist the player during gameplay, and six Expert Badges, which grant an advanced skill to the characters.[10][7]
Action Badges
Boost Badges
Expert Badges
Parachute Cap[10]
Floating High Jump[10]
Coin Reward[10]
Safety Bounce[10]
Coin Magnet[10]
While in midair, press or shake the controller to open your hat and float slowly downward.[10]
Jump higher than usual and momentarily float.[10]
Earn coins for defeating enemies.[10]
Bounce back out of pits, lava, or poison swamps just one time per fall.[10]
Pull in nearby coins and flower coins.[21]
Wall-Climb Jump[10]
Crouching High Jump[10]
Grappling Vine[10]
Auto Super Mushroom[10]
Invisibility[10]
Jump against a wall and then press to jump straight up once.[10]
Crouch and charge up power to jump higher than usual.[26]
A badge that allows players to shoot a Vine forward to grapple onto walls.
Start a course with a Super Mushroom power-up.[10]
A badge that turns the user invisible, making them unable to be spotted by enemies.
Dolphin Kick[10]
Timed High Jump[10]
Add ! Blocks[22][23]
Sensor[10]
Jet Run[10]
While underwater, press or shake the controller to unleash a brief burst of speed.[10]
Time consecutive jumps just right to jump higher than usual. You'll even jump high on sand.[10]
Add ! Blocks to courses. The ! Blocks may act as extra platforms, contain items, or serve other purposes.[22][23]
A badge that indicates when there is a collectible nearby.
A badge that makes the player constantly run forward. When running off the edge of a platform, the character will briefly run in the air before falling down.
Staff
Super Mario Bros. Wonder was produced by Takashi Tezuka and directed by Shiro Mouri,[27] who previously served as the programming director for New Super Mario Bros. U and director for New Super Mario Bros. U Deluxe.
Promotion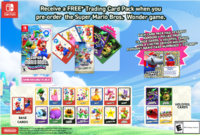 By pre-ordering the game through Walmart's website, customers receive a trading card pack containing ten cards along with the game. 1,000 holofoil cards depicting Elephant Mario will be distributed in the card packs. By pre-ordering the game through the My Nintendo Store in Europe, customers receive an Elephant Fruit stress ball and pins depicting an Elephant Fruit, Talking Flower, and Wonder Flower.[28] A bundle containing the game, a Talking Flower resin figure, 2D diorama, and magnets using the game's promotional artwork is also available in Europe. In Australia, customers who pre-order the game through JB Hi-Fi also receive the Elephant Fruit stress ball.[29]
Descriptions
Nintendo Australia website: Classic Mario side-scrolling gameplay is turned on its head with the addition of Wonder Flowers! These game-changing items trigger spectacular moments you have to see to believe. Witness pipes coming alive, wreak havoc as a giant spiky ball, and see even more unexpected events called Wonder Effects.[30]
Gallery
For this subject's image gallery, see Gallery:Super Mario Bros. Wonder.
References to other media
Names in other languages
Language
Name
Meaning
Japanese
スーパーマリオブラザーズ ワンダー[1]
Sūpā Mario Burazāzu Wandā
Super Mario Bros. Wonder
Chinese (Simplified)
超级马力欧兄弟 惊奇
Chāojí Mǎlì'ōu Xiōngdì Jīngqí
Super Mario Bros. Wonder
Chinese (Traditional)
超級瑪利歐兄弟 驚奇[32]
Chāojí Mǎlì'ōu Xiōngdì Jīngqí
Super Mario Bros. Wonder
Dutch
Super Mario Bros. Wonder[33]
-
French
Super Mario Bros. Wonder[34][35]
-
German
Super Mario Bros. Wonder[36]
-
Hebrew
Super Mario Bros. Wonder[37]
-
Italian
Super Mario Bros. Wonder[38]
-
Korean
슈퍼 마리오브라더스 원더[39]
Syupeo Mario Beuradeoseu Wondeo
Super Mario Bros. Wonder
Portuguese
Super Mario Bros. Wonder[40]
-
Spanish
Super Mario Bros. Wonder[3][41]
-
Thai
Super Mario Bros. Wonder[42]
-
External links
References
^ a b Nintendo 公式チャンネル (June 21, 2023). スーパーマリオブラザーズ ワンダー [Nintendo Direct 2023.6.21]. YouTube. Retrieved June 21, 2023.
^ a b c d e f g h i j k l m n o p q r s t u v w x y z aa ab ac ad ae af ag ah ai aj ak al am an ao ap aq ar as at au av aw ax ay az ba bb bc bd be bf bg bh bi bj Nintendo of America (June 21, 2023). Super Mario Bros. Wonder - Nintendo Direct 6.21.2023. YouTube. Retrieved June 21, 2023.
^ a b Super Mario Bros.™ Wonder para Nintendo Switch - Sitio oficial de Nintendo. Nintendo Mexico. Retrieved June 21, 2023.
^ Super Mario Bros.™ Wonder para Nintendo Switch - Site Oficial da Nintendo. Nintendo Brasil. Retrieved June 21, 2023.
^ a b @NintendoEurope (June 21, 2023). "Join Mario and friends on a new 2D side-scrolling adventure through a world of wonder – either solo or in local co-op with friends! #SuperMarioBrosWonder comes to #NintendoSwitch 20/10." Twitter. Retrieved June 21, 2023.
^ NintendoAU (June 22, 2023). Super Mario Bros. Wonder hits Nintendo Switch October 20th!. YouTube. Retrieved June 22, 2023.
^ https://www.ign.com/articles/nintendo-confirms-charles-martinet-is-not-involved-in-super-mario-bros-wonder
^ @NintendoAmerica (August 29, 2023). "Join us for an in-depth look at Mario's latest 2D side-scrolling adventure in the livestreamed Super Mario Bros. Wonder Direct!" Twitter. Retrieved August 29, 2023.
^ a b c d e f g h i j k l m n o p q r s t u v w x y z aa ab ac ad ae af ag ah ai aj ak al am an ao ap aq ar as at au av aw ax ay az ba bb bc bd be bf bg bh bi bj bk bl bm bn bo bp bq br bs bt bu bv bw bx by bz ca cb cc cd ce cf cg ch ci cj ck cl cm cn co cp cq cr cs ct cu cv cw cx cy cz da db dc dd de df dg dh di dj dk dl dm dn do dp dq dr ds dt du dv dw dx dy dz ea eb ec ed ee ef eg eh ei ej ek el em en eo ep eq er es et eu ev ew ex ey ez fa fb fc fd fe ff fg fh fi fj fk fl fm fn fo fp fq fr fs ft fu fv fw fx fy fz ga gb Nintendo of America (August 31, 2023). Super Mario Bros. Wonder Direct 8.31.2023. YouTube. Retrieved August 31, 2023.
^ (June 22, 2023). 「スーパーマリオブラザーズ」完全新作がNintendo Switchに登場。『スーパーマリオブラザーズ ワンダー』は10月20日発売。 Nintendo. Retrieved June 22, 2023.
^ Jeremy Klinger (September 5, 2023). Super Mario Bros Wonder Gameplay @ Nintendo Live 2023. YouTube. Retrieved September 6, 2023.
^ Super Mario Bros. Wonder. ESRB. Retrieved July 30, 2023.
^ a b We Played Super Mario Bros. Wonder - NEW GAMEPLAY AND IMPRESSIONS! Super Mario Bros Wonder Switch
^ a b c d e f g h i PPE PL (August 31, 2023). Super Mario Bros. Wonder - gameplay. Gamescom 2023. YouTube. Retrieved August 31, 2023.
^ (September 13, 2023). マリオも仲間もみんなで冒険。シリーズ最多12種類の操作キャラクターをご紹介。【ワンダーの世界へ Vol.2】. nintendo.co.jp. Retrieved September 13, 2023. (Archived September 13, 2023, 01:17:18 UTC via Wayback Machine.)
^ a b c GameXplain (August 31, 2023). 3 Minutes of Super Mario Bros. Wonder Gameplay w/ Sound! YouTube. Retrieved August 31, 2023.
^ a b c GameXplain (September 2, 2023). 15 Minutes of Super Mario Bros. Wonder Solo GAMEPLAY | Secret Level & More! (Nintendo Live). YouTube. Retrieved September 2, 2023.
^ a b c d e GameSpot (August 31, 2023). Super Mario Bros. Wonder Preview. YouTube. Retrieved September 18, 2023.
^ a b c d e IGN (August 31, 2023). Super Mario Bros. Wonder: The First Preview. YouTube. Retrieved September 18, 2023.
^ Mario Party Legacy (September 5, 2023). Complete PAX Demo + Audio - Super Mario Bros. Wonder (All Wonder Seeds, Flower Coins). YouTube. Retrieved September 7, 2023.
^ GameXplain (September 3, 2023). 25 Minutes of MULTIPLAYER MAYHEM in Super Mario Bros. Wonder! (All PAX Demo Levels). YouTube. Retrieved September 4, 2023.
^ GameXplain (September 2, 2023). Yes, You Can Mute the Talking Flower! Super Mario Bros Wonder FULL Menu Tour (Player Guide & More!). YouTube. Retrieved September 2, 2023.
^ Farokhmanesh, M. (August 31, 2023). Super Mario Bros. Wonder Is What Happens When Devs Have Time to Play. Wired. Retrieved August 31, 2023.
^ Pre-order Super Mario Bros. Wonder on My Nintendo Store and receive a Pin Set and Stress Ball as bonus items with purchase!. Nintendo.co.uk. Retrieved September 18, 2023).
^ Super Mario Bros. Wonder - JB Hi-Fi. jbhifi.com.au. Retrieved September 18, 2023. (Archived September 19, 2023, 00:50:33 UTC via Wayback Machine.)
^ 《超級瑪利歐兄弟 驚奇》的最新資訊公開! | TOPICS | 任天堂(香港)有限公司網站 Nintendo. Retrieved June 20, 2023.
^ "Super Mario Bros. Wonder komt op 20 oktober naar de Nintendo Switch!" - Nintendo Nederland
^ "Surprise et émerveillement vous attendent dans tous les recoins de la prochaine évolution des jeux Mario 2D à défilement horizontal! #SuperMarioBrosWonder sortira sur #NintendoSwitch le 20 octobre." - @NintedoCanada
^ "Super Mario Bros. Wonder arrive le 20 octobre sur Nintendo Switch !" - Nintedo France
^ "『슈퍼 마리오브라더스 원더』, 『슈퍼 마리오 RPG』, 『끝내주게 춤춰라 메이드 인 와리오』, 「돌아온 명탐정 피카츄」등, Nintendo Switch로 발매되는 타이틀의 최신 정보를 전달!" - Nintendo of Korea. Retrieved June 21, 2023.
^ "Super Mario Bros. Wonder chega à Nintendo Switch a 20 de outubro!" - Nintendo Portugal
^ "¡Super Mario Bros. Wonder llegará a Nintendo Switch el 20 de octubre!" - Nintendo España
Super Mario games
Platformers
Super Mario series
Super Mario Bros. (1985, NES) • Super Mario Bros.: The Lost Levels (1986, FDS) • Super Mario Bros. 2 (1988, NES) • Super Mario Bros. 3 (1988, NES) • Super Mario Land (1989, GB) • Super Mario World (1990, SNES) • Super Mario Land 2: 6 Golden Coins (1992, GB) • Super Mario 64 (1996, N64) • Super Mario Sunshine (2002, GCN) • New Super Mario Bros. (2006, DS) • Super Mario Galaxy (2007, Wii) • New Super Mario Bros. Wii (2009, Wii) • Super Mario Galaxy 2 (2010, Wii) • Super Mario 3D Land (2011, 3DS) • New Super Mario Bros. 2 (2012, 3DS) • New Super Mario Bros. U (2012, Wii U) • Super Mario 3D World (2013, Wii U) • Super Mario Maker (2015, Wii U) • Super Mario Run (2016, iOS/iPadOS/Android) • Super Mario Odyssey (2017, Switch) • Super Mario Maker 2 (2019, Switch) • Super Mario Bros. Wonder (2023, Switch)
Donkey Kong series
Donkey Kong (1981, arcade) • Donkey Kong (1994, GB)
Mario vs. Donkey Kong series
Mario vs. Donkey Kong (2004, GBA) • Mario vs. Donkey Kong 2: March of the Minis (2006, DS) • Mario vs. Donkey Kong: Minis March Again! (2009, DSiWare) • Mario vs. Donkey Kong: Mini-Land Mayhem! (2010, DS) • Mario and Donkey Kong: Minis on the Move (2013, 3DS) • Mario vs. Donkey Kong: Tipping Stars (2015, 3DS/Wii U) • Mini Mario & Friends: amiibo Challenge (2016, 3DS/Wii U)
Mario Bros. series
Mario Bros. (1983, arcade) • Mario Bros. Special (1984, computer) • Punch Ball Mario Bros. (1984, computer) • Mario Clash (1995, VB)
Wrecking Crew series
VS. Wrecking Crew (1984, VS) • Wrecking Crew (1985, NES) • Wrecking Crew '98 (1998, SFC)
Other
Mario Bros. (1983, G&W) • Mario's Cement Factory (1983, G&W) • Super Mario Bros. Special (1986, computer) • Mario & Wario (1993, SNES) • Wario Land: Super Mario Land 3 (1994, GB) • Hotel Mario (1994, CD-i) • Super Mario World 2: Yoshi's Island (1995, SNES) • Super Princess Peach (2005, DS) • New Super Luigi U (2013, Wii U) • Captain Toad: Treasure Tracker (2014, Wii U) • Super Mario Bros. 35 (2020, Switch) • Princess Peach: Showtime! (2024, Switch)
Reissues
Crazy Kong (1981, arcade) • Donkey Kong (1982, G&W) • VS. Super Mario Bros. (1986, VS) • Super Mario Bros. (1986, G&W) • All Night Nippon: Super Mario Bros. (1986, FDS) • Kaettekita Mario Bros. (1988, FDS) • Super Mario Bros. (1989, NGW) • Super Mario Bros. 3 (1990, NGW) • Super Mario World (1991, NGW) • Super Mario All-Stars (1993, SNES) • Donkey Kong (1994, NGW) • Super Mario All-Stars + Super Mario World (1994, SNES) • BS Super Mario USA (1996, SNES) • BS Super Mario Collection (1997, SNES) • Super Mario Bros. Deluxe (1999, GBC) • Super Mario Advance (2001, GBA) • Super Mario World: Super Mario Advance 2 (2001, GBA) • Yoshi's Island: Super Mario Advance 3 (2002, GBA) • Super Mario Advance 4: Super Mario Bros. 3 (2003, GBA) • Famicom Mini Series (2004, GBA) • Classic NES Series (2004-2005, GBA) • Super Mario 64 DS (2004, DS) • Virtual Console (2006-2016, Wii/3DS/Wii U) • Super Mario All-Stars Limited Edition (2010, Wii) • Luigi Bros. (2013, Wii U) • Super Mario Maker for Nintendo 3DS (2016, 3DS) • Captain Toad: Treasure Tracker (2018, Switch/3DS) • New Super Mario Bros. U Deluxe (2019, Switch) • Super Mario 3D All-Stars (2020, Switch) • Game & Watch: Super Mario Bros. (2020, G&W) • Super Mario 3D World + Bowser's Fury (2021, Switch) • Mario vs. Donkey Kong (2024, Switch)
Tech demos
snd_test (Unknown, SNES) • Super Mario 128 (2000, GCN) • New Super Mario Bros. Mii (2011, Wii U) • Mario vs. Donkey Kong Wii U demo (2014, Wii U)
Canceled games
Super Mario's Wacky Worlds (CD-i) • Mario Takes America (CD-i) • VB Mario Land (VB) • Super Mario 64 2 (N64DD)
Mario Kart series
Main
Super Mario Kart (1992, SNES) • Mario Kart 64 (1996, N64) • Mario Kart: Super Circuit (2001, GBA) • Mario Kart: Double Dash!! (2003, GCN) • Mario Kart DS (2005, DS) • Mario Kart Wii (2008, Wii) • Mario Kart 7 (2011, 3DS) • Mario Kart 8 (2014, Wii U) • Mario Kart Tour (2019, iOS/iPadOS/Android)
Arcade
Mario Kart Arcade GP (2005, arcade) • Mario Kart Arcade GP 2 (2007, arcade) • Mario Kart Arcade GP DX (2013, arcade) • Mario Kart Arcade GP VR (2017, arcade)
Other
Mario Kart Live: Home Circuit (2020, Switch)
Ports
Mario Kart 8 Deluxe (2017, Switch)
Tech demos
Mario Kart for Nintendo GameCube (2001, GCN)
Pitches / canceled games
VB Mario Kart (VB) • Mario Kart XXL (GBA) • Tesla Mario Kart game (Tesla vehicles)
Mario Party series
Main
Mario Party (1998, N64) • Mario Party 2 (1999, N64) • Mario Party 3 (2000, N64) • Mario Party 4 (2002, GCN) • Mario Party 5 (2003, GCN) • Mario Party 6 (2004, GCN) • Mario Party 7 (2005, GCN) • Mario Party 8 (2007, Wii) • Mario Party 9 (2012, Wii) • Mario Party 10 (2015, Wii U) • Super Mario Party (2018, Switch) • Mario Party Superstars (2021, Switch)
Handheld
Mario Party Advance (2005, GBA) • Mario Party DS (2007, DS) • Mario Party: Island Tour (2013, 3DS) • Mario Party: Star Rush (2016, 3DS) • Mario Party: The Top 100 (2017, 3DS)
Arcade
Super Mario Fushigi no Korokoro Party (2004, arcade) • Super Mario Fushigi no Korokoro Party 2 (2005, arcade) • Mario Party Fushigi no Korokoro Catcher (2009, arcade) • Mario Party Kurukuru Carnival (2012, arcade) • Mario Party Fushigi no Korokoro Catcher 2 (2013, arcade) • Mario Party Challenge World (2016, arcade)
Other
Mario Party-e (2003, GBA)
Sports games
Mario Golf series
NES Open Tournament Golf (1991, NES) • Mario Golf (1999, N64) • Mario Golf (1999, GBC) • Mobile Golf (2001, GBC) • Mario Golf: Toadstool Tour (2003, GCN) • Mario Golf: Advance Tour (2004, GBA) • Mario Golf: World Tour (2014, 3DS) • Mario Golf: Super Rush (2021, Switch)
Mario Tennis series
Mario's Tennis (1995, VB) • Mario Tennis (2000, N64) • Mario Tennis (2000, GBC) • Mario Power Tennis (2004, GCN) • Mario Tennis: Power Tour (2005, GBA) (Bicep Pump [Unknown, Adobe Flash] • Reflex Rally [Unknown, Adobe Flash]) • Mario Tennis Open (2012, 3DS) • Mario Tennis: Ultra Smash (2015, Wii U) • Mario Tennis Aces (2018, Switch)
Mario Baseball series
Mario Superstar Baseball (2005, GCN) • Mario Super Sluggers (2008, Wii)
Mario Strikers series
Super Mario Strikers (2005, GCN) • Mario Strikers Charged (2007, Wii) • Mario Strikers: Battle League (2022, Switch)
Famicom Grand Prix series
Famicom Grand Prix: F1 Race (1987, FDS) • Famicom Grand Prix II: 3D Hot Rally (1988, FDS)
Other
Golf (1984, NES) • Donkey Kong Hockey (1984, G&W) • Family Computer Golf: Japan Course (1987, FDS) • Family Computer Golf: U.S. Course (1987, FDS) • Baseball (1989, GB) • Super Mario Race (1992, GwB) • Mario Hoops 3-on-3 (2006, DS) • Mario Sports Mix (2010, Wii) • Mario Sports Superstars (2017, 3DS)
Ports
New Play Control! Mario Power Tennis (2009, Wii)
Canceled games
Super Mario American football game (GCN) • Super Mario Spikers (Wii)
Role-playing games
Paper Mario series
Paper Mario (2000, N64) • Paper Mario: The Thousand-Year Door (2004, GCN) • Super Paper Mario (2007, Wii) • Paper Mario: Sticker Star (2012, 3DS) • Paper Mario: Color Splash (2016, Wii U) • Paper Mario: The Origami King (2020, Switch)
Mario & Luigi series
Mario & Luigi: Superstar Saga (2003, GBA) • Mario & Luigi: Partners in Time (2005, DS) • Mario & Luigi: Bowser's Inside Story (2009, DS) • Mario & Luigi: Dream Team (2013, 3DS) • Mario & Luigi: Paper Jam (2015, 3DS)
Other
Super Mario RPG: Legend of the Seven Stars (1996, SNES)
Remakes
Mario & Luigi: Superstar Saga + Bowser's Minions (2017, 3DS) • Mario & Luigi: Bowser's Inside Story + Bowser Jr.'s Journey (2018, 3DS) • Super Mario RPG (2023, Switch) • Paper Mario: The Thousand-Year Door (2024, Switch)
Canceled games
Super Mario RPG 2 (N64DD) • Super Paper Mario (GCN)
Dr. Mario series
Main
Dr. Mario (1990, NES/GB) • Dr. Mario 64 (2001, N64) • Dr. Mario Online Rx (2008, WiiWare) • Dr. Mario Express (2008, DSiWare) • Dr. Luigi (2013, Wii U) • Dr. Mario: Miracle Cure (2015, 3DS) • Dr. Mario World (2019, iOS/iPadOS/Android)
Other
VS. Dr. Mario (1990, VS) • Dr. Mario (1993, GwB)
Remakes
Tetris & Dr. Mario (1994, SNES) • Nintendo Puzzle Collection (2003, GCN) • Dr. Mario & Puzzle League (2005, GBA)
Luigi's Mansion series
Main
Luigi's Mansion (2001, GCN) • Luigi's Mansion: Dark Moon (2013, 3DS) • Luigi's Mansion 3 (2019, Switch)
Arcade
Luigi's Mansion Arcade (2015, arcade)
Remakes
Luigi's Mansion (2018, 3DS) • Luigi's Mansion 2 HD (2024, Switch)
Tech demos
Luigi's Mansion (2000, GCN)
Educational games
Mario Discovery series
Mario is Missing! (1993, MS-DOS/SNES/NES) • Mario's Time Machine (1993, MS-DOS/SNES/NES) • Mario's Early Years! Fun with Letters (1993, MS-DOS/SNES) • Mario's Early Years! Fun with Numbers (1994, MS-DOS/SNES) • Mario's Early Years! Preschool Fun (1994, MS-DOS/SNES)
Mario Teaches Typing series
Mario Teaches Typing (1991, MS-DOS) • Mario Teaches Typing 2 (1996, MS-DOS)
Other
Family BASIC (1984, FC) • Super Mario Bros. & Friends: When I Grow Up (1991, MS-DOS)
Ports
Mario's Early Years! CD-ROM Collection (1995, MS-DOS)
Canceled games
Mario's Mission Earth (SNES)
Art utilities
Mario Artist series
Mario Artist: Paint Studio (1999, N64DD) • Mario Artist: Talent Studio (2000, N64DD) • Mario Artist: Communication Kit (2000, N64DD) • Mario Artist: Polygon Studio (2000, N64DD)
Other
I am a teacher: Super Mario Sweater (1986, FDS) • Super Mario Bros. Print World (1991, MS-DOS) • Mario Paint (1992, SNES) • Super Mario Collection Screen Saver (1997, PC) • Mario no Photopi (1998, N64) • Mario Family (2001, GBC)
Pitches / canceled games
Mario Factory ("Game Processor RAM Cassette") • Mario Paint 3D (N64) • Mario Artist: Game Maker / Graphical Message Maker / Sound Maker / Video Jockey Maker (N64DD)
Miscellaneous
Picross series
Mario's Picross (1995, GB) • Mario's Super Picross (1995, SFC) • Picross 2 (1996, GB) • Picross NP (1999-2000, SFC)
Games / other software
Mario's Bombs Away (1983, G&W) • Pinball (1984, NES) • Alleyway (1989, GB) • Mario's Egg Catch (1990, SMBW) • Luigi's Hammer Toss (1990, SMBW) • Princess Toadstool's Castle Run (1990, SMBW) • Mario the Juggler (1991, G&W) • Yoshi's Safari (1993, SNES) • Undake30 Same Game (1995, SFC) • Mario's Game Gallery (1995, MS-DOS) • Donkey Kong (1996, arcade) • Mario's FUNdamentals (1998, Windows) • Mario's Memory Madness (1998, Adobe Shockwave) • Crazy Counting (1999, Adobe Shockwave) • Dinky Rinky (1999, Adobe Shockwave) • Goodness Rakes (1999, Adobe Shockwave) • Melon Mayhem (1999, Adobe Shockwave) • Nomiss (1999, Adobe Shockwave) • The Lab (2001, Adobe Flash) • Mario Party 4 (2002, Adobe Flash) • Super Mario Fushigi no Janjan Land (2003, arcade) • Mario Pinball Land (2004, GBA) • Yakuman DS (2005, DS) • Mario Trivia (Unknown, Adobe Flash) • Mario Memory (Unknown, Adobe Flash) • Virus Attack! (Unknown, Adobe Flash) • Mini-Mario Factory Game! (2004, Adobe Flash) • Bill Bounce (2004, Adobe Flash) • Mario Party 7 Bon Voyage Quiz (2005, Adobe Flash) • Super Mario Strikers Advergame (2005, Adobe Flash) • Dr. Mario Vitamin Toss (2005, Adobe Flash) • Bowser's Lair Hockey (2005, Adobe Flash) • Heads-Up (2005, Adobe Flash) • Parasol Fall (2005, Adobe Flash) • Dribble Skillz (2006, Adobe Flash) • Superstar Shootout (2006, Adobe Flash) • Mario vs. DK 2: Cannon Kaos (2006, Adobe Flash) • Super Paper Mario Memory Match (2007, Adobe Flash) • Are You Smarter Than Mario? (2008, Adobe Flash) • Mario Calculator (2009, DSiWare) • Mario Clock (2009, DSiWare) • Play Nintendo activities (2014–present)
Tech demos
Mario Demo (1994, VB) • morphdemo (Unknown, N64) • Peach's Castle (2002, GCN) • Mario's Face (Unknown, DS) • DSpeak (2005, DS) • Koopa Troopa Forest (Unknown, Wii) • Mario FPS (Unknown, Wii)
Pitches / canceled games
Mario's Castle ("Project Atlantis") • Boss Game Studios' Super Mario game pitch (Unknown) • Retro Studios' Boo project (DS) • Mario Motors (DS)
Crossovers
Game & Watch Gallery series
Game & Watch Gallery (1997, GB) • Game & Watch Gallery 2 (1997, GB) • Game & Watch Gallery 3 (1999, GBC) • Game & Watch Gallery 4 (2002, GBA)
Super Smash Bros. series
Super Smash Bros. (1999, N64) • Super Smash Bros. Melee (2001, GCN) • Super Smash Bros. Brawl (2008, Wii) • Super Smash Bros. for Nintendo 3DS (2014, 3DS) • Super Smash Bros. for Wii U (2014, Wii U) • Super Smash Bros. Ultimate (2018, Switch)
Itadaki Street series
Itadaki Street DS (2007, DS) • Fortune Street (2011, Wii)
Mario & Sonic series
Mario & Sonic at the Olympic Games (2007, Wii) • Mario & Sonic at the Olympic Games (2008, DS) • Mario & Sonic at the Olympic Winter Games (2009, Wii) • Mario & Sonic at the Olympic Winter Games (2009, DS) • Mario & Sonic at the London 2012 Olympic Games (2011, Wii) • Mario & Sonic at the London 2012 Olympic Games (2012, 3DS) • Mario & Sonic at the Sochi 2014 Olympic Winter Games (2013, Wii U) • Mario & Sonic at the Rio 2016 Olympic Games (2016, Wii U) • Mario & Sonic at the Rio 2016 Olympic Games (2016, 3DS) • Mario & Sonic at the Rio 2016 Olympic Games Arcade Edition (2016, arcade) • Mario & Sonic at the Olympic Games Tokyo 2020 (2019, Switch) • Mario & Sonic at the Olympic Games Tokyo 2020 - Arcade Edition (2020, arcade)
Mario + Rabbids series
Mario + Rabbids Kingdom Battle (2017, Switch) • Mario + Rabbids Sparks of Hope (2022, Switch)
Other
Excitebike: Bun Bun Mario Battle (1997, Satellaview) • NBA Street V3 (2005, GCN) • Dance Dance Revolution: Mario Mix (2005, GCN) • SSX on Tour (2005, GCN) • Tetris DS (2006, DS) • Captain Rainbow (2008, Wii) • Art Style: PiCTOBiTS (2009, DSiWare) • Nintendo Land (2012, Wii U) • Puzzle & Dragons: Super Mario Bros. Edition (2015, 3DS)
Tech demos
Chase Mii (Unknown, Wii U)
Pitches / canceled games
Super Mario/Rabbids crossover adventure game (Wii) • DDR MARIO 2 (Wii)