Mario & Wario
From the Super Mario Wiki, the Mario encyclopedia
Jump to navigation
Jump to search
Mario & Wario is a puzzle-platformer game released for the Super Famicom in 1993. It was designed by Satoshi Tajiri and developed by Game Freak. It is one of the few Super Mario games to utilize the Super Famicom Mouse accessory.
The game was initially planned to be localized for the North American market (as shown by it being previewed in the September 1993 issue of Nintendo Power and a Canadian ad for a Kellogg's contest,[1] which featured a tentative box art), but ended up being a Japan-exclusive title. Despite this, the game itself contains no written Japanese whatsoever; it is entirely in English. Mario & Wario had also been featured in magazines from the UK, Germany, and Brazil. Most prominently, it was featured on the front cover of the November 1993 issue of VideoGame Magazine in Brazil with a full feature, which indicated that a release was near.[2]
Translated from the instruction booklet[3]
This is Yōsei no Mori. Within the forest's depths lives a fairy, and those who behold it find happiness, as the tale goes. One day, Mario sought the fabled fairy by coming to the forest. Peach, Yoshi and Luigi were together......or should have been, but alas, Luigi's visage was unseen. Mario's group of three had decided to look for lost little Luigi.
Then, the sky was overcome with a suspicious engine's sound. What was that? It was Wario riding his personal plane, the Bulldog, and he threw a bucket from the sky.
"Here you go!"
Uh oh, the bucket landed right over Mario's head.
"Uwagh, I can't see in this thing!"
Watching was the forest's fairy, Wanda. She somehow wanted to help, but the small fairy did not have the ability to remove the bucket. Thus, Wanda decided to use her magic wand on Mario to send signals, guiding him to Luigi......
Gameplay
[
edit
]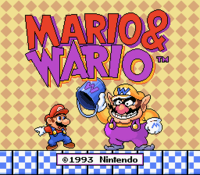 The main gameplay involves guiding Princess Peach, Mario, or Yoshi to the goal, where Luigi awaits. The player can select one of the original eight stages at the start. Once they are cleared, the final stages become available. At the beginning of every stage except EXTRA, Wario drops a random item on the character's head, making them unable to see where they're going.
The player uses the Super Famicom Mouse to control Wanda the sprite and alter the environment to make it safe for the character, making it somewhat similar to the Mario vs. Donkey Kong series. The character will walk left and right on their own, so the obstacles must be manipulated accordingly to allow the character to safely navigate through the level. There is a time limit for each level, and bonus points are given for any excess time. Each character has a set speed; Peach is slow, Mario is medium, and Yoshi is fast. At the end of every stage, there's a bonus mini-game where Wanda can whack Wario with a hammer. Every time the player hits Wario on his plane, the player will earn one coin. After forty hits, the plane will malfunction in Wario's face, but he will also flee if enough time has passed.
Characters
[
edit
]
Main characters
[
edit
]
| Image | Name | Description |
| --- | --- | --- |
| | Wanda | The main protagonist who must guide each character to the end of each level. |
| | Princess Peach | One of the characters who must be guided to the end of each level. |
| | Mario | One of the characters who must be guided to the end of each level. |
| | Yoshi | One of the characters who must be guided to the end of each level. |
| | Luigi | The character who waits at the goal at the end of each level. |
| | Wario | The main antagonist who is fought after every world in the game. |
Enemy characters
[
edit
]
| Image | Name | Description |
| --- | --- | --- |
| | Dodorigesu Jr. | These immobile Pidgits can be defeated by simply clicking on them. |
| | Guriguri | A fireball which usually moves along walls and floors. |
| | Komorin | Tricky bat enemies that often group together in packs of four. |
| | Tsubōn | A pot-shaped enemy with a skull mark that can cling onto walls and breath fire. |
| | Unibo | Spiky enemies which resemble Urchins and appear in LEVEL 6 and LEVEL 9. They come in blue variations that move up and down and yellow variations that move left and right. |
Items and obstacles
[
edit
]
| Image | Name | Description |
| --- | --- | --- |
| | Coin Block | Wanda can hit these to collect coins. One hundred coins will give the player an extra life. |
| | Elevator | Once on these lifts, the character must wait until they can move again. |
| | Flip-Flop Block | One of the most basic blocks, they can be made solid or passable with the flick of a click. |
| | Fūsen Block | Balloons which expand and inflate from time to time. |
| | Rock Block | These cracked square walls can be hit to be destroyed. |
| | Jump Block | Jump Blocks look like springboards, and are usually seen grounded on flooring rather than suspended in the air as in other games. |
| | Nebaneba Block | These blocks are sticky and trap friend and foe alike. |
| | Switch Block | These switch from solid and red to blue and intangible. |
| | Timer Block | Hitting these blocks will make them solid for a short time. Wanda must know when and how to use them. |
| | Toge Block | These pointy obstacles take up the full space of a block. They can face four directions. |
| Image | Name | Description |
| --- | --- | --- |
| | 1-Up Mushroom | As the name suggests, these green mushrooms give the player extra lives. |
| | Coin | Coins add points to the player's score. Collecting one hundred coins gives the player an extra life. |
| | Star | The most common item in the game. Collect four of them in a level to earn an extra life. |
| | Time Kinoko | Standard mushrooms that add to the Time Gauge. There are not many of these in the game. |
Development
[
edit
]
After Game Freak's successful collaboration with Nintendo on Yoshi, Nintendo president Hiroshi Yamauchi requested Game Freak to develop a new game that would make use of the Super Scope accessory[4]. As Yoshi was a big commercial success but was not a self-owned property, there was a desire internally at Game Freak to develop titles using the company's own characters[5] [6]. After brainstorming with employee Akihito Tomisawa, Game Freak president Satori Tajiri settled on the idea of making a horror-themed game inspired by Gremlins[4].
The original concept was that the player would attempt to capture a monster living inside a "western-style building" by firing a net with the Super Scope and capture it with a trigger. Though a prototype was produced and the project was coming along smoothly, it had become obvious the Super Scope was a commercial failure so the game was retooled to use the more recent Super NES Mouse[7]. The concept shifted to guiding a character inside a maze using the mouse[8]. Eventually, Nintendo suggested to include Nintendo characters in the game, a suggestion Game Freak agreed to as they thought it would make the game sell better. However, at the last minute, Game Freak requested to keep a character created for the earlier versions of the game, Wanda (designed by artist Ken Sugimori[9].
References in other media
[
edit
]
Gallery
[
edit
]
Names in other languages
[
edit
]
Language
Name
Meaning
Japanese
マリオとワリオ
Mario to Wario
マウス専用マリオとワリオ[10]
Mausu-sen'yō Mario to Wario
Mario & Wario or Mouse-Exclusive Mario & Wario; used in packaging and promotional materials.
References
[
edit
]
Super Mario games
Platformers
Super Mario series
Super Mario Bros. (1985, NES) • Super Mario Bros.: The Lost Levels (1986, FDS) • Super Mario Bros. 2 (1988, NES) • Super Mario Bros. 3 (1988, NES) • Super Mario Land (1989, GB) • Super Mario World (1990, SNES) • Super Mario Land 2: 6 Golden Coins (1992, GB) • Super Mario 64 (1996, N64) • Super Mario Sunshine (2002, GCN) • New Super Mario Bros. (2006, DS) • Super Mario Galaxy (2007, Wii) • New Super Mario Bros. Wii (2009, Wii) • Super Mario Galaxy 2 (2010, Wii) • Super Mario 3D Land (2011, 3DS) • New Super Mario Bros. 2 (2012, 3DS) • New Super Mario Bros. U (2012, Wii U) • Super Mario 3D World (2013, Wii U) • Super Mario Maker (2015, Wii U) • Super Mario Run (2016, iOS/iPadOS/Android) • Super Mario Odyssey (2017, Switch) • Super Mario Maker 2 (2019, Switch)
Donkey Kong /
Mario vs. Donkey Kong series
Donkey Kong (1981, arcade) • Donkey Kong (1994, GB) • Mario vs. Donkey Kong (2004, GBA) • Mario vs. Donkey Kong 2: March of the Minis (2006, DS) • Mario vs. Donkey Kong: Minis March Again! (2009, DSiWare) • Mario vs. Donkey Kong: Mini-Land Mayhem! (2010, DS) • Mario and Donkey Kong: Minis on the Move (2013, 3DS) • Mario vs. Donkey Kong: Tipping Stars (2015, 3DS/Wii U) • Mini Mario & Friends: amiibo Challenge (2016, 3DS/Wii U)
Mario Bros. series
Mario Bros. (1983, arcade) • Mario Bros. Special (1984, computer) • Punch Ball Mario Bros. (1984, computer) • Mario Clash (1995, VB)
Wrecking Crew series
VS. Wrecking Crew (1984, VS) • Wrecking Crew (1985, NES) • Wrecking Crew '98 (1998, SFC)
Other
Mario Bros. (1983, G&W) • Mario's Cement Factory (1983, G&W) • Super Mario Bros. Special (1986, computer) • Mario & Wario (1993, SNES) • Hotel Mario (1994, CD-i) • Super Princess Peach (2005, DS) • New Super Luigi U (2013, Wii U) • Captain Toad: Treasure Tracker (2014, Wii U) • Super Mario Bros. 35 (2020, Switch)
Ports and remakes
Crazy Kong (1981, arcade) • Donkey Kong (1982, G&W) • VS. Super Mario Bros. (1986, VS) • Super Mario Bros. (1986, G&W) • All Night Nippon: Super Mario Bros. (1986, FDS) • Kaettekita Mario Bros. (1988, FDS) • Super Mario Bros. (1989, NGW) • Super Mario Bros. 3 (1990, NGW) • Super Mario World (1991, NGW) • Super Mario All-Stars (1993, SNES) • Donkey Kong (1994, NGW) • Super Mario All-Stars + Super Mario World (1994, SNES) • BS Super Mario USA (1996, SNES) • BS Super Mario Collection (1997, SNES) • Super Mario Bros. Deluxe (1999, GBC) • Super Mario Advance (2001, GBA) • Super Mario World: Super Mario Advance 2 (2002, GBA) • Super Mario Advance 4: Super Mario Bros. 3 (2003, GBA) • Famicom Mini Series (2004, GBA) • Classic NES Series (2004-2005, GBA) • Super Mario 64 DS (2004, DS) • Virtual Console (2006-2016, Wii/3DS/Wii U) • Super Mario All-Stars Limited Edition (2010, Wii) • Luigi Bros. (2013, Wii U) • Super Mario Maker for Nintendo 3DS (2016, 3DS) • Captain Toad: Treasure Tracker (2018, Switch/3DS) • New Super Mario Bros. U Deluxe (2019, Switch) • Super Mario 3D All-Stars (2020, Switch) • Game & Watch: Super Mario Bros. (2020, G&W) • Super Mario 3D World + Bowser's Fury (2021, Switch)
Tech demos
snd_test (Unknown, SNES) • Super Mario 128 (2000, GCN) • New Super Mario Bros. Mii (2011, Wii U) • Mario vs. Donkey Kong Wii U demo (2014, Wii U)
Canceled games
Super Mario's Wacky Worlds (CD-i) • Mario Takes America (CD-i) • VB Mario Land (VB) • Super Mario 64 2 (N64DD)
Mario Kart series
Main
Super Mario Kart (1992, SNES) • Mario Kart 64 (1996, N64) • Mario Kart: Super Circuit (2001, GBA) • Mario Kart: Double Dash!! (2003, GCN) • Mario Kart DS (2005, DS) • Mario Kart Wii (2008, Wii) • Mario Kart 7 (2011, 3DS) • Mario Kart 8 (2014, Wii U) • Mario Kart Tour (2019, iOS/iPadOS/Android)
Arcade
Mario Kart Arcade GP (2005, arcade) • Mario Kart Arcade GP 2 (2007, arcade) • Mario Kart Arcade GP DX (2013, arcade) • Mario Kart Arcade GP VR (2017, arcade)
Other
Mario Kart Live: Home Circuit (2020, Switch)
Ports
Mario Kart 8 Deluxe (2017, Switch)
Tech demos
Mario Kart for Nintendo GameCube (2001, GCN)
Pitches / canceled games
VB Mario Kart (VB) • Mario Kart XXL (GBA) • Tesla Mario Kart game (Tesla vehicles)
Mario Party series
Main
Mario Party (1998, N64) • Mario Party 2 (1999, N64) • Mario Party 3 (2000, N64) • Mario Party 4 (2002, GCN) • Mario Party 5 (2003, GCN) • Mario Party 6 (2004, GCN) • Mario Party 7 (2005, GCN) • Mario Party 8 (2007, Wii) • Mario Party 9 (2012, Wii) • Mario Party 10 (2015, Wii U) • Super Mario Party (2018, Switch) • Mario Party Superstars (2021, Switch)
Handheld games
Mario Party Advance (2005, GBA) • Mario Party DS (2007, DS) • Mario Party: Island Tour (2013, 3DS) • Mario Party: Star Rush (2016, 3DS) • Mario Party: The Top 100 (2017, 3DS)
Arcade
Super Mario Fushigi no Korokoro Party (2004, arcade) • Super Mario Fushigi no Korokoro Party 2 (2005, arcade) • Mario Party Fushigi no Korokoro Catcher (2009, arcade) • Mario Party Kurukuru Carnival (2012, arcade) • Mario Party Fushigi no Korokoro Catcher 2 (2013, arcade) • Mario Party Challenge World (2016, arcade)
Other
Mario Party-e (2003, GBA)
Sports games
Mario Golf series
Golf (1984, NES) • Family Computer Golf: Japan Course (1987, FDS) • Family Computer Golf: U.S. Course (1987, FDS) • NES Open Tournament Golf (1991, NES) • Mario Golf (1999, N64) • Mario Golf (1999, GBC) • Mobile Golf (2001, GBC) • Mario Golf: Toadstool Tour (2003, GCN) • Mario Golf: Advance Tour (2004, GBA) • Mario Golf: World Tour (2014, 3DS) • Mario Golf: Super Rush (2021, Switch)
Mario Tennis series
Mario's Tennis (1995, VB) • Mario Tennis (2000, N64) • Mario Tennis (2000, GBC) • Mario Power Tennis (2004, GCN) • Mario Tennis: Power Tour (2005, GBA) (Bicep Pump [Unknown, Adobe Flash] • Reflex Rally [Unknown, Adobe Flash]) • Mario Tennis Open (2012, 3DS) • Mario Tennis: Ultra Smash (2015, Wii U) • Mario Tennis Aces (2018, Switch)
Mario Baseball series
Baseball (1989, GB) • Mario Superstar Baseball (2005, GCN) • Mario Super Sluggers (2008, Wii)
Mario Strikers series
Super Mario Strikers (2005, GCN) • Mario Strikers Charged (2007, Wii) • Mario Strikers: Battle League (2022, Switch)
Other
Donkey Kong Hockey (1984, G&W) • Famicom Grand Prix: F1 Race (1987, FDS) • Famicom Grand Prix II: 3D Hot Rally (1988, FDS) • Super Mario Race (1992, GwB) • Mario Hoops 3-on-3 (2006, DS) • Mario Sports Mix (2010, Wii) • Mario Sports Superstars (2017, 3DS)
Ports
New Play Control! Mario Power Tennis (2009, Wii)
Canceled games
Super Mario American football game (GCN) • Super Mario Spikers (Wii)
Role-playing games
Paper Mario series
Paper Mario (2000, N64) • Paper Mario: The Thousand-Year Door (2004, GCN) • Super Paper Mario (2007, Wii) • Paper Mario: Sticker Star (2012, 3DS) • Paper Mario: Color Splash (2016, Wii U) • Paper Mario: The Origami King (2020, Switch)
Mario & Luigi series
Mario & Luigi: Superstar Saga (2003, GBA) • Mario & Luigi: Partners in Time (2005, DS) • Mario & Luigi: Bowser's Inside Story (2009, DS) • Mario & Luigi: Dream Team (2013, 3DS) • Mario & Luigi: Paper Jam (2015, 3DS)
Other
Super Mario RPG: Legend of the Seven Stars (1996, SNES)
Remakes
Mario & Luigi: Superstar Saga + Bowser's Minions (2017, 3DS) • Mario & Luigi: Bowser's Inside Story + Bowser Jr.'s Journey (2018, 3DS)
Canceled games
Super Mario RPG 2 (N64DD) • Super Paper Mario (GCN)
Dr. Mario series
Main
Dr. Mario (1990, NES/GB) • Dr. Mario 64 (2001, N64) • Dr. Mario Online Rx (2008, WiiWare) • Dr. Mario Express (2008, DSiWare) • Dr. Luigi (2013, Wii U) • Dr. Mario: Miracle Cure (2015, 3DS) • Dr. Mario World (2019, iOS/iPadOS/Android)
Other
VS. Dr. Mario (1990, VS) • Dr. Mario (1993, GwB)
Remakes
Tetris & Dr. Mario (1994, SNES) • Nintendo Puzzle Collection (2003, GCN) • Dr. Mario & Puzzle League (2005, GBA)
Luigi's Mansion series
Main
Luigi's Mansion (2001, GCN) • Luigi's Mansion: Dark Moon (2013, 3DS) • Luigi's Mansion 3 (2019, Switch)
Arcade
Luigi's Mansion Arcade (2015, arcade)
Remakes
Luigi's Mansion (2018, 3DS)
Tech demos
Luigi's Mansion (2000, GCN)
Educational games
Mario Discovery series
Mario is Missing! (1993, MS-DOS/SNES/NES) • Mario's Time Machine (1993, MS-DOS/SNES/NES) • Mario's Early Years! Fun with Letters (1993, MS-DOS/SNES) • Mario's Early Years! Fun with Numbers (1994, MS-DOS/SNES) • Mario's Early Years! Preschool Fun (1994, MS-DOS/SNES)
Other
Family BASIC (1984, FC) • Mario Teaches Typing (1991, MS-DOS) • Super Mario Bros. & Friends: When I Grow Up (1991, MS-DOS) • Mario Teaches Typing 2 (1996, MS-DOS)
Ports
Mario's Early Years! CD-ROM Collection (1995, MS-DOS)
Canceled games
Mario's Mission Earth (SNES)
Art utilities
Games
I am a teacher: Super Mario Sweater (1986, FDS) • Super Mario Bros. Print World (1991, MS-DOS) • Mario Paint (1992, SNES) • Super Mario Collection Screen Saver (1997, PC) • Mario no Photopi (1998, N64) • Mario Artist: Paint Studio (1999, N64DD) • Mario Artist: Talent Studio (2000, N64DD) • Mario Artist: Communication Kit (2000, N64DD) • Mario Artist: Polygon Studio (2000, N64DD) • Mario Family (2001, GBC)
Pitches / canceled games
Mario Factory ("Game Processor RAM Cassette") • Mario Paint 3D (N64) • Mario Artist: Game Maker / Graphical Message Maker / Sound Maker / Video Jockey Maker (N64DD)
Miscellaneous
Games / other software
Mario's Bombs Away (1983, G&W) • Pinball (1984, NES) • Alleyway (1989, GB) • Mario's Egg Catch (1990, SMBW) • Luigi's Hammer Toss (1990, SMBW) • Princess Toadstool's Castle Run (1990, SMBW) • Mario the Juggler (1991, G&W) • Yoshi's Safari (1993, SNES) • Undake30 Same Game (1995, SFC) • Mario's Game Gallery (1995, MS-DOS) • Mario's Picross (1995, GB) • Mario's Super Picross (1995, SFC) • Donkey Kong (1996, arcade) • Picross 2 (1996, GB) • Mario's FUNdamentals (1998, Windows) • Mario's Memory Madness (1998, Adobe Shockwave) • Crazy Counting (1999, Adobe Shockwave) • Dinky Rinky (1999, Adobe Shockwave) • Goodness Rakes (1999, Adobe Shockwave) • Melon Mayhem (1999, Adobe Shockwave) • Nomiss (1999, Adobe Shockwave) • Picross NP (1999-2000, SFC) • The Lab (2001, Adobe Flash) • Mario Party 4 (2002, Adobe Flash) • Super Mario Fushigi no Janjan Land (2003, arcade) • Mario Pinball Land (2004, GBA) • Yakuman DS (2005, DS) • Mario Trivia (Unknown, Adobe Flash) • Mario Memory (Unknown, Adobe Flash) • Virus Attack! (Unknown, Adobe Flash) • Mini-Mario Factory Game! (2004, Adobe Flash) • Bill Bounce (2004, Adobe Flash) • Mario Party 7 Bon Voyage Quiz (2005, Adobe Flash) • Super Mario Strikers Advergame (2005, Adobe Flash) • Dr. Mario Vitamin Toss (2005, Adobe Flash) • Bowser's Lair Hockey (2005, Adobe Flash) • Heads-Up (2005, Adobe Flash) • Parasol Fall (2005, Adobe Flash) • Dribble Skillz (2006, Adobe Flash) • Superstar Shootout (2006, Adobe Flash) • Mario vs. DK 2: Cannon Kaos (2006, Adobe Flash) • Super Paper Mario Memory Match (2007, Adobe Flash) • Are You Smarter Than Mario? (2008, Adobe Flash) • Mario Calculator (2009, DSiWare) • Mario Clock (2009, DSiWare) • Play Nintendo activities (2014-2023)
Tech demos
Mario Demo (1994, VB) • morphdemo (Unknown, N64) • Peach's Castle (2002, GCN) • Mario's Face (Unknown, DS) • DSpeak (2005, DS) • Koopa Troopa Forest (Unknown, Wii) • Mario FPS (Unknown, Wii)
Pitches / canceled games
Mario's Castle ("Project Atlantis") • Boss Game Studios' Super Mario game pitch (Unknown) • Retro Studios' Boo project (DS) • Mario Motors (DS)
Crossovers
Game & Watch Gallery series
Game & Watch Gallery (1997, GB) • Game & Watch Gallery 2 (1997, GB) • Game & Watch Gallery 3 (1999, GBC) • Game & Watch Gallery 4 (2002, GBA)
Super Smash Bros. series
Super Smash Bros. (1999, N64) • Super Smash Bros. Melee (2001, GCN) • Super Smash Bros. Brawl (2008, Wii) • Super Smash Bros. for Nintendo 3DS (2014, 3DS) • Super Smash Bros. for Wii U (2014, Wii U) • Super Smash Bros. Ultimate (2018, Switch)
Itadaki Street series
Itadaki Street DS (2007, DS) • Fortune Street (2011, Wii)
Mario & Sonic series
Mario & Sonic at the Olympic Games (2007, Wii) • Mario & Sonic at the Olympic Games (2008, DS) • Mario & Sonic at the Olympic Winter Games (2009, Wii) • Mario & Sonic at the Olympic Winter Games (2009, DS) • Mario & Sonic at the London 2012 Olympic Games (2011, Wii) • Mario & Sonic at the London 2012 Olympic Games (2012, 3DS) • Mario & Sonic at the Sochi 2014 Olympic Winter Games (2013, Wii U) • Mario & Sonic at the Rio 2016 Olympic Games (2016, Wii U) • Mario & Sonic at the Rio 2016 Olympic Games (2016, 3DS) • Mario & Sonic at the Rio 2016 Olympic Games Arcade Edition (2016, arcade) • Mario & Sonic at the Olympic Games Tokyo 2020 (2019, Switch) • Mario & Sonic at the Olympic Games Tokyo 2020 - Arcade Edition (2020, arcade)
Mario + Rabbids series
Mario + Rabbids Kingdom Battle (2017, Switch) • Mario + Rabbids Sparks of Hope (2022, Switch)
Other
Excitebike: Bun Bun Mario Battle (1997, Satellaview) • NBA Street V3 (2005, GCN) • Dance Dance Revolution: Mario Mix (2005, GCN) • SSX on Tour (2005, GCN) • Tetris DS (2006, DS) • Captain Rainbow (2008, Wii) • Art Style: PiCTOBiTS (2009, DSiWare) • Nintendo Land (2012, Wii U) • Puzzle & Dragons: Super Mario Bros. Edition (2015, 3DS)
Tech demos
Chase Mii (Unknown, Wii U)
Pitches / canceled games
Mario/Rabbids crossover adventure game (Wii) • DDR MARIO 2 (Wii)
Wario games
Wario Land series
Wario Land: Super Mario Land 3 (1994, GB) • Virtual Boy Wario Land (1995, VB) • Wario Land II (1998, GB/GBC) • Wario Land 3 (2000, GBC) • Wario Land 4 (2001, GBA) • Wario Land: Shake It! (2008, Wii)
WarioWare series
WarioWare, Inc.: Mega Microgame$! (2003, GBA) (Bird & Beans [2008, DSiWare] • Paper Airplane Chase [2008, DSiWare]) • WarioWare, Inc.: Mega Party Game$! (2003, GCN) • WarioWare: Twisted! (2004, GBA) • WarioWare: Touched! (2004, DS) • WarioWare: Smooth Moves (2006, Wii) • WarioWare: Snapped! (2008, DSiWare) • WarioWare: D.I.Y. (2009, DS) • WarioWare: D.I.Y. Showcase (2009, WiiWare) • Game & Wario (2013, Wii U) • WarioWare Gold (2018, 3DS) • WarioWare: Get It Together! (2021, Switch)
Other
Mario & Wario (1993, SNES) • Wario's Woods (1994, NES/SNES) • Wario's Whack Attack (1998, Adobe Shockwave) • Welcome to Greedville (Wario's Grab Bag • Wario's Crazy Caps • Wario's Dunk Tank • Greed $chool Test) (2001, Adobe Flash) • Wario World (2003, GCN) • WarioWare Twisted Marble Maze Game (2004, Adobe Shockwave) • Wario: Master of Disguise (2007, DS)
Pitch
Wario Pool (GBC)
Crossovers
Super Smash Bros. series
Super Smash Bros. Melee (2001, GCN) • Super Smash Bros. Brawl (2008, Wii) • Super Smash Bros. for Nintendo 3DS (2014, 3DS) • Super Smash Bros. for Wii U (2014, Wii U) • Super Smash Bros. Ultimate (2018, Switch)
Other
Wario Blast: Featuring Bomberman! (1994, GB)