Picross 2
From the Super Mario Wiki, the Mario encyclopedia
Jump to navigation
Jump to search
Picross 2 is a Japan-only game for the Game Boy and the sequel to Mario's Picross and Mario's Super Picross; it was released in 1996. It keeps most of the same elements of its predecessor, as it deals with a grid and solving puzzles to form images. Both Mario and Wario return and each have different sets of puzzles to solve in the game, giving the player a variety in gameplay. This is one of the few games that can be fully enhanced by the Super Game Boy attachment for the Super Famicom, both allowing full color graphics as well as a two player mode; by performing any input on a second controller, a second player is entered in to the game, and players can then solve puzzles cooperatively. In 2012, the game was released on the Nintendo 3DS's Virtual Console in Japan; it has never been released overseas.
Gameplay
[
edit
]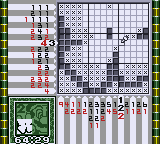 Picross is a logic puzzle game in which players solve nonograms to reveal a hidden picture. In order to reveal the picture, number clues are given to show how many squares go in each row or column. For example, a "5" horizontally means that there are 5 consecutive marked squares somewhere in that respective row. If there is more than one number, they all appear in that line in their respective order, but there must be at least one blank square between them. The player can also label squares with an "X" if they believe the square should not be marked. Labeling squares with an "X" serves no purpose in the solution of a puzzle, and is only used to assist the player. Players also have the ability to mark the hint numbers along the sides of the grid at will, preferably as each consecutive group of squares is solved on that line inside the grid. New to Picross 2 are 30x30 puzzles, which are split into 15x15 quadrants. A puzzle is not complete until all quadrants are solved, therefore solving the overall 30x30 puzzle.
The game features four modes: easy picross, Mario's picross, Wario's picross, and quick picross.
In both easy picross and Mario's picross, the player is given a time limit. In puzzles with time limits, the player is allotted 30 minutes to complete each 15x15 puzzle, and is penalized for time for each wrongly marked square; 2 minutes for the first mistake, 4 minutes for the second, and 8 minutes for each mistake thereafter. At the start of the round, the player has the option to use a hint roulette, which cycles through the grid to completely reveal one row and one column. Once started, the player also has the option to use another hint roulette at the expense of 5 minutes deducted from the timer; this can be used multiple times as long as there is enough time remaining. When the player runs out of time, the game is over and they must restart the puzzle. While easy picross puzzles are completed after finishing a single 15x15 puzzle, Mario's picross features all 30x30 puzzles. After clearing the first stage of Mario's picross, the player is granted access to Wario's picross.
In Wario's picross, the player isn't notified of mistakes or given any hints, making the puzzles harder to solve. The player has the option to enable a time limit, however, disabling the time limit will not unlock the hidden 10th puzzle on every stage. There is an option in the start menu, exclusive to Wario's picross, called "? Start"; a guessing mode where the player halts progress on the puzzle and can make temporary marks on prospective squares, which can sometimes be necessary due to the lack of hints and the complexity of Wario's puzzles. The player can decide at any time if they want to cancel the guessing mode and remove the temporary marks, letting them continue from a state prior to entering this mode. If the player correctly finishes the puzzle while in this mode, the puzzle is completed as normal. As with Mario's picross, Wario's picross also consists of all 30x30 puzzles. After clearing stage 6 in this mode, players are no longer notified if a quadrant has been completed, further increasing the difficulty.
After every three stages in both Mario and Wario's picross, players must solve a quick picross puzzle. In quick picross, players must quickly create kana from multiple 8x8 puzzles to form a sentence and clear the challenge. The amount of kana required ranges from 8-20 and players are allotted only one minute per character. Each quick picross puzzle can also be solved by guessing the sentence or phrase at any point. Quick picross stages are shared between the two characters and have 10 possible solutions each.
Mario and Wario both have 10 stages with 10 puzzles each, however, the 10th puzzle of each stage can only be unlocked if the player has not used hints, quit, or timed out on a puzzle in the stage. In stages 1-3, 30 minutes are allotted per quadrant, but from stage 4 onward, 90 minutes are allotted for each puzzle. The puzzles in each stage are also centered around a theme (e.g. stage 4 of Mario's picross features sports themed puzzles). After clearing stage 10, a final stage with a single 60x60 puzzle is unlocked; the puzzle is split into 30x30 quadrants (which themselves are split into 15x15 quadrants) and 30 minutes are allotted per 30x30 quadrant. In total there are 248 puzzles.
Puzzles
[
edit
]
Easy Picross
[
edit
]
| | | | | |
| --- | --- | --- | --- | --- |
| Pick | Hammer | Coffee Cup | Pocket Watch | Lion |
| Lantern | Silk Hat | Monkey | Magnifying Glass | Stuffed Toy |
Mario's Picross
[
edit
]
Stage 1 (Nature)
Small Bird
Hammock
Moon and Owl
Deer
Fairy
Help me
Koala
Camp
Lumberjack
Hunter
Stage 2 (Around the House)
Living Room
Mirror
Studying
Laundry
News on the Toilet
Bathing
Kotatsu
Electric Fan
Hair Dryer
Brushing
Stage 3 (Fairy Tales)
Cinderella
The Little Mermaid
Alice
Issun-bōshi
Kintarō
Snow White
Peter Pan
Urashima Tarō
Momotarō
Jack and the Beanstalk
Stage 4 (Sports)
Football
Pro Wrestling
Volleyball
Boxing
Sumo
Golf
Judo
Marathon
Basketball
Home Run
Stage 5 (School)
Mischief
Horizontal Bar
Field Trip
Lunch Duty
Graduation Ceremony
School Infirmary
Visiting Day
Sports Day
Enrollment
Physical Examination
Stage 6 (Entertainment)
Bungee Jump
Entrance
Water Slide
Cinema
Cherry Blossom Viewing
Pachinko
Casino
Crane Game
Karaoke
Game Boy
Stage 7 (Childhood)
Video Game
Fighting
Bug Catching
Crosswalk
Bed wetting
Friendship
Piggyback Ride
Sleeping Scary Dog
Shichi-Go-San
Punishment
Stage 8 (Female Occupations)
Nihon Buyō
Bus Tour Guide
Waitress
Daycare Worker
Police Woman
Idol
Bunny Girl
Supermodel
Nurse
Race Queen
Stage 9 (Male Occupations)
Pilot
Doctor
Porter
Delivery Man
Sailor
Martial Artist
Detective
Magician
Barber
Bodybuilder
Stage 10 (Mythology)
Werewolf
Gorgon
Skeleton
Pegasus
Gargoyle
Vampire
Cerberus
Unicorn
Manticore
Golden Mask
Final
Sphinx
Wario's Picross
[
edit
]
Stage 1 (Around Town)
Bonsai
Painting
I'm late!
Peeping Tom
Graffiti
Jinx
Drunk
Dog Walking
Mean Dog
Persistent Salesman
Stage 2 (Shopping)
Flea Market
Food Sampler
Sale
Convenience Store
Restaurant
Browsing
Bar
Fast Food
Show Window
Christmas Sale
Stage 3 (Romance)
First Love
Toast
Proposal
Boat
Honeymoon
Tandem Bicycle
Marriage Meeting
Wedding
Steamy Couple
What's this kiss mark?!
Stage 4 (Around the World)

Hatsuhinode

Night Sky
Daimonji
Summer Sea
London Fog
Lake Landscape
Alpenhorn
Woman with an Umbrella
Migratory Birds at Dusk
Steam Whistle Farewell
Stage 5 (Chinese Characters)
難
問
克
服
限
制
間
時
終
悩
Stage 6 (Picross Comic)
Everyone is taller than me
Good, a Super Mushroom
I'm big!!
Easy shot!
It didn't work..
Playing Mario's Picross?
I can't solve it!
I wonder what it is?
I got it with 2 minutes left!
Hey! Where is everyone?
Stage 7 (Animals)
Gorilla
Panda
Grizzly Bear
Elephant
Cheetah
Hippopotamus
Kangaroo
Tiger
Giraffe
Rhinoceros
Stage 8 (At the Beach)
Baby Sea Turtles
Sand Castle
Trolling

Suikawari

Man of the Sea
Water Skiing
Sunbathing
Scuba Diving
Surfer
My foot is stuck in a giant clam!
Stage 9 (Arctic)
Aurora
Sperm Whale
Flock of Swans
Penguin
Quinzhee
Dog Sled
Snowboarder
Skating
Skier
Santa Claus
Stage 10 (Dinosaurs)
Stegosaurus
Plesiosaurus
Brachiosaurus
Black Beauty
Pteranodon
Triceratops
Pachycephalosaurus
Deinonychus
Parasaurolophus
Survival of the Fittest
Final
Tyrannosaurus
Quick Picross
[
edit
]
Quick Picross Vol.1
しちにんのさむがりや
ふしぎのくにのアリババ
ゆきがふったらゆきだおれ
ぼうずにくけりゃけさがため
わがはいはねころんでいる
コンドルはとんびじゃない
うまのみみにねんど
しょうねんよたいしたもんだ
はなよりダンシングクイーン
マリオとワリカン
Quick Picross Vol.2
ほたるのひかりまどうしのつえ
いぬもあるけばぼうけんきぶん
ひょうたんからコマンタレブー
かってかぶとのおすをもらった
やねのうえのバイオモンスター
やみつきたなるのがピクルスだ
にかいからめぐちゃんが
てをふる
なつはサーフィン
ふゆはスキヤキ
キノコといえば
スーパーマーケット
とんでひにいるなつの
おじょうさん
Quick Picross Vol.3
おじいさんはやまに
しばたさんをさがしにいった
マリオとルイージは
いつもなかをたベたのか
もしもしかめやまさんは
いらっしゃいますか
やきゅうもすきだけど
サッちゃんもすき
じんせいらくありゃくもに
おどろくこともある
ゆきのふるよはたのしい
ペチャクチャ
さるもきからおちるのを
ニュートンはみた
かきくえばかねがなくても
なんとかなるさ
ごいけんごかんそうは
ニンテンドウまで
うらのはたけでポチが
なくなくはたらいている
Main article: List of Picross 2 staff
Gallery
[
edit
]
Artwork
[
edit
]
Sprites
[
edit
]
Screenshots
[
edit
]
Title screens
[
edit
]
Level completion screens
[
edit
]
For a complete list of media for this subject, see List of Picross 2 media.
Names in other languages
[
edit
]
Language
Name
Meaning
Japanese
ピクロス2
Pikurosu 2
Picross 2
References
[
edit
]
External links
[
edit
]
Mario games
Platformers
Super Mario series
Super Mario Bros. (1985, NES) • Super Mario Bros.: The Lost Levels (1986, FDS) • Super Mario Bros. 2 (1988, NES) • Super Mario Bros. 3 (1988, NES) • Super Mario Land (1989, GB) • Super Mario World (1990, SNES) • Super Mario Land 2: 6 Golden Coins (1992, GB) • Super Mario 64 (1996, N64) • Super Mario Sunshine (2002, GCN) • New Super Mario Bros. (2006, DS) • Super Mario Galaxy (2007, Wii) • New Super Mario Bros. Wii (2009, Wii) • Super Mario Galaxy 2 (2010, Wii) • Super Mario 3D Land (2011, 3DS) • New Super Mario Bros. 2 (2012, 3DS) • New Super Mario Bros. U (2012, Wii U) • Super Mario 3D World (2013, Wii U) • Super Mario Maker (2015, Wii U) • Super Mario Run (2016, iOS/iPadOS/Android) • Super Mario Odyssey (2017, Switch) • Super Mario Maker 2 (2019, Switch)
Donkey Kong /
Mario vs. Donkey Kong series
Donkey Kong (1981, arcade) • Donkey Kong (1994, GB) • Mario vs. Donkey Kong (2004, GBA) • Mario vs. Donkey Kong 2: March of the Minis (2006, DS) • Mario vs. Donkey Kong: Minis March Again! (2009, DSiWare) • Mario vs. Donkey Kong: Mini-Land Mayhem! (2010, DS) • Mario and Donkey Kong: Minis on the Move (2013, 3DS) • Mario vs. Donkey Kong: Tipping Stars (2015, 3DS/Wii U) • Mini Mario & Friends: amiibo Challenge (2016, 3DS/Wii U)
Mario Bros. series
Mario Bros. (1983, arcade) • Mario Bros. Special (1984, computer) • Punch Ball Mario Bros. (1984, computer) • Mario Clash (1995, VB)
Wrecking Crew series
VS. Wrecking Crew (1984, VS) • Wrecking Crew (1985, NES) • Wrecking Crew '98 (1998, SFC)
Other
Mario Bros. (1983, G&W) • Mario's Cement Factory (1983, G&W) • Super Mario Bros. Special (1986, computer) • Mario & Wario (1993, SNES) • Hotel Mario (1994, CD-i) • Super Princess Peach (2005, DS) • New Super Luigi U (2013, Wii U) • Captain Toad: Treasure Tracker (2014, Wii U) • Super Mario Bros. 35 (2020, Switch)
Ports and remakes
Crazy Kong (1981, arcade) • Donkey Kong (1982, G&W) • VS. Super Mario Bros. (1986, VS) • Super Mario Bros. (1986, G&W) • All Night Nippon: Super Mario Bros. (1986, FDS) • Kaettekita Mario Bros. (1988, FDS) • Super Mario Bros. (1989, NGW) • Super Mario Bros. 3 (1990, NGW) • Super Mario World (1991, NGW) • Super Mario All-Stars (1993, SNES) • Donkey Kong (1994, NGW) • Super Mario All-Stars + Super Mario World (1994, SNES) • BS Super Mario USA (1996, SNES) • BS Super Mario Collection (1997, SNES) • Super Mario Bros. Deluxe (1999, GBC) • Super Mario Advance (2001, GBA) • Super Mario World: Super Mario Advance 2 (2002, GBA) • Super Mario Advance 4: Super Mario Bros. 3 (2003, GBA) • Famicom Mini Series (2004, GBA) • Classic NES Series (2004-2005, GBA) • Super Mario 64 DS (2004, DS) • Virtual Console (2006-current, Wii/3DS/Wii U) • Super Mario All-Stars Limited Edition (2010, Wii) • Luigi Bros. (2013, Wii U) • Super Mario Maker for Nintendo 3DS (2016, 3DS) • Captain Toad: Treasure Tracker (2018, Switch/3DS) • New Super Mario Bros. U Deluxe (2019, Switch) • Super Mario 3D All-Stars (2020, Switch) • Game & Watch: Super Mario Bros. (2020, G&W) • Super Mario 3D World + Bowser's Fury (2021, Switch)
Tech demos
snd_test (Unknown, SNES) • Super Mario 128 (2000, GCN) • New Super Mario Bros. Mii (2011, Wii U) • Mario vs. Donkey Kong Wii U demo (2014, Wii U)
Canceled games
Super Mario's Wacky Worlds (CD-i) • Mario Takes America (CD-i) • VB Mario Land (VB) • Super Mario 64 2 (N64DD)
Mario Kart series
Main
Super Mario Kart (1992, SNES) • Mario Kart 64 (1996, N64) • Mario Kart: Super Circuit (2001, GBA) • Mario Kart: Double Dash!! (2003, GCN) • Mario Kart DS (2005, DS) • Mario Kart Wii (2008, Wii) • Mario Kart 7 (2011, 3DS) • Mario Kart 8 (2014, Wii U) • Mario Kart Tour (2019, iOS/iPadOS/Android)
Arcade
Mario Kart Arcade GP (2005, arcade) • Mario Kart Arcade GP 2 (2007, arcade) • Mario Kart Arcade GP DX (2013, arcade) • Mario Kart Arcade GP VR (2017, arcade)
Other
Mario Kart Live: Home Circuit (2020, Switch)
Ports
Mario Kart 8 Deluxe (2017, Switch)
Tech demos
Mario Kart for Nintendo GameCube (2001, GCN) • Mario Kart XXL (2004, GBA)
Canceled games
VB Mario Kart (VB)
Mario Party series
Main
Mario Party (1998, N64) • Mario Party 2 (1999, N64) • Mario Party 3 (2000, N64) • Mario Party 4 (2002, GCN) • Mario Party 5 (2003, GCN) • Mario Party 6 (2004, GCN) • Mario Party 7 (2005, GCN) • Mario Party 8 (2007, Wii) • Mario Party 9 (2012, Wii) • Mario Party 10 (2015, Wii U) • Super Mario Party (2018, Switch) • Mario Party Superstars (2021, Switch)
Handheld games
Mario Party Advance (2005, GBA) • Mario Party DS (2007, DS) • Mario Party: Island Tour (2013, 3DS) • Mario Party: Star Rush (2016, 3DS) • Mario Party: The Top 100 (2017, 3DS)
Arcade
Super Mario Fushigi no Korokoro Party (2004, arcade) • Super Mario Fushigi no Korokoro Party 2 (2005, arcade) • Mario Party Fushigi no Korokoro Catcher (2009, arcade) • Mario Party Kurukuru Carnival (2012, arcade) • Mario Party Fushigi no Korokoro Catcher 2 (2013, arcade) • Mario Party Challenge World (2016, arcade)
Other
Mario Party-e (2003, GBA)
Sports games
Mario Golf series
Golf (1984, NES) • Family Computer Golf: Japan Course (1987, FDS) • Family Computer Golf: U.S. Course (1987, FDS) • NES Open Tournament Golf (1991, NES) • Mario Golf (1999, N64) • Mario Golf (1999, GBC) • Mobile Golf (2001, GBC) • Mario Golf: Toadstool Tour (2003, GCN) • Mario Golf: Advance Tour (2004, GBA) • Mario Golf: World Tour (2014, 3DS) • Mario Golf: Super Rush (2021, Switch)
Mario Tennis series
Mario's Tennis (1995, VB) • Mario Tennis (2000, N64) • Mario Tennis (2000, GBC) • Mario Power Tennis (2004, GCN) • Mario Tennis: Power Tour (2005, GBA) (Bicep Pump [Unknown, Adobe Flash] • Reflex Rally [Unknown, Adobe Flash]) • Mario Tennis Open (2012, 3DS) • Mario Tennis: Ultra Smash (2015, Wii U) • Mario Tennis Aces (2018, Switch)
Mario Baseball series
Baseball (1989, GB) • Mario Superstar Baseball (2005, GCN) • Mario Super Sluggers (2008, Wii)
Mario Strikers series
Super Mario Strikers (2005, GCN) • Mario Strikers Charged (2007, Wii) • Mario Strikers: Battle League (2022, Switch)
Other
Donkey Kong Hockey (1984, G&W) • Famicom Grand Prix: F1 Race (1987, FDS) • Famicom Grand Prix II: 3D Hot Rally (1988, FDS) • Super Mario Race (1992, GwB) • Mario Hoops 3-on-3 (2006, DS) • Mario Sports Mix (2010, Wii) • Mario Sports Superstars (2017, 3DS)
Ports
New Play Control! Mario Power Tennis (2009, Wii)
Canceled games
Super Mario Spikers (Wii)
Role-playing games
Paper Mario series
Paper Mario (2000, N64) • Paper Mario: The Thousand-Year Door (2004, GCN) • Super Paper Mario (2007, Wii) • Paper Mario: Sticker Star (2012, 3DS) • Paper Mario: Color Splash (2016, Wii U) • Paper Mario: The Origami King (2020, Switch)
Mario & Luigi series
Mario & Luigi: Superstar Saga (2003, GBA) • Mario & Luigi: Partners in Time (2005, DS) • Mario & Luigi: Bowser's Inside Story (2009, DS) • Mario & Luigi: Dream Team (2013, 3DS) • Mario & Luigi: Paper Jam (2015, 3DS)
Other
Super Mario RPG: Legend of the Seven Stars (1996, SNES)
Remakes
Mario & Luigi: Superstar Saga + Bowser's Minions (2017, 3DS) • Mario & Luigi: Bowser's Inside Story + Bowser Jr.'s Journey (2018, 3DS)
Canceled games
Super Mario RPG 2 (N64DD) • Super Paper Mario (GCN)
Dr. Mario series
Main
Dr. Mario (1990, NES) • Dr. Mario 64 (2001, N64) • Dr. Mario Online Rx (2008, WiiWare) • Dr. Mario Express (2008, DSiWare) • Dr. Luigi (2013, Wii U) • Dr. Mario: Miracle Cure (2015, 3DS) • Dr. Mario World (2019, iOS/iPadOS/Android)
Other
VS. Dr. Mario (1990, VS) • Dr. Mario (1993, GwB)
Remakes
Tetris & Dr. Mario (1994, SNES) • Nintendo Puzzle Collection (2003, GCN) • Dr. Mario & Puzzle League (2005, GBA)
Luigi's Mansion series
Main
Luigi's Mansion (2001, GCN) • Luigi's Mansion: Dark Moon (2013, 3DS) • Luigi's Mansion Arcade (2015, arcade) • Luigi's Mansion 3 (2019, Switch)
Remakes
Luigi's Mansion (2018, 3DS)
Tech demos
Luigi's Mansion (2000, GCN)
Educational games
Mario Discovery series
Mario is Missing! (1993, MS-DOS/SNES/NES) • Mario's Time Machine (1993, MS-DOS/SNES/NES) • Mario's Early Years! Fun with Letters (1993, MS-DOS/SNES) • Mario's Early Years! Fun with Numbers (1994, MS-DOS/SNES) • Mario's Early Years! Preschool Fun (1994, MS-DOS/SNES)
Other
Family BASIC (1984, FC) • Mario Teaches Typing (1991, MS-DOS) • Super Mario Bros. & Friends: When I Grow Up (1991, MS-DOS) • Mario Teaches Typing 2 (1996, MS-DOS)
Ports
Mario's Early Years! CD-ROM Collection (1995, MS-DOS)
Art utilities
Games
I am a teacher: Super Mario Sweater (1986, FDS) • Super Mario Bros. Print World (1991, MS-DOS) • Mario Paint (1992, SNES) • Super Mario Collection Screen Saver (1997, PC) • Mario no Photopi (1998, N64) • Mario Artist: Paint Studio (1999, N64DD) • Mario Artist: Talent Studio (2000, N64DD) • Mario Artist: Communication Kit (2000, N64DD) • Mario Artist: Polygon Studio (2000, N64DD) • Mario Family (2001, GBC)
Canceled games
Mario Artist: Game Maker / Graphical Message Maker / Sound Maker / Video Jockey Maker (N64DD)
Miscellaneous
Games
Mario's Bombs Away (1983, G&W) • Pinball (1984, NES) • Alleyway (1989, GB) • Mario's Egg Catch (1990, SMBW) • Luigi's Hammer Toss (1990, SMBW) • Princess Toadstool's Castle Run (1990, SMBW) • Mario the Juggler (1991, G&W) • Yoshi's Safari (1993, SNES) • Undake30 Same Game (1995, SFC) • Mario's Game Gallery (1995, MS-DOS) • Mario's Picross (1995, GB) • Mario's Super Picross (1995, SFC) • Donkey Kong (slot machine) (1996, arcade) • Picross 2 (1996, GB) • Mario's FUNdamentals (1998, Windows) • Mario's Memory Madness (1998, Adobe Shockwave) • Crazy Counting (1999, Adobe Shockwave) • Dinky Rinky (1999, Adobe Shockwave) • Goodness Rakes (1999, Adobe Shockwave) • Melon Mayhem (1999, Adobe Shockwave) • Nomiss (1999, Adobe Shockwave) • Picross NP (1999-2000, SFC) • The Lab (2001, Adobe Flash) • Mario Party 4 (Flash game) (2002, Adobe Flash) • Super Mario Fushigi no Janjan Land (2003, arcade) • Mario Pinball Land (2004, GBA) • Yakuman DS (2005, DS) • Mario Trivia (Unknown, Adobe Flash) • Mario Memory (Unknown, Adobe Flash) • Virus Attack! (Unknown, Adobe Flash) • Mini-Mario Factory Game! (2004, Adobe Flash) • Bill Bounce (2004, Adobe Flash) • Mario Party 7 Bon Voyage Quiz (2005, Adobe Flash) • Super Mario Strikers Advergame (2005, Adobe Flash) • Dr. Mario Vitamin Toss (2005, Abobe Flash) • Bowser's Lair Hockey (2005, Abobe Flash) • Heads-Up (2005, Abobe Flash) • Parasol Fall (2005, Abobe Flash) • Dribble Skillz (2006, Abobe Flash) • Superstar Shootout (2006, Abobe Flash) • Mario vs. DK 2: Cannon Kaos (2006, Abobe Flash) • Super Paper Mario Memory Match (2007, Abobe Flash) • Are You Smarter Than Mario? (2008, Abobe Flash) • Play Nintendo activities (2014-)
Tech demos
Mario Demo (1994, VB) • morphdemo (Unknown, N64) • Peach's Castle (2002, GCN) • Mario's Face (Unknown, DS) • DSpeak (2005, DS) • Koopa Troopa Forest (Unknown, Wii) • Mario FPS (Unknown, Wii)
Crossovers
Super Smash Bros. series
Super Smash Bros. (1999, N64) • Super Smash Bros. Melee (2001, GCN) • Super Smash Bros. Brawl (2008, Wii) • Super Smash Bros. for Nintendo 3DS (2014, 3DS) • Super Smash Bros. for Wii U (2014, Wii U) • Super Smash Bros. Ultimate (2018, Switch)
Mario & Sonic series
Mario & Sonic at the Olympic Games (2007, Wii) • Mario & Sonic at the Olympic Games (2008, DS) • Mario & Sonic at the Olympic Winter Games (2009, Wii) • Mario & Sonic at the Olympic Winter Games (2009, DS) • Mario & Sonic at the London 2012 Olympic Games (2011, Wii) • Mario & Sonic at the London 2012 Olympic Games (2012, 3DS) • Mario & Sonic at the Sochi 2014 Olympic Winter Games (2013, Wii U) • Mario & Sonic at the Rio 2016 Olympic Games (2016, Wii U) • Mario & Sonic at the Rio 2016 Olympic Games (2016, 3DS) • Mario & Sonic at the Rio 2016 Olympic Games Arcade Edition (2016, arcade) • Mario & Sonic at the Olympic Games Tokyo 2020 (2019, Switch) • Mario & Sonic at the Olympic Games Tokyo 2020 - Arcade Edition (2020, arcade)
Mario + Rabbids series
Mario + Rabbids Kingdom Battle (2017, Switch) • Mario + Rabbids Sparks of Hope (2022, Switch)
Game & Watch Gallery series
Game & Watch Gallery (1997, GB) • Game & Watch Gallery 2 (1997, GB) • Game & Watch Gallery 3 (1999, GBC) • Game & Watch Gallery 4 (2002, GBA)
Itadaki Street series
Itadaki Street DS (2007, DS) • Fortune Street (2011, Wii)
Other
Excitebike: Bun Bun Mario Battle (1997, Satellaview) • NBA Street V3 (2005, GCN) • Dance Dance Revolution: Mario Mix (2005, GCN) • SSX on Tour (2005, GCN) • Nintendo Land (2012, Wii U) • Puzzle & Dragons: Super Mario Bros. Edition (2015, 3DS)
Tech demos
Chase Mii (Unknown, Wii U)