New Super Mario Bros. Wii Coin World
From the Super Mario Wiki, the Mario encyclopedia
Jump to navigation
Jump to search
It has been suggested that audio and/or video file(s) related to this article be uploaded.
Please upload all related music, sound effects, voice clips, or any videos for this section. See the help page for information on how to get started.
It has been requested that more images be uploaded for this article. Remove this notice only after the additional image(s) have been added.
The title of this article is official, but it comes from a non-English source. If an official name from an English source is found that is not from the English Super Mario Bros. Encyclopedia, the article should be moved to its appropriate title.
New Super Mario Bros. Wii Coin World
Developer
Capcom
Publisher
Capcom[1]
Release date
April 2011[1]

Genre
Arcade
Mode(s)
Competitive multiplayer (up to four players)
Cabinet
Upright
New Super Mario Bros. Wii Coin World (New スーパーマリオブラザーズ Wii コインワールド) is a Japan-only arcade game produced by Capcom. The game itself is based upon New Super Mario Bros. Wii.
Gameplay
[
edit
]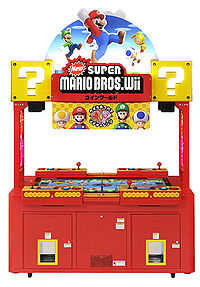 The gameplay features multiplayer, much like its console counterpart, and is based primarily on a slot machine mechanic. The game features a variety of "event" elements as well, each based upon gameplay from New Super Mario Bros. Wii.[2] Winning various events and on the slot machine gives players opportunities to collect keys. Once five keys are collected, the player enters an event with Bowser to win a jackpot.
Gallery
[
edit
]
Promotional screenshots
[
edit
]
Artwork
[
edit
]
External links
[
edit
]
References
[
edit
]
This article is a stub. You can help the Super Mario Wiki by expanding it.