Mario's Tennis
From the Super Mario Wiki, the Mario encyclopedia
Jump to navigation
Jump to search
This article is about the Virtual Boy game Mario's Tennis. For the Nintendo 64 Mario Tennis game, see Mario Tennis (Nintendo 64). For the Game Boy Color Mario Tennis game, see Mario Tennis (Game Boy Color).
Mario's Tennis

North American game cover.
For alternate box art, see the game's gallery.
Developer
Nintendo R&D1, TOSE
Publisher
Nintendo
Platform(s)
Virtual Boy
Release date
July 21, 1995
August 14, 1995

Genre
Tennis
Rating(s)

| | |
| --- | --- |
| ESRB: | - Kids to Adults |

Mode(s)
Single-player
Media

Virtual Boy:

Game Pak

Input

Virtual Boy:

Virtual Boy Controller
Mario's Tennis, initially known as Mario's Dream Tennis during development,[1] is a game that was released as a launch title for the Virtual Boy in 1995. It is the first tennis-related Mario game, and would later be followed by the Mario Tennis series. All playable characters that appeared in Super Mario Kart for the SNES (with the exception of Bowser) were also playable in Mario's Tennis. The cable that would have been used to connect two Virtual Boys together was never added due to poor Virtual Boy sales.
Serving
[
edit
]
A serve begins each point in tennis. A single player serves each game, and players alternate serving throughout the course of the match. If the player wishes to serve, they must press either the
button or the
button,
for regular shots and
for long-distance shots.
Top-Spin
[
edit
]
The basic shot in in Mario's Tennis, this shot has a higher arch to it, and can be used by pressing the
button. The shot is mainly used for regular, run-of-the-mill shot.
The Lob Shot is the second method of hitting a ball in Mario's Tennis. The Lob Shot is a powerful shot that can be used to shoot high, powerful shots whenever the
button is pressed. However, the Lob can be a disadvantage if the character hitting the ball is in the front of the court.
Doubles
[
edit
]
Doubles is the second method of play in Mario's Tennis. Doubles are very different than singles, and can be a great advantage for beginner players. In Doubles, the player can choose a partner to help them play tennis, while the player serves in the back the computer partner covers the net, and vice-versa.
Playable characters
[
edit
]
The descriptions are taken from the game's instruction manual.



Mario

He is an average player whose court speed and leg strength are solid. His racquet contact area is average, and he relies on his skillful groundstrokes, though he will approach the net occasionally.




Luigi

His skill level and court strategy are similar to Mario's. He has better court coverage, though, due to being faster than Mario.




Princess

The princess is slow, but her racquet contact area is large. She doesn't like to approach the net, preferring to instead rally from the baseline.




Yoshi

He is the fastest of all the players, but his racquet contact area is small. He plays an aggressive type of game by rushing the net at every opportunity.




Toad

Toad is quite quick on the court, but his racquet contact area is not very large. Like Yoshi, he tries to approach the net often. Though he is not strong, he has great court coverage because he can lunge at though shots.




Koopa

Being a turtle, basically, his court speed suffers. He has a large racquet contact area, though. He likes to rally from the baseline, and he also can lunge at tough shots like Toad.




Donkey Jr.

He is slower than all the other players, and also has a smaller racquet contact area. He is, however, understandably the most powerful of all the players. His strong groundstrokes allow him to win many points from the baseline.
Pre-release and unused content
[
edit
]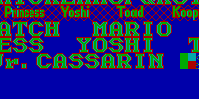 Cassarin
[
edit
]
The character list in this game's ROM features the name "CASSARIN", which is notable for, unlike the other characters, not having any sprites. "Cassarin" is an alternate romanization for "Catherine", which is Birdo's Japanese name; it can therefore be assumed that Birdo was initially planned for playability in Mario's Tennis.
Main article: List of Mario's Tennis staff
Reception
[
edit
]
Critical reception
[
edit
]
Mario's Tennis received generally mixed reviews from critics. A common complaint cited by reviewers was the fact that it was a tennis/sports game that lacked a multiplayer mode. 1UP.com praised the game's 3D effects, but criticized the game's lack of a multiplayer mode, or much to actually accomplish in the single player mode. Nintendo Life gave the game a 7 out of 10, calling it a "solid, if simple, tennis game" that processed "Good music and graphics combined with...excellent 3D effect", though they too felt the game was held back by a lack of multiplayer mode, and a lack of characters, which lead to the tournaments being too short. IGN's Patrick Kolan compared the game to Wii Sports, another one of Nintendo's pack-in games for one of its consoles, the Wii, in that it showed off the system's unique strengths, but suffered in regards to non-impressive graphics and a lack of long term game content. Games Radar echoed these sentiments, stating "Gameplay was rudimentary, and lacked all the flash and silliness that came to define the Mario Sports series, but as a 3D showpiece it worked fairly well". Famicom Tsūshin scored the game a 26 out of 40. The Rome News-Tribune referred to Mario's Tennis as "the only decent stab of tennis" prior to the release of Sega's 2000 Dreamcast game Virtua Tennis.
Gallery
[
edit
]
For this subject's image gallery, see Gallery:Mario's Tennis.
References in other games
[
edit
]
Super Mario Land 2: 6 Golden Coins: Mario's character selection sprite is an edited version of his sprite from this game. Luigi's sprite in the character selection also looks noticeably similar.
Names in other languages
[
edit
]
Language
Name
Meaning
Japanese
マリオズテニス
Mariozu Tenisu
Mario's Tennis
References
[
edit
]
Super Mario games
Platformers
Super Mario series
Super Mario Bros. (1985, NES) • Super Mario Bros.: The Lost Levels (1986, FDS) • Super Mario Bros. 2 (1988, NES) • Super Mario Bros. 3 (1988, NES) • Super Mario Land (1989, GB) • Super Mario World (1990, SNES) • Super Mario Land 2: 6 Golden Coins (1992, GB) • Super Mario 64 (1996, N64) • Super Mario Sunshine (2002, GCN) • New Super Mario Bros. (2006, DS) • Super Mario Galaxy (2007, Wii) • New Super Mario Bros. Wii (2009, Wii) • Super Mario Galaxy 2 (2010, Wii) • Super Mario 3D Land (2011, 3DS) • New Super Mario Bros. 2 (2012, 3DS) • New Super Mario Bros. U (2012, Wii U) • Super Mario 3D World (2013, Wii U) • Super Mario Maker (2015, Wii U) • Super Mario Run (2016, iOS/iPadOS/Android) • Super Mario Odyssey (2017, Switch) • Super Mario Maker 2 (2019, Switch) • Super Mario Bros. Wonder (2023, Switch)
Donkey Kong series
Donkey Kong (1981, arcade) • Donkey Kong (1994, GB)
Mario vs. Donkey Kong series
Mario vs. Donkey Kong (2004, GBA) • Mario vs. Donkey Kong 2: March of the Minis (2006, DS) • Mario vs. Donkey Kong: Minis March Again! (2009, DSiWare) • Mario vs. Donkey Kong: Mini-Land Mayhem! (2010, DS) • Mario and Donkey Kong: Minis on the Move (2013, 3DS) • Mario vs. Donkey Kong: Tipping Stars (2015, 3DS/Wii U) • Mini Mario & Friends: amiibo Challenge (2016, 3DS/Wii U)
Mario Bros. series
Mario Bros. (1983, arcade) • Mario Bros. Special (1984, computer) • Punch Ball Mario Bros. (1984, computer) • Mario Clash (1995, VB)
Wrecking Crew series
VS. Wrecking Crew (1984, VS) • Wrecking Crew (1985, NES) • Wrecking Crew '98 (1998, SFC)
Other
Mario Bros. (1983, G&W) • Mario's Cement Factory (1983, G&W) • Super Mario Bros. Special (1986, computer) • Mario & Wario (1993, SNES) • Wario Land: Super Mario Land 3 (1994, GB) • Hotel Mario (1994, CD-i) • Super Mario World 2: Yoshi's Island (1995, SNES) • Super Princess Peach (2005, DS) • New Super Luigi U (2013, Wii U) • Captain Toad: Treasure Tracker (2014, Wii U) • Super Mario Bros. 35 (2020, Switch) • Princess Peach: Showtime! (2024, Switch)
Reissues
Crazy Kong (1981, arcade) • Donkey Kong (1982, G&W) • VS. Super Mario Bros. (1986, VS) • Super Mario Bros. (1986, G&W) • All Night Nippon: Super Mario Bros. (1986, FDS) • Kaettekita Mario Bros. (1988, FDS) • Super Mario Bros. (1989, NGW) • Super Mario Bros. 3 (1990, NGW) • Super Mario World (1991, NGW) • Super Mario All-Stars (1993, SNES) • Donkey Kong (1994, NGW) • Super Mario All-Stars + Super Mario World (1994, SNES) • BS Super Mario USA (1996, SNES) • BS Super Mario Collection (1997, SNES) • Super Mario Bros. Deluxe (1999, GBC) • Super Mario Advance (2001, GBA) • Super Mario World: Super Mario Advance 2 (2001, GBA) • Yoshi's Island: Super Mario Advance 3 (2002, GBA) • Super Mario Advance 4: Super Mario Bros. 3 (2003, GBA) • Famicom Mini Series (2004, GBA) • Classic NES Series (2004-2005, GBA) • Super Mario 64 DS (2004, DS) • Virtual Console (2006-2016, Wii/3DS/Wii U) • Super Mario All-Stars Limited Edition (2010, Wii) • Luigi Bros. (2013, Wii U) • Super Mario Maker for Nintendo 3DS (2016, 3DS) • Captain Toad: Treasure Tracker (2018, Switch/3DS) • New Super Mario Bros. U Deluxe (2019, Switch) • Super Mario 3D All-Stars (2020, Switch) • Game & Watch: Super Mario Bros. (2020, G&W) • Super Mario 3D World + Bowser's Fury (2021, Switch) • Mario vs. Donkey Kong (2024, Switch)
Tech demos
snd_test (Unknown, SNES) • Super Mario 128 (2000, GCN) • New Super Mario Bros. Mii (2011, Wii U) • Mario vs. Donkey Kong Wii U demo (2014, Wii U)
Canceled games
Super Mario's Wacky Worlds (CD-i) • Mario Takes America (CD-i) • VB Mario Land (VB) • Super Mario 64 2 (N64DD)
Mario Kart series
Main
Super Mario Kart (1992, SNES) • Mario Kart 64 (1996, N64) • Mario Kart: Super Circuit (2001, GBA) • Mario Kart: Double Dash!! (2003, GCN) • Mario Kart DS (2005, DS) • Mario Kart Wii (2008, Wii) • Mario Kart 7 (2011, 3DS) • Mario Kart 8 (2014, Wii U) • Mario Kart Tour (2019, iOS/iPadOS/Android)
Arcade
Mario Kart Arcade GP (2005, arcade) • Mario Kart Arcade GP 2 (2007, arcade) • Mario Kart Arcade GP DX (2013, arcade) • Mario Kart Arcade GP VR (2017, arcade)
Other
Mario Kart Live: Home Circuit (2020, Switch)
Ports
Mario Kart 8 Deluxe (2017, Switch)
Tech demos
Mario Kart for Nintendo GameCube (2001, GCN)
Pitches / canceled games
VB Mario Kart (VB) • Mario Kart XXL (GBA) • Tesla Mario Kart game (Tesla vehicles)
Mario Party series
Main
Mario Party (1998, N64) • Mario Party 2 (1999, N64) • Mario Party 3 (2000, N64) • Mario Party 4 (2002, GCN) • Mario Party 5 (2003, GCN) • Mario Party 6 (2004, GCN) • Mario Party 7 (2005, GCN) • Mario Party 8 (2007, Wii) • Mario Party 9 (2012, Wii) • Mario Party 10 (2015, Wii U) • Super Mario Party (2018, Switch) • Mario Party Superstars (2021, Switch)
Handheld
Mario Party Advance (2005, GBA) • Mario Party DS (2007, DS) • Mario Party: Island Tour (2013, 3DS) • Mario Party: Star Rush (2016, 3DS) • Mario Party: The Top 100 (2017, 3DS)
Arcade
Super Mario Fushigi no Korokoro Party (2004, arcade) • Super Mario Fushigi no Korokoro Party 2 (2005, arcade) • Mario Party Fushigi no Korokoro Catcher (2009, arcade) • Mario Party Kurukuru Carnival (2012, arcade) • Mario Party Fushigi no Korokoro Catcher 2 (2013, arcade) • Mario Party Challenge World (2016, arcade)
Other
Mario Party-e (2003, GBA)
Sports games
Golf series
Golf (1984, NES) • Stroke & Match Golf (1984, VS. System) • Golf: Japan Course (1987, FDS) • Golf: U.S. Course (1987, FDS) • Golf (1989, GB) • NES Open Tournament Golf (1991, NES) • Mobile Golf (2001, GBC)
Mario Golf series
NES Open Tournament Golf (1991, NES) • Mario Golf (1999, N64) • Mario Golf (1999, GBC) • Mario Golf: Toadstool Tour (2003, GCN) • Mario Golf: Advance Tour (2004, GBA) • Mario Golf: World Tour (2014, 3DS) • Mario Golf: Super Rush (2021, Switch)
Mario Tennis series
Mario's Tennis (1995, VB) • Mario Tennis (2000, N64) • Mario Tennis (2000, GBC) • Mario Power Tennis (2004, GCN) • Mario Tennis: Power Tour (2005, GBA) (Bicep Pump [Unknown, Adobe Flash] • Reflex Rally [Unknown, Adobe Flash]) • Mario Tennis Open (2012, 3DS) • Mario Tennis: Ultra Smash (2015, Wii U) • Mario Tennis Aces (2018, Switch)
Mario Baseball series
Mario Superstar Baseball (2005, GCN) • Mario Super Sluggers (2008, Wii)
Mario Strikers series
Super Mario Strikers (2005, GCN) • Mario Strikers Charged (2007, Wii) • Mario Strikers: Battle League (2022, Switch)
Famicom Grand Prix series
Famicom Grand Prix: F1 Race (1987, FDS) • Famicom Grand Prix II: 3D Hot Rally (1988, FDS)
Other
Donkey Kong Hockey (1984, G&W) • Baseball (1989, GB) • Super Mario Race (1992, GwB) • Mario Hoops 3-on-3 (2006, DS) • Mario Sports Mix (2010, Wii) • Mario Sports Superstars (2017, 3DS)
Ports
New Play Control! Mario Power Tennis (2009, Wii)
Canceled games
Super Mario American football game (GCN) • Super Mario Spikers (Wii)
Role-playing games
Paper Mario series
Paper Mario (2000, N64) • Paper Mario: The Thousand-Year Door (2004, GCN) • Super Paper Mario (2007, Wii) • Paper Mario: Sticker Star (2012, 3DS) • Paper Mario: Color Splash (2016, Wii U) • Paper Mario: The Origami King (2020, Switch)
Mario & Luigi series
Mario & Luigi: Superstar Saga (2003, GBA) • Mario & Luigi: Partners in Time (2005, DS) • Mario & Luigi: Bowser's Inside Story (2009, DS) • Mario & Luigi: Dream Team (2013, 3DS) • Mario & Luigi: Paper Jam (2015, 3DS)
Other
Super Mario RPG: Legend of the Seven Stars (1996, SNES)
Remakes
Mario & Luigi: Superstar Saga + Bowser's Minions (2017, 3DS) • Mario & Luigi: Bowser's Inside Story + Bowser Jr.'s Journey (2018, 3DS) • Super Mario RPG (2023, Switch) • Paper Mario: The Thousand-Year Door (2024, Switch)
Canceled games
Super Mario RPG 2 (N64DD) • Super Paper Mario (GCN)
Dr. Mario series
Main
Dr. Mario (1990, NES/GB) • Dr. Mario 64 (2001, N64) • Dr. Mario Online Rx (2008, WiiWare) • Dr. Mario Express (2008, DSiWare) • Dr. Luigi (2013, Wii U) • Dr. Mario: Miracle Cure (2015, 3DS) • Dr. Mario World (2019, iOS/iPadOS/Android)
Other
VS. Dr. Mario (1990, VS) • Dr. Mario (1993, GwB)
Remakes
Tetris & Dr. Mario (1994, SNES) • Nintendo Puzzle Collection (2003, GCN) • Dr. Mario & Puzzle League (2005, GBA)
Luigi's Mansion series
Main
Luigi's Mansion (2001, GCN) • Luigi's Mansion: Dark Moon (2013, 3DS) • Luigi's Mansion 3 (2019, Switch)
Arcade
Luigi's Mansion Arcade (2015, arcade)
Remakes
Luigi's Mansion (2018, 3DS) • Luigi's Mansion 2 HD (2024, Switch)
Tech demos
Luigi's Mansion (2000, GCN)
Educational games
Mario Discovery series
Mario is Missing! (1993, MS-DOS/SNES/NES) • Mario's Time Machine (1993, MS-DOS/SNES/NES) • Mario's Early Years! Fun with Letters (1993, MS-DOS/SNES) • Mario's Early Years! Fun with Numbers (1994, MS-DOS/SNES) • Mario's Early Years! Preschool Fun (1994, MS-DOS/SNES)
Mario Teaches Typing series
Mario Teaches Typing (1991, MS-DOS) • Mario Teaches Typing 2 (1996, MS-DOS)
Other
Family BASIC (1984, FC) • Super Mario Bros. & Friends: When I Grow Up (1991, MS-DOS)
Ports
Mario's Early Years! CD-ROM Collection (1995, MS-DOS)
Canceled games
Mario's Mission Earth (SNES)
Art utilities
Mario Artist series
Mario Artist: Paint Studio (1999, N64DD) • Mario Artist: Talent Studio (2000, N64DD) • Mario Artist: Communication Kit (2000, N64DD) • Mario Artist: Polygon Studio (2000, N64DD)
Other
I am a teacher: Super Mario Sweater (1986, FDS) • Super Mario Bros. Print World (1991, MS-DOS) • Mario Paint (1992, SNES) • Super Mario Collection Screen Saver (1997, PC) • Mario no Photopi (1998, N64) • Mario Family (2001, GBC)
Pitches / canceled games
Mario Factory ("Game Processor RAM Cassette") • Mario Paint 3D (N64) • Mario Artist: Game Maker / Graphical Message Maker / Sound Maker / Video Jockey Maker (N64DD)
Miscellaneous
Picross series
Mario's Picross (1995, GB) • Mario's Super Picross (1995, SFC) • Picross 2 (1996, GB) • Picross NP (1999-2000, SFC)
Games / other software
Mario's Bombs Away (1983, G&W) • Pinball (1984, NES) • Alleyway (1989, GB) • Mario's Egg Catch (1990, SMBW) • Luigi's Hammer Toss (1990, SMBW) • Princess Toadstool's Castle Run (1990, SMBW) • Mario the Juggler (1991, G&W) • Yoshi's Safari (1993, SNES) • Undake30 Same Game (1995, SFC) • Mario's Game Gallery (1995, MS-DOS) • Donkey Kong (1996, arcade) • Mario's FUNdamentals (1998, Windows) • Mario's Memory Madness (1998, Adobe Shockwave) • Crazy Counting (1999, Adobe Shockwave) • Dinky Rinky (1999, Adobe Shockwave) • Goodness Rakes (1999, Adobe Shockwave) • Melon Mayhem (1999, Adobe Shockwave) • Nomiss (1999, Adobe Shockwave) • The Lab (2001, Adobe Flash) • Mario Party 4 (2002, Adobe Flash) • Super Mario Fushigi no Janjan Land (2003, arcade) • Mario Pinball Land (2004, GBA) • Yakuman DS (2005, DS) • Mario Trivia (Unknown, Adobe Flash) • Mario Memory (Unknown, Adobe Flash) • Virus Attack! (Unknown, Adobe Flash) • Mini-Mario Factory Game! (2004, Adobe Flash) • Bill Bounce (2004, Adobe Flash) • Mario Party 7 Bon Voyage Quiz (2005, Adobe Flash) • Super Mario Strikers Advergame (2005, Adobe Flash) • Dr. Mario Vitamin Toss (2005, Adobe Flash) • Bowser's Lair Hockey (2005, Adobe Flash) • Heads-Up (2005, Adobe Flash) • Parasol Fall (2005, Adobe Flash) • Dribble Skillz (2006, Adobe Flash) • Superstar Shootout (2006, Adobe Flash) • Mario vs. DK 2: Cannon Kaos (2006, Adobe Flash) • Super Paper Mario Memory Match (2007, Adobe Flash) • Are You Smarter Than Mario? (2008, Adobe Flash) • Mario Calculator (2009, DSiWare) • Mario Clock (2009, DSiWare) • Play Nintendo activities (2014–present)
Tech demos
Mario Demo (1994, VB) • morphdemo (Unknown, N64) • Peach's Castle (2002, GCN) • Mario's Face (Unknown, DS) • DSpeak (2005, DS) • Koopa Troopa Forest (Unknown, Wii) • Mario FPS (Unknown, Wii)
Pitches / canceled games
Mario's Castle ("Project Atlantis") • Boss Game Studios' Super Mario game pitch (Unknown) • Retro Studios' Boo project (DS) • Mario Motors (DS)
Crossovers
Game & Watch Gallery series
Game & Watch Gallery (1997, GB) • Game & Watch Gallery 2 (1997, GB) • Game & Watch Gallery 3 (1999, GBC) • Game & Watch Gallery 4 (2002, GBA)
Super Smash Bros. series
Super Smash Bros. (1999, N64) • Super Smash Bros. Melee (2001, GCN) • Super Smash Bros. Brawl (2008, Wii) • Super Smash Bros. for Nintendo 3DS (2014, 3DS) • Super Smash Bros. for Wii U (2014, Wii U) • Super Smash Bros. Ultimate (2018, Switch)
Itadaki Street series
Itadaki Street DS (2007, DS) • Fortune Street (2011, Wii)
Mario & Sonic series
Mario & Sonic at the Olympic Games (2007, Wii) • Mario & Sonic at the Olympic Games (2008, DS) • Mario & Sonic at the Olympic Winter Games (2009, Wii) • Mario & Sonic at the Olympic Winter Games (2009, DS) • Mario & Sonic at the London 2012 Olympic Games (2011, Wii) • Mario & Sonic at the London 2012 Olympic Games (2012, 3DS) • Mario & Sonic at the Sochi 2014 Olympic Winter Games (2013, Wii U) • Mario & Sonic at the Rio 2016 Olympic Games (2016, Wii U) • Mario & Sonic at the Rio 2016 Olympic Games (2016, 3DS) • Mario & Sonic at the Rio 2016 Olympic Games Arcade Edition (2016, arcade) • Mario & Sonic at the Olympic Games Tokyo 2020 (2019, Switch) • Mario & Sonic at the Olympic Games Tokyo 2020 - Arcade Edition (2020, arcade)
NES Remix series
Main
NES Remix (2013, Wii U) • NES Remix 2 (2014, Wii U)
Reissues
NES Remix Pack (2014, Wii U) • Ultimate NES Remix (2014, 3DS)
Mario + Rabbids series
Mario + Rabbids Kingdom Battle (2017, Switch) • Mario + Rabbids Sparks of Hope (2022, Switch)
Other
Excitebike: Bun Bun Mario Battle (1997, Satellaview) • NBA Street V3 (2005, GCN) • Dance Dance Revolution: Mario Mix (2005, GCN) • SSX on Tour (2005, GCN) • Tetris DS (2006, DS) • Captain Rainbow (2008, Wii) • Art Style: PiCTOBiTS (2009, DSiWare) • Nintendo Land (2012, Wii U) • Puzzle & Dragons: Super Mario Bros. Edition (2015, 3DS)
Tech demos
Chase Mii (Unknown, Wii U)
Pitches / canceled games
Super Mario/Rabbids crossover adventure game (Wii) • DDR MARIO 2 (Wii)