Mario the Juggler
From the Super Mario Wiki, the Mario encyclopedia
Jump to navigation
Jump to search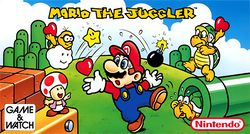 Mario the Juggler is a Game & Watch game released as part of the New Wide Screen series on October 14, 1991.[1] It is a reworked version of 1980's Ball, with Super Mario themes replacing the original's doll and its balls. It was the final Game & Watch ever released until Game & Watch: Super Mario Bros.
The alarm indicator of this game is a Koopa Troopa that is located beside the pipe, and the Koopa Troopa swings a bell when the alarm goes off.
Gameplay
[
edit
]
The object of the game is to keep juggling bombs, Stars, and hearts. In Game A, Mario has to juggle by himself next to a Mushroom retainer who will laugh if he makes a mistake. Game B introduces characters such as the Hammer Bro and Lakitu that periodically grab some of the items and then toss them back in. As time goes on, the number of objects being juggled increases from one to three (four in Game B with a second heart), and the items fall faster. As with most Game & Watch games, getting three misses causes a Game Over.
Gallery
[
edit
]
Names in other languages
[
edit
]
Language
Name
Meaning
Japanese
マリオ ザ ジャグラー[2]
Mario za Jagurā
Mario the Juggler
The "Modern" version of Ball found in Game & Watch Gallery 2 also features Super Mario characters in place of the doll, but it is more closely based on the 1980 original rather than Mario the Juggler.

Game & Watch: Super Mario Bros. also features a version of Ball with Mario in place of the doll, but like in Game & Watch Gallery 2, it more closely resembles the original game.
References
[
edit
]
Game & Watch
Super Mario and Donkey Kong series games
Donkey Kong (1982, MS) • Donkey Kong Jr. (1982, NWS | 1983, TT & PS) • Donkey Kong II (1983, MS) • Donkey Kong 3 (1984, MVS) • Donkey Kong Circus (1984, PS) • Donkey Kong Hockey (1984, MVS) • Mario's Bombs Away (1983, PS) • Mario Bros. (1983, MS) • Mario's Cement Factory (1983, TT/NWS) • Mario the Juggler (1991, NWS) • Super Mario Bros. (1986, CrS | 1987, Sp | 1988, NWS) • Game & Watch: Super Mario Bros. (2020, CoS)
Compilations
Game & Watch Gallery (1997, GB) • Game & Watch Gallery 2 (1998, GBC) • Game & Watch Gallery 3 (1999, GBC) • Game & Watch Gallery 4 (2002, GBA) • Game & Watch Collection (2006, DS)
Game & Watch Gallery series exclusives
Gallery Corner • Message Board • Music Room • Museum
Other games featured
in the compilations
Ball (1980, SS) • Boxing (1984, MVS) • Chef (1981, WS) • Egg (1981, WS) • Fire (1980, SS | 1981, WS) • Fire Attack (1982, WS) • Flagman (1980, SS) • Greenhouse (1982, MS) • Helmet (1981, GS) • Lion (1981, GS) • Manhole (1981, GS | 1983, NWS) • Octopus (1981, WS) • Oil Panic (1982, MS) • Parachute (1981, WS) • Rain Shower (1983, MS) • Turtle Bridge (1982, WS) • Vermin (1980, SS)
Characters
Alarm Koopa • Alarm Monkey • Buddy • Driver • Heavy Smoker • Luigi • Mini Donkey Kong • Mr. Game & Watch • Octopus • Stanley
Miscellaneous
Mini Classics
SS: Silver series • GS: Gold series • WS: Wide Screen • MS: Multi Screen • TT: Table Top • PS: Panorama Screen • NWS: New Wide Screen • MVS: Micro VS. System • CrS: Crystal Screen • Sp: Special • CoS: Color Screen