Donkey Kong Circus
From the Super Mario Wiki, the Mario encyclopedia
Jump to navigation
Jump to search
Donkey Kong Circus is a Game & Watch title released as part of the Panorama Screen series on September 6, 1984.[1] It is a remake of the second Mickey Mouse Game & Watch game, which was released worldwide seven months earlier. The two games' codes even seem to have gotten mixed up, with Mickey Mouse being model "DC-95" and Donkey Kong Circus being "MK-96."[1] Neither the Panorama Screen Mickey Mouse nor Donkey Kong Circus was released in Japan.

The alarm indicator of this game is a bell that is located under the time/score, and the bell swings when the alarm goes off.
Gameplay
[
edit
]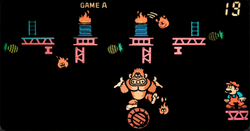 In this game, Donkey Kong balances on a barrel while juggling pineapples and avoiding the fireballs falling from the drums. Mario watches his performance. Donkey Kong receives a point every time he catches a pineapple. If Donkey Kong loses a pineapple, Mario will laugh at him, resulting in a miss. If Donkey Kong manages to grasp a fireball, he will flail, which also counts as a miss. If Donkey Kong reaches 300 points without any misses, the points will be worth double until he does get a miss. If he has any misses at said score, every miss will be cleared instead. When he gets three misses, the player gets a Game Over.
Gallery
[
edit
]
Names in other languages
[
edit
]
Language
Name
Meaning
Japanese
ドンキーコング サーカス[2]
Donkī Kongu Sākasu
Donkey Kong Circus
This game marks Donkey Kong's first playable appearance, predating Donkey Kong Country by over a decade.
Donkey Kong Circus used a slightly faster rearrangement of the first six seconds of "Pop Goes the Weasel" for the game start jingle.
While this originally had a Disney license that was dropped in favor of Nintendo characters,Egg released simultaneously in certain countries.
the previous Game & Watch game featuring Mickey Mouse was an alternate version of
This is one of the few Game & Watch units to feature full color. This was actually due to Gunpei Yokoi's idea to move the background around the characters, rather than the other way around.
References
[
edit
]
Donkey Kong games
Platformers
Donkey Kong
Donkey Kong (1981, arcade) • Donkey Kong Jr. (1982, arcade) • Donkey Kong 3 (1983, arcade) • Donkey Kong Jr. Math (1983, NES) • Donkey Kong 3: Dai Gyakushū (1984, computer) • Donkey Kong (1994, GB) • Mario vs. Donkey Kong (2004, GBA)
Donkey Kong Country
Donkey Kong Country (1994, SNES) • Donkey Kong Country 2: Diddy's Kong Quest (1995, SNES) • Donkey Kong Country 3: Dixie Kong's Double Trouble! (1996, SNES) • Donkey Kong Country Returns (2010, Wii) • Donkey Kong Country: Tropical Freeze (2014, Wii U)
Donkey Kong Land
Donkey Kong Land (1995, GB) • Donkey Kong Land 2 (1996, GB) • Donkey Kong Land III (1997, GB)
Mario vs. Donkey Kong
Mario vs. Donkey Kong (2004, GBA) • Mario vs. Donkey Kong 2: March of the Minis (2006, DS) • Mario vs. Donkey Kong: Minis March Again! (2009, DSiWare) • Mario vs. Donkey Kong: Mini-Land Mayhem! (2010, DS) • Mario and Donkey Kong: Minis on the Move (2013, 3DS) • Mario vs. Donkey Kong: Tipping Stars (2015, 3DS/Wii U) • Mini Mario & Friends: amiibo Challenge (2016, 3DS/Wii U) • Mario vs. Donkey Kong (2024, Nintendo Switch)
DK
DK: King of Swing (2005, GBA) • DK: Jungle Climber (2007, DS) (Banana Bonanza [Unknown, Adobe Flash] • Rolling Panic [Unknown, Adobe Flash] • Banana Grab [Unknown, Adobe Flash])
Miscellaneous
Donkey Kong 64 (1999, N64) • Donkey Kong Jungle Beat (2004, GCN)
Donkey Konga
Donkey Konga (2003, GC) • Donkey Konga 2 (2004, GC) • Donkey Konga 3 JP (2005, GC)
Racing games
Diddy Kong Racing (1997, N64) • Donkey Kong Barrel Blast (2007, Wii)
Other
Donkey Kong Circus (1984, G&W) • Donkey Kong Hockey (1984, G&W) • Donkey Kong (1996, arcade) • Donkey Konk (1999, Adobe Shockwave) • Donkey Kong 64 Lore Quiz (1999, Adobe Shockwave) • Kremling Krushin (2000, Adobe Flash) • Donkey Kong Country Barrel Maze (2003, Adobe Shockwave) • Mini-Mario Factory Game! (2004, Adobe Flash) • Hurling for Distance (2005, Adobe Flash) • Barrel-Blastapalooza (2005, Adobe Flash) • Donkey Kong: Jungle Fever (2005, arcade) • Mario vs. DK 2: Cannon Kaos (2006, Adobe Flash) • Donkey Kong: Banana Kingdom (2006, arcade) • Timber's Balloon Pop (2007, Adobe Flash) • Play Nintendo activities (2014–present)
Reissues
Crazy Kong (1981, arcade) • Donkey Kong (1982, G&W) • Donkey Kong Jr. (1982, G&W) • Donkey Kong II (1983, G&W) • Donkey Kong Jr. + Jr. Sansū Lesson (1983, NES) • Donkey Kong 3 (1984, G&W) • Donkey Kong Classics (1988, NES) • Donkey Kong (1994, NGW) • Donkey Kong Country Competition Cartridge (1994, SNES) • Donkey Kong Country (2000, GBC) • Donkey Kong Country (2003, GBA) • Classic NES Series: Donkey Kong (2004, GBA) • Donkey Kong Country 2 (2004, GBA) • Donkey Kong Country 3 (2005, GBA) • Diddy Kong Racing DS (2007, DS) • New Play Control! Donkey Kong Jungle Beat (Wii, 2008) • Donkey Kong Original Edition (2010, VC) • Donkey Kong Country Returns 3D (2013, 3DS) • Donkey Kong Country: Tropical Freeze (2018, Switch)
Crossovers
Super Smash Bros. (1999, N64) • Super Smash Bros. Melee (2001, GCN) • Super Smash Bros. Brawl (2008, Wii) • Super Smash Bros. for Nintendo 3DS (2014, 3DS) • Super Smash Bros. for Wii U (2014, Wii U) • Super Smash Bros. Ultimate (2018, Switch)
Tech demos
Unnamed Donkey Kong Country proof-of-concept (Unknown, VB) • puzzle (Unknown, N64) • spritemonkeyEX (Unknown, N64) • Mario vs. Donkey Kong Wii U demo (2014, Wii U)
Pitches / canceled games
Donkey Kong no Ongaku Asobi (FC) • Donkey Kong parking attendant arcade game (arcade) • Donkey Kong IV (arcade) • Return of Donkey Kong (NES) • Super Donkey (SNES) • CD-i Donkey Kong game (CD-i) • Donkey Kong vs. Super Wario (SNES) • Donkey Kong and the Golden Bananas (SNES) • Ultra Donkey Kong (N64DD) • Donkey Kong Coconut Crackers (GBA) • Diddy Kong Pilot (2001/2003) (GBA) • Donkey Kong Racing (GCN) • Donkey Kong Plus (GCN/GBA) • Diddy Kong Racing Adventure (GCN) • Donkey Kong Country 4 (DS) • DK Bongo Blast (GCN)
Game & Watch
Super Mario and Donkey Kong series games
Donkey Kong (1982, MS) • Donkey Kong Jr. (1982, NWS | 1983, TT & PS) • Donkey Kong II (1983, MS) • Donkey Kong 3 (1984, MVS) • Donkey Kong Circus (1984, PS) • Donkey Kong Hockey (1984, MVS) • Mario's Bombs Away (1983, PS) • Mario Bros. (1983, MS) • Mario's Cement Factory (1983, TT/NWS) • Mario the Juggler (1991, NWS) • Super Mario Bros. (1986, CrS | 1987, Sp | 1988, NWS) • Game & Watch: Super Mario Bros. (2020, CoS)
Compilations
Game & Watch Gallery (1997, GB) • Game & Watch Gallery 2 (1998, GBC) • Game & Watch Gallery 3 (1999, GBC) • Game & Watch Gallery 4 (2002, GBA) • Game & Watch Collection (2006, DS)
Game & Watch Gallery series exclusives
Gallery Corner • Message Board • Music Room • Museum
Other games featured
in the compilations
Ball (1980, SS) • Boxing (1984, MVS) • Chef (1981, WS) • Egg (1981, WS) • Fire (1980, SS | 1981, WS) • Fire Attack (1982, WS) • Flagman (1980, SS) • Greenhouse (1982, MS) • Helmet (1981, GS) • Lion (1981, GS) • Manhole (1981, GS | 1983, NWS) • Octopus (1981, WS) • Oil Panic (1982, MS) • Parachute (1981, WS) • Rain Shower (1983, MS) • Turtle Bridge (1982, WS) • Vermin (1980, SS)
Characters
Alarm Koopa • Alarm Monkey • Buddy • Driver • Heavy Smoker • Luigi • Mini Donkey Kong • Mr. Game & Watch • Octopus • Stanley
Miscellaneous
Mini Classics
SS: Silver series • GS: Gold series • WS: Wide Screen • MS: Multi Screen • TT: Table Top • PS: Panorama Screen • NWS: New Wide Screen • MVS: Micro VS. System • CrS: Crystal Screen • Sp: Special • CoS: Color Screen