Donkey Konga (series)
From the Super Mario Wiki, the Mario encyclopedia
Jump to navigation
Jump to search
This article is under construction. Therefore, please excuse its informal appearance while it is being worked on. We hope to have it completed as soon as possible.
The Donkey Konga series is a sub-series of the Donkey Kong franchise developed by Namco. It comprises three rhythm games released exclusively for the Nintendo GameCube. Donkey Konga is heavily based on Namco's long-running Taiko no Tatsujin series of arcade rhythm games, featuring identical gameplay and graphical elements but different tracklists and Donkey Kong-themed visuals. The series main distinguishing feature is support for a novelty bongo controller (sold separately or bundled with some releases of the games) to drum the selected song. This series eventually inspired the creation of Donkey Kong Jungle Beat, which also supports the use of bongos.
Installments
[
edit
]
Donkey Konga

[

edit

]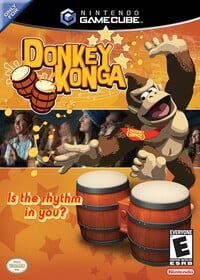 Donkey Konga was released in 2003 in Japan for the Nintendo GameCube system. Many songs are available to play, including the popular DK Rap from Donkey Kong 64. Donkey Kong and Diddy Kong are both available to play as. Since it was the first in its series, it is also the first to support use of the bongos.
Donkey Konga 2

[

edit

]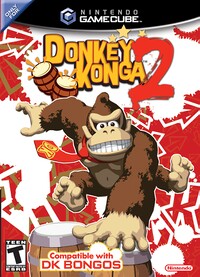 Donkey Konga 2, marketed in Japan as "Donkey Konga 2: Hit Song Parade!", was released a year after the previous game. Like its predecessor, it was first released in Japan. Donkey Kong, Diddy Kong, and Dixie Kong are the three playable characters. This game is also only available for the GameCube. It is the only game in the series to have an ESRB rating of T instead of E (for mild lyrics).
Donkey Konga 3 JP

[

edit

]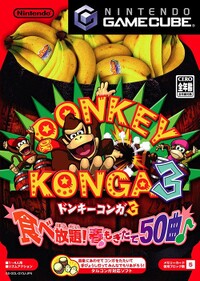 Donkey Konga 3 JP is the third and latest installment in the Donkey Kong series. It is the sequel to Donkey Konga and Donkey Konga 2. This game is only available in Japan for the Nintendo GameCube. The three playable characters from the previous installment are available, as well as Funky Kong. This game also supports bongo use. Clapping is also used during the song.
Donkey Kong games
Platformers
Donkey Kong
Donkey Kong (1981, arcade) • Donkey Kong Jr. (1982, arcade) • Donkey Kong 3 (1983, arcade) • Donkey Kong Jr. Math (1983, NES) • Donkey Kong 3: Dai Gyakushū (1984, computer) • Donkey Kong (1994, GB)
Donkey Kong Country
Donkey Kong Country (1994, SNES) • Donkey Kong Country 2: Diddy's Kong Quest (1995, SNES) • Donkey Kong Country 3: Dixie Kong's Double Trouble! (1996, SNES) • Donkey Kong Country Returns (2010, Wii) • Donkey Kong Country: Tropical Freeze (2014, Wii U)
Donkey Kong Land
Donkey Kong Land (1995, GB) • Donkey Kong Land 2 (1996, GB) • Donkey Kong Land III (1997, GB)
Mario vs. Donkey Kong
Mario vs. Donkey Kong (2004, GBA) • Mario vs. Donkey Kong 2: March of the Minis (2006, DS) • Mario vs. Donkey Kong: Minis March Again! (2009, DSiWare) • Mario vs. Donkey Kong: Mini-Land Mayhem! (2010, DS) • Mario and Donkey Kong: Minis on the Move (2013, 3DS) • Mario vs. Donkey Kong: Tipping Stars (2015, 3DS/Wii U) • Mini Mario & Friends: amiibo Challenge (2016, 3DS/Wii U)
DK
DK: King of Swing (2005, GBA) • DK: Jungle Climber (2007, DS) (Banana Bonanza [Unknown, Adobe Flash] • Rolling Panic [Unknown, Adobe Flash] • Banana Grab [Unknown, Adobe Flash])
Miscellaneous
Donkey Kong 64 (1999, N64) • Donkey Kong Jungle Beat (2004, GCN)
Donkey Konga
Donkey Konga (2003, GC) • Donkey Konga 2 (2004, GC) • Donkey Konga 3 JP (2005, GC)
Racing games
Diddy Kong Racing (1997, N64) • Donkey Kong Barrel Blast (2007, Wii)
Other games
Donkey Kong Circus (1984, G&W) • Donkey Kong Hockey (1984, G&W) • Donkey Kong (slot machine) (1996, arcade) • Donkey Kong: Jungle Fever (2005, arcade) • Donkey Kong: Banana Kingdom (2006, arcade)
Remakes/ports
Crazy Kong (1981, arcade) • Donkey Kong (1982, G&W) • Donkey Kong Jr. (1982, G&W) • Donkey Kong II (1983, G&W) • Donkey Kong Jr. + Jr. Sansū Lesson (1983, NES) • Donkey Kong 3 (1984, G&W) • Donkey Kong Classics (1988, NES) • Donkey Kong (1994, NGW) • Donkey Kong Country Competition Cartridge (1994, SNES) • Donkey Kong Country (2000, GBC) • Donkey Kong Country (2003, GBA) • Classic NES Series: Donkey Kong (2004, GBA) • Donkey Kong Country 2 (2004, GBA) • Donkey Kong Country 3 (2005, GBA) • Diddy Kong Racing DS (2007, DS) • New Play Control! Donkey Kong Jungle Beat (Wii, 2008) • Donkey Kong Original Edition (2010, VC) • Donkey Kong Country Returns 3D (2013, 3DS) • Donkey Kong Country: Tropical Freeze (2018, Switch)
Crossovers
Super Smash Bros. (1999, N64) • Super Smash Bros. Melee (2001, GCN) • Super Smash Bros. Brawl (2008, Wii) • Super Smash Bros. for Nintendo 3DS (2014, 3DS) • Super Smash Bros. for Wii U (2014, Wii U) • Super Smash Bros. Ultimate (2018, Switch)
Tech demos
Unnamed Donkey Kong Country proof-of-concept (Unknown, VB) • puzzle (Unknown, N64) • spritemonkeyEX (Unknown, N64) • Mario vs. Donkey Kong Wii U demo (2014, Wii U)
Canceled games
Return of Donkey Kong (NES) • Donkey Kong no Ongaku Asobi (FC) • Donkey Kong Coconut Crackers (GBA) • Diddy Kong Pilot (2001/2003) (GBA) • Donkey Kong Racing (GCN) • Diddy Kong Racing Adventure (GCN)