Arcade Archives
From the Super Mario Wiki, the Mario encyclopedia
Jump to navigation
Jump to search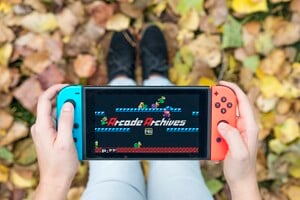 Arcade Archives is a line of downloadable re-releases of arcade games by Hamster Corporation, a company specializing in low-budget ports of arcade games to consoles. The line started on the PlayStation 4 in May 2014 and was introduced on Nintendo systems with the launch of the Nintendo Switch, initially focusing on SNK's Neo Geo system before expanding to other arcade titles, including Nintendo's own arcade games.
Arcade Archives releases are almost always straightforward emulations of games that do not include new content or any changes or additions to the game's original version. All Arcade Archives titles include adjustable controls, access to the DIP settings to modify gameplay parameters, suspension saves, online leaderboards, three display settings (raw pixels, blurred or blur + scanlines), and Caravan and Hi-Score modes.
Arcade Archives releases may also include different variants (regional or otherwise) of the game when there are notable differences. Donkey Kong, Donkey Kong Jr., and Donkey Kong 3 are the only Super Mario-related releases to support this feature, allowing players to choose between the original Japanese release, the later Japanese release (only for Donkey Kong), or the international version. For Mario Bros., VS. Pinball, and VS. Wrecking Crew, only the Japanese version is provided. For VS. Golf, only the international version can be played. Only one version of VS. Super Mario Bros. exists as it was not released in Japan.
Caravan
[
edit
]
Named after the Caravan Mode featured in multiple Hudson Soft games, this challenges the player to score as many points as possible within five minutes. This mode does not allow the player to pause or use saves.
Hi-Score mode
[
edit
]
Hi-Score mode has the player play the game on one credit on the default DIP settings without the ability to pause or use saves. Leaderboards are separate from regular mode.
Super Mario games released as part of Arcade Archives

[

edit

]
Names in other languages
[
edit
]
Language
Name
Meaning
Japanese
アーケードアーカイブス
Ākēdo Ākaibusu
Arcade Archives
See also
[
edit
]
References
[
edit
]