Mario Party Advance
From the Super Mario Wiki, the Mario encyclopedia
Jump to navigation
Jump to search
Mario Party Advance

American box art
For alternate box art, see the game's gallery.
Developer
Hudson Soft
Nintendo SPD Group No.4
Konami (Wii U Virtual Console)
Publisher
Nintendo
Platform(s)
Game Boy Advance
Virtual Console (Wii U)
Release date
Game Boy Advance:
January 13, 2005
March 28, 2005
June 10, 2005
September 15, 2005
Virtual Console (Wii U):
December 25, 2014
December 25, 2014
December 26, 2014
October 28, 2015

Language(s)

Deutsch




English (United States)




Español (España)




Français (France)




Italiano




日本語

Genre
Party
Rating(s)

| | |
| --- | --- |
| ESRB: | - Everyone |
| PEGI: | - Three years and older |
| CERO: | - All ages |
| ACB: | - Parental Guidance |

Mode(s)
1-4 players
Media

Wii U:

Digital download

Game Boy Advance:

Game Pak

Input

Wii U:

Wii U GamePad

Wii Remote

(Horizontal)

Classic Controller

Wii U Pro Controller

Game Boy Advance:

Gamepad
Mario Party Advance is the seventh game in the Mario Party series, the tenth installment overall and the second handheld installment of the series, specifically for the Game Boy Advance, after Mario Party-e for the e-Reader. The game revolves around either Mario, Luigi, Princess Peach, or Yoshi travelling across Shroom City to collect the minigames and Gaddgets that fell from Party World, an area dedicated to partying high above the sky. After Bowser and Koopa Kid attack Party World, Toad tasks them with collecting everything that fell down. This can only be accomplished by helping out the city's citizens and stopping Bowser from exerting his influence. Shroom City can only be accessed with a single player; barring a few minigames, Gaddgets, and a physical Bonus Board that is played alongside the video game, the game does not focus on multiplayer and is more single-player oriented.
Mario Party Advance was released in Japan on January 13, 2005, in North America in March 28, 2005, in Europe in June 10, 2005,[1] and in Australia on September 15, 2005. Mario Party Advance was re-released on the Wii U's Virtual Console in North America and Europe on December 25, 2014, in Oceania on December 26, 2014, and in Japan on October 28, 2015. It is the second of the three Mario Party games to be rereleased for the Wii U's Virtual Console; the others being Mario Party 2 and Mario Party DS.
It is a normal day in Party World when the player first arrives there. Toad greets the player shortly before Bowser, with Koopa Kid at his side, falls onto Toad. Bowser then disperses all of the mini-games and Gaddgets towards various parts of Shroom City. When Bowser and Koopa Kid leave, and when the flattened Toad adjusts back to his normal form, Toad motivates the player to travel all over Shroom City, gather every mini-game and Gaddget, and restore peace to Party World.
Characters
[
edit
]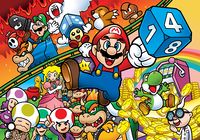 There are four playable characters in Mario Party Advance, the least amount of any Mario Party game to date. It does, however, boast many more non-playable characters that the player helps out during the story mode, as well as other supporting characters than most other Mario Party games.
Playable Characters
[
edit
]
| Shroomlock | Mr. E | Mushbert | Mrs. Shroomlock |
| --- | --- | --- | --- |
| | | | |
| Shroom City's detective. Every time there is a case, Shroomlock arrives at the scene of the crime. | A mystery-loving guy. Every time the player finds something strange, Mr. E arrives to investigate. | A huge fan of the TV show, Toad Force V. He can provide the player with rare Toad Force V merchandise. | Shroomlock's wife. When the player visits the Shroomlock House, she'll tell them a tip about what to do next. |
Antagonists
[
edit
]
Character
Icon
Sprite
Title
Description
Akiki
"Ukiki's adorable little niece."
"She's a little bit of a tomboy. She looks up to her uncle Ukiki."
Amp
"Lives in town and loves to play games."
"Loves to play games. Has a short fuse and gets mad easily."
Big Bob-omb
"Lives in a secret room somewhere in town."
"The head of the Bob-omb gang. Quite mellow in his old age."
Blooper
"A duelist at the Mushroom Beacon."
"He trains hard at the lighthouse. He trains to be a master."
Bob-omb
"Lives in town. Loves the word "Victory"!"
"Belongs to a shadowy gang of some sort. He's very nice."
Bob-omba
"Lives in town and just loves flowers."
"Belongs to a shadowy gang. She just loves flowers."
Boo
"One of the mischievous Boos at Boo Cemetery."
"Boos love to play pranks, but they're fiercely loyal."
Bowser
"Pops up all over. Has the hots for Peach."
"He's an awful person who makes mayhem for Mario and his friends."
Bullet Bill
"Trains at Mushroom Stadium."
"A brash and boisterous soul, but he IS the #1 sprinter."
Chain Chomp
"A duelist living in town."
"Mouser use to take care of it. It loves to duel any passerby."
Cheep Cheep
"Practices swimming at Mushroom Pool."
"A great swimmer, if only he could get over his insecurities."
Coach
"Trains Cheep Cheep to swim."
"Once, he was a champion, but now, he trains future champions."
Dolphin
"Performs at Mario Vaudeville."
"He's not a very funny comedian. He's lost all his confidence."
Dorrie
"Lives in Loch Dorrie and looks lonely."
"Just a big, sad dinosaur looking for a soul mate."
E. Gadd
n/a
Flutter
"Lives in Mushroom Condo."
"She's a hip girl who knows her trends. Looking for a boyfriend."
Fly Guy
"Lives on the rooftop of Mushroom Condo."
"His bags packed, he just waits on the roof."
Goomba
"Lives in Goomba House. Digs dancing."
"He's considerate and caring. He likes to share with friends."
Goombetty
"Goes to school with Goombob."
"The best student at her school. Plays violin beautifully."
Goombob
"A rich kid who lives at Goombob Manor."
"He's got a big crush on a girl in town. His folks are away."
Hammer Bro
"A world-champion hammer thrower."
"A champion, through and through. Loves a good challenge."
Hoot
"Lives in the jungle and loves to play games."
"Loves to play games, but his bad attitude makes him lose."
Huffin Puffin
n/a
Hulu
"Teaches at the Dance Stage."
"A sensitive dance instructor who cries at the drop of a hat."
Kamek
"The Game Mage out in the desert."
"He has never lost a game. Once, he was Bowser's mentor."
Klepto
"Lives in the Klepto Ruins."
"Protector of treasures. Holds the key to the ancient lock."
Koopa
"Works at Koopa Bank."
"An all-business chap who just can't stop cleaning."
Koopa Kid
"Pops up everywhere. Idolizes Bowser."
"He adores Bowser and obeys his every whim. He's not too bright."
Lakitu
"Lives in Lakitu House."
"A huge fan of Toad Force V. Loves to quote the series."
Lantern Ghost
"Lives in Horror Condo."
"A huge fan of Toad Force V. Runs the TFV Fan Club."
Mechakoopa
"Works at Mushroom Library."
"Discovered Mechakoopa's theorem. Often lost in thought."
Monty Mole
"Lives in town and loves to play games."
"Loves playing games, but hates losing his money in the process."
Mouser
"The most challenging duelist in Duel Tower."
"This perfect duelist has even battled it out with Bowser!"
Mr. Blizzard
"Plays baseball at the Ice Stadium."
"An ace pitcher with the Snowtown Ice Stars."
Mr. E
"Loves to unravel any unsolved mysteries."
"Shows up when mystery rears its mysterious head. Cowardly."
Mr. I
"A reclusive gent in the horror area."
"A gentleman at heart, but a bit gruff from time to time."
Mrs. S
"Lives in Shroomlock House."
"She loves gossip as much as she loves her dear Shroomlock."
Mushbert
"Lives in Mushroom Condo."
"A huge fan of Toad Force V. Knows all about the show."
Naval Piranha
n/a
Ninji
"Lives in Horror Condo."
"A huge fan of Toad Force V. Wants a special DVD of the show."
Paratroopa
"Runs Junk, the item superstore."
"A big-brother type, who looks after everyone in town."
Penguin
"Plays games in the icy regions of Shroom City."
"Loves to play games. He wants to buy a ring for Pengwen."
Petal Guy
"A forlorn poet living in the jungle."
"He's a lovesick artist. Writes poetry to the woman he loves."
Piranha Plant
"Grows in the desert. Loves water."
"It's pretty and healthy, but also quite dangerous..."
Pokey
"A "skill" duelist lurking in Duel Tower"
"He challenges strangers to answer 3 riddles before leaving."
Salvo
"Trains at Mushroom Stadium."
"He seems lazy, but his skills are top notch."
Shroomlock
"Detective of Toadland Yard. Loves ice cream."
"A brilliant detective, but a bit on the lazy side."
Shy Guy
"Works at the train station."
"He works without complaint and without rest. He's diligent!"
Snifit
"Lives in Horror Condo."
"Loves to be scared. Wants to see a ghost more than anything!"
Spear Guy
"A duelist living in the jungle."
"He hides in the jungle, waiting for a duelist with a mustache."
Star
n/a
Sushi
"Always near Sushi Cliff (in the water)."
"Has a sharp tongue and even sharper teeth. Hates crooks."
Thwomp
"Lives alone in the Thwomp House."
"He looks mean, but he's really just lonely. He wants friends!"
Toad
n/a
Toadette
n/a
Toady
"Lives in Mushroom Condo."
"Heads up the popular rap act "Kamek Crew."
Tumble
n/a
Ukiki
"Lives in Ukiki House with his niece."
"A kind soul who loves kids and all kinds of baked goods."
Whomp
"A "power" duelist lurking in Duel Tower."
"Based on power alone, he's even stronger than Mouser himself!"
Game Modes
[
edit
]
Shroom City
[
edit
]
Shroom City, hosted by Tumble, is the main mode in the game, as well as the only one that is playable once the game is started. The player can take control of Mario, Luigi, Peach, or Yoshi and travel around Shroom City, beating the quests and collecting minigames and Gaddgets to play in the other modes.
Play Land
[
edit
]
Play Land, hosted by Toad and E. Gadd, is a free play mode, in which the player can either play the minigames they have earned, give minigames to others, play with Gaddgets, or give away Gaddgets.
Party Land
[
edit
]
Party Land, hosted by Toad and Toadette, is a mode in which multiple players can play duel minigames, a secret battle, a Koopa Kid battle, a 100-player battle, or a 100-player attack.
Challenge Land
[
edit
]
Challenge Land, hosted by Toadette, is a mode in which players can play minigames to earn coins. In Challenge Land, there is a Mini-Game Attack, the Game Room, a Duel Dash, Bowser Land, and an option to trade coins for Gaddgets.
Mini-Game Attack
[
edit
]
The player selects one of the four characters, and meets the host, Toad. Here, the player will play through fifteen mini-games in order to win coins. After Toad explains the instructions, a list of three minigames will appear, and the player can pick which one they think they can win. The minigames appear as they would in Free Play, but now have winning conditions akin to that Shroom City, but notably more difficult by increasing the criteria compared to Shroom City or making the computer players smarter. If a player loses a minigame, they will lose everything they accumulated up to this point. If they win five games, they can win 1,000 coins, ten games results in 10,000 coins, and 100,000 coins for all fifteen games. During the attack, they can either keep their total, or use their special items to help.
There are three special items, Change, Replay, and Practice. Replay allows the player to play the games that they completed again, Change replaces three current games with three new ones, and Practice allows the player to try a game before playing it for real. The player starts with the Practice item, and gains the Change item after completing 5 minigames and the Replay item after completing 10 minigames.
Game Room
[
edit
]
Here, the player selects a character and enters a casino-style room and plays gamble mini-games as much as they want to earn coins. If the player has no coins, Toad will give them ten coins.
Duel Dash
[
edit
]
In Duel Dash, which is hosted by Toadette, the player will compete against a computer to win coins. There are three modes: easy to win 1,000 coins; normal to win 10,000 coins, and hard to win 50,000 coins. In easy, the players play three mini-games, in normal, five, and in hard, eight. The mini-games are decided at random.
Bowser Land
[
edit
]
In Bowser Land, the player is trying to reach co-hosts Bowser and Koopa Kid to earn coins, while also playing Bowser mini-games. The game and number of Koopa Kids are chosen at random. To reach Bowser, the player rides on a roller coaster, the number of areas being picked randomly. Each stop at a checkpoint counts as one space, and stopping at one results in playing a Bowser mini-game. During the game, however, if Bowser feels the player is taking too long in reaching him, he will end the game himself. If the player arrives at the end of the track at a time Bowser considers too late or early, the amount of coins won will be low.
The following is a list of all fifty quests in Mario Party Advance. Quests are obtained by talking to NPCs around Shroom City. Nearly every NPC gives only one quest, although some of them may be tied to quests given by others. A few NPCs, such as Mrs. Shroomlock, are not tied to any quests at all. Bowser also gives out multiple quests, letting the player obtain them as they complete other quests. Once the player successfully completes a quest, they earn either a Gaddget or a minigame.
Town Quests
[
edit
]
Desert Quests
[
edit
]
Seaside Quests
[
edit
]
Horror Quests
[
edit
]
Snow Quests
[
edit
]
Jungle Quests
[
edit
]
Bowser Quests
[
edit
]
Minigames and Gaddgets
[
edit
]
Mario Party Advance offers fifty traditional minigames and sixty-one Gaddgets, which are less-involved and smaller games that often feature little interaction. During the story, all of the minigames have a specific goal to reach and a strict time limit. During Free Play, all of the minigames change so that they become based on beating a score set by the player, whether that includes gaining a large amount of points or completing a minigame in the shortest amount of time. Some minigames go on indefinitely until the player makes a mistake. Gaddgets, on the other hand, do not have any time limit and usually do not have a goal, instead letting the player toy with the Gaddgets however they want. Excluding a few of the multiplayer games, none of the Gaddgets can be lost, or at the very least, they can be reset back to their starting state.
Bonus Board
[
edit
]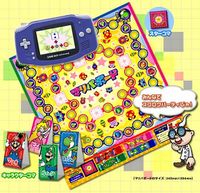 The Bonus Board is an extra feature added to the main game. It is also the only way to play a multiplayer game without using a link cable. The Bonus Board is a board made of paper which comes packaged with the game. The Game Boy Advance acts as the dice and can be used to play multiplayer Gaddgets.
Mario Party Advance was developed by Hudson Soft in conjunction with Nintendo SPD Group No.4. It was directed by Shinichi Nakata, who had previously taken smaller roles in the other Mario Party games. Most of his roles involved serving as a planning advisor or planning director, although he notably served as the lead designer in Mario Party 5. Similarly, the game director, Yukinori Goto, served as a design director in the series' other games, and the lead designer, Fumihisa Sato, served as a planner for most of the other games, only taking a design role for Mario Party: Star Rush.
Reception
[
edit
]
Mario Party Advance received wildly mixed reviews. A point of contention was the game's minigames and Gaddgets: while some reviewers appreciated the assortment of games, others lambasted them for being wholly uninteresting, though they generally agree that at least some of them are bland.[2][3] The lack of a substantial multiplayer was also a common complaint, as it required players to either use multiple Game Link Cables or make every player use the same Game Boy.[4] The single-player campaign, on the other hand, was more generally praised, offering a large amount of variety and unique characters.[5]
In an IGN article ranking the Mario Party games, Mario Party Advance came in last (out of twelve games), being described as "the black sheep of the Mario Party series."[6] It was also brought up in a review for Mario Party DS in reference to handheld Mario Party games, describing it as "one of the lamest iterations of the series."[7]
The game received the title of the "Worst-received Super Mario videogame" from the Guinness World Records, deriving its results from GameRankings as of July 28, 2014.[8] Similarly, Mario Party Advance holds the third-lowest Metacritic Metascore in the entire Super Mario franchise, at 54,[9] with the second-lowest being WarioWare: Snapped! (at 53)[10] and the lowest being Donkey Kong Barrel Blast (at 46).[11]
Reviews
Release
Reviewer, Publication
Score
Comment
Game Boy Advance
Craig Harris, IGN
6/10
"The GBA version features a whole slew of different things to do and play, but it all seems just a bit uncreative for the first outing on the handheld system."
Game Boy Advance
Frank Provo, GameSpot
6.5/10
"Overall, the GBA game's multiplayer features are fairly limited and poorly organized. Its single-player component, on the other hand, is very nicely organized and offers a great deal of variety."
Game Boy Advance
Joao Diniz Sanches, Pocket Gamer
4/10
"On paper, lots of things hold great promise. The deeds to a new house, a marriage certificate, Hitler's signature on a pre-War scrap of paper. But the reality can often deliver nothing more than crushing disappointment."
Game Boy Advance
Kristan Reed, EuroGamer
1/10
"And if you haven't got the message yet, Mario Party Advance is possibly the worst videogame Nintendo has had the misfortune to publish. Avoid at all costs; this is disgracefully bad."
Aggregators
Compiler
Platform / Score
Metacritic
54
GameRankings
56.53%
References to other games
[
edit
]
Super Mario World: An arrangement of the Ground Theme is played on the Shroom City results screen.
Super Mario 64: Character designs from the original version of this game are still used in Mario Party Advance, despite it being released after the remake. This is evident in the appearances of King Bob-omb (still called Big Bob-omb), Dorrie, Piranha Plant, Amp, Whomp, Thwomp, Hoot, Mr. Blizzard, and Ukiki.
Mario Party 3 / Mario Party 4: Most of the minigame themes in Mario Party Advance are covers of minigame music from these games, and the passport theme is an arrangement of Mario Party 4's main menu theme. Also, the design for Cheep Cheeps introduced in Mario Party 4 appears for the last time in the series; the next game, Mario Party 7, retires it and the Super Mario 64 enemy appearances in favor of the corresponding modern character designs.
Gallery
[
edit
]
Shroom City - Seaside Area Building

File info
0:30
Shroom City - Baseball Practice

File info
0:30
Pre-release and unused content
[
edit
]
Names in other languages
[
edit
]
Language
Name
Meaning
Japanese
マリオパーティアドバンス
Mario Pāti Adobansu
Mario Party Advance
Chinese (Traditional)
瑪利歐派對Advance[12]
Mǎlì'ōu Pàiduì Advance
Mario Party Advance
This is the only game in the entire Mario Party series not to feature Wario. It is also the only post-Mario Party 3 game not to feature Princess Daisy or Waluigi, as well as one of two Mario Party games not to feature Donkey Kong, the other being Mario Party: Island Tour.
For reasons undisclosed, this game is rated as Teenage Restricted by South Korea's Korea Media Rating Board[13].
This is the only Mario Party game not to use voice samples.
References
[
edit
]
External links
[
edit
]
Super Mario games
Platformers
Super Mario series
Super Mario Bros. (1985, NES) • Super Mario Bros.: The Lost Levels (1986, FDS) • Super Mario Bros. 2 (1988, NES) • Super Mario Bros. 3 (1988, NES) • Super Mario Land (1989, GB) • Super Mario World (1990, SNES) • Super Mario Land 2: 6 Golden Coins (1992, GB) • Super Mario 64 (1996, N64) • Super Mario Sunshine (2002, GCN) • New Super Mario Bros. (2006, DS) • Super Mario Galaxy (2007, Wii) • New Super Mario Bros. Wii (2009, Wii) • Super Mario Galaxy 2 (2010, Wii) • Super Mario 3D Land (2011, 3DS) • New Super Mario Bros. 2 (2012, 3DS) • New Super Mario Bros. U (2012, Wii U) • Super Mario 3D World (2013, Wii U) • Super Mario Maker (2015, Wii U) • Super Mario Run (2016, iOS/iPadOS/Android) • Super Mario Odyssey (2017, Switch) • Super Mario Maker 2 (2019, Switch) • Super Mario Bros. Wonder (2023, Switch)
Donkey Kong series
Donkey Kong (1981, arcade) • Donkey Kong (1994, GB)
Mario vs. Donkey Kong series
Mario vs. Donkey Kong (2004, GBA) • Mario vs. Donkey Kong 2: March of the Minis (2006, DS) • Mario vs. Donkey Kong: Minis March Again! (2009, DSiWare) • Mario vs. Donkey Kong: Mini-Land Mayhem! (2010, DS) • Mario and Donkey Kong: Minis on the Move (2013, 3DS) • Mario vs. Donkey Kong: Tipping Stars (2015, 3DS/Wii U) • Mini Mario & Friends: amiibo Challenge (2016, 3DS/Wii U)
Mario Bros. series
Mario Bros. (1983, arcade) • Mario Bros. Special (1984, computer) • Punch Ball Mario Bros. (1984, computer) • Mario Clash (1995, VB)
Wrecking Crew series
VS. Wrecking Crew (1984, VS) • Wrecking Crew (1985, NES) • Wrecking Crew '98 (1998, SFC)
Other
Mario Bros. (1983, G&W) • Mario's Cement Factory (1983, G&W) • Super Mario Bros. Special (1986, computer) • Mario & Wario (1993, SNES) • Wario Land: Super Mario Land 3 (1994, GB) • Hotel Mario (1994, CD-i) • Super Mario World 2: Yoshi's Island (1995, SNES) • Super Princess Peach (2005, DS) • New Super Luigi U (2013, Wii U) • Captain Toad: Treasure Tracker (2014, Wii U) • Super Mario Bros. 35 (2020, Switch) • Princess Peach: Showtime! (2024, Switch)
Reissues
Crazy Kong (1981, arcade) • Donkey Kong (1982, G&W) • VS. Super Mario Bros. (1986, VS) • Super Mario Bros. (1986, G&W) • All Night Nippon: Super Mario Bros. (1986, FDS) • Kaettekita Mario Bros. (1988, FDS) • Super Mario Bros. (1989, NGW) • Super Mario Bros. 3 (1990, NGW) • Super Mario World (1991, NGW) • Super Mario All-Stars (1993, SNES) • Donkey Kong (1994, NGW) • Super Mario All-Stars + Super Mario World (1994, SNES) • BS Super Mario USA (1996, SNES) • BS Super Mario Collection (1997, SNES) • Super Mario Bros. Deluxe (1999, GBC) • Super Mario Advance (2001, GBA) • Super Mario World: Super Mario Advance 2 (2001, GBA) • Yoshi's Island: Super Mario Advance 3 (2002, GBA) • Super Mario Advance 4: Super Mario Bros. 3 (2003, GBA) • Famicom Mini Series (2004, GBA) • Classic NES Series (2004-2005, GBA) • Super Mario 64 DS (2004, DS) • Virtual Console (2006-2016, Wii/3DS/Wii U) • Super Mario All-Stars Limited Edition (2010, Wii) • Luigi Bros. (2013, Wii U) • Super Mario Maker for Nintendo 3DS (2016, 3DS) • Captain Toad: Treasure Tracker (2018, Switch/3DS) • New Super Mario Bros. U Deluxe (2019, Switch) • Super Mario 3D All-Stars (2020, Switch) • Game & Watch: Super Mario Bros. (2020, G&W) • Super Mario 3D World + Bowser's Fury (2021, Switch) • Mario vs. Donkey Kong (2024, Switch)
Tech demos
snd_test (Unknown, SNES) • Super Mario 128 (2000, GCN) • New Super Mario Bros. Mii (2011, Wii U) • Mario vs. Donkey Kong Wii U demo (2014, Wii U)
Canceled games
Super Mario's Wacky Worlds (CD-i) • Mario Takes America (CD-i) • VB Mario Land (VB) • Super Mario 64 2 (N64DD)
Mario Kart series
Main
Super Mario Kart (1992, SNES) • Mario Kart 64 (1996, N64) • Mario Kart: Super Circuit (2001, GBA) • Mario Kart: Double Dash!! (2003, GCN) • Mario Kart DS (2005, DS) • Mario Kart Wii (2008, Wii) • Mario Kart 7 (2011, 3DS) • Mario Kart 8 (2014, Wii U) • Mario Kart Tour (2019, iOS/iPadOS/Android)
Arcade
Mario Kart Arcade GP (2005, arcade) • Mario Kart Arcade GP 2 (2007, arcade) • Mario Kart Arcade GP DX (2013, arcade) • Mario Kart Arcade GP VR (2017, arcade)
Other
Mario Kart Live: Home Circuit (2020, Switch)
Ports
Mario Kart 8 Deluxe (2017, Switch)
Tech demos
Mario Kart for Nintendo GameCube (2001, GCN)
Pitches / canceled games
VB Mario Kart (VB) • Mario Kart XXL (GBA) • Tesla Mario Kart game (Tesla vehicles)
Mario Party series
Main
Mario Party (1998, N64) • Mario Party 2 (1999, N64) • Mario Party 3 (2000, N64) • Mario Party 4 (2002, GCN) • Mario Party 5 (2003, GCN) • Mario Party 6 (2004, GCN) • Mario Party 7 (2005, GCN) • Mario Party 8 (2007, Wii) • Mario Party 9 (2012, Wii) • Mario Party 10 (2015, Wii U) • Super Mario Party (2018, Switch) • Mario Party Superstars (2021, Switch)
Handheld
Mario Party Advance (2005, GBA) • Mario Party DS (2007, DS) • Mario Party: Island Tour (2013, 3DS) • Mario Party: Star Rush (2016, 3DS) • Mario Party: The Top 100 (2017, 3DS)
Arcade
Super Mario Fushigi no Korokoro Party (2004, arcade) • Super Mario Fushigi no Korokoro Party 2 (2005, arcade) • Mario Party Fushigi no Korokoro Catcher (2009, arcade) • Mario Party Kurukuru Carnival (2012, arcade) • Mario Party Fushigi no Korokoro Catcher 2 (2013, arcade) • Mario Party Challenge World (2016, arcade)
Other
Mario Party-e (2003, GBA)
Sports games
Golf series
Golf (1984, NES) • Stroke & Match Golf (1984, VS. System) • Golf: Japan Course (1987, FDS) • Golf: U.S. Course (1987, FDS) • Golf (1989, GB) • NES Open Tournament Golf (1991, NES) • Mobile Golf (2001, GBC)
Mario Golf series
NES Open Tournament Golf (1991, NES) • Mario Golf (1999, N64) • Mario Golf (1999, GBC) • Mario Golf: Toadstool Tour (2003, GCN) • Mario Golf: Advance Tour (2004, GBA) • Mario Golf: World Tour (2014, 3DS) • Mario Golf: Super Rush (2021, Switch)
Mario Tennis series
Mario's Tennis (1995, VB) • Mario Tennis (2000, N64) • Mario Tennis (2000, GBC) • Mario Power Tennis (2004, GCN) • Mario Tennis: Power Tour (2005, GBA) (Bicep Pump [Unknown, Adobe Flash] • Reflex Rally [Unknown, Adobe Flash]) • Mario Tennis Open (2012, 3DS) • Mario Tennis: Ultra Smash (2015, Wii U) • Mario Tennis Aces (2018, Switch)
Mario Baseball series
Mario Superstar Baseball (2005, GCN) • Mario Super Sluggers (2008, Wii)
Mario Strikers series
Super Mario Strikers (2005, GCN) • Mario Strikers Charged (2007, Wii) • Mario Strikers: Battle League (2022, Switch)
Famicom Grand Prix series
Famicom Grand Prix: F1 Race (1987, FDS) • Famicom Grand Prix II: 3D Hot Rally (1988, FDS)
Other
Donkey Kong Hockey (1984, G&W) • Baseball (1989, GB) • Super Mario Race (1992, GwB) • Mario Hoops 3-on-3 (2006, DS) • Mario Sports Mix (2010, Wii) • Mario Sports Superstars (2017, 3DS)
Ports
New Play Control! Mario Power Tennis (2009, Wii)
Canceled games
Super Mario American football game (GCN) • Super Mario Spikers (Wii)
Role-playing games
Paper Mario series
Paper Mario (2000, N64) • Paper Mario: The Thousand-Year Door (2004, GCN) • Super Paper Mario (2007, Wii) • Paper Mario: Sticker Star (2012, 3DS) • Paper Mario: Color Splash (2016, Wii U) • Paper Mario: The Origami King (2020, Switch)
Mario & Luigi series
Mario & Luigi: Superstar Saga (2003, GBA) • Mario & Luigi: Partners in Time (2005, DS) • Mario & Luigi: Bowser's Inside Story (2009, DS) • Mario & Luigi: Dream Team (2013, 3DS) • Mario & Luigi: Paper Jam (2015, 3DS)
Other
Super Mario RPG: Legend of the Seven Stars (1996, SNES)
Remakes
Mario & Luigi: Superstar Saga + Bowser's Minions (2017, 3DS) • Mario & Luigi: Bowser's Inside Story + Bowser Jr.'s Journey (2018, 3DS) • Super Mario RPG (2023, Switch) • Paper Mario: The Thousand-Year Door (2024, Switch)
Canceled games
Super Mario RPG 2 (N64DD) • Super Paper Mario (GCN)
Dr. Mario series
Main
Dr. Mario (1990, NES/GB) • Dr. Mario 64 (2001, N64) • Dr. Mario Online Rx (2008, WiiWare) • Dr. Mario Express (2008, DSiWare) • Dr. Luigi (2013, Wii U) • Dr. Mario: Miracle Cure (2015, 3DS) • Dr. Mario World (2019, iOS/iPadOS/Android)
Other
VS. Dr. Mario (1990, VS) • Dr. Mario (1993, GwB)
Remakes
Tetris & Dr. Mario (1994, SNES) • Nintendo Puzzle Collection (2003, GCN) • Dr. Mario & Puzzle League (2005, GBA)
Luigi's Mansion series
Main
Luigi's Mansion (2001, GCN) • Luigi's Mansion: Dark Moon (2013, 3DS) • Luigi's Mansion 3 (2019, Switch)
Arcade
Luigi's Mansion Arcade (2015, arcade)
Remakes
Luigi's Mansion (2018, 3DS) • Luigi's Mansion 2 HD (2024, Switch)
Tech demos
Luigi's Mansion (2000, GCN)
Educational games
Mario Discovery series
Mario is Missing! (1993, MS-DOS/SNES/NES) • Mario's Time Machine (1993, MS-DOS/SNES/NES) • Mario's Early Years! Fun with Letters (1993, MS-DOS/SNES) • Mario's Early Years! Fun with Numbers (1994, MS-DOS/SNES) • Mario's Early Years! Preschool Fun (1994, MS-DOS/SNES)
Mario Teaches Typing series
Mario Teaches Typing (1991, MS-DOS) • Mario Teaches Typing 2 (1996, MS-DOS)
Other
Family BASIC (1984, FC) • Super Mario Bros. & Friends: When I Grow Up (1991, MS-DOS)
Ports
Mario's Early Years! CD-ROM Collection (1995, MS-DOS)
Canceled games
Mario's Mission Earth (SNES)
Art utilities
Mario Artist series
Mario Artist: Paint Studio (1999, N64DD) • Mario Artist: Talent Studio (2000, N64DD) • Mario Artist: Communication Kit (2000, N64DD) • Mario Artist: Polygon Studio (2000, N64DD)
Other
I am a teacher: Super Mario Sweater (1986, FDS) • Super Mario Bros. Print World (1991, MS-DOS) • Mario Paint (1992, SNES) • Super Mario Collection Screen Saver (1997, PC) • Mario no Photopi (1998, N64) • Mario Family (2001, GBC)
Pitches / canceled games
Mario Factory ("Game Processor RAM Cassette") • Mario Paint 3D (N64) • Mario Artist: Game Maker / Graphical Message Maker / Sound Maker / Video Jockey Maker (N64DD)
Miscellaneous
Picross series
Mario's Picross (1995, GB) • Mario's Super Picross (1995, SFC) • Picross 2 (1996, GB) • Picross NP (1999-2000, SFC)
Games / other software
Mario's Bombs Away (1983, G&W) • Pinball (1984, NES) • Alleyway (1989, GB) • Mario's Egg Catch (1990, SMBW) • Luigi's Hammer Toss (1990, SMBW) • Princess Toadstool's Castle Run (1990, SMBW) • Mario the Juggler (1991, G&W) • Yoshi's Safari (1993, SNES) • Undake30 Same Game (1995, SFC) • Mario's Game Gallery (1995, MS-DOS) • Donkey Kong (1996, arcade) • Mario's FUNdamentals (1998, Windows) • Mario's Memory Madness (1998, Adobe Shockwave) • Crazy Counting (1999, Adobe Shockwave) • Dinky Rinky (1999, Adobe Shockwave) • Goodness Rakes (1999, Adobe Shockwave) • Melon Mayhem (1999, Adobe Shockwave) • Nomiss (1999, Adobe Shockwave) • The Lab (2001, Adobe Flash) • Mario Party 4 (2002, Adobe Flash) • Super Mario Fushigi no Janjan Land (2003, arcade) • Mario Pinball Land (2004, GBA) • Yakuman DS (2005, DS) • Mario Trivia (Unknown, Adobe Flash) • Mario Memory (Unknown, Adobe Flash) • Virus Attack! (Unknown, Adobe Flash) • Mini-Mario Factory Game! (2004, Adobe Flash) • Bill Bounce (2004, Adobe Flash) • Mario Party 7 Bon Voyage Quiz (2005, Adobe Flash) • Super Mario Strikers Advergame (2005, Adobe Flash) • Dr. Mario Vitamin Toss (2005, Adobe Flash) • Bowser's Lair Hockey (2005, Adobe Flash) • Heads-Up (2005, Adobe Flash) • Parasol Fall (2005, Adobe Flash) • Dribble Skillz (2006, Adobe Flash) • Superstar Shootout (2006, Adobe Flash) • Mario vs. DK 2: Cannon Kaos (2006, Adobe Flash) • Super Paper Mario Memory Match (2007, Adobe Flash) • Are You Smarter Than Mario? (2008, Adobe Flash) • Mario Calculator (2009, DSiWare) • Mario Clock (2009, DSiWare) • Play Nintendo activities (2014–present)
Tech demos
Mario Demo (1994, VB) • morphdemo (Unknown, N64) • Peach's Castle (2002, GCN) • Mario's Face (Unknown, DS) • DSpeak (2005, DS) • Koopa Troopa Forest (Unknown, Wii) • Mario FPS (Unknown, Wii)
Pitches / canceled games
Mario's Castle ("Project Atlantis") • Boss Game Studios' Super Mario game pitch (Unknown) • Retro Studios' Boo project (DS) • Mario Motors (DS)
Crossovers
Game & Watch Gallery series
Game & Watch Gallery (1997, GB) • Game & Watch Gallery 2 (1997, GB) • Game & Watch Gallery 3 (1999, GBC) • Game & Watch Gallery 4 (2002, GBA)
Super Smash Bros. series
Super Smash Bros. (1999, N64) • Super Smash Bros. Melee (2001, GCN) • Super Smash Bros. Brawl (2008, Wii) • Super Smash Bros. for Nintendo 3DS (2014, 3DS) • Super Smash Bros. for Wii U (2014, Wii U) • Super Smash Bros. Ultimate (2018, Switch)
Itadaki Street series
Itadaki Street DS (2007, DS) • Fortune Street (2011, Wii)
Mario & Sonic series
Mario & Sonic at the Olympic Games (2007, Wii) • Mario & Sonic at the Olympic Games (2008, DS) • Mario & Sonic at the Olympic Winter Games (2009, Wii) • Mario & Sonic at the Olympic Winter Games (2009, DS) • Mario & Sonic at the London 2012 Olympic Games (2011, Wii) • Mario & Sonic at the London 2012 Olympic Games (2012, 3DS) • Mario & Sonic at the Sochi 2014 Olympic Winter Games (2013, Wii U) • Mario & Sonic at the Rio 2016 Olympic Games (2016, Wii U) • Mario & Sonic at the Rio 2016 Olympic Games (2016, 3DS) • Mario & Sonic at the Rio 2016 Olympic Games Arcade Edition (2016, arcade) • Mario & Sonic at the Olympic Games Tokyo 2020 (2019, Switch) • Mario & Sonic at the Olympic Games Tokyo 2020 - Arcade Edition (2020, arcade)
NES Remix series
Main
NES Remix (2013, Wii U) • NES Remix 2 (2014, Wii U)
Reissues
NES Remix Pack (2014, Wii U) • Ultimate NES Remix (2014, 3DS)
Mario + Rabbids series
Mario + Rabbids Kingdom Battle (2017, Switch) • Mario + Rabbids Sparks of Hope (2022, Switch)
Other
Excitebike: Bun Bun Mario Battle (1997, Satellaview) • NBA Street V3 (2005, GCN) • Dance Dance Revolution: Mario Mix (2005, GCN) • SSX on Tour (2005, GCN) • Tetris DS (2006, DS) • Captain Rainbow (2008, Wii) • Art Style: PiCTOBiTS (2009, DSiWare) • Nintendo Land (2012, Wii U) • Puzzle & Dragons: Super Mario Bros. Edition (2015, 3DS)
Tech demos
Chase Mii (Unknown, Wii U)
Pitches / canceled games
Super Mario/Rabbids crossover adventure game (Wii) • DDR MARIO 2 (Wii)