Gaddget
From the Super Mario Wiki, the Mario encyclopedia
Jump to navigation
Jump to search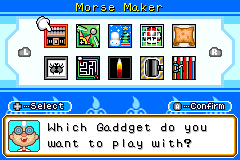 Gaddgets are miniature toys invented by Professor E. Gadd in Mario Party Advance. There are sixty-one Gaddgets. They can be earned by completing quests in Shroom City, winning Bowser's minigames, and exchanging coins for them (with the exception of the secret Gaddget, Toad Force V).
Gaddget is a portmanteau of the surname "Gadd" and the word gadget.
List of Gaddgets
[
edit
]
Gaddget
Icon
Description
Gaddget
Icon
Description
Snooze Ewes
"Just count the sheep until you fall asleep! Great for insomniacs of all ages!"
Porta-Gust
"Use the + Control Pad while watching the sensor. Use it when Boo appears."
Magic Lamp
"If you rub it right, a genie may appear to grant your deepest wishes!"
Compat-I-Com
"Press the buttons with a friend to measure your compatibility levels!"
Power Star
"Be the envy of all your friends with this dreamy Power Star! Show it off!"
Desktop Golf
"Easy to learn, difficult to master! Think you can hit a hole in one?"
Shroom Slide
"Set the number of players and winning slots, then guess which ones will win!"
Stick to It
"If you're feeling indecisive, use this! Put stuff on the choice spot!"
Bait 'n Wait
"Enjoy fishing in the comfort of your own home! Watch the bobber closely."
Digitizer
"Place your finger on the screen and take a peek at what's inside!"
Lip Sync
"Who said that?! Was that you? It didn't look like you, so WHO SAID THAT?!"
Shroom Bloom
"Grow your own mushroom, but be careful to keep the moisture juuuuust right!"
Poochy Pal
"Who needs a real dog when you've got this virtual best friend by your side?"
Bull's-eye
"It's all in how long you hold the A Button. You get 8 darts! Good luck!"
Soil Sonar
"Probe thousands of feet into the earth without even touching a shovel!"
Eye Exam
"Stand about 7 feet back and see how well you see! Try it on your friends!"
Mini Slugger
"Grab a friend! One player pitches while the other swings the bat!"
Tap-Tap Sumo
"Challenge a friend! Tap to make your wrestlers move. Last one standing wins!"
Egg Roll
"It's just an egg. Seems like you should be able to make it stand on end..."
Shroom Drop
"Turn your GBA on its side, choose a 'shroom, and take turns sliding the plates."
Morse Maker
"Write a message and hear it in Morse code, or use the R button to improvise!"
4-P Pinball
"Play with up to three friends! Don't let 'em hit the ball into your hole!"
Snow Globe
"Isn't it peaceful? Tilt your GBA while you play for enhanced realism!"
Tile Trial
"Complete the puzzle by shifting the panels. How fast can you do it?"
Map Maker
"Create your own treasure map! Hide the treasure and let your friends find it!"
Attack Frog
"Feast on bugs with up to three friends! Press buttons to snack on bugs!"
Mini Maze
"No bells and whistles here! Just a good, old-fashioned labyrinth."
Faux Flame
"This windproof flame will never let you down! Too bad it's not warmer..."
Stress Press
"Use this little guy to work out all your stress! Squish, squish, squish!"
Bomb Game
"Disarm the bomb, or else! Take turns cutting the bomb wires!"
Card Trick
"Marvel as the GBA guesses the card you picked! No blindfolds needed!"
Hourglass
"These 3 hourglasses count different times. When you flip them, flip your GBA!"
Rochambeau
"Got no one to play with? Need to train up? Play a round with your GBA!"
Egg Panic
"Stuff eggs into the bags with friends! Don't rip the bag, or it's all over!"
Block Punch
"Break the block with up to four friends! Whoever hits the block last wins!"
Dart Attack
"Hold the button until the target appears. Release to launch an arrow!"
Breeze Buddy
"Ahh... Turn your GBA into a nice, cool fan! You feel cooler just looking at it!"
Chicken Race
"Stop before the cliff. Pick a car and hope it doesn't plummet!"
Love Me Not
"Pluck the petals and find your future! "She loves me... she loves me not!"
Mini Bowling
"Turn your GBA on its side and enjoy a few quick frames with your friends!"
Mini B-Ball
"Turn your GBA on its side and shoot some hoops! The + Control Pad is key!"
Screen Clean
"Get your GBA screen sparkling clean! Use often for best results!"
Predictotron
"Study your opponent's patterns and learn how to predict his every move!"
Cake Maker
"Decorate a cake! But... try not to take a bite out of it. Trust us."
Mini Soccer
"A 2-player soccer game! Aim for your opponent's goal to score."
Dessert Menu
"Pick a dessert from the menu. Do you see any of your favorites?"
Bead Machine
"String beads together to create a lovely design, 24 across and 18 high."
Jewelry Case
"It's a case! Full of jewelry! You can look, but don't touch!"
Castle Night
"It's a beautiful night. If you see a falling star, make a wish! Don't blink!"
Hope Chest
"Make a wish and close the lid with any button. Have someone you like open it!"
Pretty Poster
No description is given.
Sun Poster
No description is given.
Moon Poster
No description is given.
Coin Poster
No description is given.
Heart Poster
No description is given.
Bowser Poster
No description is given.
Bowser Print
No description is given.
Bonus Track
No description is given.
Passport+
"Buy a Passport+ to get up to 30 passports!"
Credits
No description is given.
Toad Force V
"Everyone in Shroom City is talking about the hot new show Toad Force V!"
Names in other languages
[
edit
]
Language
Name
Meaning
Japanese
パーティグッズ
Pāti Guzzu
Party Goods
French
Katatruc
Portmanteau of "Karl Tastroff" (Elvin Gadd's French name) and "truc" (thing)
German
Gidding
Portmanteau of "Gidd" (Elvin Gadd's German surname) and "Ding" (thing)
Italian
Stramberia
Freak-ery (it's a pun on E. Gadd's Italian name, "Strambic")