Super Mario World (arcade)
From the Super Mario Wiki, the Mario encyclopedia
Jump to navigation
Jump to search
It has been requested that at least one image be uploaded for this article. Remove this notice only after the additional image(s) have been added. Reason: Inside of the machine
Super Mario World

Flyer for Super Mario World
Developer
Fabtek, Inc.
Publisher
Fabtek, Inc.
Release date
1993

Genre
Roll-down redemption game
Mode(s)
Single player
Cabinet
Redemption cabinet made of plywood
Monitor
LED display on Deltronic ticket dispenser
Input
Balls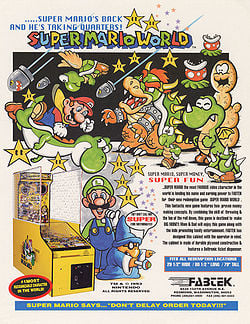 Super Mario World is an arcade game developed by Fabtek, Inc. in 1993. It is a self-described roll-down redemption game. It was designed to incorporate the theme of the 1991 video game Super Mario World for the Super Nintendo Entertainment System. The cabinet is made of plywood and is equipped with a Deltronic ticket dispenser.
Super Mario World was shown off at the 1994 American Coin Machine Expo (ACME '94). A photo of it can be made out in the background of the April 1994 issue of Play Meter magazine.[1]
The game was listed in the Spring Buyer's Guide in Play Meter magazine in May 1994. The game (erroneously called Super Mario Bros.) is described as follows: "Mario speaks to players in this colorful, animated game in which balls are thrown through holes on the backboard. Balls then go through an oscillating tube and roll down the playfield, passing through lanes with point values. Each hole has an assigned multiplier. Everyone scores points on the lanes even if the ball does not go through a hole."[2]
The game was seemingly not very popular, and only one photo is known to exist.[3] The game was the 29th highest earning redemption game, according to a September 1995 issue of Play Meter.[4] Its release may have been affected by several key members of Fabtek leaving the company shortly after the ACME '94 show, including founder Frank Ballouz and national sales manager Drew Maniscalco. This was seemingly the last redemption game released by Fabtek.
References
[
edit
]